Over the past ten years, windows and door glazing panels have been getting heavier, thanks to increased insulation with the move towards triple glazing and more oversized windows and doors in residential homes and commercial buildings.
This has happened simultaneously as European manual handling rules have been getting stricter and require employers to risk assessing manual lifting. This means that the old method of two or more installers lifting a heavy window or door into place has gone on most projects.
This has led to a broader range and availability of glass-handling equipment, from glass-handling robots to vacuum-lifting equipment for cranes and telehandlers.
We're proud to have a very experienced and skilled team of professional installers who have the knowledge to use specialist access equipment when required but are strong enough and confident to work as a team when
In this article, we look at five projects where we have used specialist access equipment to lift extremely heavy and large-sized windows and doors, aiding in site safety and efficiency. This is part of our Installation service we can quote for and offer our customers.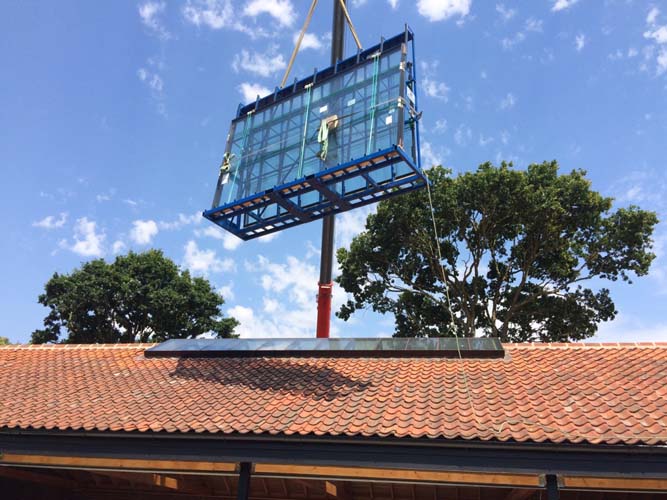 Spider Crane To Lift The Large Glass Panels for an Indoor Swimming Pool, Surrey
Due to the glass panels ' size, weight and fragility, we required a spider crane for Surrey's indoor swimming pool project to maximise safety and productivity. Each panel is 3900mm wide by 2150mm high and weighs approximately 320kg each!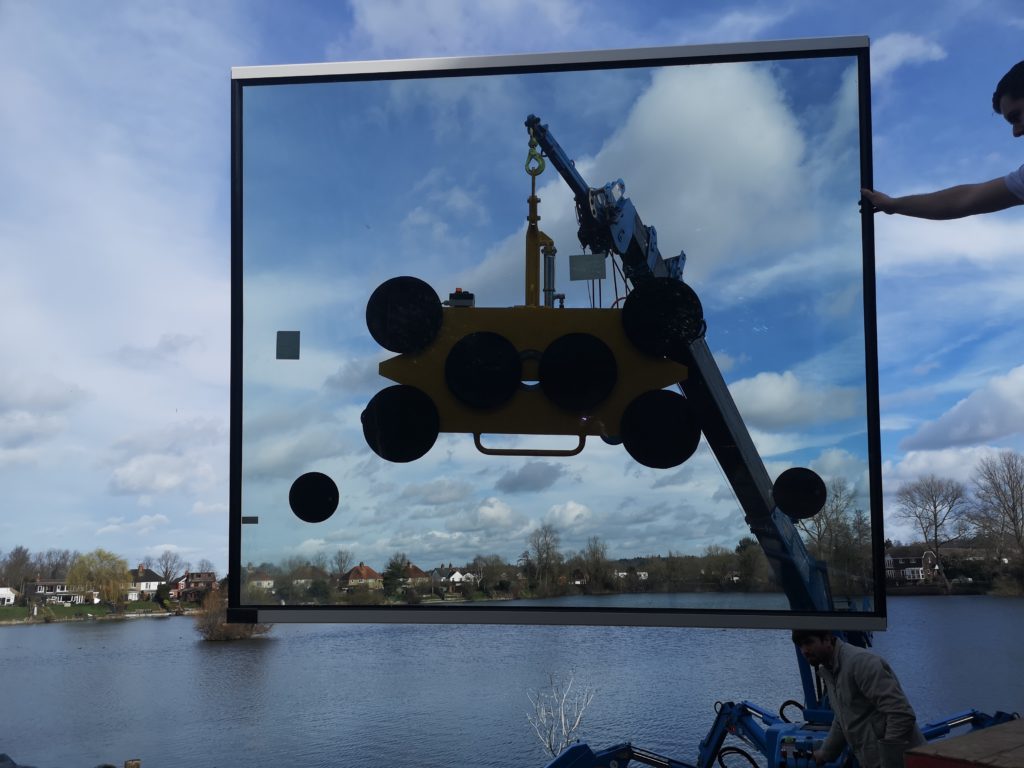 Maeda Mini Crane to lift large Sliding Glass Doors For a Modern Glass Extension, Maidenhead
Precision teamwork was required when we used a Maeda mini crane to lift and install Solarlux Cero III Sliding glass doors into a modern glass extension at a riverside property in Maidenhead. Our project and site manager professionally planned the installation, plus excellent teamwork ensured this project was completed quickly and safely.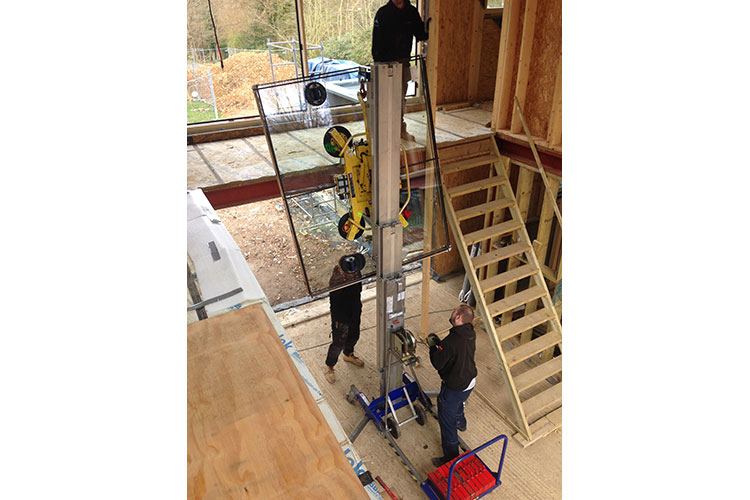 Glassmax Hoist and Vacuum lifter to lift large Internorm windows and doors for a New Build in Hemel Hempstead
Access to the site was limited, so we required a telehandler and driver, Glassmax Hoist, and a Vacuum lifter to ensure safe and precise lifting for the extremely heavy glass panes and frames. Some panels weighed more than 250kg. The vacuum system ensures the glass panel is always held safely.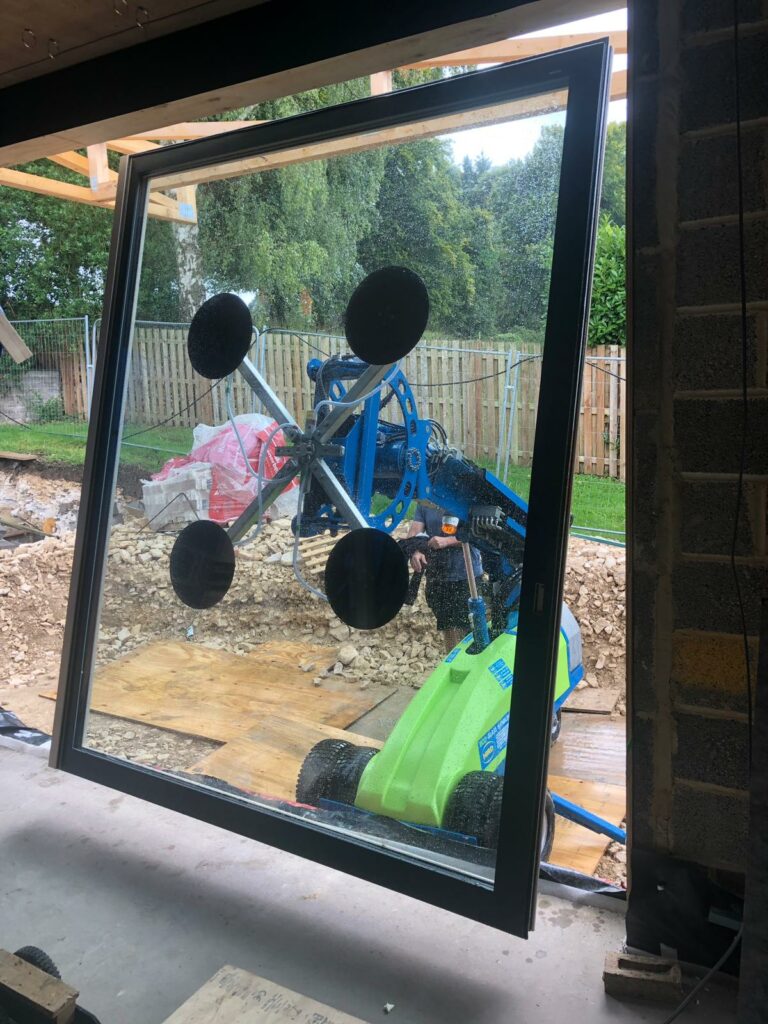 Glazing Robot 575 for Internorm Large Scale Glazing- New Build- Wiltshire
The glass robot 575 offered precise load positioning while installing the large glass panels at a new build in Hemel Hempstead.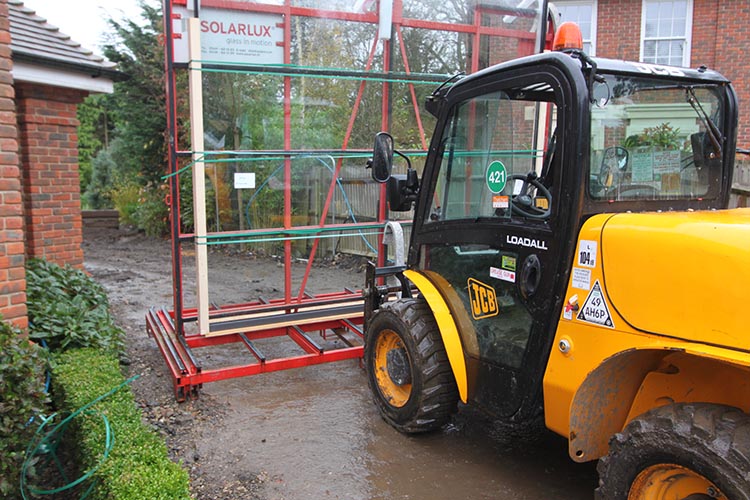 Solarlux Cero Sliding Doors, Surrey
A combination of the right glass lifting equipment and the installer's expertise was required for a minimal frame sliding door system in Surrey.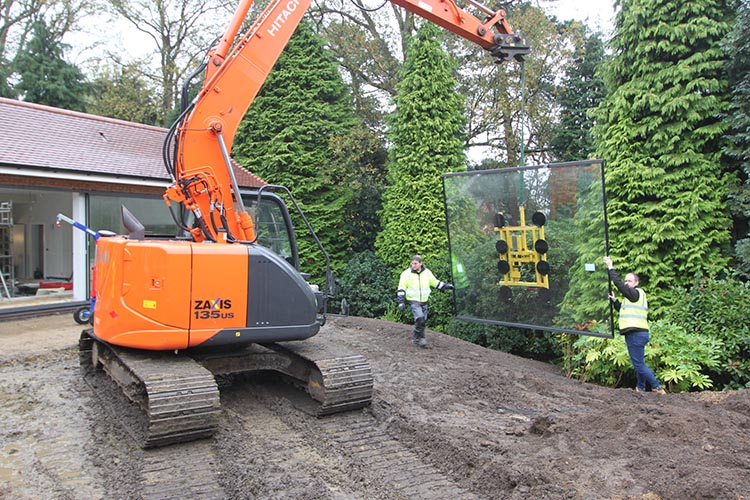 Working with Thames Valley Windows for your home Improvement Project
If you are starting your journey of looking for new double-glazed windows and doors, a visit to our Bracknell showroom is the perfect place for inspiration and to discuss your project with one of our experienced designers. Request your appointment today.