Press Release: April 2021
Modern glazing is an essential design element of low energy and sustainable new build homes thermal envelope.
The latest innovation and advancement in glass technologies and low-emissivity coatings in double and triple glazed windows have improved the thermal insulation performance of windows and doors. This combination reduces the need for additional heating, air conditioning or artificial lighting, thus lowering the overall energy consumption.
With the UK government making contributions to climate change to reduce greenhouse gas emissions to achieve zero emissions by 2050.
Eco friendly, sustainable new build homes are growing in popularity and are a rising trend with homeowners and architects to reduce carbon emissions and energy bills.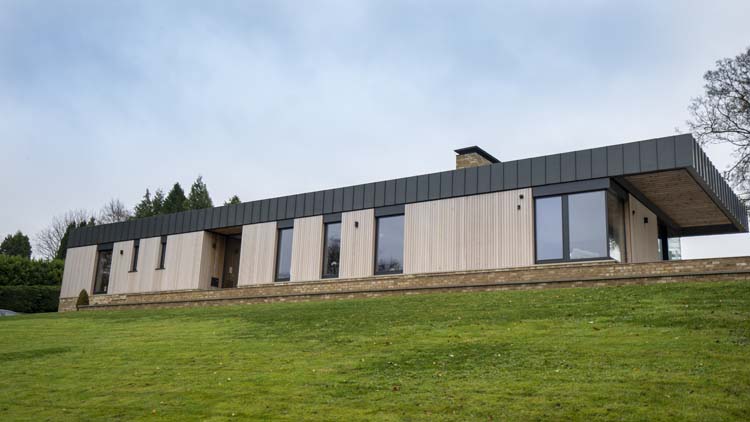 Offering a vast array of modern glazing solutions and front door options, the homeowners and architects chose Thames Valley Window Company to design, supply and install the windows and doors for this sustainable and contemporary new build nestled in a stunning location within the glorious Wiltshire countryside.
The homeowners planned to demolish the existing bungalow to build a minimalist eco-home with locally sourced environmentally friendly building materials.
Following several meetings with the architects, builders and homeowners and a successful visit to the Thames Valley Window Company Showroom in Bracknell.
Internorm Aluminium Clad Timber Windows, Lift and Slide Doors with Triple Glazing, and a Pirnar Aluminium Front Door were selected for the project to fill the property with natural light and offer panoramic views.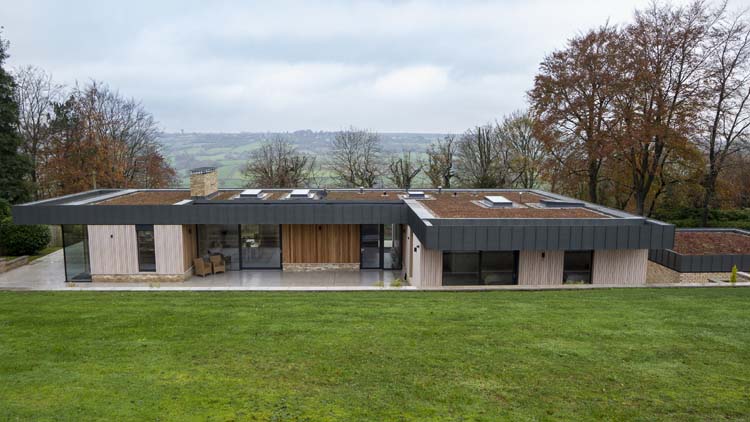 Offering the lowest U-values, due to its triple-glazed structure and an insulating foam sandwiched between the sustainably sourced timber frame and the external aluminium profile, Internorm windows and doors provide superior thermal performance. Combined with contemporary design, the windows and doors matched the desired requirements for this state-of-the-art modern property.
Uninterrupted floor to ceiling glazing makes the most of the stunning rural views, with natural light maximised to ensure a bright, open and airy living space was achieved. A Timber Aluminium Lift & Slide Door System effortlessly brings the outside in, adding a seamless connection to nature.
The highly insulating Internorm triple glazed window and doors frames were finished in Anthracite Grey Matt on the outside for a modern aesthetic. Natural spruce was selected for the inside to complement the harmonious interior décor.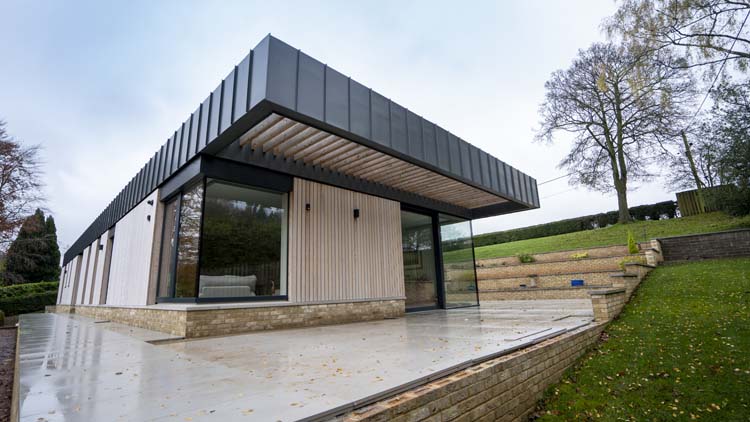 Working closely with the architects, homeowner and the Project Manager, Thames Valley Window Company meticulously designed a modern glazing solution in terms of airtightness and energy efficiency to complement a wide array of eco features.
A superior energy-efficient modern glazing solution delivered on time and within the build cost, ensuring that the finished look combines style, practicality and aesthetics.