If you're looking to add a conservatory to your home, you may not need planning permission. Conservatories are usually exempt from building regulations when:
They are built at ground level and are less than 30 square metres in floor area
The conservatory is separated from the house by external walls, doors or windows
There is an independent heating system with separate temperature and on/off controls
Glazing and any fixed electrical installations comply with the applicable building regulations requirements
The main thing you need to consider is the size of the conservatory in relation to your home. The Government's conditions state that no more than half of the area of land around the original house can be covered by additions or other buildings, including conservatories. The 'original house' is the house as it was first built, or as it stood on 1st July 1948 if it was built prior to that date.
Previously the limit on the size of a conservatory was 4m from the rear wall of your home for a detached house, and 3m for all other house types. However, this was changed due to new guidance called the Neighbour Consultation Scheme which started 30th May 2013 and is running until 30th May 2019. This guidance increased the size of conservatory extensions, doubling the limit to 8m for a detached property and 6m for other property types.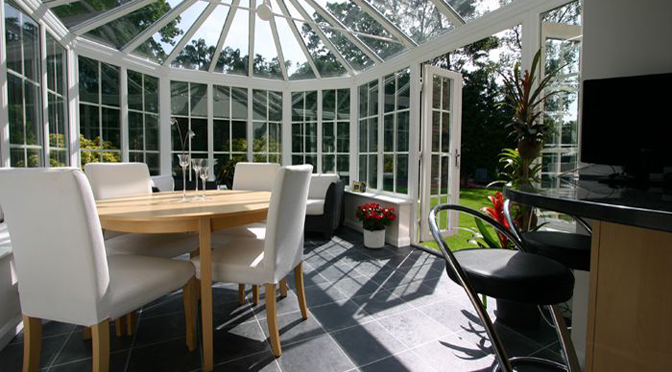 If you plan on adding a conservatory under these new guidelines, you'll need to follow a slightly different process, full details of which can be viewed here.
Once you've notified your local planning authority, they will contact your neighbours who 21 days to object.
In addition to the position of your new conservatory, you also need to consider conditions relating to the structural elements. Full details can be viewed here.
In summary;
No extension forward of the principal elevation or side elevation fronting a highway
No extension to be higher than the highest part of the roof
Maximum height of a single-storey rear extension should be no more than 4m
Maximum height of the conservatory should be no higher than the existing house
Side extensions should be single-storey with a maximum height of 4m and width of no more than 50% of the original house
Extensions of more than one storey must not extend beyond the rear wall of the original house by more than 3m or be within 7m of any boundary opposite the rear wall of the house
No verandas, balconies or raised platforms
If your property is in a conservation area or an area of outstanding natural beauty, there may not be any permitted development for a side extension, a rear extension of more than one storey high or external cladding so you need to check the rights of the property more closely.
If your conservatory doesn't meet the Government's conditions then you'll need to submit a planning application in the normal way to your Local Building Authority. This costs around £150 in England and can take up to eight weeks to process.
If you require any help or advice regarding planning permission for your project, please contact us.
You may also enjoy reading our blog 'Do I Need Planning Permission to Build a Glazed Extension?'