We recently designed and installed a duo of bespoke Solarlux Cero Sliding Doors to complete the external aspects of Titlarks House, a £15m, five bedroom super mansion in Sunningdale, one of Berkshire's premier locations.
See the full transformation of this amazing project.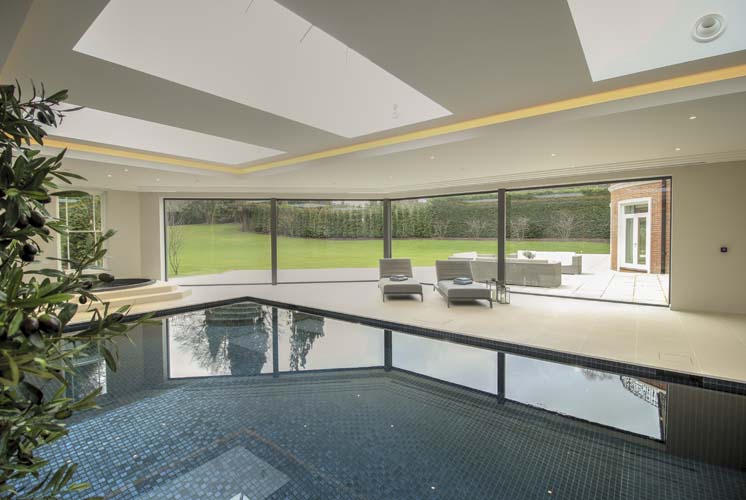 The addition of cero sliding doors to this stunning property – the first collaboration between Octagon Developments and Kebbell Homes – added to the truly luxurious finish. The sliding doors were the perfect option for the developer looking to make the most of the external aspect of the luxurious leisure suite, open planned kitchen and family room. Cero – one of Solarlux's premier brands – is a highly versatile product with limitless design possibilities, offering ceiling-high glazing (with doors of 15m² surface area) and is the ultimate glazing option to maximise visible light transmission without compromising on ventilation or views.
The fact that so few visible materials are used in the frame structure creates a stunning aesthetic in architectural window design. The frame and threshold construction disappear elegantly into the floor, making windows appear open even when closed, creating a wonderful sense of openness and opulence.
Thames Valley Windows – a Solarlux Quality Partner – worked closely with Octagon Developments on the project to engineer the best glazing solution to encase the property's envy-inducing leisure suite, with the indoor swimming pool is protected from the elements during the winter months. The design – spearheaded by Thames Valley Windows – ensures, owing to the full wall of cero sliding doors, this stunning space enjoys the most exclusive balance of indoor/outdoor living during the warmer months.
Angus McQuhae, Director at Octagon Developments, said: "Titlarks House is the epitome of modern luxury – with close to 17,000 sq ft of living space arranged over just two floors, this unique home sits in an impressive 1.4 acre south facing plot, located within one of Sunningdale's most prestigious premier roads. Keen to show off the grounds in all their glory, we worked with Thames Valley Windows to install a full wall of Solarlux cero Sliding Doors to both the kitchen/living area and leisure complex, with both rooms opening out onto a large rear patio.
"Combining grand traditional architecture with contemporary luxury living, the high quality and sleek, minimal design of these doors was integral to our decision to use them at Titlarks House, and the results speak for themselves. In the winter months, these rooms stay light, bright and warm, thanks to the thermal insulation, and, at the touch of a button, become the ultimate indoor/outdoor space, ideal for entertaining during the warmer months. "
Steve Ferrie, Managing Director at Solarlux, said: "The products installed at Titlarks House are specifically designed to welcome the outside in. They are perfectly suited to this development, allowing for the glazing solutions to be as outstanding as the rest of the property."