Thames Valley Windows are delighted to announce their sponsorship of New Milton Town FC central midfield player Liam Griffin.

A highly experienced football player, Liam has been playing football since the age of 6. Liam joined Thames Valley Windows Sales Team in January 2020.
In our latest blog article, Liam shares his passion for football.
I was representing my District (St Albans & Harpenden and County (Hertfordshire FA) teams throughout every age group and progressed to be involved with England School Boys at the U'18 level a long time ago now!
I started my senior career at Boreham Wood FC before deciding to head to Northumbria University to study Graphic Design and play football semi-professionally.
I played for the University Football and Futsal 1st teams whilst also playing in the Northern Premier League at club level, which was character-building, to say the least. Being the only Southerner in the squad when they didn't really like Southerners 😊
I left University at the end of my first year after being offered the opportunity to either head to Uni in America on a 'Soccer' Scholarship or to Australia to pursue the dream of playing football professionally. With the latter being what I went with.
I spent a few months with A league side Central Coast Mariners FC and played in the NPL Victoria (tier 2) for a season before being approached to head out to play top-tier football in New Zealand with Waitakere United FC and Eastern Suburbs FC. I also enjoyed a lot of success with coaching during my time overseas.
Being 1 of 2 selected in the entire Victoria region to participate in a coaching programme with Football Federation Australia, working with Arsenal FC and West Ham FC programmes they ran out in Australia and running a couple of the Easter Suburbs Junior teams, which I loved!
Whilst playing in NZ, I was contacted by an agent to come back to the UK on trial with a couple of professional football teams, which didn't materialise, and it was from here that I fell into the miraculous world of Double Glazing.
I initially spent time as a fitters mate for my brother-in-law before my MD realised I might be better suited in the office. I took up the job as a Sales Consultant, where I quickly saw success, eight years later, here we are now, an architectural designer at Thames Valley Windows and I haven't looked back.
I continued to play semi-professionally around work for several clubs between steps 2-5, but have been out of the game for the best part of 3 years due to work commitments and having a young family became the priority.
Fortunately, I have now found myself in a position to get back into it and sign for my local team New Milton Town FC. The club happened to have an exciting project with some very talented youngsters, and I now find myself one of the senior players!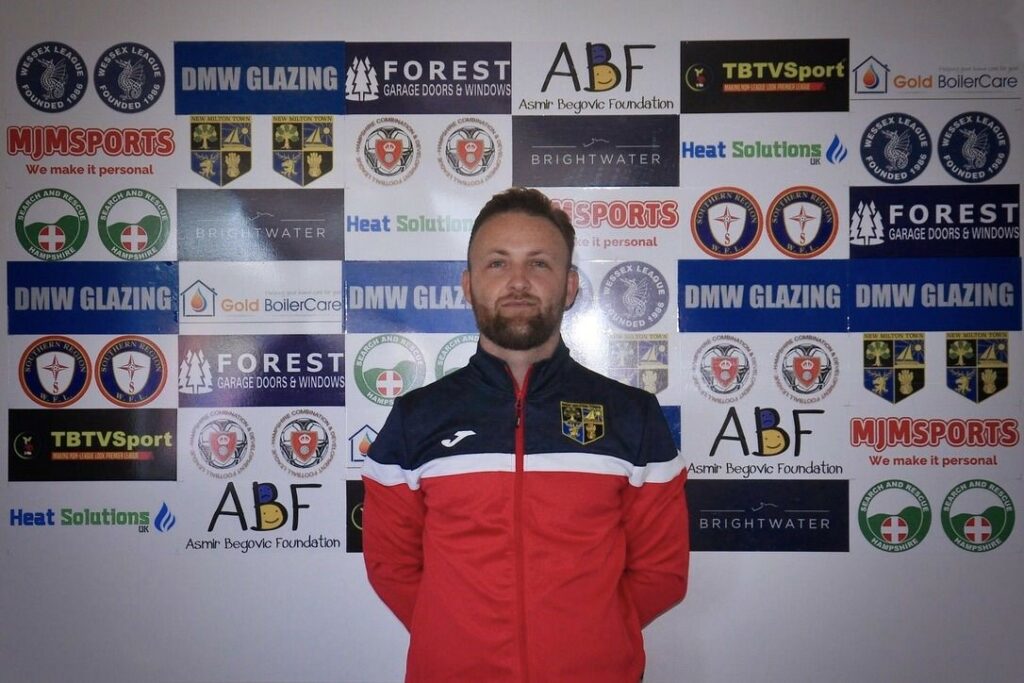 Thames Valley Windows has played a big part in getting my boots back on, as I have been able to get that job stability back, which has also helped with family life.
I am very grateful to the company for this, along with the support in sponsoring me for the season. The goal for the season is definitely promotion.
We are currently in 2nd, so not a bad start to the season. Hopefully, it will be a good journey over the next few years.
Ryan Schofield, MD at Thames Valley Windows, "We are thrilled to support New Milton Town, especially with a player sponsorship of Liam's calibre. Let's hope they can build upon their great start to the season and wish them good luck."