No home extension, or renovation project is complete without featuring beautiful architectural glazing in some form, from new energy-efficient double-glazed windows to sliding doors or a roof lantern to fill your home with natural light and the sense of space.
If your mind is racing with new ideas on how to improve your home, why not look at some of the hottest architectural glazing trends for 2021 that will inspire your home renovation or new build projects
Minimalism and transparency have been a trend in the glass industry and architectural design for many years and shows no sign of fading, as natural light never goes out of style.
With the innovation in glass technology and thermal performance, glass has become the primary building material for architects and builders for sustainable properties.
Here are our architectural glazing trends we expect to see grow in 2021.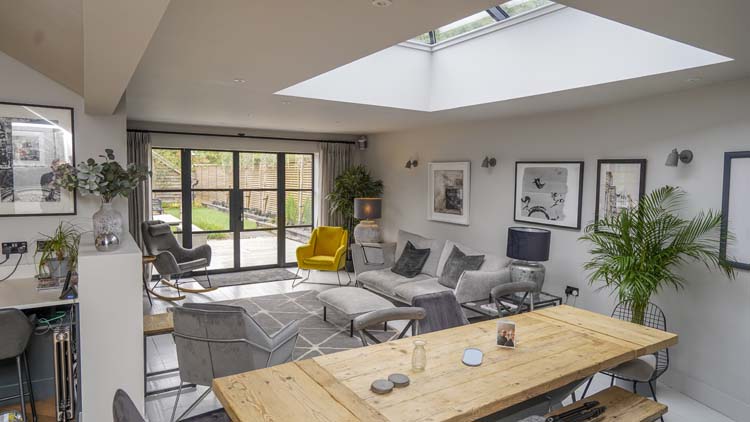 ELEGANT ART DECO HERITAGE DOORS
For the last decade, bifold doors have been very popular with homeowners for extending their indoor living space to the outdoors to create a seamless transmission to their garden.
Over the last couple of years, the trend towards mid-century modern interior décor has seen a change in the choice of exterior doors with a move towards art deco heritage doors, from Crittall style French doors to aluminium bifold doors with glazing bars.
With the recent trend of industrial influenced interior design these iconic metal-framed doors give a sense of nostalgia, yet still, exude elegance and have indeed become the most desirable addition to any property in Berkshire, Buckinghamshire, Hampshire, Oxfordshire and Surrey this year.
Mid-Century architectural features include extensive glass elements, from floor to ceiling glass walls with large sliding or bi-fold doors that fold away and fully open up your space and extend your kitchen or living area outdoors.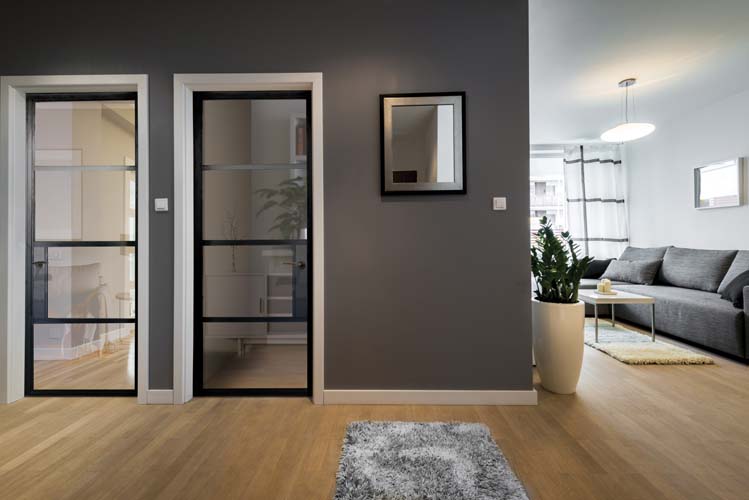 With a growing demand for broken plan living, decorative internal glass room dividers create separate rooms giving you the privacy but without compromising on light or space.

MINIMALIST GLASS WALLS
Another big emerging architectural glazing trend is glass walls, and large floor to ceiling windows as an alternative to structural glazing not only are they aesthetically pleasing that create an instant focal point and add the wow factor.
Full height glass to glass corner windows with minimal frames is one of the fastest-growing architectural glazing trends of 2020 and shows no signs of slowing down.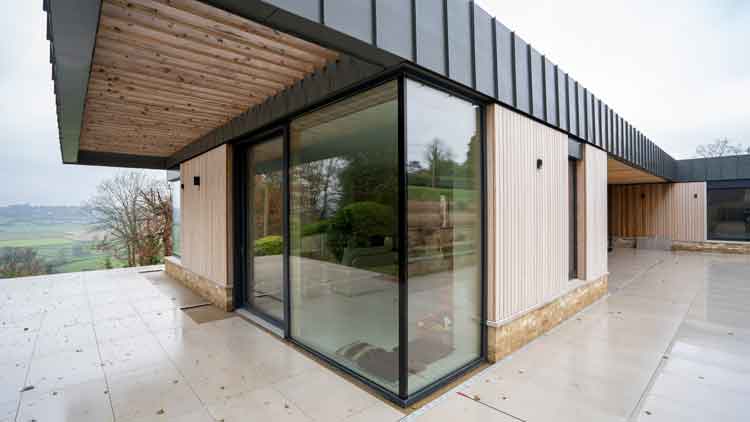 Glass-to-glass corners integrated with aluminium, alu-clad or timber fixed frames, sliding doors or bifold door systems, are the epitome in contemporary design and maximise the light that enters the living space to brighten up rooms and enhance the modern interior.
Large expansive glass panels are sleek and give a sense of spaciousness with spectacular views.
ORIEL WINDOWS
It is combining innovative glazing design with precision engineering and technology to create a stunning corner to corner windows for a minimalist design with uninterrupted panoramic views that add a greater sense of space to any property.
Oriel windows, also known as glass box seats, are a glass structure similar to a bay window that protrudes from the part of the building wall on the upper floor. Window boxes date back to the Edwardian era, and the window design has evolved over the years through the innovative use of minimal framed or frameless glazing extending the space and allowing maximum light to flood your home with natural sunlight creating a calming ambience.

GLASS BOX STRUCTURES
Transparent by design, glass boxes are one of the most impressive contemporary architectural glazing features to extend any style of property from a period property to a modern new build. They create beautiful light-filled living spaces with an uninterrupted visual flow from the property to the outside with the illusion that there is nothing between the interior and exterior.
Here at Thames Valley Windows, with the use of architectural glass, we design and install a vast range of energy-saving glass extensions. From a minimal frame contemporary glazed extension to a traditional conservatory incorporating smart glass for solar control and self-cleaning, to give an all-year-round living space.

TRANSOM WINDOWS
Another architectural glazing trend that has come back in a big way in the glazing industry is the transom window. These windows also are known as transom lights first appeared in the 14th century as an architectural feature in the form of a horizontal strip above a window or doors transom designed to add a distinctive style to a Front door and were the ultimate way to allow natural light into a room. They are fast becoming a popular feature for interior décor to create a nostalgic feel while increasing the visual flow of openness between rooms.

STYLISH NEW FRONT DOOR
There is no easier or quicker way to upgrade the kerb appeal and security of your home than installing a new uPVC, composite or aluminium front door. A pink front door with rose gold door furniture is another growing trend for both country and urban properties. With so many choices of door designs, colour options and hardware, you can truly make a statement and show off your personality and with your new entrance door!

BLACK WINDOWS
Whilst white and anthracite grey windows are classic choices, here at Thames Valley Windows we have seen a growing demand towards stylish, sleek black windows in both uPVC and aluminium.
Black aluminium windows are a the no.1 choice to minimise the effect on the environment through sustainable materials and lower carbon emissions. The last few years dual colour windows was a preferred choice with homeowners with black on the exterior and white on the interior to brighten up rooms.
We have recently seen a shift towards black window frames as they add a luxurious feel to the interior décor in both modern and traditional properties, creating a contemporary and industrial vibe.
Many of our customers are getting in touch at the moment for ideas on how to make their homes lighter, warmer, safer and more secure ahead of the colder months. With many of us spending more time in our homes, working, home-schooling or relaxing. We are now looking at ways for adding more living space, with glazing solutions that offer thermal performance, sustainability, longevity and save money on energy bills by flooding our houses with light to improve energy efficiency.
At Thames Valley Windows, we offer more than just glazing solutions and architectural glazing trends we offer a vision. Whether you are looking for new windows and doors for your project, we can mix and match glass products to create natural light-filled living spaces.