This is a question we are often asked. Both are extensions of your living space, both have a mix of brick and glazed areas and both have glass roofs. So, what is the difference between a Conservatory and an Orangery?
The simplest explanation is that a Conservatory has a roof that is all glass whereas an Orangery has a roof that has a solid roof perimeter with a glazed area in the centre. This glazed area is called a lantern. The solid area around the perimeter forms a ceiling on the inside that would be fitted with downlights.
Both Conservatories and Orangeries can have some brickwork in the side elevations or they can be all glass. It is not the amount of glass or brickwork that differentiates a Conservatory and an Orangery, it is simply the construction of the roof. Traditional style Conservatories and Orangeries have more brickwork whereas the more contemporary styles have more glass. They are often glazed on all sides with bi-folding doors and fixed panels.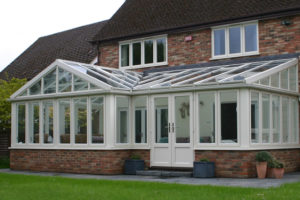 Despite these general rules on the differences, your Conservatory or Orangery can contain as many windows, doors and roof lanterns as you like, within the constraints of building regulations and your planning department, of course.
Livin Rooms are becoming an increasingly popular choice for those that require the look of an Orangery but do not necessarily have the budget for one. A Livin Room resembles an Orangery but has a conservatory-style roof that spans the entire roof area meaning no flat roof is required. A fascia is then added to give the structure the look of an Orangery, and a framework is constructed inside around the perimeter to create a ceiling. Livin rooms are much easier to build as they require less building work and would typically not be under building regulations. This means that they are more competitively priced.
To let in maximum light and for a contemporary look, you could opt for a fully glazed structure. A contemporary glazed structure is a very high-spec Conservatory. The roof is all glass and will normally be built using structural aluminium sides and roof but can be duplicated in uPVC at a lower cost.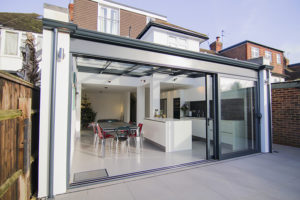 Budget will have a major influence on your choice but also, your personal taste, your property style and the way you and your family intend to use the space are also important factors to consider.
Speak to one of our Designers to discuss your plans or request a quote here.
You may also be interested in reading the following blogs:
What Planning Permission Do I Need for a Conservatory?
Is There a Limit to the Amount of Glazing I Can Have in an Extension?
Do I Need Planning Permission to Build a Glazed Extension?
How to Choose a Conservatory