Welcome To Our Very Favourite Glass Room Extensions – Before and After
Glass room extensions and contemporary living spaces are a stunning way to make the most of your outdoor spaces, allowing abundant natural light and unobstructed views of your garden and bringing the outside inside with sliding doors. With this in mind, we are not surprised that more of our clients are enquiring about this popular type of bespoke glass extension to improve their property while expanding their homes' social and living areas in an eye-catching way.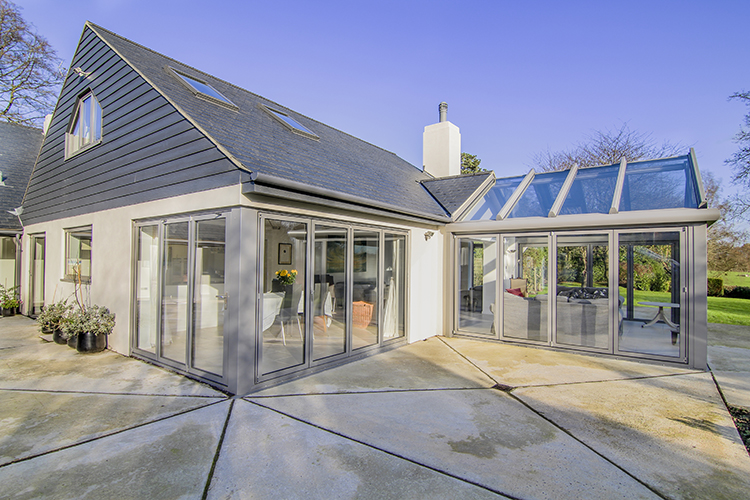 A Contemporary Bungalow Makeover in Maidstone
One of our favourite glass room extension projects involved a 1960s bungalow which the owners wished to transform into a modern family living space. Our starting point was the replacement of the brown wood windows and removing the Victorian timber conservatory to the rear of the bungalow.
After removing the brickwork and carrying out structural alternations, the result was an open-plan living space with larger glazed areas comprising bi-folding doors that opened onto an expansive courtyard patio. Instead of the outdated conservatory, a dramatic and modern glazed gable structure was installed with large, fixed frames and SL 60e bi-folding doors that allowed for stunning, unobstructed garden views. With active solar-neutral glazing to the glass roof and a motorised awning, the project's first phase ensured a dramatic makeover.
The project's second stage was completed by adding a glazed extension to house a downstairs bathroom. The outcome boasts a gable roof that blends seamlessly with the original installation's design but with a glass wall to maximise daylight and motorised roof ventilation, allowing guaranteed use throughout the year.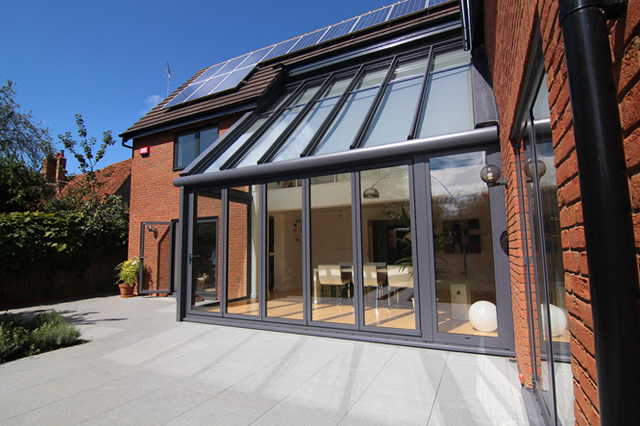 Conservatory Replacement in Milton Keynes
Another of our favourite projects, this glass room extension in Milton Keynes, was built for our clients keen to replace their leaking, dated uPVC conservatory with a more modern and attractive outdoor room.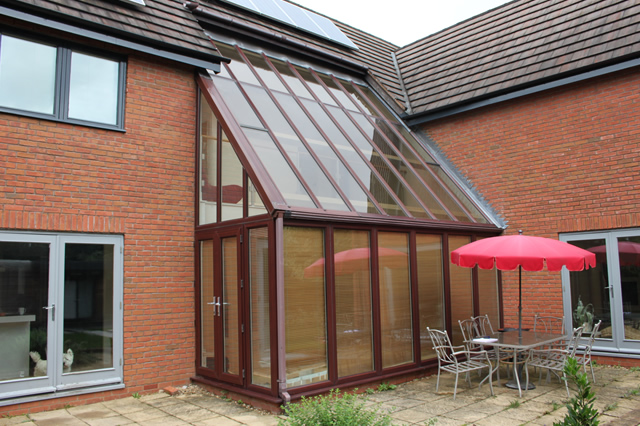 We removed the existing conservatory and its internal supporting steel portal frame and replaced it with a Solarlux Wintergarden installation with a Markilux internal awning, SL60e bifold doors and an Akzent Plus roof. Not only did this replacement improve the property's structure, but it also boosted its thermal performance significantly. To keep the whole property cohesive in aesthetics, we added further SL60e bifold doors to adjacent rooms, too, thus ensuring a seamless connection with the outdoors.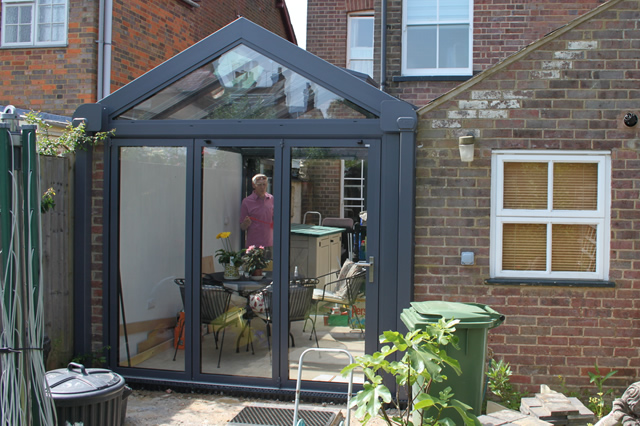 A Stunning Sunroom in St. Albans
A client in St. Albans contacted us hoping to add a sunroom to their property to use a dead space to one side.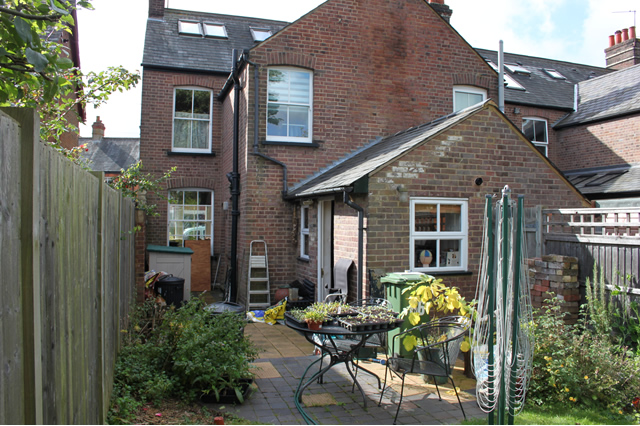 We recreated the adjacent gable's angle so that the two buildings would blend perfectly together before installing Solarlux SL 60e bifold doors at each end of the newly created room so the space could be opened up fully in the warmer months while providing access not only to the house but the garden too. Our clients were thrilled with the outcome, which expanded their living space while using their outdoor areas best.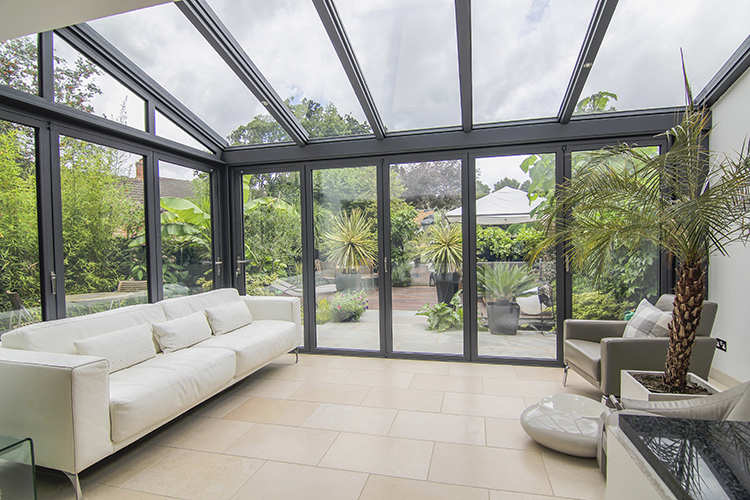 Glass Room Extensions for Beautiful and Multifunctional Living
If there's one thing that our clients have realised, it's that a glass room extension can revolutionise how they use their home.
Adding a glass garden room to a property can make the most of their garden all year round and increase their living space while boosting their home's overall value. Contact our team today to learn how a glass room extension could work for you.
At Thames Valley Windows, we offer much more than your standard double-glazing company. Combining creative vision and cost-effective solutions, we design and install stunning glass box extensions from frameless glass to structural glass panels. Our designers take the time to understand your project. We endeavour to offer the highest quality glazing products, competitively priced and with invincible customer service.