With Spring in the air and warmer weather just around the corner, homeowners start to think about their outdoor space.
The kitchen is the heart of the home and a place where we spend most of our time. That is why many homeowners look to upgrade Kitchen patio doors to improve the kitchen's functionality and lifestyle.
Outdoor kitchens and living spaces will continue to be all the rage in 2023, as they provide a space to enjoy alfresco dining with friends and family.
Over the last couple of years, the evolution of outdoor living spaces has been in great demand, and we have seen more homeowners keen to invest in luxurious contemporary sliding doors, modern bifold doors or traditional French doors to create an open plan living space that blurs the lines of indoor and outdoor living spaces.
Regardless of your reason for considering kitchen patio doors in this blog article, we look closely at recent projects where we have transformed our customers' homes to help you with patio door ideas.
What are the Different Types of Kitchen Patio Doors?
Kitchen Patio doors are ever-evolving. Whether you are looking to extend your home by creating a new aperture or replacing an existing opening, there is a vast array of kitchen patio door combinations in a multitude of colours and materials to choose from that will enhance your property and lifestyle.
Also, with the latest innovations and advancements in glass technology that influence flexibility, many modern designs incorporate high-quality materials to increase security while reducing noise and heat loss and improving thermal efficiency.
Add the WOW factor with Bifold Doors.
Some trends come and go, but beautiful bi-fold doors, whether in UPVC, timber or aluminium, or composite, continue to be a trend in kitchen design as they are aesthetically pleasing and practical and add natural luminosity to the home.
The fold-and-slide mechanism of bifold doors allows the door panels to fold to the side and completely open up an uninterrupted aperture to blend indoor and outdoor living spaces seamlessly.
Slim framed Bifolding doors are a visually stunning addition to your home that offers floor-to-ceiling glazing providing panoramic views of the garden if open or closed.
They are now one of the most sought-after kitchen patio doors for homeowners looking to create a seamless indoor and outdoor transition.
See how the Orangery extension with SL60 Bifold doors at a 1920 Mock Tudor house in Maidenhead has completely transformed this family home. From the outside, the new extension with floor-to-ceiling glazing has added an elegance and contemporary twist to the period property. By combining sleek aluminium profiles with wooden beams, our architectural designer has modernised the aesthetics whilst preserving the integrity of the original period features.
From the inside, natural light floods into the living space, allowing the owners to enjoy views of their garden in warmth and comfort all year round.
Breathtaking Less Frame More View Ultra Slim Sliding Doors
It's no real surprise with the demand for maximum visible glass area that we have seen the resurgence of 80's sliding doors.
Sliding patio doors are no longer perceived as bulky and outdated kitchen patio doors. They are back in vogue and have come a long way in aesthetics and performance.
With bespoke engineering capabilities, Aluminium sliding doors are now designed with the latest glass technology and minimal frames to offer spectacular designs to create a grand statement and enhancement to your property.
With contemporary and minimalist architecture on trend, design and aesthetics have never been so important to homeowners and architects. Slimline sliding doors are growing in popularity for new builds and home renovations.
Sliding doors are suited for wider apertures as they can be designed and engineered as an oversize system. Available in uPVC, aluminium, timber, or composite. They are cutting-edge designs in any configuration and fully 90-opening corners and pocket frames!
Sliding doors also take up less space than traditional hinged French doors, but one panel will always have to be closed, so they do not fully open to offer the wider opening that bifold doors provide.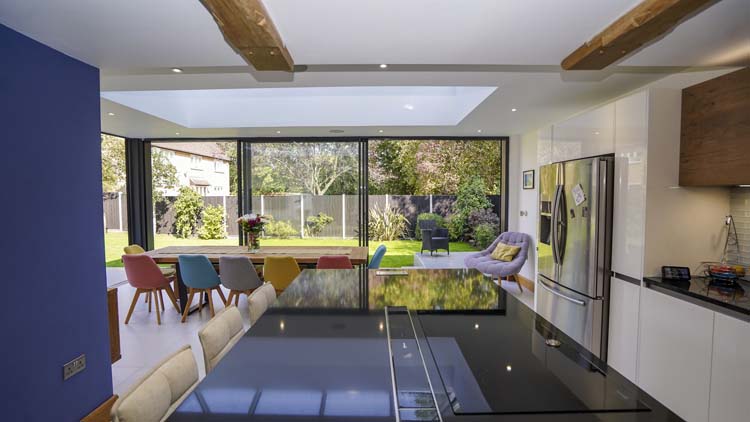 This spectacular project has transformed a family home in Reading. This beautiful minimalistic and contemporary open plan Orangery kitchen extension has been designed with minimally framed Solarlux Cero II sliding doors.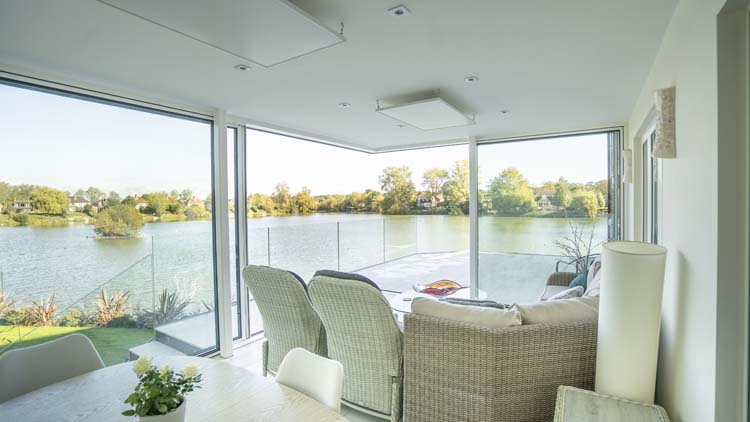 Another stunning project where we designed a modern glass extension with minimal frame slim line sliding doors with a moveable corner at a detached property in Maidenhead
Allowing the homeowners to enjoy alfresco dining on the terrace and watch the ever-changing landscape reflected in the Summerleaze lake as the sun goes down.
Traditional French Patio Doors
French Patio doors are a classic door style that echoes continental architecture. Evolving from the elegant French window, they were first invented around the Renaissance period in France.
French patio doors combine form and function and are best suited for smaller openings as they are designed with two side-hinged panels that can swing open inwards or outwards.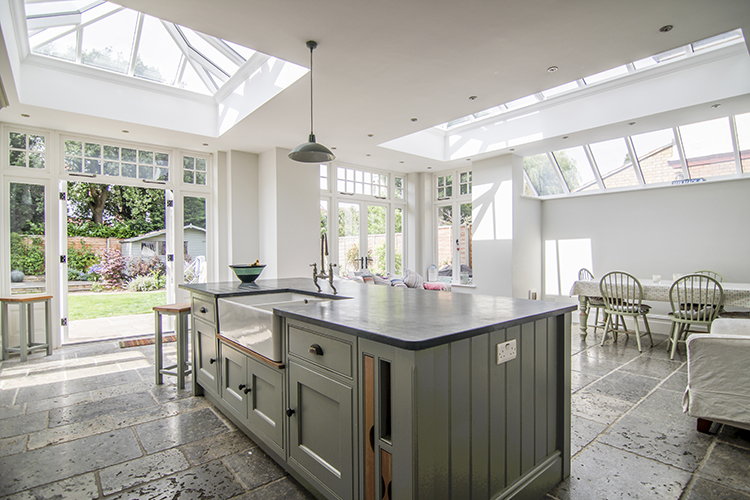 One of the outstanding features of this home improvement project is the addition of two pairs of timber French doors to this spectacular classic Orangery in Surbiton that opens out onto the garden to unite the inside and outside into one connected living space.
Quality and attention to detail have been prioristised  for the  homeowners of this beautiful family home wanted to increase the size of their kitchen and dining area that connected with the garden to create a light and airy living space that would become the heart of the home.
ON TREND – Black Heritage Kitchen Patio Doors
2023 has been predicted as the Year of Luxury! Black emulates luxury and grandeur and will never go out of fashion. That is why Black Heritage patio doors are a timeless addition to kitchens.
Over the past year, black kitchen patio doors with glazing bars have become one of the most popular features in kitchen extensions and home renovations. They offer a contemporary and dynamic look that is hard to rival.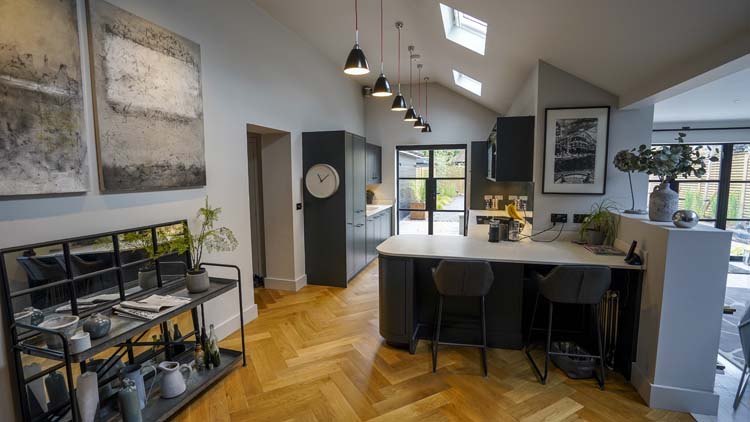 This stunning pub renovation project in Pangbourne, where we designed and installed Black Heritage patio doors, has been designed with high specification and the finest attention to detail.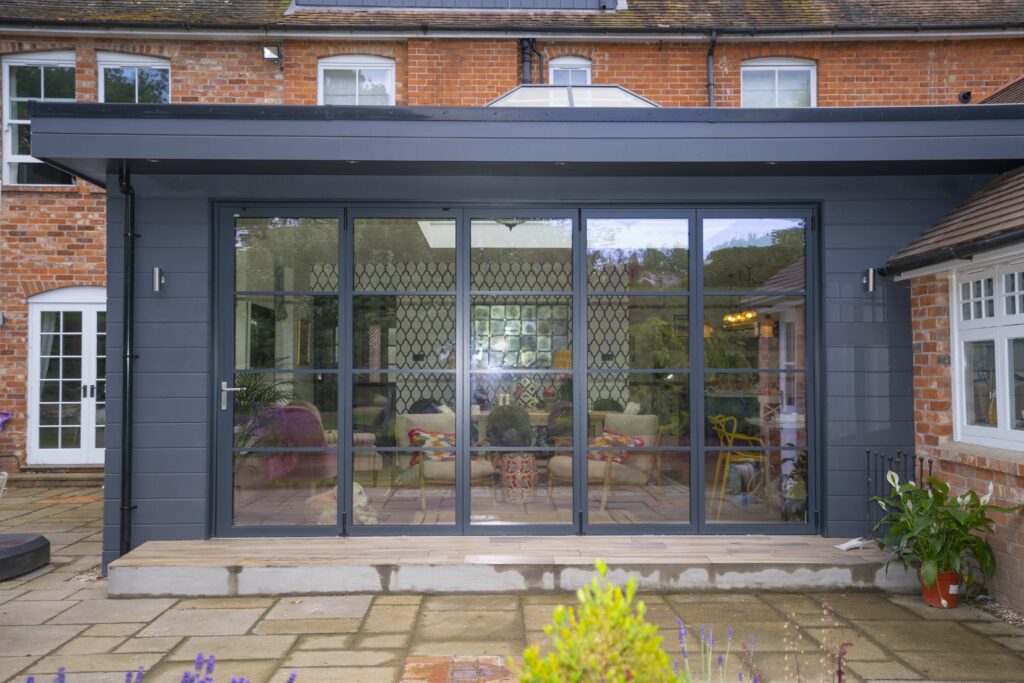 Black bifold doors with glazing bars have taken the glazing industry by storm, and we predict this trend will keep up the pace in 2023.
Here at Thames Valley Windows, quality always comes first, but we continue to market trends to respond to customer requirements. We only work with the best manufacturers to provide homeowners, architects and developers with the best products. That's why we regularly review our product range and add new products so that our customers have everything they need for a project in one place.
To discover our kitchen patio door costs, call 0800 181 698 and request a free no-obligation quote! Or contact us online and arrange an appointment at our showroom or your home!
In April, we will showcase the latest innovative high-performance sliding door systems from Solarlux.