The last 12 months, has seen a considerable increase in Berkshire, Surrey and Hampshire homeowners looking to extend modern and traditional properties and create contemporary living spaces.
With the new normal of meeting friends and family in outside spaces and working from home. Here at Thames Valley Windows, we have also had an increase in brochure downloads and quotation requests for both glass canopies and a modern lean-to conservatory.
Online searches for glass extension inspiration and ideas from a modern lean-to conservatory or garden rooms to kitchen extensions and Orangeries have been in huge demand.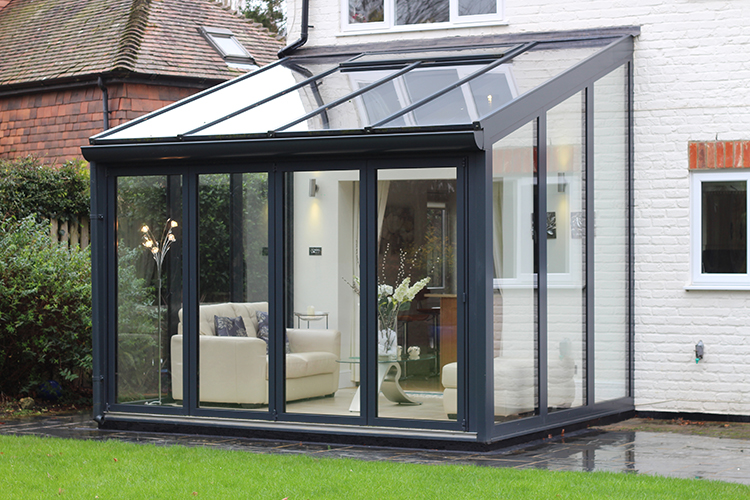 In our latest blog article, we take a look at the different types of modern lean-to conservatory extensions, from a contemporary glass Wintergarden to a traditional Orangery that improves the homeowner's lifestyle and increases indoor and outdoor living spaces.
What are the most popular glass roof shapes?
Modern lean-to conservatory, also known as a sunroom, is the perfect choice for properties with a low-pitched roof such as a bungalow or Victorian terraced with restricted space.
One of the most popular, on-trend conservatory styles we're seeing is contemporary lean-to structures, due to the versatile sloping roof and as they are a cost-effective solution for increasing space at the rear of a property.
These are minimalist in style than traditional conservatory designs, with large expanses of glass and simple, clean lines that maximise transparency and offer unobstructed views.
These minimal framed aluminium glass extension pair perfectly with bi-fold and large sliding glass doors, which remain popular, providing homeowners with the opportunity to bring the outside in and seamlessly connect with the great outdoors.
Modern lean-to conservatory combined with these slim profiles and large glazed doors offers floor to ceiling glazing to help create light and airy living spaces.
The simplicity and openness of glass make it a suitable building material for any property style or period.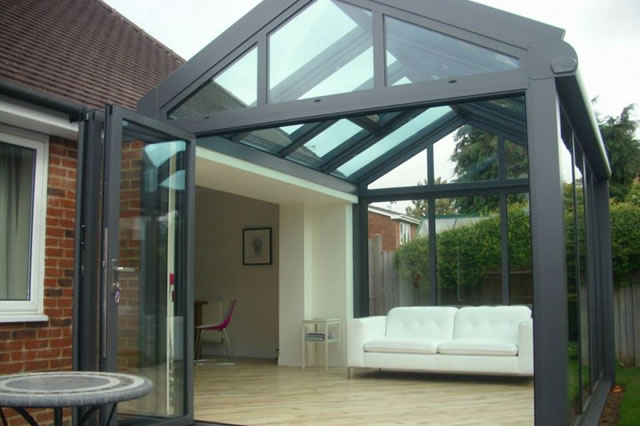 Best conservatory materials/or material options for the structure
From traditional uPVC designs to popular contemporary aluminium structures, homeowners can choose a material that best suits their home, style and budget.
Both types of material are elegant, aesthetically pleasing and provide energy-efficient living spaces that can be used all year round.
For a more affordable option, choose uPVC windows and doors, an extremely durable, low maintenance and non-corrosive material.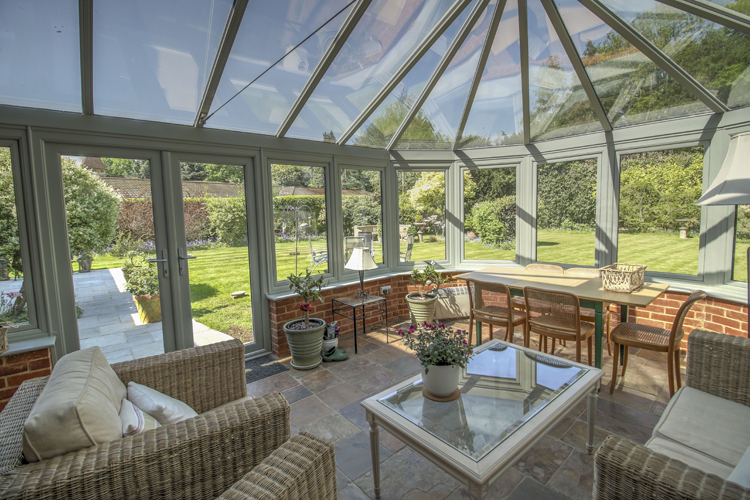 How you can incorporate colours into your Modern Lean-to Conservatory
Conservatories are designed to be naturally bright, light living spaces.
Suppose you're looking to add colour into your conservatory. In that case, uPVC or timber alternative materials are now widely available in various colours and finishes and can even be made with wood grain details.
Neutral colour schemes are a preferred choice for the interior, as they allow the daylight to create an illusion of space. Whilst nature-inspired colours such as pastel green is a popular choice to create a seamless blend with the garden and beyond.
Many homeowners choose to continue the same interior décor scheme as the existing property for a continuous flow.
The dual colour combination gives homeowners the opportunity to add different colours to the external and internal frames to their modern lean-to conservatory.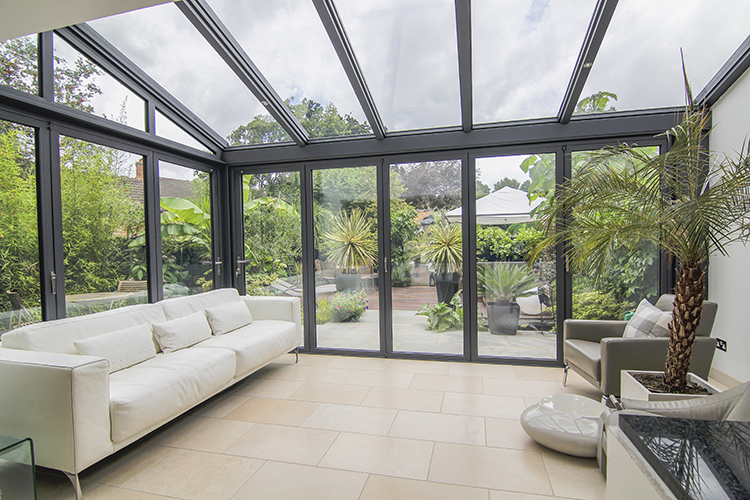 Glazing and glass options/trends
Depending on whether the rear of the property faces North or South or somewhere in between will help decide on the best glazing options for an all-year modern lean-to conservatory.
With the latest advancements in glazing technology and cutting-edge techniques, there is a wide range of innovative glazing options from solar control, laminated and toughened glass, easy-clean coatings to low iron and coloured tint options.
Opt for double-glazed heat-reflective glass-coated in Ambi-neutral, which is the least tinted glazing. Also known as energy-efficient glass, it provides a lovely natural look that incorporates an innovative technology that reflects 60% of the sun's heat away from the conservatory roof and reduces the sun's glare by 63% while still maintaining optimum clarity for maximum light transmission.
Low U value coatings will lower your carbon footprint and reduce energy bills.
Here at Thames Valley Windows, we can help design and build a bespoke modern lean-to conservatory to Berkshire, Hampshire, Surrey properties, and surrounding areas.
Whether you are looking for a modern lean-to conservatory to increase space in a kitchen and dining room, and can't decide between French doors or bi-folding doors, we are here to support you and answer any questions.
Our designers offer a 3D Visualisation Service, so you will be able to view a visual representation of your modern lean-to conservatory before it is installed!
Contact us today for a free quote.