Over the last 35 years, leading German manufacturer Solarlux has built up an enviable reputation for pioneering, visionary and award-winning high-quality bi-folding doors throughout UK and Europe.
With the market and design trends constantly evolving, Solarlux has further expanded its very successful bi-folding door systems with two new slimline sliding door systems, Ecoline S and Highline S, at a very competitive price due to being launched in April 2023!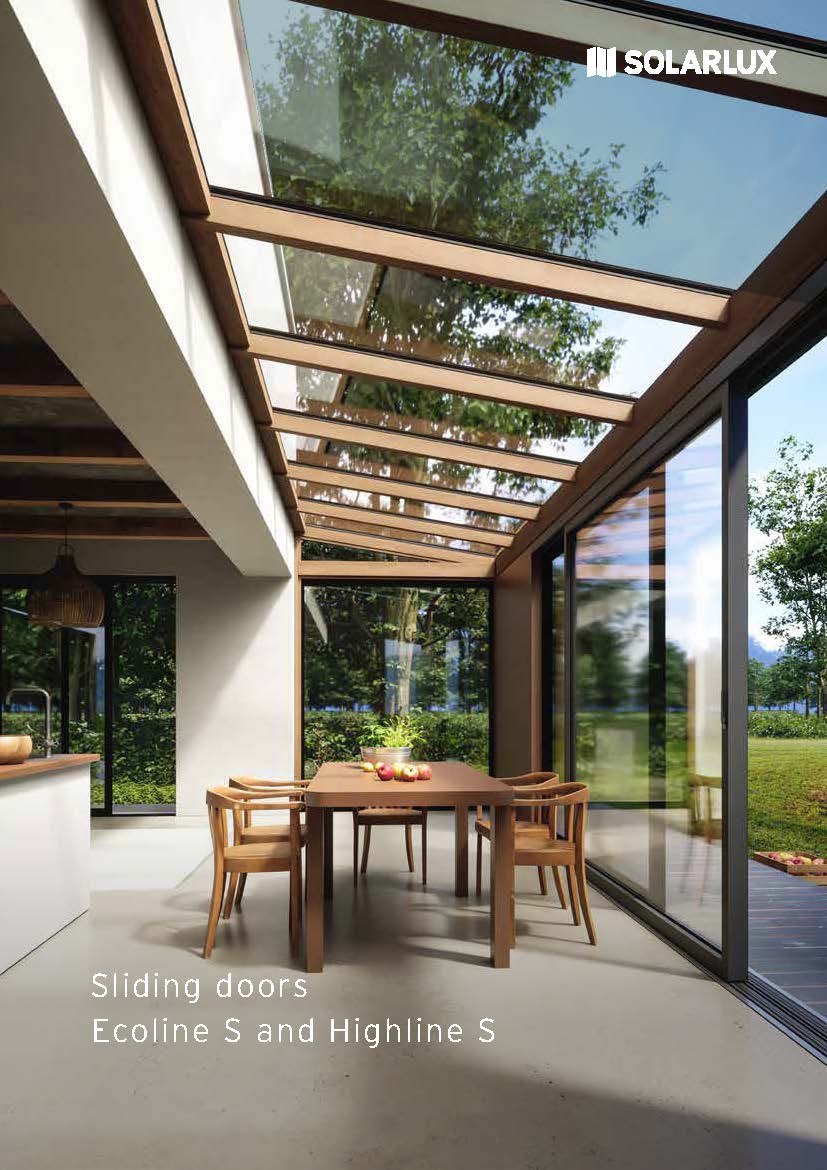 COMMITTED TO EXCELLENCE
Passion, innovation, design excellence and continuous improvement of their architectural glazing products are the secret to Solarlux's success. They are the proud recipients of many prestigious design awards, Iconic Awards, iF Design Awards, German Design Awards and Red Dot Awards.
With that in mind, they felt it was time to build on the impressive product range and further grow the luxurious Solarlux brand so that it reflected their ongoing drive for excellence and commitment to designing high-performing and thermally efficient sliding doors that enhance contemporary living environments with no visual compromise.
NEW ECOLINE S AND HIGHLINE S, THE NEXT GENERATION IN HIGH-PERFORMANCE SLIDING DOORS
The latest generation of Sliding doors opens new possibilities for contemporary new build and home refurbishment projects.
There is no other door system like it! It is a more cost-effective solution that cannot be rivalled but will be envied by many. For the first time, the system offers a thermally insulated profile concept that is unique on the market, with which it is possible to provide a continuous and uniform profile.
Solarlux systems offer a one-stop shop combining contemporary windows and bi-folding doors with slim sliding doors that provide an unbroken, uniform profile sight line.
An innovative system as the glass level of the sliding door also fits flush with connected elements such as windows and bi-folding doors, so there is no major offset at the edge of the glass would provide a bespoke and contemporary solution to match any Wintergarden applications and larger facade projects, whether residential or commercial.
SAY HELLO TO THE ECOLINE S and HIGHLINE S SLIDING DOOR
Taking the strength of the bifold systems, the Ecoline S and Highline S sliding door systems fit seamlessly into the door range in terms of quality, performance, aesthetics, convenience and ease of installation.
Both systems are precision engineered to guarantee smooth, easy operation. The stainless-steel carriages and rails guarantee easy and low-wear sliding function at the push of a finger. The large sliding panels open and close in line, with double or triple track and can be stacked one behind the other with no limit on the combinations and span of your design.
The innovative Ecoline S and Highline S perfectly balance versatility and modern design. Available in double or triple-glazed, they have been designed for large openings for the impressive floor-to-ceiling glazing to add the wow factor.
Beautifully engineered and meticulously prepared, these slimline aluminium door solutions share many distinctive door features, qualities and design options as CERO, including sliding, fixed, opening corners and hidden pockets that can be combined in almost endless configurations.
The outer frame can be hidden entirely within wall cavities for a minimalist look.
THE INFINITE VIEW
The fundamental principle of Ecoline S and Highline S sliding door systems is more view and less frame. It benefits from a central minimalistic interlock of only 55mm, offers exceptional
insulation and thermal performance accommodate the largest uninterrupted expanses of glass for more natural light and improved views.
A TRUSTWORTHY BRAND WITH AN ESTABLISHED HISTORY
Solarlux is a prestigious brand which manufactures superior quality products from a state-of-the-art factory in Melle, Germany, that will truly stand the test of time.
WHAT MAKES ECOLINE S AND HIGHLINE S UNIQUE?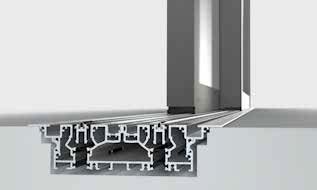 ACCESSIBLE FLOOR TRACK WITHOUT PROFILE OFFSET
The Ecoline and Highline sliding doors offer an accessible floor track with built-in cascading system drainage. Future versions will also be optionally available with three different joint profiles (including one with a ramp) for effortless adaptation to the existing ground level and an even transition to the floor.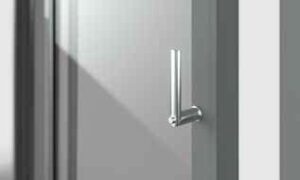 DESIGNER LOCKING HANDLE WITH LATCH FUNCTION
Both sliding doors have a stainless-steel designer locking handle with a latch function for convenient opening and closing. The handle locks in place when in the vertical position, so it can be used to pull the sliding panel without turning unexpectedly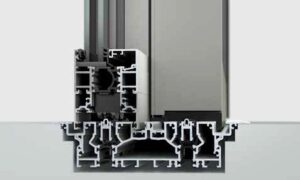 OPTIMUM SEALING DESIGN
The Ecoline S and Highline S sliding systems offer optimum permeability. The horizontal bars below the panel are designed to act as a defined drip edge and run right into the floor track. They conceal the horizontal brush seals in the floor track, thus offering an effective seal to protect against wind and driving rain.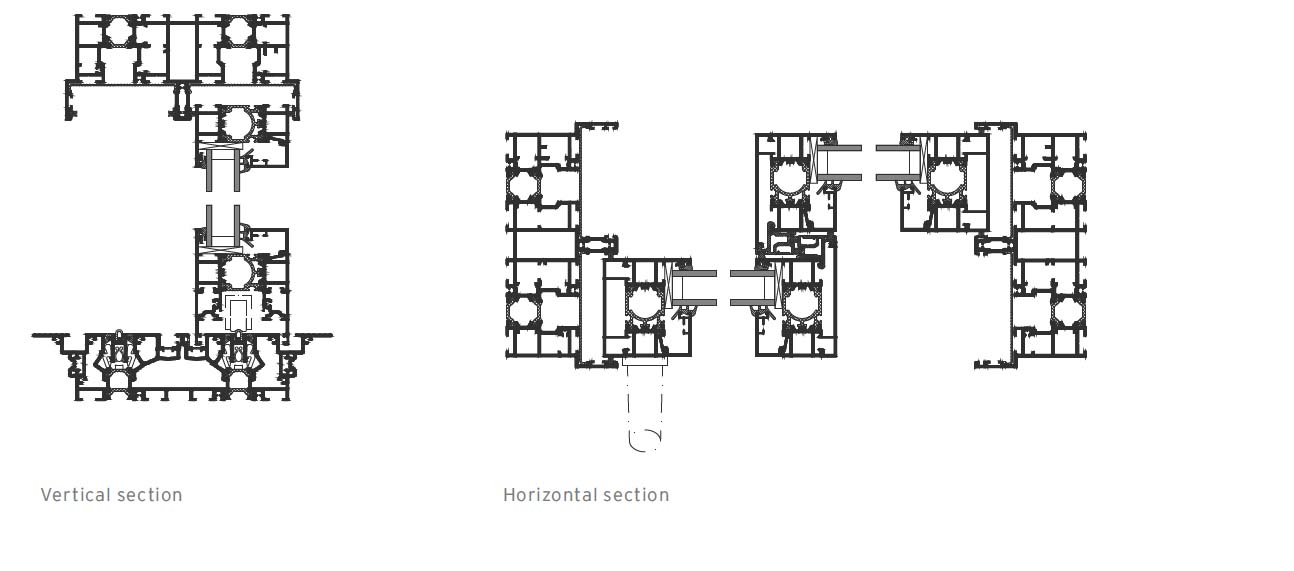 TWO BUILDING DEPTHS – ECOLINE (67 MM) AND HIGHLINE (84 MM) FOR DIFFERENT APPLICATION AREAS WITH DIFFERING REQUIREMENTS
Ecoline: Panel weight: 300 kg, panel width:
Max. 2,700 mm, frame height: max. 2,500 mm
Highline: Panel weight: 400 kg, panel width:
Max. 3,200 mm, frame height: max. 2,800 mm
Slender sight line – only 55 mm wide
Durable stainless-steel rollers with the cero family tried-and-tested carriage and running tracks for ultra-convenient operation thanks to light sliding action
Optional mounting drill holes are available on side and top of the frame, plus load-bearing, thermally broken fitting panels like those used in the bi-folding door family.
The latest generation of slimline sliding doors opens new possibilities that will enhance and be the design statement feature for new build and refurbishment projects.
To discover Ecoline S and Highline S sliding door prices now, call 0800 181 698 and request a free, no-obligation quote!