Black metal windows are renowned for their pencil-thin sightlines and industrial vibe they emit.
Metal windows and doors made of durable steel has been a popular choice of art deco windows for many homeowners as they are maintenance-free steel-framed windows compared to wooden windows. Many famous iconic UK buildings feature these style of black metal windows include Tower of London the National Gallery, and some parts of the Houses of Parliament.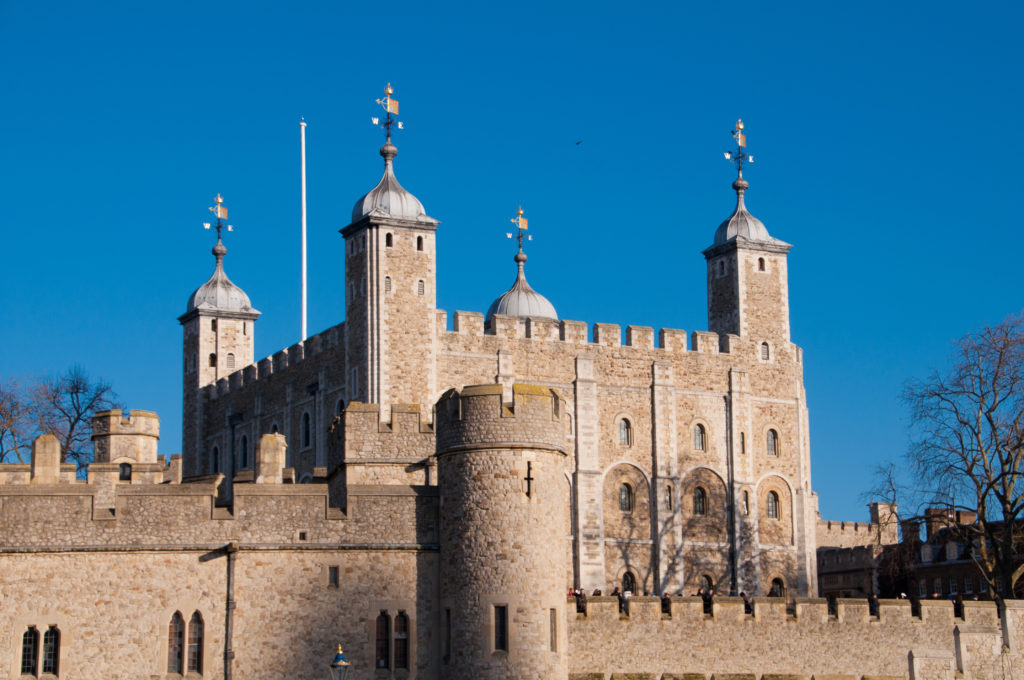 Gone are those days when only one window and doors company dominated the steel window industry. With the introduction of aluminium windows in the 1960s along with double glazed windows, homeowners and property developers now have an abundance of metal window styles to choose from at affordable prices.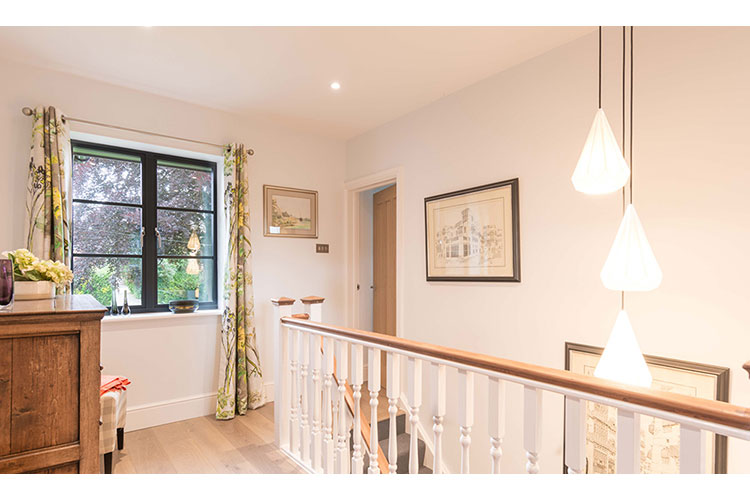 What is Black Metal Alternative?
Have your old steel windows started to warp or rust? Are you looking for replacing your original steel windows and doors that are cost-effective? Then we have the perfect solution in the form of our Heritage Aluminium Windows – they have been carefully designed to closely replicate the proportions and detail of an original crittal frame.
Enjoy all the benefits of aluminium windows, the slimmest metal windows, with distinctive sleek profile frame features, complying with conservation and building regulations they are suitable for, period windows and Georgian windows to enhance the style of any home.
A popular and affordable choice for maintenance-free windows that offer an industrial-inspired aesthetic value and historic steel replication to any property be it traditional or contemporary.
Our black metal window frames are elegant, efficient and secure that is handmade by our skilled craftsman that are ideal for conservation areas, property refurbishment, new-build commercial and domestic projects.
Genuine steel windows costs are expensive with prices starting from £3000 per window. Our aluminium black metal windows offer virtually the same look as steel grid windows but at a more affordable price.
Let's Think About Light
Aluminium windows are impressively adept making the most of natural light and creating whole new atmospheres in a variety of spaces. From just a glance, you can see that glass is maximised to the full, allowing more natural light into each living space and give the best views to the outside.  Adding black aluminium grid-style walls to your rear extension create excellent panoramic views all year round from the comfort of your living room, kitchen, conservatory or orangery. Glass panels either side of your aluminium French door delivers copious amounts of light flooding into your home and create the optimum flow from your home to the garden.
Slim aluminium sightlines frames bring a bit of old-fashioned charm while at the same time adding a modern and contemporary feel to even the most classical of rooms. From a traditional country cottage to a contemporary townhouse, the Heritage Aluminium range of black metal windows offers style and elegance to suit all tastes.
Windows don't only belong in exterior walls – they can create a stunning feature inside, too, whether it's a glass divider or black metal grid-style doors to partition living spaces, that won't compromise on light or space.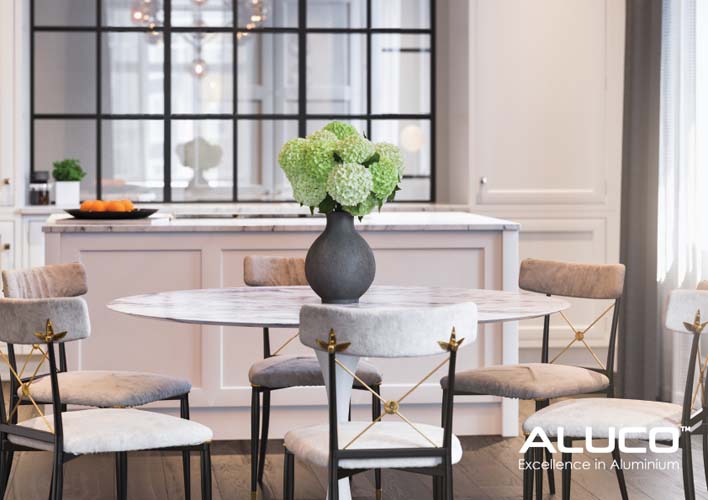 Adding aluminium grid-style room dividers and even shower screens is an excellent way of not only recreating the space but also drawing light into our rooms and increasing a sense of flow and connectivity. Open-plan living has become a popular choice with homeowners; grid-like framed partitions create a striking visual divider between rooms and produce a sense of airiness and space, adding an architectural character to a property.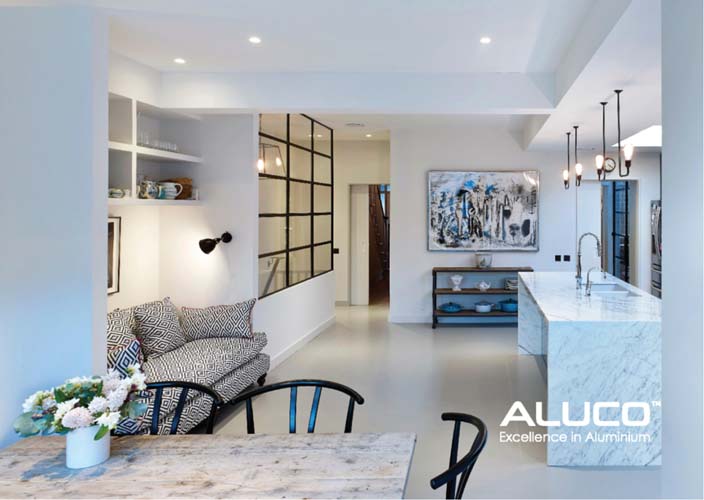 It can be tempting to get rid of walls and partitions altogether in favour of black metal grid-style walls. However, this may not always be possible. To this extent, we advise you to look at your existing floor plan and home design with an experienced contractor or interior design specialist.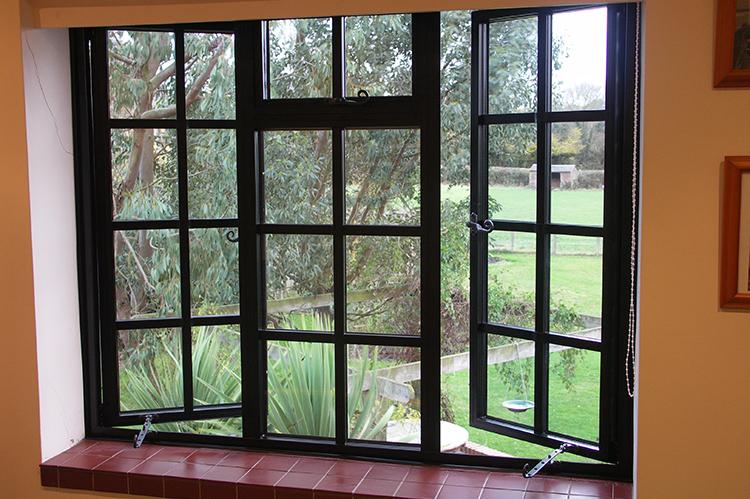 Why Choose Alternative
Double glazed Aluminium windows without compromising on the original character of your home.
Slim Profiles dimensions to replicate traditional steel windows.
Designed to the highest UK security and safety standards.
A-Rated energy efficiency.
Powder-coated so can be prefinished in any RAL colour
Superb range of accessories designed to replicate characteristics of original steel windows.
All of our aluminium windows are made from slimline aluminium sections and slimmest polyamide thermally broken window available, with a minimal 58mm outer frame and casement measurement, they have the slimmest proportions on the market. Installed directly into existing timber sub-frames, or direct to brick or stone, the dimensions of our window profiles have been expertly designed to replicate traditional steel windows.
Each Aluminium product is powder-coated to give one of the most durable finishes available for windows and doors guaranteed against peeling, blistering, corrosion, fading and loss of sheen
Our windows work to preserve and enhance the beauty of your property while ensuring the security and efficiency of double glazing that is required for a modern home.
Our showroom in Bracknell, Berkshire showcases our 'Heritage Aluminium Products' and our architectural design team here at Thames Valley Windows are experts in the creating concepts and designs that not only suit the style of your house, but meet your family needs, whether it's extending current living space, or make better use of the garden and outdoors. All of our options are designed to include traditional features while incorporating modern operation, technology and energy efficiency.
What's more, if you're not sure how adding new living space to your home will look, we offer a 3D Visualisation Service, so you get to see precisely what the outcome will be even before we start!