Great article on "Top Tips of telling the difference between high quality sliding doors and poorer quality" in the latest edition of Build It magazine.
We were thrilled to see the CERO Sliding doors we designed and installed in an Orangery kitchen extension at a detached property in Reading featured in the article.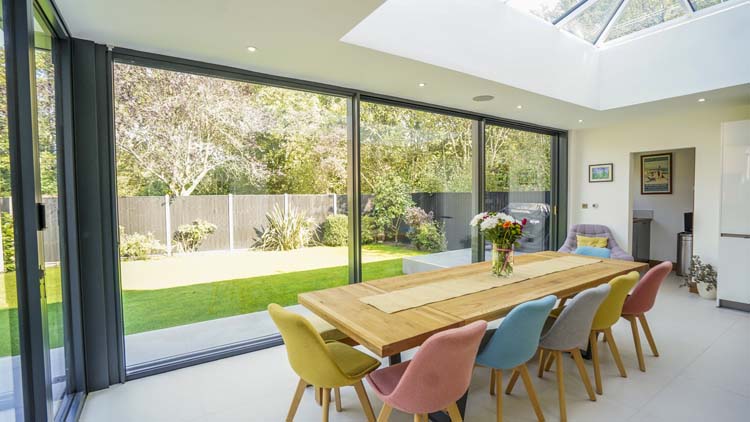 The article is very informative and provides the key questions to ask when choosing sliding doors and the giveaway signs that might indicate superior or inferior performance.
What material are the running wheels made from? Cheaper sliding doors tend to have nylon or plastic wheels, and over time they will start to warp or compress from the weight of the door panels. Look for sliding doors system with stainless steel carriages as these are hard-wearing and of higher quality and create state-of-the-art effortless slide mechanisms.
Professional advice on building regulations, sliding door systems and how to choose the best sliding doors for your project. From lift and slide doors to dynamic ultra-slim sliding glass doors with vast expanses of glass to create a glass wall that will maximise natural light and create a seamless connection to the outdoor space.
Interesting information on the latest trends for sliding patio doors with minimalist sightlines and doors frames that are fully recessed into the ceiling and floor to allow up to 99% of visible glass for maximum views
Whether you are looking for sliding or bifold door systems or are interested in the door costs trying them before you buy is essential, so visiting a supplier showroom is highly recommended.
Here at Thames Valley Windows, we have a stunning showroom in Bracknell, and our high-quality sliding door ranges are on display.
We have a range of double and triple-glazed aluminium sliding doors with a multi-point locking mechanism and a uPVC In Line door set with multi-point locks. It is the perfect opportunity to see and feel the sliding door system you are considering.