Bifold doors are a popular choice of patio doors for Berkshire, Hampshire and Surrey homeowners. If you are looking at selling your home or making some home renovations installing aluminium bifold doors are a worthwhile investment that can add value, space and garden appeal to your home.
Incorporating external bifold doors into the rear of your property is one factor that could make all the difference by maximising natural light or accentuating your living space and bringing the outside in.
In our latest blog article, we take a look at how to add value to your home, from a new front door to add kerb appeal, glass extensions to high-quality aluminium bifold doors to improve the aesthetic of both modern and traditional properties.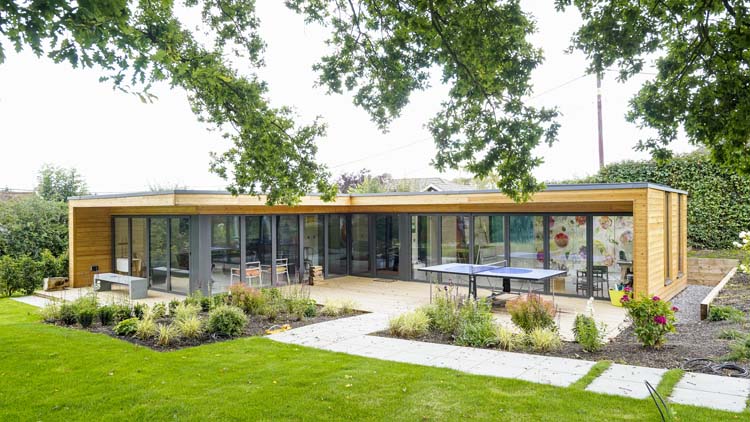 Adding a Glass Box Extension or Garden Room
Home interior design has evolved over the years to adapt to modern lifestyles and connectivity with nature and outdoor spaces.
A contemporary glass extension is a great way to create more living space and add value to your property, whether you want to extend your kitchen with a single-storey extension and create an open plan living area to eat, entertain and relax with family and friends or add a separate garden room to use as a home office during the day, and outdoor living space to relax in the evening.
Another impact of the COVID 19 pandemic is increased outdoor living spaces as more homeowners are spending more time outside working and relaxing. It has also led to a demand for outdoor kitchens, garden furniture, fire pits, and decking.
In 2019 a change in the law gave to green light to UK Homeowners across the UK to extend their properties with a single-storey rear extension up to six meters without planning permission.
It is essential to speak with your local authority for modern and traditional properties in a conservation area or a listed building before starting any work.
Aluminium for double glazed windows and sliding or bifold doors are a long term investment that can add value to your home and are the perfect choice for extensions. With its durability and versatility, it can support large glass panels with minimalistic slim frames.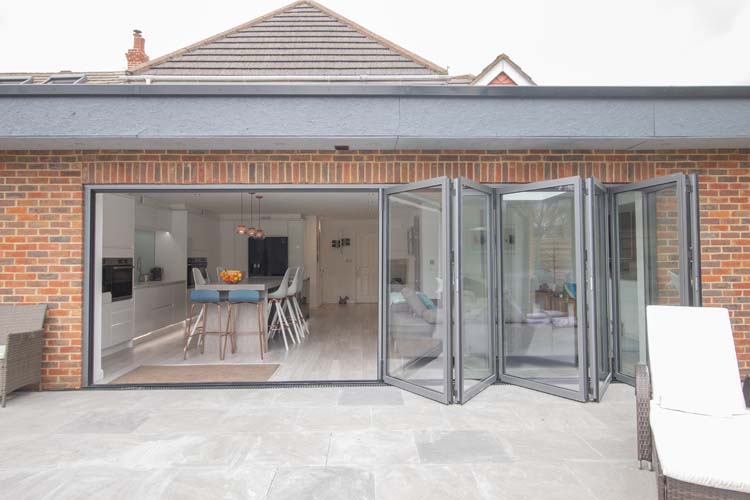 Maximising light in your home
Natural daylight might not add value to your home, but a bright, airy house filled with natural light and a feeling of space is a must-have feature that potential buyers look for, followed by open plan living, loft conversions, new kitchens, smart technology and energy-efficient windows and doors.
Maximise natural daylight light and create the illusion of more space within your home; with the use of large windows, bifold or sliding doors, rooflights. Replace internal walls with glass partitions to create zoned areas, also known as broken plan living, is a wonderful way to bring more natural light inside.
Double glazed bi-fold doors provide a minimalist floor to ceiling glazing system that can help to reduce the carbon footprint and improve energy efficiency within homes.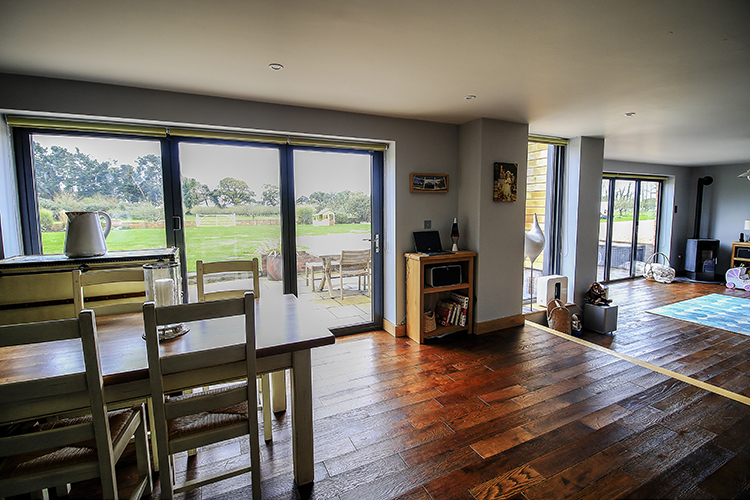 Large Solarlux Project, West Sussex
Mid-century Minimalism Home Decor
Minimalism has been trending in architecture and interior décor over the last couple of years, from Mid-century to Industrial minimalism. A sought-after trend that shows no sign of slowing down any time soon.
Another blend of interior design is Mid-century minimalism and Scandi that are loved by many generations, from baby boomers to millennials.
A relaxing combination of open plan living lifestyle with cosiness is why so many homeowners are obsessed with minimalism. Both these two design trends offer clean lines and transparency, making slimline aluminium bi-fold doors the perfect choice of patio doors.
The minimalist nature of bifold doors creates a wall of glass to give the impression of an internal living space that extends to the outdoors, not only adds the wow factor but can also add value to your home.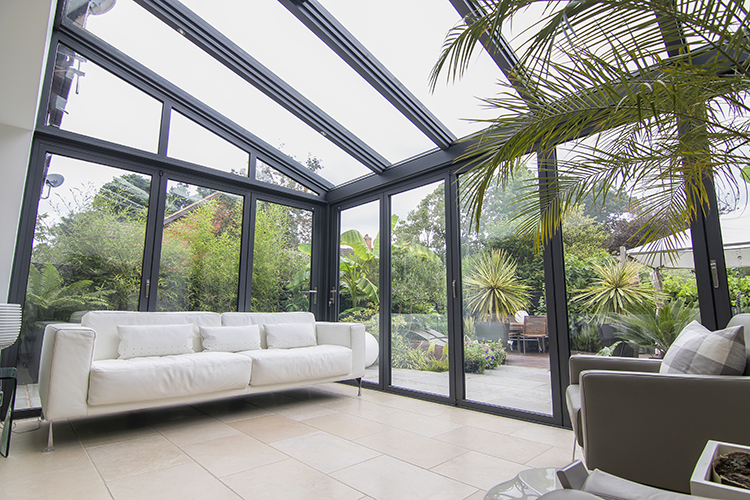 Why Use Bifold Doors?
Bifold doors have been a favoured choice of patio doors for home renovations and new build projects in the past few years, with various options including aluminium, and uPVC is the most popular option.
They are a visually stunning door system that adds the wow factor to a home, with the option to fully open entire walls, making them the perfect choice for home extensions, open plan kitchens and dining areas, garage conversions or glass extensions.
They can be installed externally and internally to connect to create two rooms or open out into the garden and patio area.
The panels open in a concertina folding style either inside or outside of the room, offering beautiful barrier-free living spaces with a gorgeous ambience
The transparency and translucency of floor-to-ceiling glass doors ensure a luxurious aesthetic to both the exterior and interior living spaces.
The glazed panels can blend interiors with exteriors; bifold doors can be used to transform an open plan living space into a room of elegance and natural beauty.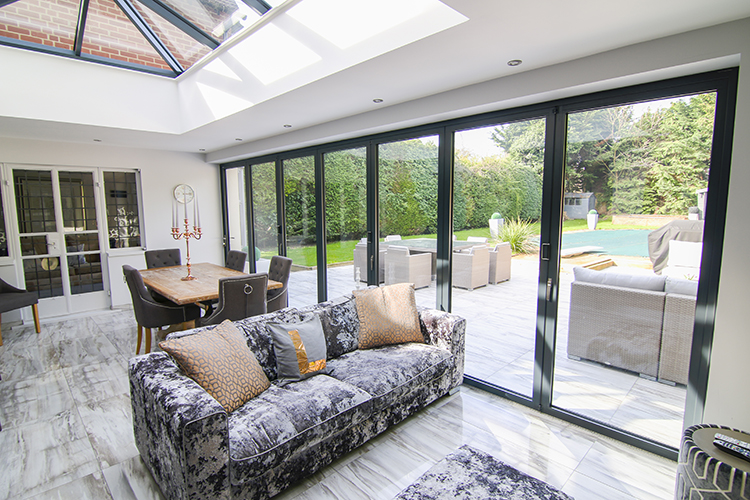 Which Material?
When deciding on the material for a bifold door, some factors can significantly impact aesthetically and value-wise. Bifold doors are manufactured in uPVC, aluminium, timber or Alu-Clad.
uPVC is a low maintenance and cost effect solution, whilst aluminium allows for ultra-slim sightlines with a stronger strength-to-weight ratio and offers high performance and superb thermal efficiency.
How many bifold panels?
Bifold doors are designed with multiple panels and configurations ranging between two and seven leaves.
They can be manufactured to a wide range of aperture sizes and widths with a panel width of up to 1.2m up to a total of 8 meters in width and three meters high.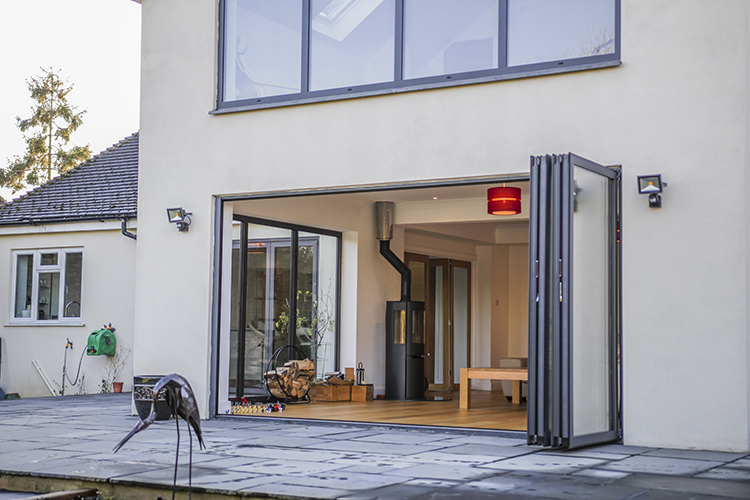 Inwards or outwards opening?
The choice is yours, as bi-folding doors can be configured to open inwards or outwards.
Bifold Door Costs?
Our range of award-winning bifold doors from Solarlux and Internorm are available in double and triple glazed they are bespoke and made to measure to your requirements. We provide a free no-obligation quotation and on-site survey for bifold doors so we can get a better understanding of your needs.
We also offer a range of double glazed windows and doors, Orangeries, Wintergardens and conservatories, that can also add value to your home. With over 37 years of experience in architectural glazing installations, our designers can provide expert advice as to which type of bifold doors is best for your project.