Emerging home design trends for 2022 indicate a continued emphasis on minimalism and transparency within interior décor.
The definition of opulence is light and space! 2021 saw a demand within the glazing industry for internal glass doors, room dividers, moving glass walls, large windows and roof lights and looks set to continue to grow in 2022.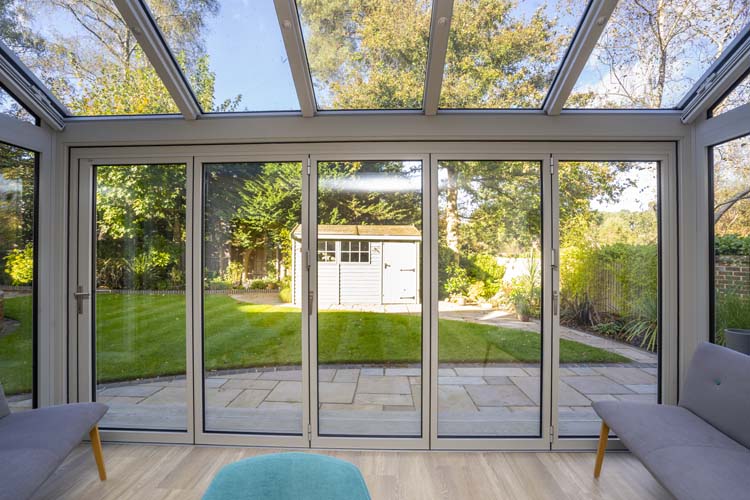 Minimalism has been a buzzword within the glazing industry for a few years, focusing on a clean, contemporary aesthetic and seamless integration between inside and outside. Minimalism and transparency interior trends also include calming neutral wall colours and furnishings.
This ode to  windows and doors is evident in the form of dark, dramatic frame colours, clean lines, and lots of glass to create light and airy open-plan living spaces.
A new year brings a fresh start, and what better way to kick of 2022 than a look at some of the window and door trends popular with Berkshire, Surrey and Hampshire homeowners, architects and interior designers, and we are sure you will love!

hybrid working and home living spaces
With more and more of us adapting to hybrid working or permanent remote work, bright and light home offices are a keen interior design trend to continue into 2022. From a small designated zone area with glass partitions to an outdoor office with large glass doors.
Your home office should be all about productivity. That means making it as functional, efficient, and organised as possible to ensure that you are comfortable and happy working there!

Blurring the lines between indoor and outdoor spaces
The pandemic has changed the way we live and socialise within our homes and allowed homeowners to reconnect with their gardens, increasing the demand for more natural light in residential properties.
After nearly two years of home confinement, many homeowners have been redesigning their homes with floor to ceiling windows and doors to create an indoor/outdoor lifestyle, and we see no sign of this trend slowing down in 2022.
Our gardens have become sanctuaries of relaxation and entertaining friends and family. The demand for modern multi-functional outdoor living spaces with outdoor kitchens, hot tubs and decked patio areas has been growing in popularity since 2020, spurring interesting architectural design ideas to blend outdoor and indoor spaces.
Bifolding or sliding doors offer minimalism & transparency and are the perfect solution for blending indoor/outdoor spaces; they let more light in and create a seamless flow between the areas providing a space for people to feel connected with nature.

Bringing nature inside
From plants to natural materials and calming neutral colours are perfect for embracing biophilic design inside your home.
One of the biggest window trends we have seen with homeowners at Thames Valley Windows in 2021 was for timber windows in favour of uPVC windows to make their homes feel more natural, balanced, and relaxing. Sustainable timber is a natural material that adds a sense of warmth and cosiness to your home.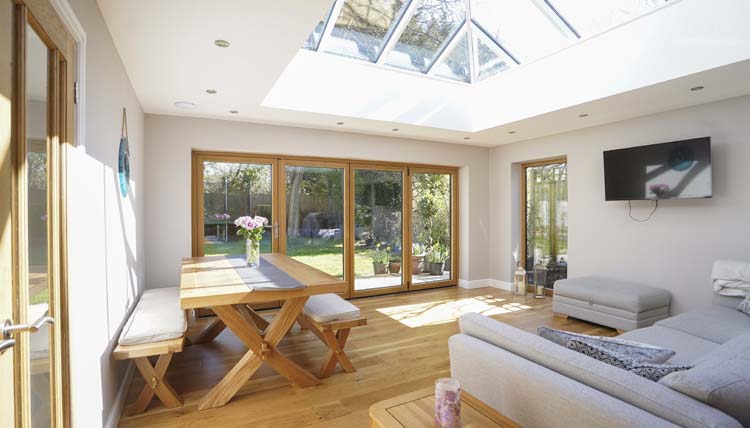 Well, 2022 is set to follow the same trend by encouraging us to bring plants into our homes and try more natural materials for our windows and doors. To promote a sense of balance, peace and harmony, incorporate a natural colour palette of creamy whites, greens, and soft, warm earthy tones into your home.

Stay ahead of the Curve Trend.
While large windows and doors with clean lines continue to dominate living rooms and kitchens for minimalism & transparency, there is a growing demand for nature-inspired round or semi-circle arched windows to add character or a statement feature to hallways.

Art Deco is Back!
Steel Look Heritage windows and doors are renowned for their iconic lines and have captured the imagination of both homeowners and interior designers, which have flooded our Instagram and Pinterest feeds.
The design is eye-catching, minimalist, edgy and versatile and adds an industrial vibe with an art deco twist to all types of homes from mid-century, Scandinavian and contemporary.
21st-century steel-look windows and doors have come a long way since the original steel windows were created in 1860 by Francis Crittal.
With innovative design and cutting-edge manufacturing within the glazing industry, many companies supply aluminium internal and external heritage windows and doors.
Perfect minimalism & transparency glazing solution for replacing steel windows and doors in historic and renovation projects
This trend is here to stay in 2022 and should never end!

GLASS-TO-GLASS CORNER WINDOWS
One of the emerging contemporary architectural trends is frameless glass-to-glass corner windows, oriel windows and glass boxes which show no sign of slowing down in 2021.
These 90-degree windows capture natural light from multiple directions creating bright living spaces whilst offering energy-efficient comfort all year round.
A sought-after feature in new builds, home extensions and renovation projects to create the wow factor.

Statement Sidelights
Front doors with a sidelight add more light to hallways and create a sense of space and openness.
Homeowners choose to add fixed and tilt and turn sidelights to their entrances.
At Thames Valley Windows, we offer more than just contemporary glazing solutions and architectural glazing trends; we offer a vision. Whether you are looking for new windows and doors for your Berkshire, Hampshire and Surrey project, we can create natural light-filled living spaces with a range of beautiful windows and doors.