As the long sunny summer days draw to a close, we look at ways to bring biophilic interior design into your home this Autumn to benefit your health and well-being.
Biophilic interior design is a nature-inspired trend that homeowners have been embracing in interiors and architecture for a while. In an urban world of technology and with the current pandemic, we somehow have got disconnected from our everyday life and what should be natural to us.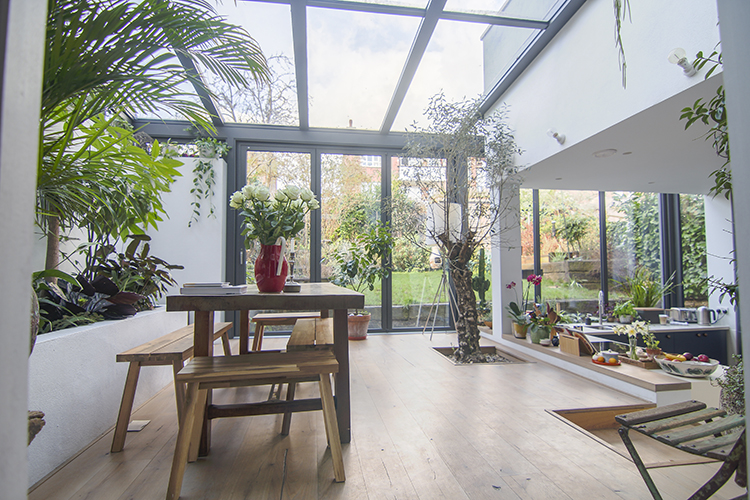 We take a look at biophilic design principles of bringing nature closer to us and why is it essential, especially now as we head towards the autumn and winter months and how you can implement these simple aesthetics into your home?
What is it?
The biophilic design originates from the term Biophilia which is having "the passionate love of life and of all that is alive" (Erich Fromm, The Anatomy of Human Destructiveness, 1973). It is a building and interior design concept that boosts connection to all things light, floral and leafy green. Whilst this is a recent design methodology, it is argued that you can see examples of biophilic design dating back to The Hanging Gardens of Babylon in the sixth century BC.
The term means "love of nature " and its philosophy, applied to design, is wonderfully described by the motto "bring the outside in". The principle, here, is to incorporate nature through colour, texture, pattern, lighting, sound and scent within your home and to merge the inside and outside spaces with creative accessories.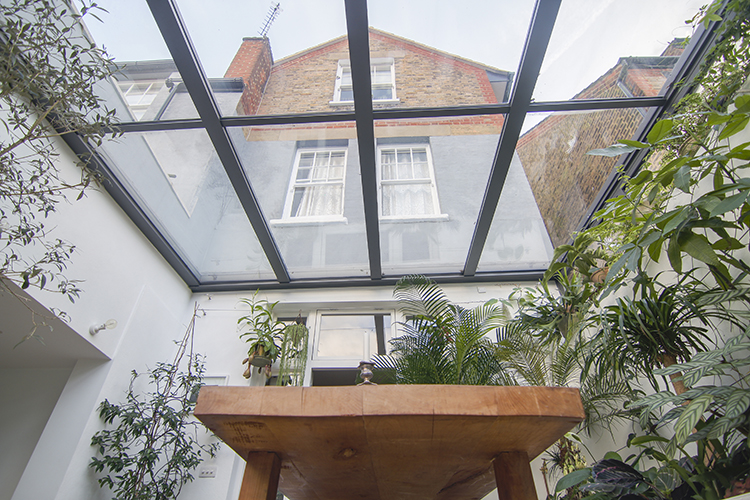 Why is it good for us?
Research suggests on average we spend 90% of our time indoor – Our home is a place that allows us to retreat from the world. Create a private sanctuary living space with an inspiring visual connection to nature whether it is a view of your back garden or beyond to beautiful countryside, picturesque coastline or the bustling cityscape. Connecting yourself to nature and the outside can have a calming positive impact, reduce stress and improve your mind and productivity.
As the trend evolves, we gathered some of the best biophilic interior design ideas for you.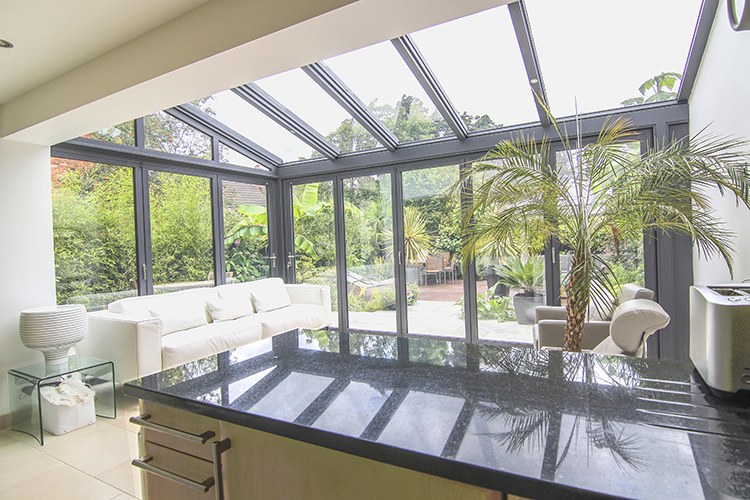 Let the light in!
Natural light is a key element of biophilic interior design it can make rooms look more spacious and is extremely beneficial to your health, it can boost your vitamin D levels and improve your mood.
Open up your living space, connecting small rooms into a bigger one with glass room dividers or eliminating brick walls for the diffusion of light.
Have you considered adding a large roof lantern or roof lights to your living space? They won't only allow more sunlight from above, but they'll also bring beautiful day and night views of the sky into your home.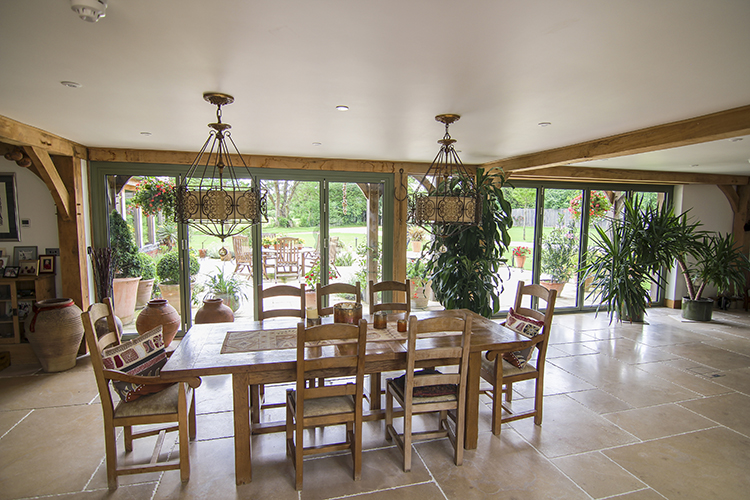 You may want to consider replacing your style of patio doors, to provide a direct connection with the outside as some types of doors are better than others to help open up to those outside spaces.
Bifold doors can add the wow factor to any room, designed with a level threshold they are an excellent option for a seamless transition between the inside and outside as they can fold back to sit flat on a wall leaving a large opening to integrate your home and garden.
Sliding doors maximise the larger expanse of glass when closed, one of the benefits is that you can slightly open them just to let a breeze flow effectively around your home.
It might seem obvious, but you can gain so much by merely cleaning and opening up your double glazed windows and removing net curtains to provide unobstructed views outside—outstanding results with minimum effort.
Bring The Garden Inside!
Another source of tranquillity from nature comes from plants. It's no secret that adding lots of greenery and foliage to your home improves the air quality and human health.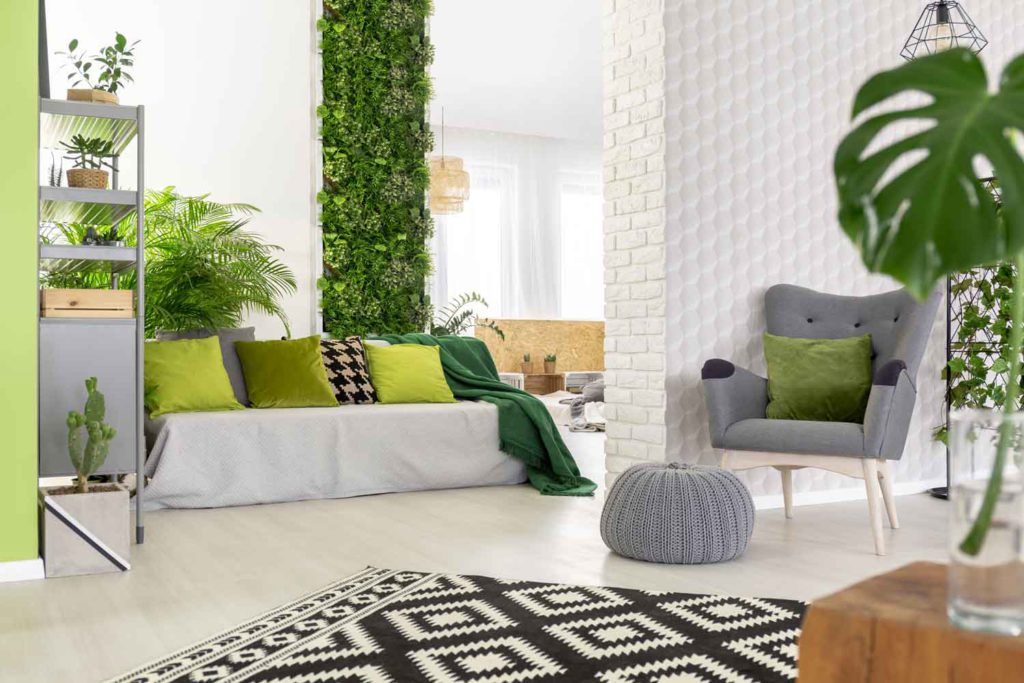 Living green walls or a wall of herbs bring any living space to life. These gorgeous green sculptures are a spectacular and effective, aesthetic way to introduce biophilic interior design to any style of home.
A green oasis of house plants. From an areca palm to add a tropical feel or a stunning bird of paradise with huge green leaves to make a statement. Place plants on a shelf or hang from the ceiling or mix heights and cluster them together to emulate the way they naturally grow. Some are great for purifying the air circulation and easily connect you with the outside.
Incorporate Nature in Interior Decor.
Choose furniture made from natural materials such as wood, rattan, cork, bamboo, stone or marble as an easy way to embrace biophilic interior design. Include elements of floral or wilderness motifs, in the form of cushion covers, throws,  bedsheets, or wall paintings of nature hanging in your home to incorporate biophilic designs into your home. Add texture such as wood grain or stone for the surfaces of your furniture, floor, and walls.
Include neutral shades or the colour hues of nature blues and greens to gain a lasting sense of peace to the natural world.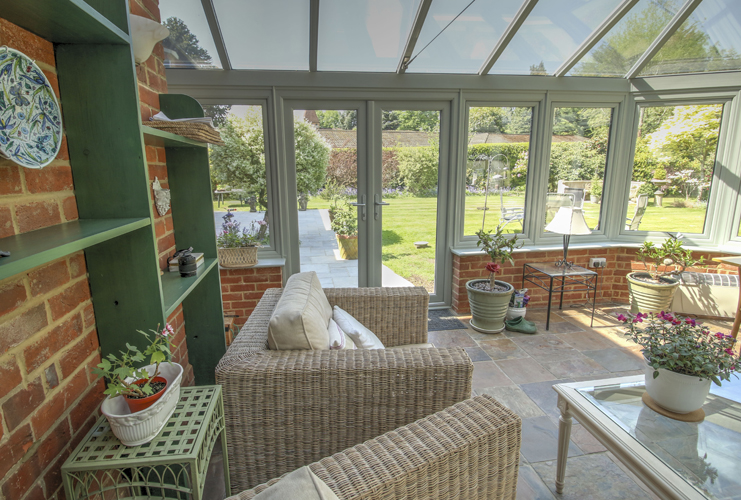 Smells and Senses
Last but not least, you can also consider natural fragrances in the home. That could be as simple as opening the windows and doors every day to let in some fresh air. In terms of scent, include incense sticks, diffuses or light a candle with essential oils. Choose calming scents such as lavender, eucalyptus, rosemary and lemon verbena to evoke the natural world.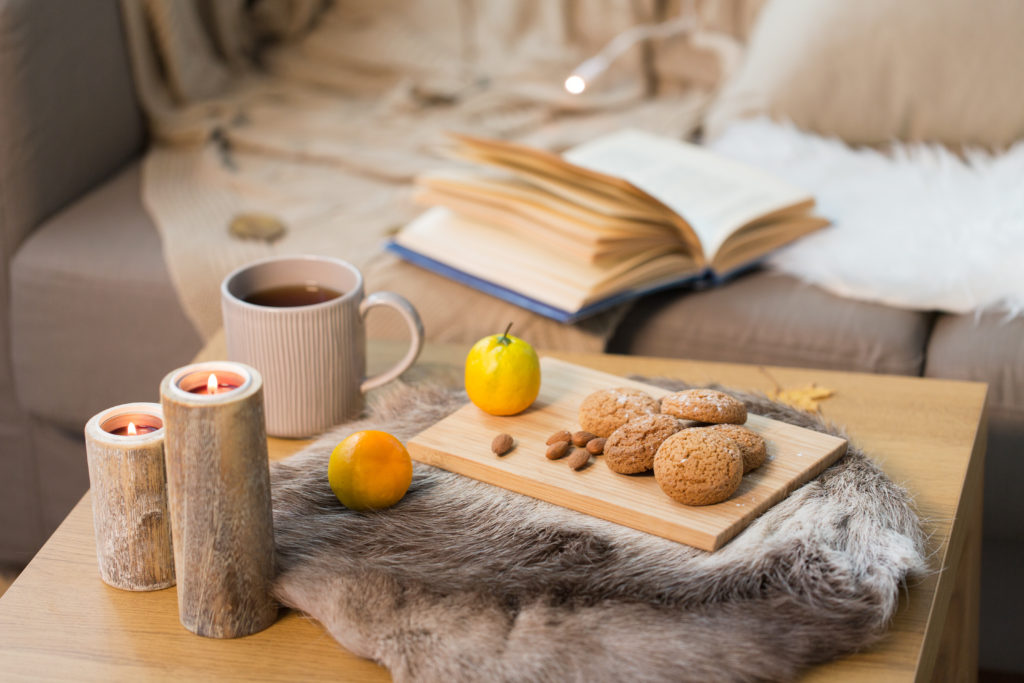 We hope this article gave you some biophilic interior design ideas for your own living space this Autumn.