As the new Autumn season looms, it's time to bring the warmth inside and save money with Internorm triple glazed windows for the price of double promotion.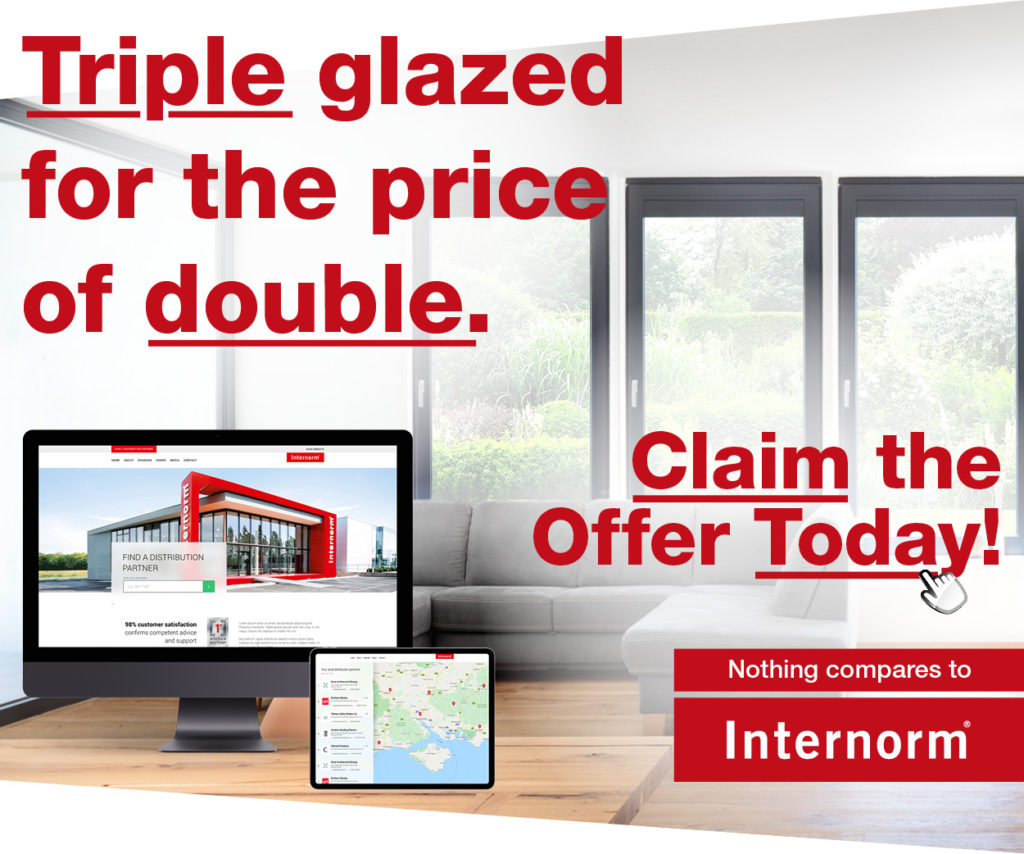 Autumn 2020 Promotion – Feel at Home with Triple Glazing.
This Autumn discovers new windows and doors that you'll love, with a little help from Thames Valley Windows. Plus, with three modern to traditional window design style to inspire you,… your home is in for a treat!
Find exactly what you're looking for whether it's for a passive house or home renovation we are here to transform your vision into a reality.
HIGH QUALITY FOR ALL TYPES OF PROJECTS
Internorm is renowned for both performance and innovative design, featuring clean, uniform sightlines and square-edge shapes to emphasise the architecture of the building.
The distinctive Internorm windows and doors are installed in both commercial and residential projects across the UK, and Europe specified for the slim and contemporary frame design, durable, low maintenance, and excellent energy efficiency.
With every unit made to measure, the Internorm uPVC, composite aluminium/timber window and door solutions delivers high-performance and design versatility, backed by a ten-year warranty and have an expected product lifetime of 30 years assurance.
Internorm is also known for its innovations. Their I-Tec technology, for example, helps to enhance light travel through windows and doors increase security,and improve ventilation.
MAXIMISING ENERGY EFFICIENCY
Internorm window systems are designed to meet – and exceed – current building regulations for energy performance.
As part of our design consultation and survey service, we work closely with our clients to maximise energy efficiency by using the most appropriate Internorm windows and doors, resulting in projects which meet both energy performance and budgets.
Triple glazed windows offer plenty of natural light and thermal insulation, but also effective soundproofing and security.
Internorm triple glazed windows offer excellent sound reduction up to 47dB and heat insulation with U values as low as 0.6 W/m²K.
DISTRIBUTION PARTNER
We are a UK Distribution Partner for Internorm. Reliable, guaranteed product performance underpins the success of every Internorm installation we undertake.
To date, we have designed, supplied and installed hundreds of energy-efficient windows and doors into several new build and renovation projects in Berkshire, Hampshire, Surrey, Oxfordshire and across the Southeast.
With our specialist architectural glazing expertise and knowledge within the construction industry, our designers have the creative talent and vision to create homes full of natural light and style.
We can work with you to translate your ideas into fully compliant, bespoke glazing solutions that meet performance standards without compromising architectural vision.
ARCHITECTURAL VISUALISATIONS
We offer a bespoke Architectural design service and can produce 3D visualisations so you can see your new windows and doors before we install them.
VISIT OUR SHOWROOM
Our state-of-the-art Bracknell Showroom displays an impressive collection of glazing solutions from uPVC windows, timber and aluminium composite, aluminium/uPVC composite and aluminium windows.
Explore the full potential of Internorm triple glazed windows and doors with an appointment with one of our expert designers who can show you the Internorm aluminium/timber studio and home pure windows we have on display
We also have an example of the bespoke HS330 aluminium/timber contemporary lift and slide door and a modern aluminium/timber front door.

*Terms and Conditions: Offer excludes actual quotations and existing orders. Minimum order £1,000 ex. VAT. Contracts must be completed by 22nd November 2020 to qualify for the promotion. Please note that this offer is not combined with any other current promotion. Special offer "Triple Glazing for the price of double" does not apply to entrance doors, basement windows and separate glass orders.
RECENT INTERNORM PROJECTS