Highly quality double glazed Modern patio doors have long been popular with our customers in Berkshire, Surrey, and Hampshire.
From contemporary sliding doors to traditional French doors, they offer a convenient way to access their outdoor spaces while allowing extra daylight to enter rooms and offer a view of your garden. We install modern patio doors in Berkshire and beyond for clients who live in a wide variety of properties, from the traditional to contemporary, and with so many options to choose from, all clients can find something to suit their needs and tastes.
We now review a selection of some of our favourite modern patio door projects in Berkshire that we have completed over recent months and years.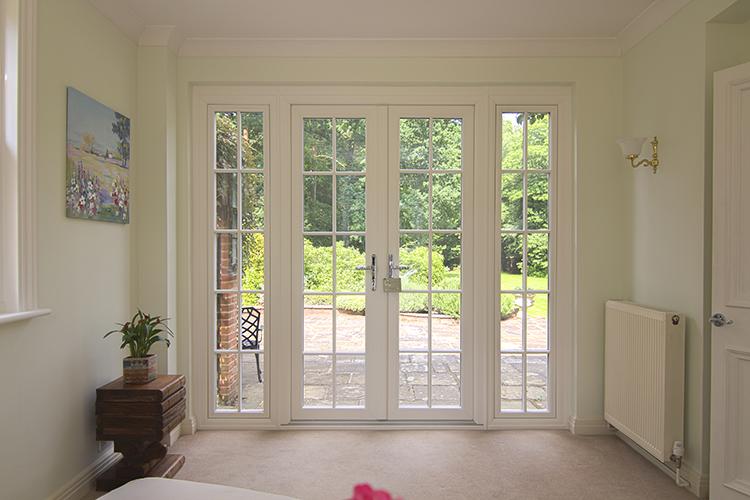 Stylish French Doors in Finchampstead
Our clients in Finchampstead had recently purchased an impressive period property and had already worked with us to replace their sliding sash windows and front door. They were so delighted with the results that we achieved that they decided to complete their renovation by replacing two sets of uPVC French doors as well.
It was crucial to maintain the property's traditional aesthetic while ensuring high performance and outstanding thermal efficiency, which is why they opted for engineered timber alternative windows with a white woodgrain interior and exterior to complement their décor and retain the authentic appearance of their home.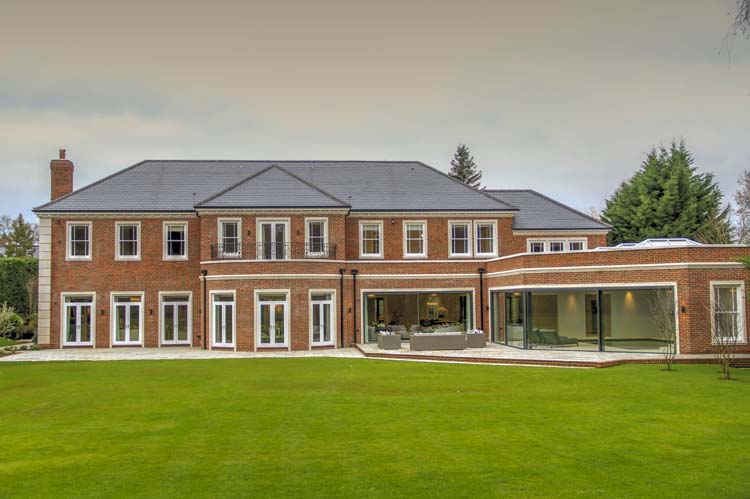 Sliding Doors In Sunningdale
One of our recent modern patio doors projects in Berkshire involved working on a luxury new-build in Sunningdale. Working closely with the developer, Octagon Developments, we found the ideal way to complement the grandeur of the home with Solarlux Cero II sliding doors to encase its leisure suite.
Keeping the indoor pool well-protected from the elements, the patio doors extend across the entire wall to maximise indoor/outdoor living potential. Each glass panel is manufactured with toughened safety glass.
Identical sliding doors were also installed in the open-plan family room and kitchen to enable the family to enjoy seamless entry into the garden. Solarlux Cero II doors boast unobstructed views with concealed frames and a triple track for effortless, smooth gliding, thanks to their slim aluminium profile.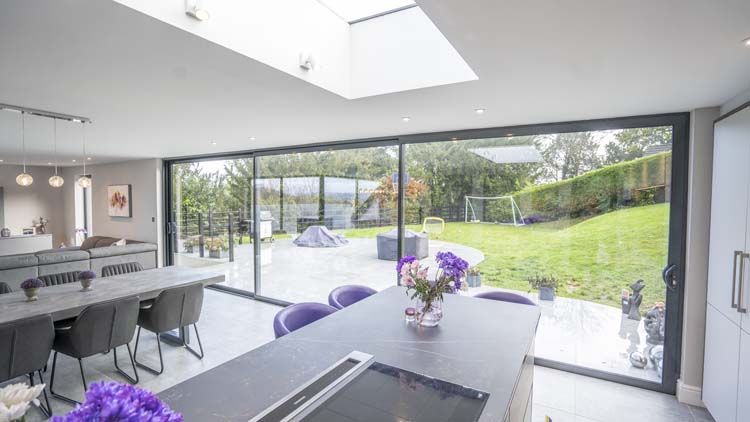 Contemporary Aluminium Sliding Doors In Wargrave
Our clients in Wargrave had resided in their traditional, detached property for several years, and the family was growing. They were keen to extend it to accommodate their needs.
They wanted to make the most of the tranquil woodlands and beautiful surroundings by creating a large modern extension to the rear that would allow them to enjoy the indoor/outdoor lifestyle. To that end, they approached us seeking a sliding patio door system that would enable them to create an open plan space that would be filled with natural daylight.
They ideally wanted to install a floor-to-ceiling slim framed sliding door system suitable for large openings that would boast a modern look without compromising on safety. After discussing options, they opted for the highly energy-efficient Sunflex SVG-99 high-performance slim sliding doors with minimalist anthracite grey outer aluminium frames. The result is truly impressive, giving the owners uninterrupted countryside views and outstanding security.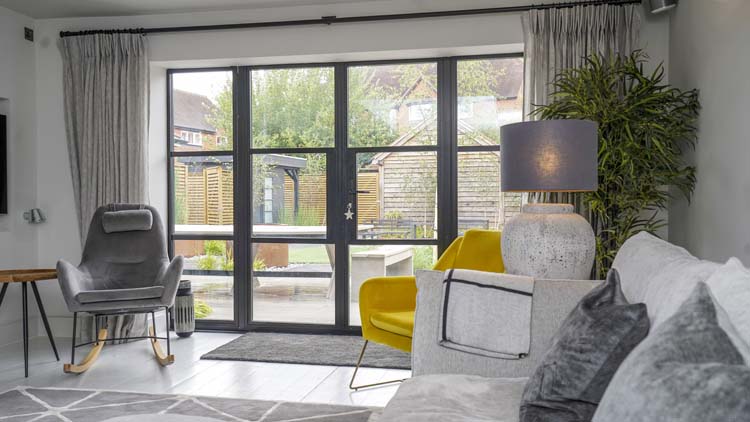 Pub Renovation in Pangbourne
Our client in Pangbourne was renovating the old Star Inn pub, turning it into two residential properties and a retail unit.
Our clients specified two sets of French doors in the design so that natural daylight could flood the newly created living space. The primary concern was preserving the property's period aesthetic. Our clients wanted to ensure that its traditional charm and character could be retained while also improving its energy efficiency and security.
The ideal solution was black aluminium, heritage French doors – the modern replacement for traditional-style, black steel French doors. These doors help create the Art-Deco appearance associated with traditional steel doors while benefiting from low U values and a multi-point locking mechanism. Not only do these attractive doors offer outstanding insulation properties, but they are also watertight and wind resistant, ensuring complete comfort all year round.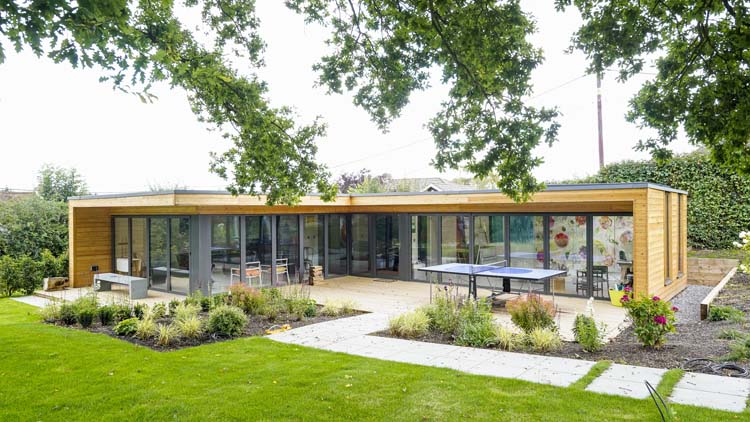 A Garden Studio Project in Cold Ash
Another of our favourite modern patio folding doors projects in Berkshire involved the transformation of a garden studio in Cold Ash.
We were approached by former clients who had previously purchased Evolution timber alternative windows from us. We were now looking to buy patio doors for their new contemporary space that would be acting as a games room and art studio as well as a gym and guest suite.
Finding the right glazing for this project was crucial since it would bring the wow factor to the building and maximise the light flow to the new spaces. To that end, our clients were seeking a frameless, sleek appearance, and they found just what they were looking for in the Solarlux SL60e bifold doors. Thanks to their floor-to-ceiling glazing and minimalist aesthetics, these fantastic doors blend perfectly into the surroundings while providing excellent energy performance. We installed a 4-panel bifold door in the games room and a vast 6-metre bifold door in the art studio to maximise natural light. The studio perfectly contrasted the home's traditional features by choosing a dark grey finish.
These modern patio doors projects in Berkshire are just a few of our favourites that we've worked on in recent months and years.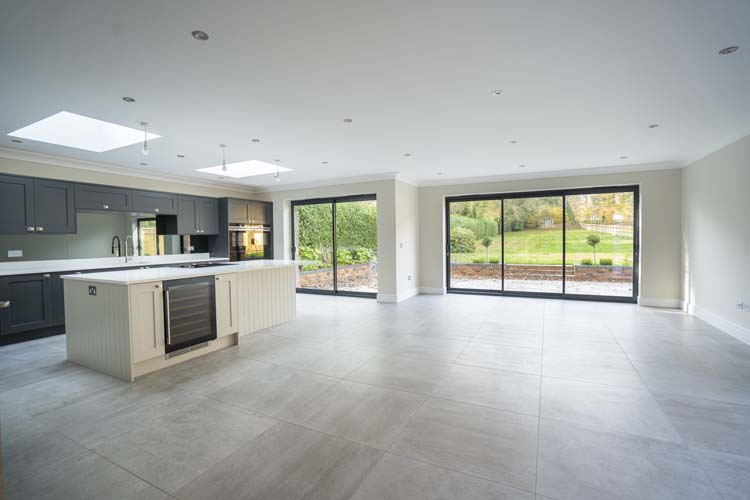 Patio Door Costs
Get in touch with us today to discover our impressive patio door range and find the ideal solution to suit your home and your preferences.
We have a range of modern patio doors on display at our Bracknell showroom, from uPVC sliding patio doors to ultra-slim aluminium sliding doors.
Choosing a Trusted Double Glazing Company
Thames Valley Windows is a family-owned and managed company with nearly 40 years of experience. We're proud of our high-quality glazing products and most proud of the customer service, care, and attention we deliver to every project.
Here is one of our latest Trustpilot Reviews from a customer and what they had to say about Thames Valley Windows.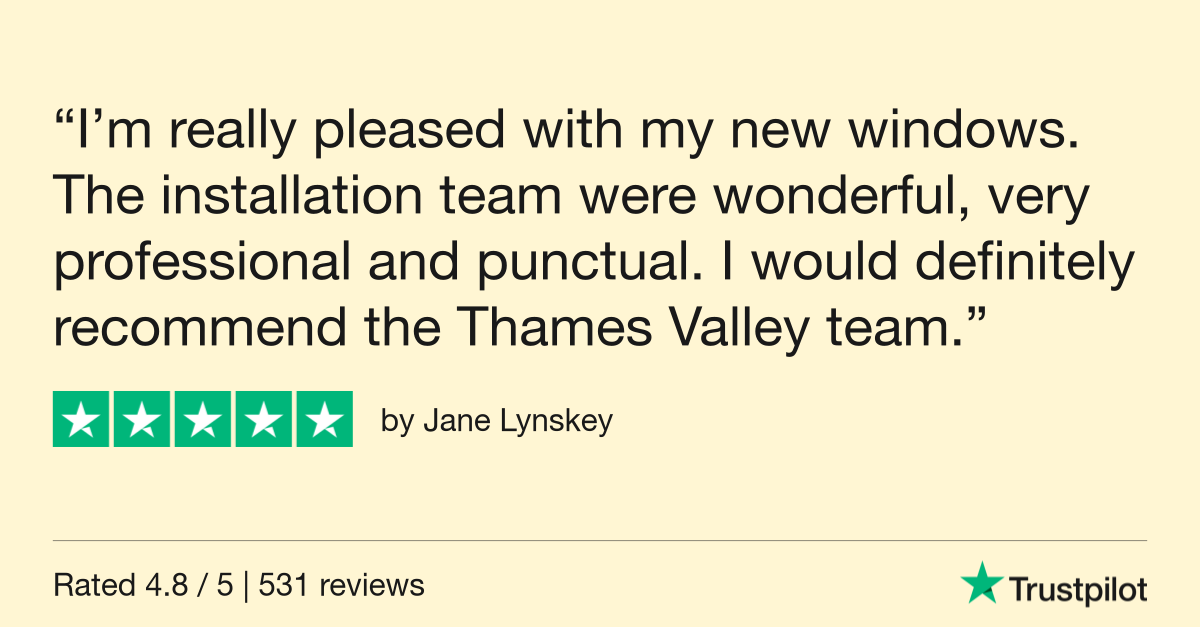 When choosing a double-glazing company for your home improvement, you want the best!
What better proof that you are choosing a reliable and trusted company than seeing what customers have to say?
We constantly survey our customers and ask if they can say a few words about their experience with us on the Trustpilot website. You will see that over 500 customers have been happy to do so!