Are you thinking about a luxurious glass kitchen extension or glass box extension that will extend your living space and become the hub of your home. Glass offers many benefits, including energy efficiency, maximises natural light and creates a seamless connection with the outdoors and nature.
Glass is one of the most sustainable building materials that is becoming an increasingly influential minimalism trend and is expected to inspire exterior and interior design concepts throughout 2023.
Minimalism has steadily grown in popularity over the last few years with homeowners, architects and developers because it offers a home an oasis of calm and creates a well-being lifestyle.
Minimalism means bringing in as much natural light as possible into a room through clean lines to create the sensation of space by removing visual distractions.
Glass kitchen extensions have remained one of the most popular home renovation projects of the past decade and are most definitely a popular choice amongst our customers.
Here at Thames Valley Windows, we have been lucky to design and install hundreds of glass kitchen extensions in Berkshire, Surrey, and Hampshire.
Our team of design experts have decades of experience within the architectural glazing industry. They can help create the perfect glass kitchen extension to enable you to live a lifestyle in your home.
The glass industry is constantly evolving, and the innovations in manufacturing technologies and advancements in insulated, solar-controlled coating and reinforced glass processing ensure that the glass kitchen extension is highly resilient against impact and weather changes and engineered to last.
So what glazing products are on-trend for glass kitchen extensions? Minimalist frameless structural systems to industrial steel look windows and doors.
Whilst bi-folding doors were all the rage in the late '90s, ultra-modern and minimalist design is currently in demand, with homeowners, architects and developers opting for both floor-to-ceiling slim sliding doors and oversized pivot doors.
Industrial steel-look glazing systems are also popular for traditional Victorian and Edwardian home renovations.
To help inspire you and take you through a few design ideas for your home improvement project, we have selected our top 10 favourite glass kitchen extensions.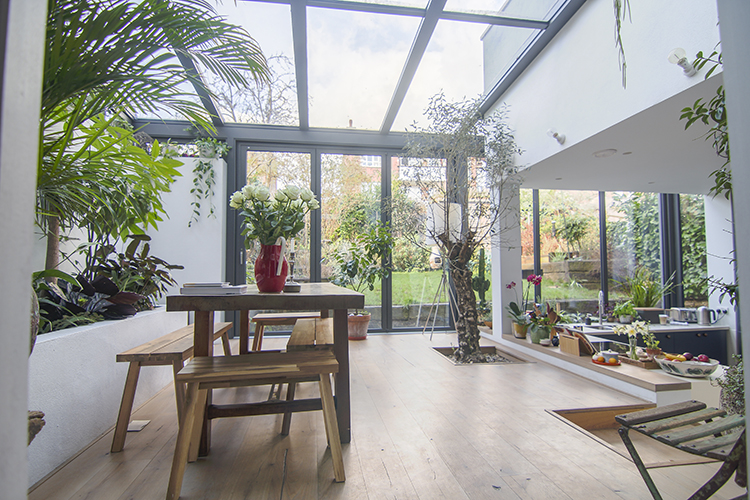 This London home renovation project is an excellent example of blending traditional and contemporary design with a bespoke lean–to glass kitchen extension.
This modern glass kitchen extension breathes light into this 1920s semi-detached property.
Within the London planning department, certain residential areas have prohibited the construction of any outdoor glass structure or garden room. After experiencing issues with another supplier, the homeowners found Thames Valley Windows. When they contacted us, planning permission had been granted, so we worked with the homeowner to advise what was possible within the planning guidelines.
The design of a minimal glazed roof and a full glass rear wall of large bi-folding doors transform the old kitchen into a light contemporary all-year-round living space enhancing the family's lifestyle.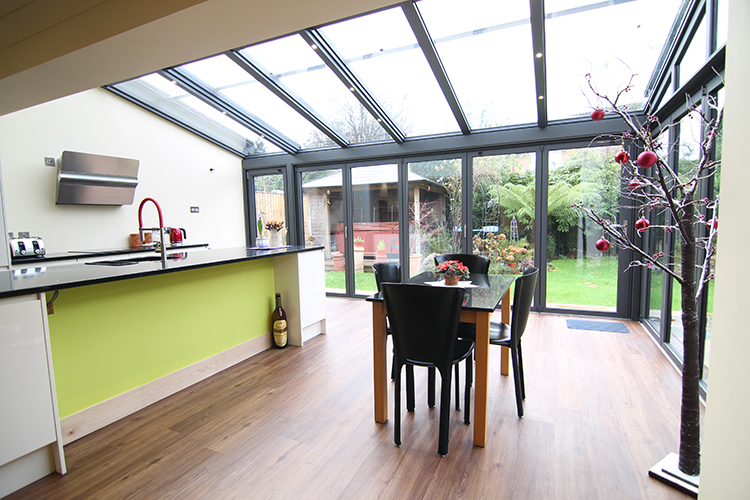 We made these Southampton homeowners' visions a reality with this highly impressive ground-floor glass kitchen extension, transforming the rear of the house.
The homeowners were keen to extend the existing kitchen to its full width across the back of the house to create a larger and spacious open-plan kitchen/living area, to cook and socialise with family and friends.
To extend the existing kitchen with a large single-storey glass kitchen extension, we needed a structural engineer to advise on the calculations to remove the rear solid wall and existing lintels and install a support RSI steel joist into place.
The bifold doors open onto a small patio area leading to the garden, creating a seamless connection to the outside and providing beautiful views of the garden.
Thames Valley Windows architectural designer designed this stunning glass orangery kitchen diner extension project under permitted development to complement the beautiful detached Reading property.
A solar-controlled double-glazed glass lantern ensures the kitchen is cool in the summer and a warm space in the winter.
Frameless glazing of the Cero II sliding glass doors blurs the boundaries between the inside and the outside space.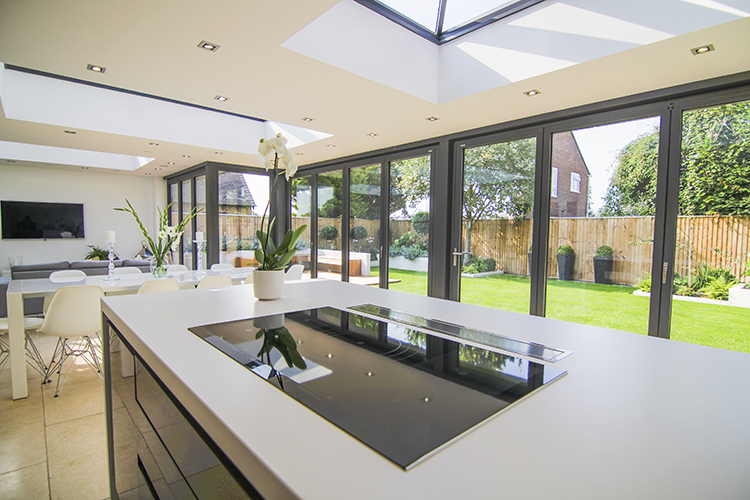 This impressive 45 square meters contemporary glass Orangery kitchen extension with three roof lanterns and moving glass wall of Solarlux SL 60e bi-folding doors allows maximum daylight into the living space. It adds the wow factor to this detached Twyford property.
The homeowner's brief was to create an open kitchen/dining living space perfect for their modern family lifestyle.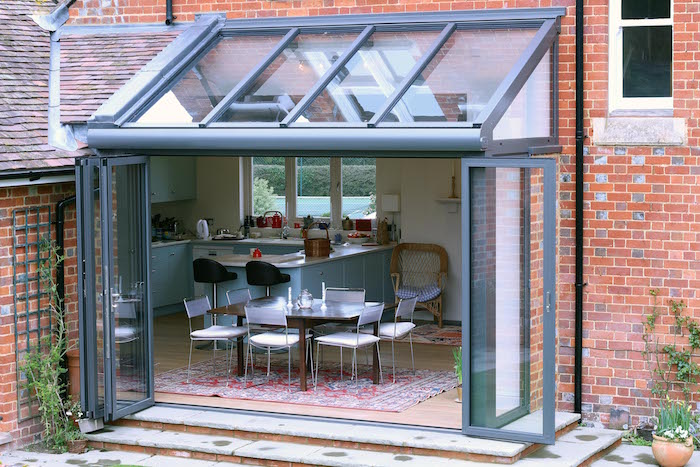 This glazed extension has modernised this beautiful Henley Vicarage while respecting and embracing the heritage of the period property.
The ultra-slim glass roof and bi-folding doors clearly distinguish between old and new.
The sensitive design created a new glass kitchen extension that has provided additional space that connects the inside with the outside and offers picturesque views through the glass panels while relaxing, eating and entertaining.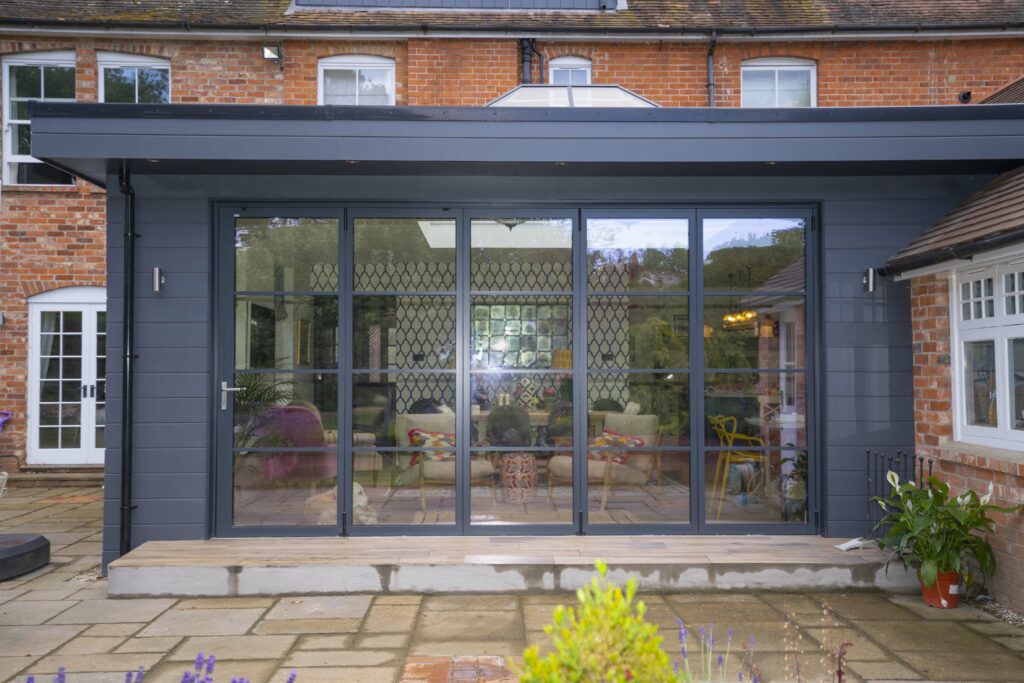 The Reading homeowners had a clear vision of the single-storey extension design for their home but had struggled to find a supplier of floor-to-ceiling Heritage bifold doors in a thermally broken aluminium profile.
A close working relationship with the builders and Reading homeowners ensured that the Heritage bifold doors were delivered when needed so the build could run to schedule.
To discover our glass kitchen extension prices now, call 0800 181 698 and request a free, no-obligation quote! Or contact us online and request an appointment at our Bracknell Showroom with one of our designers!