uPVC has been around since the 1930s but was only used to make window frames half a century later. Today, uPVC windows and doors are a popular choice with homeowners across Berkshire, Surrey, and Hampshire. However, not all uPVC double-glazed windows are manufactured the same or, indeed, are equally attractive.
Older uPVC windows were often aesthetically unappealing and tended to develop discoloured patches on their thick plastic frames. Fortunately, the latest technological developments have led to a far better range of uPVC windows on the market. The products that we use on uPVC window projects in Berkshire are stylish without ever compromising on durability or thermal efficiency. It's no wonder, then, that so many homeowners opt for the most up-to-date, sleek and elegant uPVC window styles that we install.
Here are just a few of our favourite uPVC window projects in Berkshire that we'd like to showcase for you so that you can see the wide variety of looks we can create.

Stylish, soft grey windows
Our clients in Maidenhead were extending their property to create a feature entrance and were looking for a way to make it stand out.
To achieve this goal, they selected a contemporary and stylish Apeer front door with an agate grey finish to complement their drive. With their new front door, their existing windows looked tired and outdated, so they decided to opt for sleek and clean-looking Halo flush windows in a matching agate grey to refresh their façade.
Not only are these grey uPVC windows beautiful, but the locking system ensures they are also highly secure and offer outstanding thermal insulation.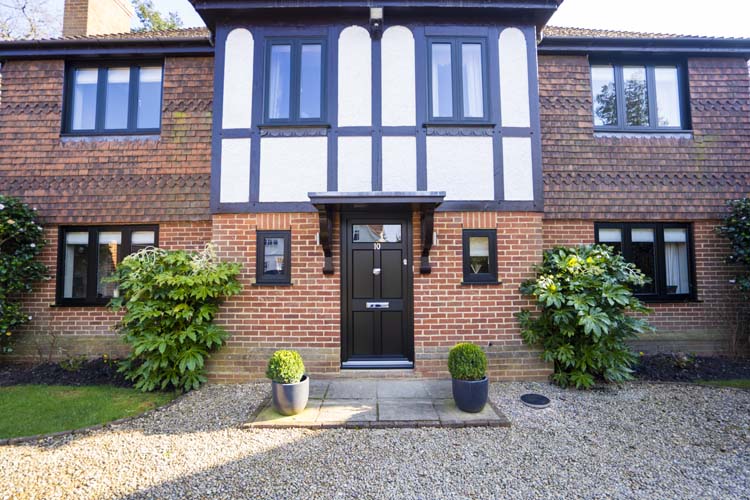 A modern black makeover
Another of our favourite uPVC window projects in Berkshire involved a mid-90s detached home in Ascot, which still retained its original windows. The old wood rosewood leaded windows was at the height of fashion when they were first installed, but now, they looked outdated.
Our talented designer worked with the owners to help them choose a bespoke, made-to-measure uPVC window solution, creating 3D visualisations of their home so that they could understand how their property would look once their chosen windows were fitted.
Our clients selected black uPVC Halo flush casement windows with dual colour black grain uPVC window frames on the exterior and white on the interior, matching their décor's neutral tones.
The woodgrain finish on the Halo windows boasts a timber, handcrafted look while also offering all the advantages that come with high-quality uPVC, including low maintenance, security, and thermal efficiency. Even better, the slim sightlines make a dramatic statement, adding a modern twist to bring their exclusive home up to date.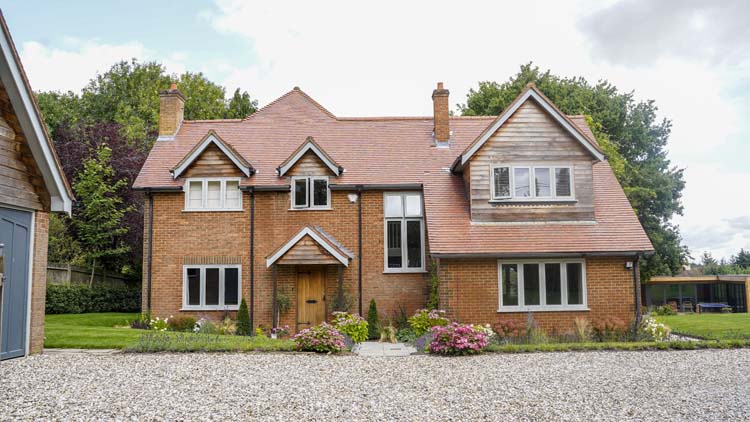 Timber replacement with style
Our clients in Bucklebury Alley in Thatcham were seeking a replacement for their home's original timber windows that would retain their property's character and charm while offering energy efficiency, low maintenance and high performance.
Our clients felt that the Evolution timber alternative uPVC casement windows in agate grey were the perfect solution.
With their authentic 45mm deep cill and timber-look joint, these timber alternative Evolution windows replicate the appearance of the original timber windows, blending classic period beauty with the latest technology. Thanks to the flush-fitting, sleek appearance of the exterior, our clients were able to achieve their goal of retaining their home's traditional appearance while bringing a contemporary, subtle contrast to their fascias and brickwork.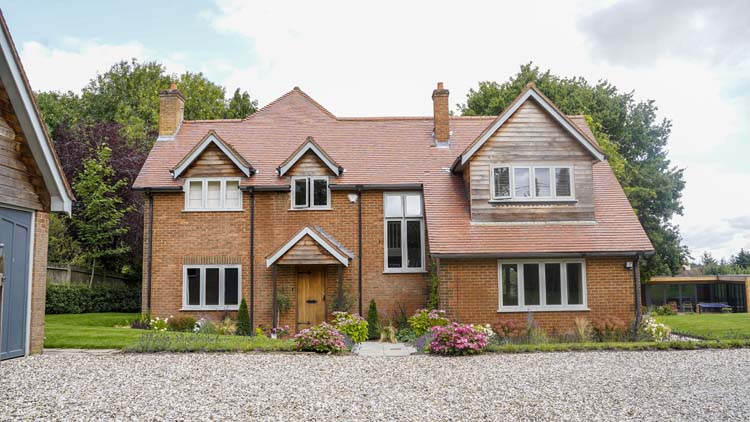 Creating a striking contrast
Our work on a cream-rendered property in Finchampstead ranks amongst our top uPVC window projects in Berkshire, thanks to the stunning transformation we achieved.
After purchasing their 1980s detached home in 2019, our clients were keen to renovate it and bring it up to date with a minimalist yet effective window design. The high-performing Halo Flush uPVC system was their final choice.
Our designer produced a design comprising both opening and flush casement windows, fixed windows with a welded joint to blend the elegant appearance of aluminium windows with the advantages of high-quality uPVC. The windows also featured a stunning dual-colour finish, with a dark grey woodgrain exterior and white woodgrain interior.
Thanks to the side hinge of the casement windows, these amazing windows can open fully just like a door, while their dual opening tilt and turn windows provide outstanding ventilation and natural daylight throughout their home.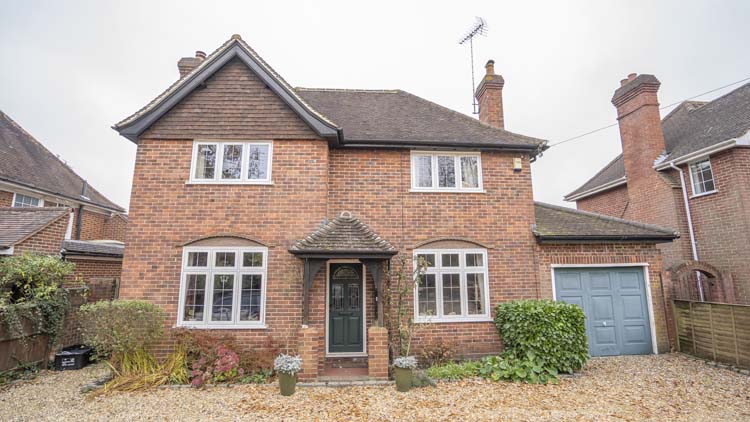 Energy efficiency blended with sophisticated style.
Energy efficiency was the primary requirement of our clients in Wokingham who were replacing their tired, old double-glazing and seeking new windows that would be in keeping with their neighbours.
We were able to transform their home with Halo Antique Rustique system 10 windows with flush frames with improved window energy ratings.
Our clients selected a classic white woodgrain finish for their front-facing windows with a square leaded design that matched the surrounding properties. To the rear, they opted for an anthracite grey woodgrain finish to the exterior and white to the interior to enhance their property's appearance.
Thanks to the flush casement windows' minimalistic aesthetic design, the owners were delighted with the result.
Contemporary uPVC Windows – Sleek and Elegant
Whatever look you want to create for your property, you can rest assured that uPVC windows can help you bring your dream to life. As you can see from these uPVC window projects in Berkshire, we've achieved a myriad of effects for our clients and given their homes a modern update without ever compromising on style, performance, or security.
For more information on our uPVC window prices, contact the TVW team today or request a FREE quotation
As well as our Windows design and installation service, Thames Valley Windows can also offer uPVC Windows supply only basis.