Trendsetting Internorm Front Doors for Energy-Efficient Homes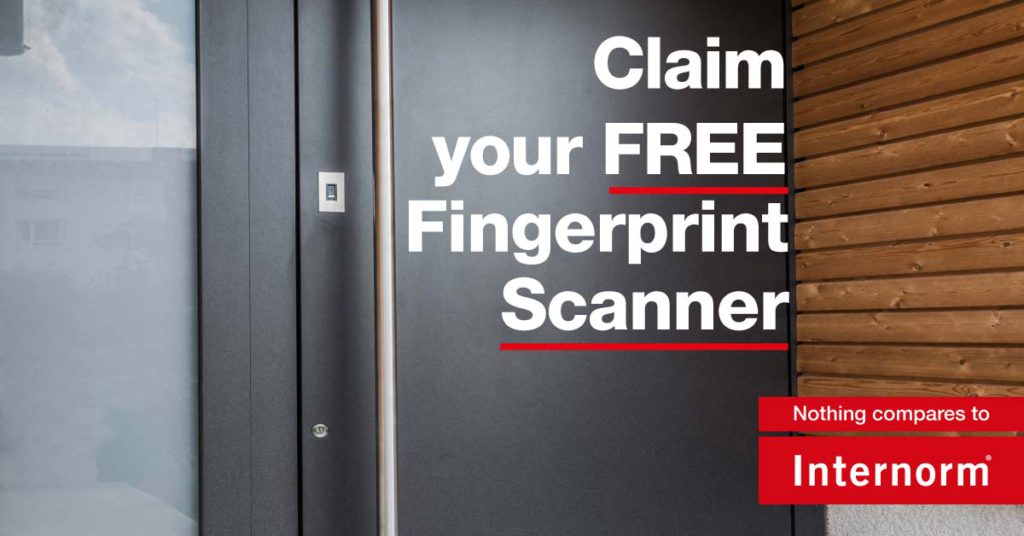 In 2021 Internorm is celebrating its 90th anniversary in the glazing industry. Internorm is the pioneers in Innovation, ultra-modern manufacturing and unequalled revolutionary technologies to meet homeowners and architects demands for a state of the art design, exceptional quality and security
.
Internorm was the first window and door company to market an aluminium entrance door with foam insulation core in 1998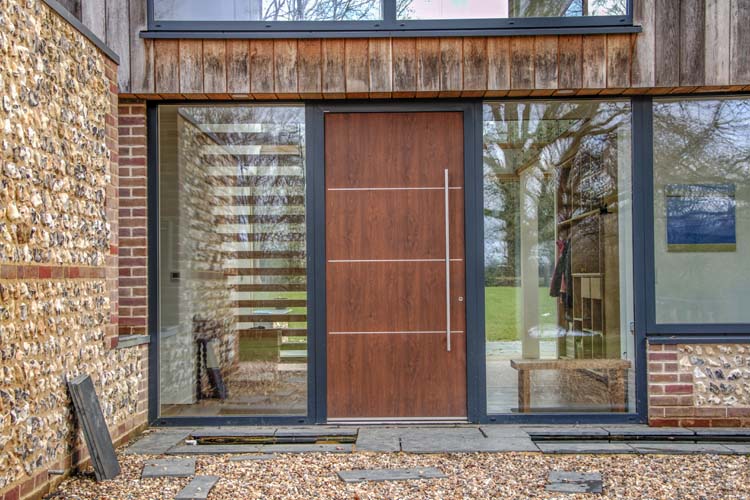 Keep your Home Secure with a High-Quality Internorm Front Door.
Every Internorm door is bespoke and designed to your specification, offering multiple configurations, including outward or inward opening & single or double door entry systems.
Manufactured in upper Austria and tested & certified for strength, durability & acoustic insulation
Decide between one of five aluminium door systems or the two timber-aluminium doors systems, with square-edged, profiled, rounded or the popular flush door sash design. Internorm offers a multitude of innovative door designs, colour options including special RAL Colours, dual colour, woodgrains, and a range of handles and glazing options to choose from.
Whether you want a classic front door with glass cut-out or a modern aluminium entrance door with a side panel or fanlight, there are no limits to your entrance door design.
An Internorm high-security front door ensures excellent burglary protection they are tested up to RC2 and accredited with the "Secured by Design" (SBD) requirements.
Whether you are renovating your home or building a new build, Internorm can design an entrance door that compliments your property's architectural design and adds the wow factor to the entrance of your home.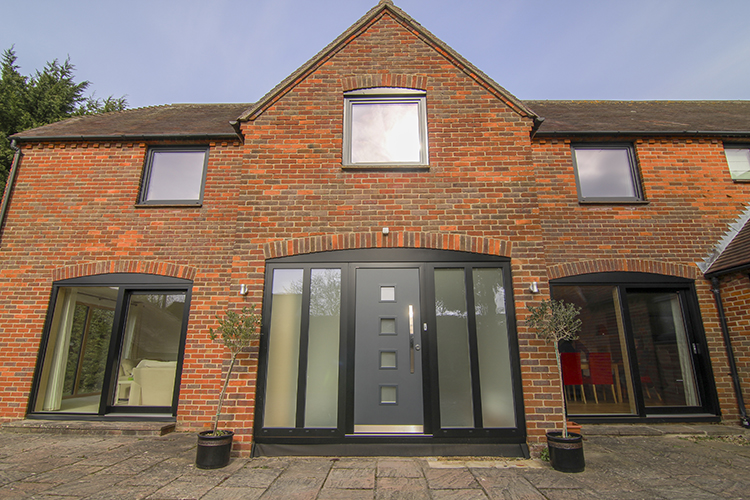 Bespoke Internorm Entrance Doors for South-East Properties
Our range of Internorm front doors is energy-efficient and compliant with Part L of the building regulations for new build properties and renovation projects in Berkshire, Buckinghamshire, Hampshire, Surrey and Oxfordshire.
Available in Internorms' Studio, Home Pure, Home Soft and Ambiente design styles, providing a perfect match to your Internorm windows and sliding doors.
Internorm Front Doors feature:
Burglary Proof
Thermally broken threshold
Low U value from 0.75 W/m2K
Sound reduction of up to 36dB
KFV standard 5-point locking
Optional upgrades of a fingerprint scanner, keypad or other security locking systems
Timber/Aluminium Doors
A timber/aluminium entrance door combines excellent thermal insulation, high sound protection and low U Values, natural aesthetics, and functionality to achieve PassivHaus standards.
Wood is a natural eco-friendly material, and Internorm's timber comes from sustainable forestry, be it spruce, ash, larch, oak, or walnut. It provides natural warmth and ensures maximum heat retention and minimal heat loss. While aluminium protects external elements of timber doors from wind, rain and snow, it does not stop the timbers natural ability to "breathe.
Aluminium Doors
Aluminium entrance doors are stylish, strong and highly insulated. They offer a multitude of possibilities for design, colours, and textures to complement with any external brick, stonework, cladding or render. They are virtually a maintenance-free, secure door that is very durable.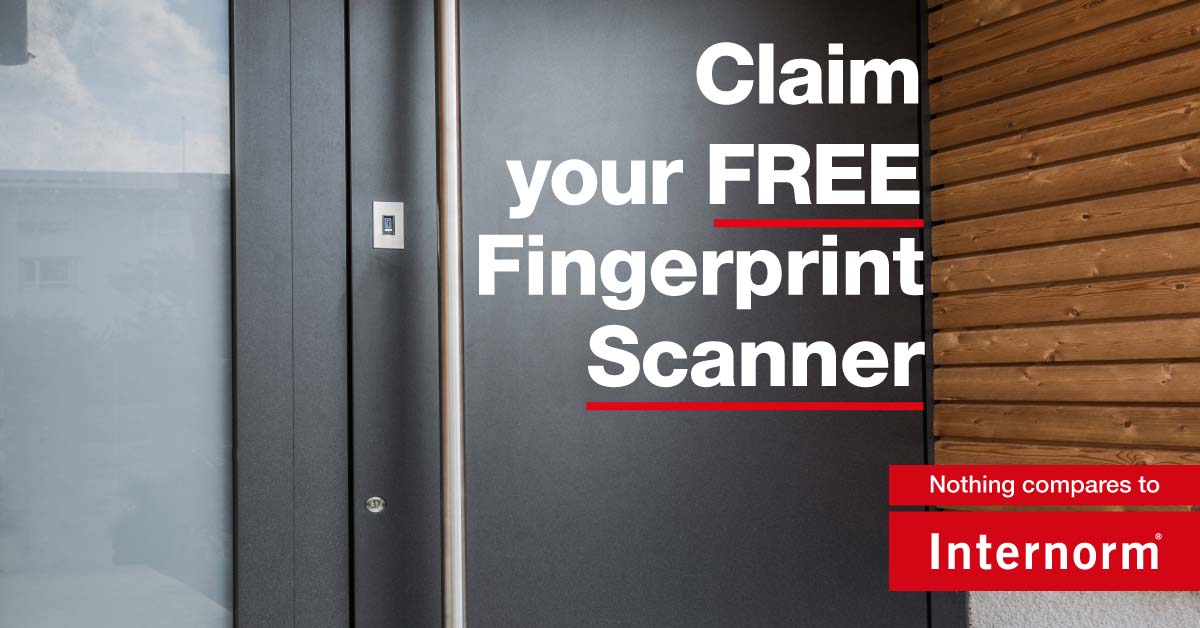 2021 Promotion: Unlock your Internorm front door with a Finger.
FINGER SCANNER FEATURES
The integrated biometric fingerprint recognition scanner replaces the standard door key.
Every door is fitted with a key override facility as standard.
A space-saving control unit is situated inside the door sash.
Homeowners can no longer lose or forget keys, cards or codes.
To open the door, you "slide your fingers across the scanner ".
You always have your key "at hand ". This innovative software is so intelligent that it learns with every scan and even recognises growth in children's fingers or user behaviour changes.
The finger scanner is more secure than a key, as your unique fingerprint cannot be lost or stolen.
Control of the system from the outside is impossible. Removal of this is also impossible.
The finger scanner is suitable for Apple and Android phones or tablets and works with Bluetooth (BT) interface with a transponder option. The admin and programming of the finger scanner are via smartphone or tablet. The Bluetooth connection is secured through a six-digit coupling code.
To discover Internorm front doors prices now, call 0800 181 698 and request for a free no-obligation quote! Or contact us online and arrange for an appointment.