The traditional red brick house with black windows is back on trend. A traditional property that was popular for many years but became less favoured during the '80s and '90s, with the sudden popularity of white and cream-rendered houses.
Now like 80s fashion, a traditional red brick house with black windows is making a comeback with the introduction of modern window designs and energy-efficient materials that have brought black windows back on-trend for a traditional red brick house.
British architecture is constantly evolving; a traditional red brick house is a perfect example of quintessential English architecture inspired by English and Dutch Renaissance design.
One trend we've noticed with homeowners choosing black windows for red brick homes is they want maximum visible glass area. That means less frame and more glass, making our Halo Flush Windows a perfect and cost effect choice.
Black window frames are a bold, beautiful, and popular choice for traditional and modern properties.
In our latest blog article, we look at five projects where we have installed black windows and doors to traditional red brick houses.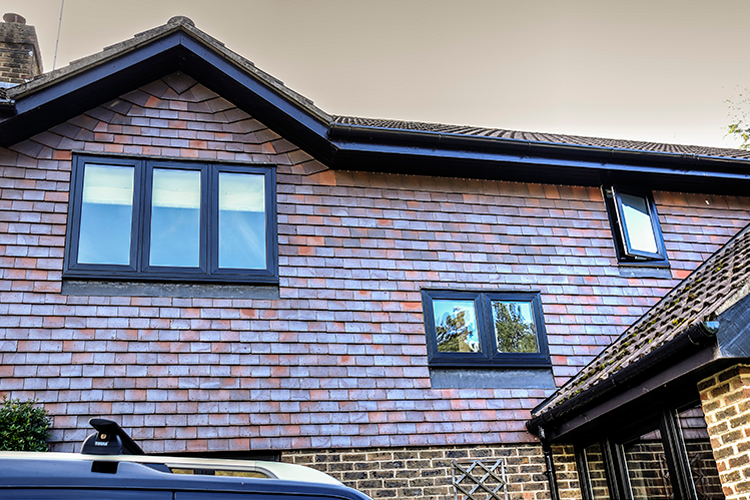 The black windows at this family home in Ascot prove how black windows pick out the richness and warmth of red bricks. The Ascot homeowners choose the dual-colour Halo Flush uPVC windows finished with a black grain on the exterior and white on the interior.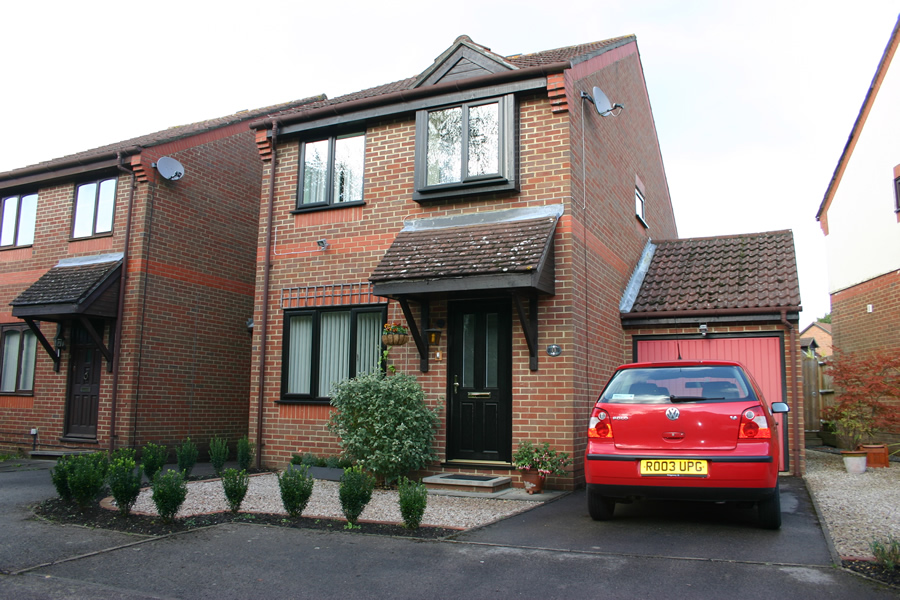 Bracknell's traditional red brick property has been modernised with black uPVC windows. They were the first homeowners in their cul-de-sac to change from rosewood timber windows to black.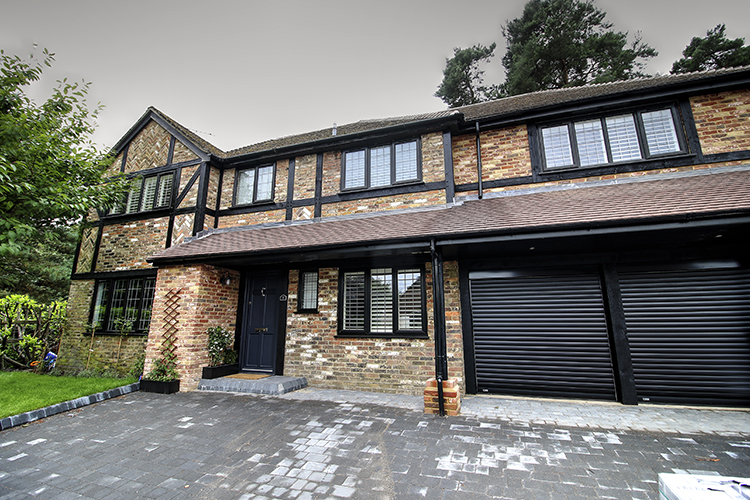 The Bagshot homeowners of this beautiful detached property decided it was time to make their home more energy efficient by replacing the brown single-glazed leaded windows. Whilst visiting our Bracknell showroom, they saw the range of brown/black uPVC windows we have on display and decided that this colour would match perfectly with the Mock Tudor beams at the front of the property. They chose black for the exterior and white for the interior with traditional antique black monkey tail handles. For the glazing, they decided on a square-leaded design.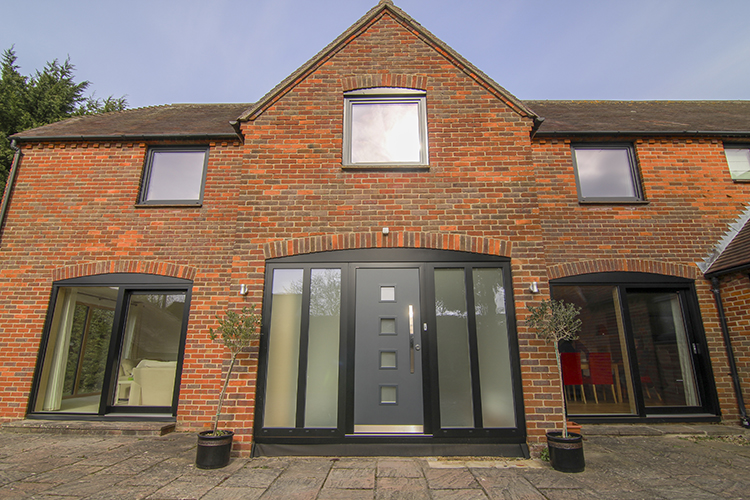 This detached 1980's red brick property in Oxfordshire has been transformed with black windows from Internorm. As part of their home renovation project, they decided to replace the dark brown wooden windows with Internorm's triple-glazed, ali-clad tilt & turn HF310 windows from the Home Pure range. The before and after images show how the jet-black finish on the exterior enhances the red brickwork.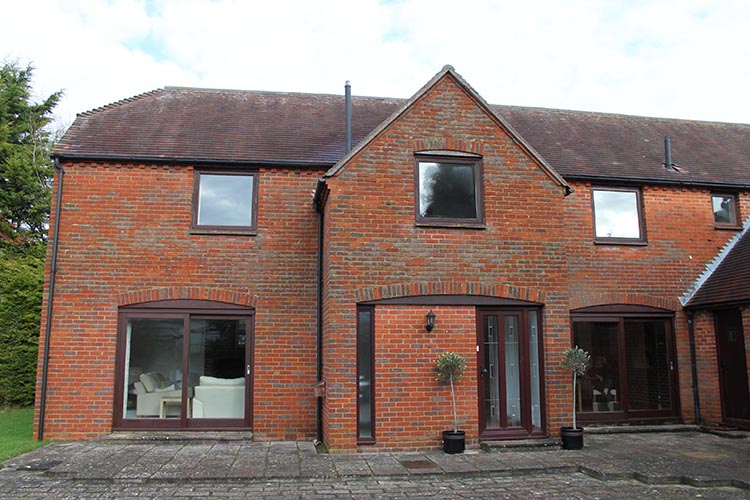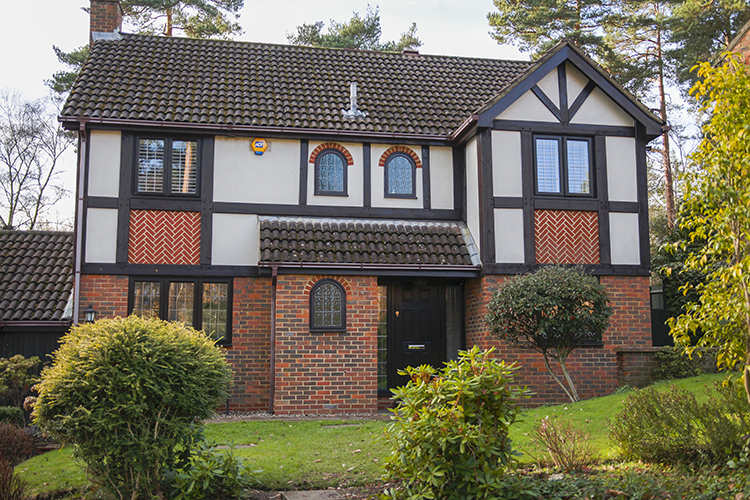 This cream-rendered and red brick house in Crowthorne had rosewood windows; the homeowners wanted to modernise their home without losing its character. When they contacted Thames Valley Windows, they were looking to replace their windows with double-glazed rosewood windows to be in keeping with the rest of the properties on the road. After a visit to our showroom, our designer showed them the brown/black windows on display, which changed their minds about the window colour. They choose a dual colour for the windows with a black finish for the exterior and white for the interior. We also installed a black front door to add more curb appeal to this traditional home.
If you are undecided about whether to replace your brown or white windows with black, you may be interested in reading our blog post: uPVC Window Colours