Gone are the days when white was the most popular choice in uPVC window colours for homeowners in Berkshire, Buckinghamshire, Hampshire, Surrey and Oxfordshire.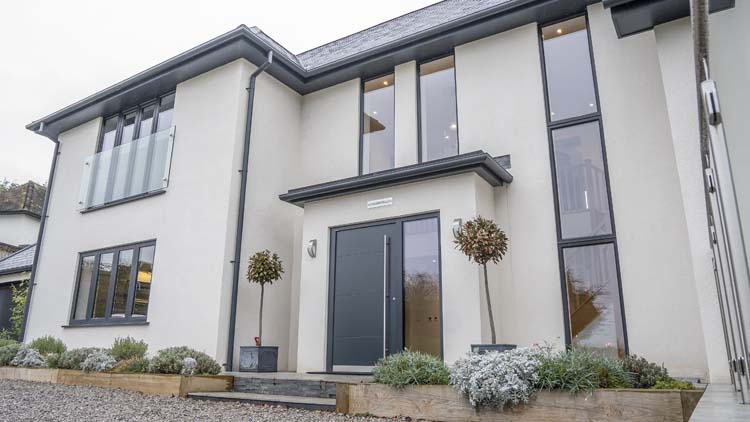 Nowadays, with the option of single or dual colour windows, there is a growing trend with homeowners to choose coloured uPVC windows. From contemporary shades of grey or black to the subtle Heritage shades of cream, Chartwell green or duck egg blue on the exterior to match the brick, stone or render finish of their property. If you are considering a dual colour with dark exterior frame colour and want to keep your interior brighter and spacious then opt for a neutral colour to match your decor.
When choosing replacement double glazed windows for an existing property or new windows for a new build, we are often asked: "which uPVC window colours will compliment my property?"
Investing in double glazed windows is an important decision that takes careful consideration. With so much choice in window styles and frame materials including uPVC, aluminium, timber and composite, and hundreds of colour options and ongoing trends to choose from we have composed this blog article on popular colours to help you decide the best choice for your property.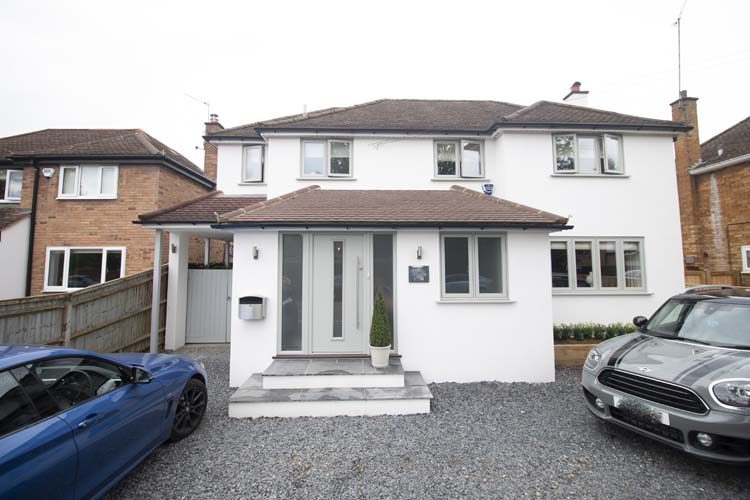 Choosing the Best uPVC Window Colours
Grey uPVC windows: An elegant and contemporary colour for the exterior of the modern and traditional homes. Anthracite grey windows' dark shade is a versatile colour that promotes a modern architectural aesthetics and creates a stunning contrast against off white or cream render.
Anthracite grey is more suitable for a more modern window style with minimal frame and large panes of glass so it may not be the right colour for Georgian or leaded windows.
Other popular shades of grey are French grey, Agate grey and Olive grey, a lighter shade of grey that adds character and charm to traditional cottages or period properties.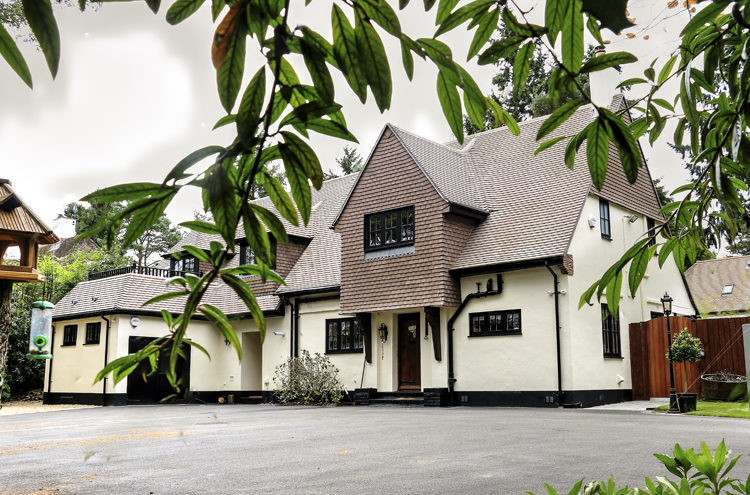 Black uPVC windows: Timeless and classic colour oozes luxury and sophistication with industrial-inspired architecture that shows no signs of falling out of popularity any time soon with architects and developers.
While mid-century modern interior décor has been trending for bold, simplistic aesthetic and minimalism over the past years, many homeowners are also embracing black frames on the interior. They naturally give the illusion of minimal frames and draw the eye to the outside view.
Home renovation TV programs like Grand Designs have generated a growing black window trend in aluminium windows for new builds and renovations. They add a distinctive style and definition to many property styles from a traditional Country house to modern penthouse.
Black is perfect for emphasising the simple clean lines of the window frame and complements dark brown or red brickwork and natural cladding.
White uPVC windows: Pristine and timeless a modern clean colour that has long been the favourite choice for homeowners that won't ever go out of fashion. White comes in many shades from crisp traffic white to a warm off-white. White windows are a preferred choice for leaded and Georgian windows and create an eye-catching contrast against both neutral and bright coloured render for urban and coastal properties.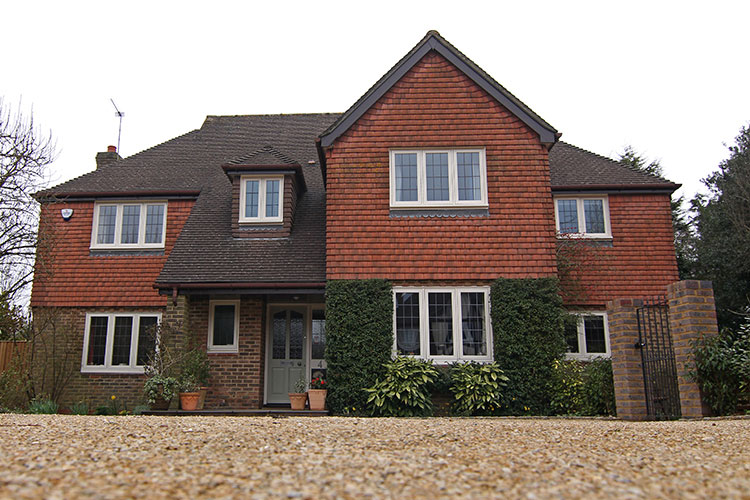 Cream uPVC windows: Natural and rustic offer a warm welcome to heritage style properties from a quaint cottage to a Victorian country home. A popular heritage colour choice for sliding sash windows with a wood effect finish against earthier colour bricks or stone. A new colour trend for 2021 "Ice Cream."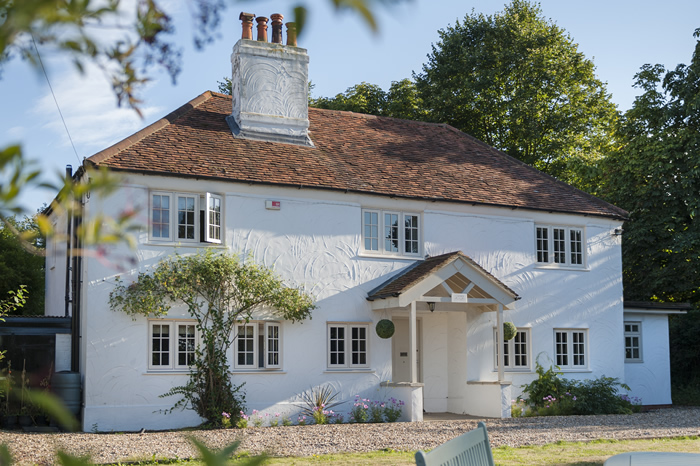 Green uPVC windows: Charismatic and subtle and the perfect choice of colour to add an air of countryside charm for cottage windows and older stone buildings. Chartwell Green is a heritage colour and popular choice for casement windows in barn conversions, the colour matches both chrome and brass window furniture.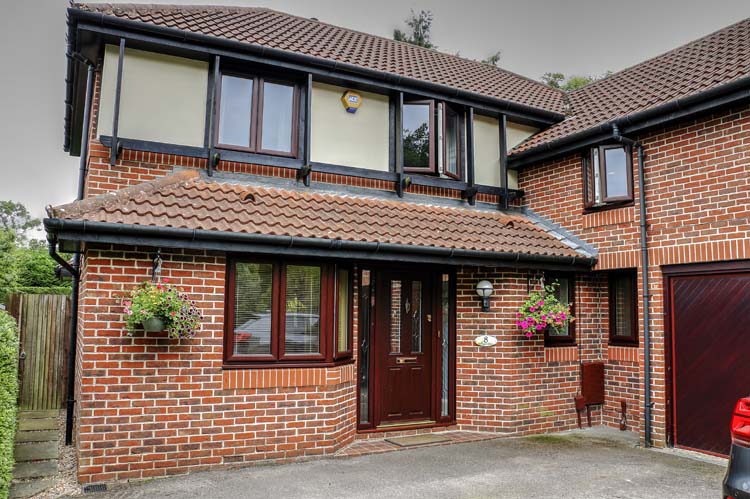 Wooden Effect uPVC windows: Warm, soothing and comforting, with all the aesthetics of timber windows but with the advantage of low maintenance. Wood effect windows are fast becoming a preferred choice for period properties, listed buildings in conservation areas. Choose from Rosewood, Irish Oak, Golden Oak, Natural Oak, or black-brown woodgrain finish.
Thames Valley Windows high-quality coloured UPVC window frames are energy efficient and are A* rated, with a low u-value of 1.4 providing maximum thermal efficiency and soundproofing. Every uPVC window we install is secured by design and have received the PAS 23/24 accreditation for their weather and security performance and the BS7950 accreditation for enhanced protection from the British Standards Institute.
We offer a comprehensive range of colours in both standard and RAL colours and finishes. What's more, if you're not sure on uPVC window colours, we offer a 3D Visualisation Service, so you get to see exactly what colour will suit your property.
Thames Valley Windows is on hand to guide you through selecting the best uPVC windows and doors for your home, offering advice and guidance along the way, to start the process, contact us online or give us a call on 0800 18 16 98