The beauty of glass is its transparency and it's the new luxury building material for modern and traditional properties to fill living spaces with natural light.
There's no better way to create an illuminated living space than with an abundance of glass in the form of slimline aluminium sliding patio doors that dramatically opens up solid walls in kitchens, or home extension to allow light and fresh air to flow through the property.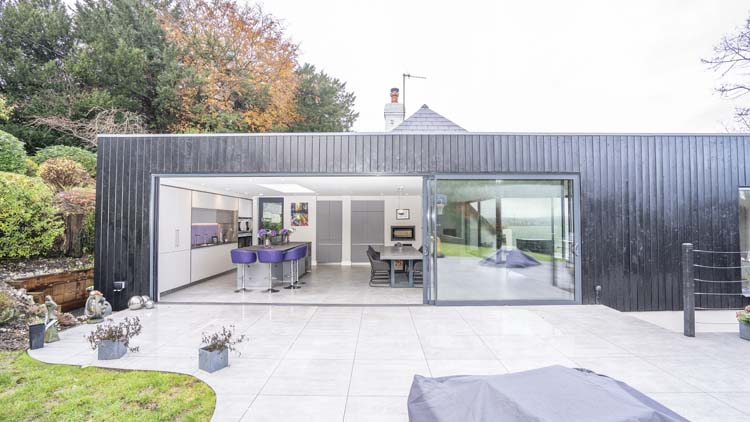 Whether you are looking to create the illusion of space or seamlessly blur the lines between indoor and outdoor spaces, here at Thames Valley Windows, we've noticed a resurgence in sliding doors and floor-to-ceiling windows.
This blog article looks at the benefits of slimline aluminium sliding patio doors, from stylish sliding glass doors or beautiful bi-folds to an elegant lift and slide door system with flush thresholds.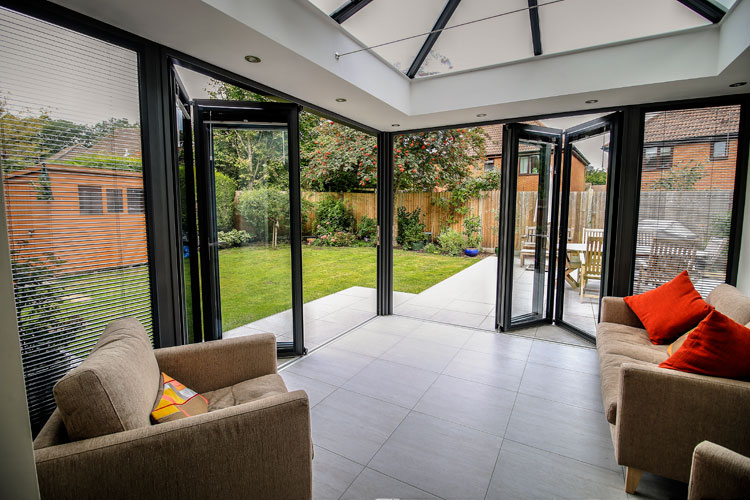 Transparent Connection to The Outside
Advancements in glass technology and a wide range of frame material, colours, and configurations makes the possibilities of floor to ceiling slimline aluminium door designs endless.
Slimline aluminium sliding patio doors with or without glazing bars are the latest glazing innovation in the 21st century when it comes to energy efficiency and aesthetics—offering uninterrupted views with the minimal frame and maximum glass area.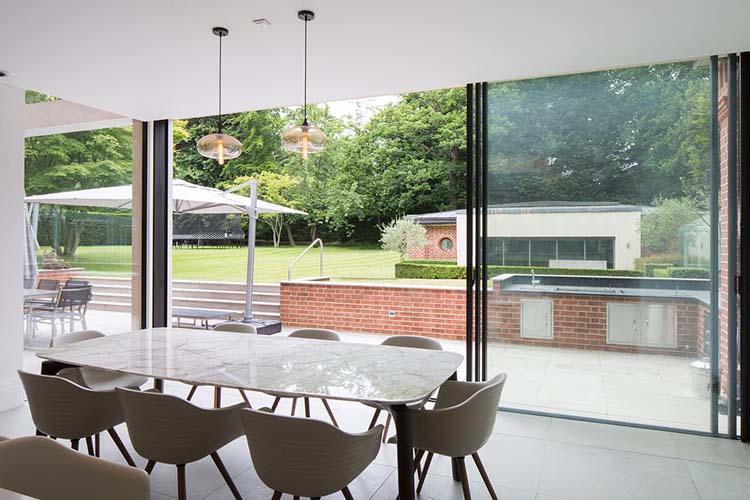 Our virtually frameless Vision20 sliding glass door system is breathtaking and fulfils the architectural, aesthetic and building requirements for new builds and renovation projects and offers a contemporary minimalist design.
With oversized sliding panes offering a 95% glass-to-frame ratio creates the highly sought-after contemporary glass wall with a minimalist style. Even the interlocks are slimline, which adds to the minimal aesthetics of these Slimline aluminium sliding patio doors.
One of the Vision20 system features can be designed with a pocket door, so when open, the slimline aluminium sliding doors slide entirely into the wall, so they are hidden away, offering uninterrupted freedom and access.
Solarlux is at the forefront of innovation in the sliding and bi-folding door industry. Its spectacular Cero sliding door system offers oversized glass areas of up to 15 m², truly allowing for a grand statement to any home improvement project.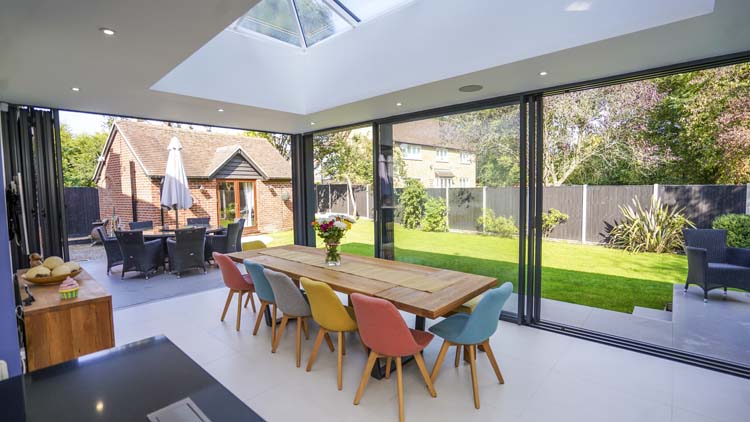 Cero ultra-slim sliding doors are effortless to open and close one-handed despite the glass's sheer weight, thanks to the most innovative rollers.
Cornerless sliding doors are a sought-after option with Berkshire, Surrey and Hampshire homeowners. Aïr offers a luxurious aluminium lift and slide door system with a slimline appearance and a cornerless solution.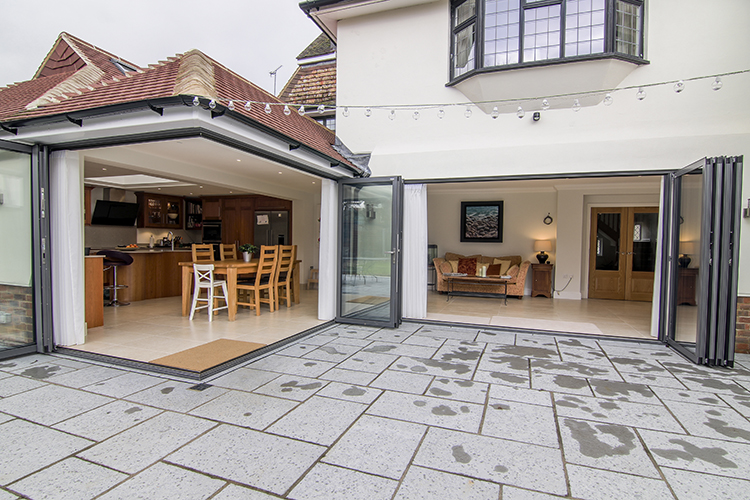 Two slim sliding doors glide apart to reveal clear, open spaces with no corner post creating a stunning architectural feature.
When closed, the large glass panels offer impressive floor to ceiling glazing whilst the all-weather gaskets protect against the elements and keep the warmth in.
Inline slimline aluminium sliding patio doors offer an impressive contemporary style that is hard to rival and exceptionally functional. Slim frame multi-sliding doors are easy to operate. You can open the sliding panels in almost any position. They glide smoothly on a single, double or triple track, which can also be motorised and can all be stacked on the left, right or centrally. You may also be interested in our blog article 'What is the difference between in-line sliding doors and lift and slide doors?
Bi-fold doors are a beautiful and versatile door system that has been a popular glazing solution with homeowners, architects and property developers for the past decade.
One of the benefits of this high-performance system is the doors can open inwards or outwards when fully open; the door panels can stack to one side of the opening or split, with some on either side creating seamless barrier-free access to the outside.
Whether you have a beautiful countryside view or a fantastic panoramic view of a city, slimline aluminium sliding patio doors bring the outside in.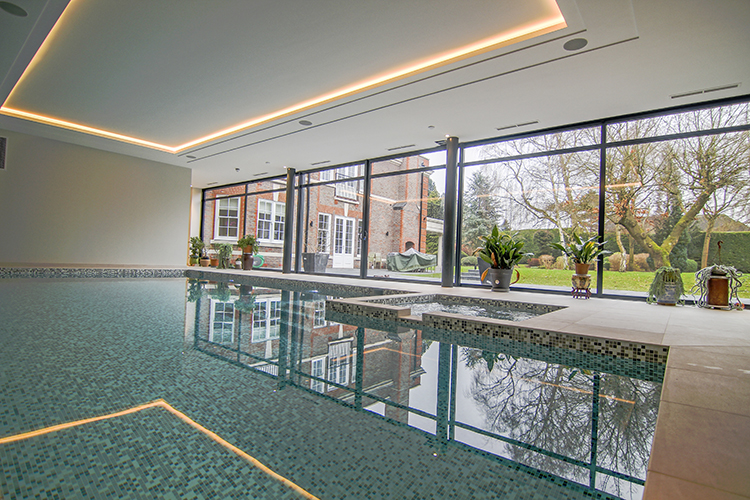 The Latest Technology
Our market-leading Slimline aluminium sliding patio doors are meticulously crafted from state-of-the-art powder-coated aluminium offering extraordinary performance, security levels, enhanced thermal efficiency, sound insulation and locking systems that meet the highest standards
They are manufactured to suit any building style's architectural design, from a contemporary new build to a period cottage.
They can also be combined with our glass extensions, from contemporary Orangery and Wintergarden to a traditional conservatory.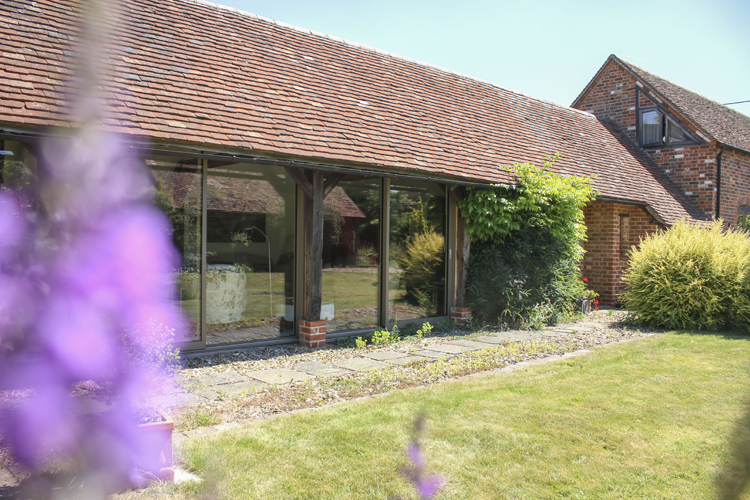 Glazing Options
There are many glazing options for our range of slimline aluminium patio doors. Manufactured with a double glazed unit as standard, and for properties that require the ultimate in thermal performance, we offer triple glazing.
From toughened and laminated glass to self-cleaning and solar control coating, you can also take your pick from coloured tints.
Colour Choice
We offer an array of RAL colours and finishes with the option of dual colour so that you can complement or contrast with the interior décor and external aesthetics.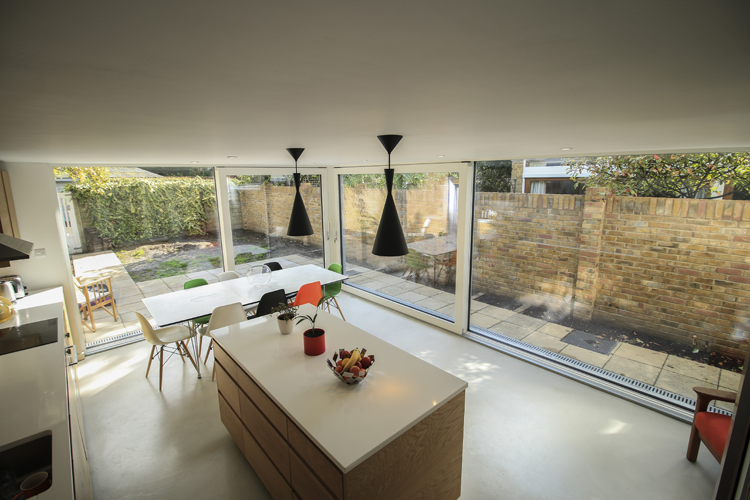 Interested In Slimline Aluminium Sliding Patio Doors?
Our designers have decades of experience using vast amounts of glass within home renovations and new build projects allowing homeowners to live their dream lifestyle in a property full of light and style.
Founded in 1984 and over 37 years within the architectural glazing and construction industry, our designers have extensive knowledge of product performance and understanding of planning permissions, building regulations, and the importance of specific envelope insulation requirements for thermal transmittance airtightness and ventilation and value environmental considerations.
Our Bracknell showroom offers us our designers the opportunity to demonstrate our range of Slimline aluminium patio doors, as well as our extensive product range from double glazed uPVC, Timber, composite and aluminium windows, to contemporary and traditional front doors, and living spaces.
If you would like to discuss your project or request a free no-obligation quote, please do not hesitate to call us at 0800 181 698 or complete an online contact form.