Bi-fold doors are a popular choice when looking to maximise space and light. The concertina design can literally open up an entire wall of glass, connecting the inside to the outside with a level threshold. When closed, the expanse of glass offers much bigger views in comparison to a standard window or door. In smaller properties, bi-folds will give the illusion of space as your eye continues beyond the back of the house.
It's easy to see the appeal of bi-fold doors but here are a few things to consider before making the decision.
Doors are typically made of aluminium, timber or a combination of both. An aluminium frame is lighter than a timber frame. Aluminium bi-fold doors offer both high performance and superb thermal efficiency. A contemporary grey is the most popular colour choice but we have seen white and black used.  They are generally available in any colour subject to cost. It is very much down to what will best suit your decor and taste.
It is possible to have two sets of doors that meet in the corner. For a complete open-plan effect, a fully moveable corner is an option so long as you have the steelwork and right structure in place.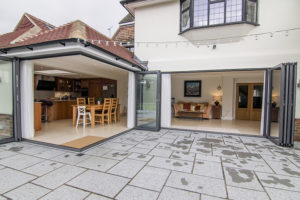 The number of leaves is also worth thinking about. Where there is an odd number of leaves, it's possible to open the first leaf like a standard door which is ideal if you want to pop into the garden or let the dog in or out. An even number of leaves will operate in pairs. Opening one leaf will result in the second leaf opening and so on. It is possible to still have a leading door with an even number of leaves but one door has to open the opposite way to the others. The number of leaves will also determine the amount of frame versus glass. Five leaves will add up to more frame than four leaves etc. It is worth considering the panel size to ensure you have an optimum number for the opening.
Bi-folds are quick to install. Your builder will create the opening and then Thames Valley Windows will install your doors.
The alternative to bi-folding doors is sliding doors. Subject to design and type they can cost more but it is worth considering how often the doors will be fully open – this is Britain after all! Sliding doors are usually made up of two, three or four panes with one or two panes fixed in place. When shut, your views of the outside are pretty much uninterrupted as there will be less vertical frame than with bi-folds. Space for the stacking of the doors when open will also not be required but there is always a fixed area reducing the overall opening.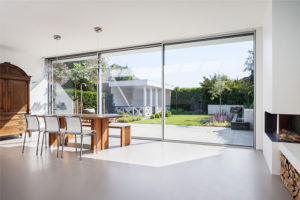 Recent Project Selection
You may also be interested in reading our blog, 'What Makes Solarlux Bi-Fold Doors Different?'