Whether you're planning a brand-new self-build, undertaking a conversion or renovating a property, how to choose your new windows is too important to be an afterthought.
We all know that windows are crucial to the look and character of any home – from contemporary feature windows that make a bold statement to discreet styles that blend sympathetically with a period house.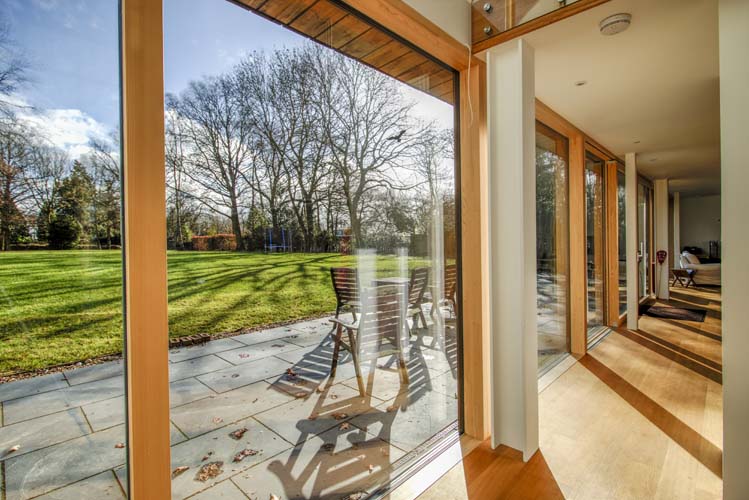 There is a myriad of choices to be made when it comes to styling and design options for glazing these days, as advances in technology and evolution of products means that size and style all need to be considered early in the process. If you're looking at doing a contemporary extension at the back with cutting edge materials (glass walls for instance), then how will that tie in with the parts of the house that need conventional glazing too? Do you have the same style of products all round the house, or do you go for products from different periods, and how will they complement each other? And how do we make sense of it all?
How to choose your new windows this Spring
Window Styles
The two main and familiar frame styles in Britain are sash (where two or windows slide up and down to open; sometimes called vertical sliders) and casement (side-hinged).
Period styles such as Georgian, Victorian or Edwardian houses often call for sash windows, and a great many companies offer a range of traditional sash styles, properties from the late 19th Century onwards will more often require casement windows, with specifically 1920's and 30's Art Deco and Modern Movement homes using metal frames.
Traditional sashes are operated by a weight-and-pulley system, but modern versions often have smoother-running spring and spiral balances. You can also find sashes where the top and bottom windows separately tilt inwards so they can be cleaned from indoors.
Frame materials
Choosing the best type of window frame is important for durability and aesthetic appeal. There are three main material options for frames – timber, uPVC and aluminium. Each material has its pros and cons and its lovers and haters.
Timber – This material is the traditionalist's choice, particularly for sash windows. It combines aesthetic appeal with good insulation. What's more, as a renewable resource is the most environmentally friendly option. Easy to maintain and good-looking timber windows really announce sophistication, natural elegance and beauty!
uPVC – Although these windows are often referred to as the cheaper solution than timber or aluminium, it's not always a good idea to go for the cheapest uPVC option; more expensive frames are reinforced with steel or better structural integrity.
uPVC profiles are now available in grained finishes and in several colours. Precision manufacturing created neater corners and mechanical joints, meaning that a uPVC window could now look just like a timber window. And so, the Timber-Alternative Window was born. These new, high quality windows enabled homeowners to have replacement uPVC windows without any compromise on style.
Metal Frames made of aluminium or steel are the most common, but you can also get them in other more expensive metals, such as cast iron or architectural bronze. Metal frames should need little maintenance, and they have a slim profile (particularly compared with PVC-U). They are often a good choice when replacing period windows or imitating period styles, from grand Georgian homes to modernist boxes, and also work well in a sleek contemporary context.
Aluminium Windows are polyester powder coated to ensure they remain rust free and should never need to be painted. Frames are available in any RAL colour and you can choose a different colour for the outside frame and the inside frame to complement your décor.
Choosing the right window is tricky as Aluminium windows are available in any size and with various hinged opening configurations. There's also a choice of ironmongery to complete the traditional look of the window, or you may wish to add a more modern window handle.
Composite frames have grown in popularity in recent years. They usually consist of a timber internal frame, sheathed with a durable metal outer, such as powder-coated aluminium. These frames offer the characterful warmth of timber internally, but the durability and low-maintenance virtues of metal on the external face. They are often specified in exposed locations.
The Importance of a Showroom Visit
In these days of online research, the options become so great that we can become almost paralysed by choice! With any decision of this type it is so important to spend some time to come into a showroom and actually see and feel the quality of the product that you want to use on your project – it is impossible to make that value judgement online. What might look impressive in a picture and seem incredibly good value from a pricing perspective, can soon lose its charm if it doesn't work very well, or feels flimsy to the touch.
It's also incredibly useful in the early stages of a project to connect with one of our design specialists, who can advise you not only on aesthetic choices, but can also give you invaluable information about how the designs will work if you are building a new house or extension for instance. Frequently our designers save our customers thousands of pounds in product costs because we can tweak plans at an early stage before the build starts to maximise the benefits and avoid costly design errors that can be made.
Our showroom in Bracknell, Berkshire, showcases an impressive product range. From our 'Essential' PVC range to our 'State of the Art' Passivhaus products, with Aluminium options and our new dedicated Timber Showroom, there's something for everyone! Whether it's uPVC, timber alternative or aluminium, contemporary or traditional, we will have an experienced dedicated specialist to discuss your requirements.