A glass room has become a popular and cost-effective solution for extending a home and allows homeowners to enjoy the outside all year round.
Since the pandemic, there has been a rapid demand in the UK for glass room extensions to extend the living space and blur the lines between indoor and outdoor living.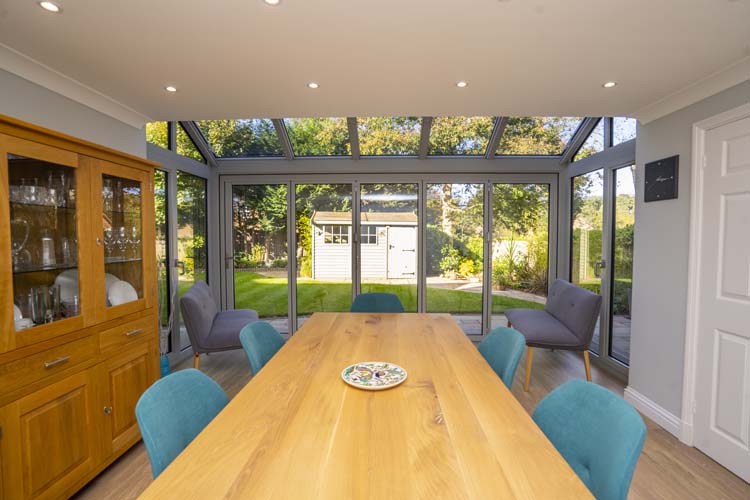 There are several ways you can add a glass room to your home. Often these are made up of a combination of glass sliding doors, fixed glass panels and roof lanterns that allow you to enjoy your garden whatever the British weather conditions. Designed as an outdoor living space to relax and enjoy time with family and friends whilst enjoying uninterrupted panoramic views.
A conservatory or contemporary orangery is popular for a more traditional glass room.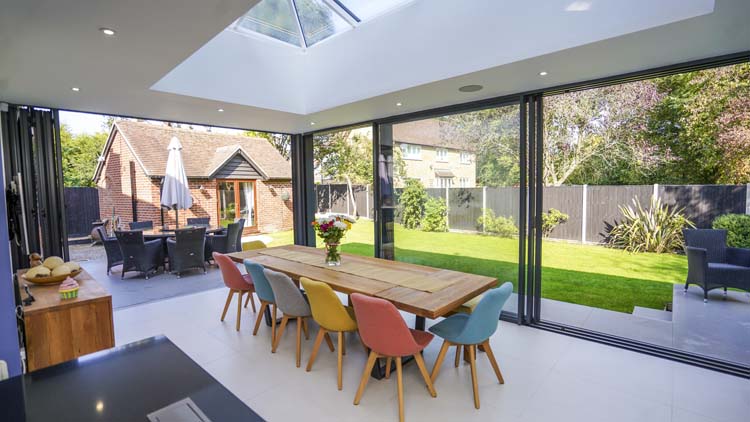 Our modern range of high-quality Wintergarden glass extensions is designed with powder-coated aluminium frames that create a living space filled with transparency and light that add the real wow factor to properties as they offer sleek and modern aesthetics.
When it comes to choosing a glass garden room to suit your property, our range of outdoor rooms can be tailored to work within budgets.
Everything can be customised from the frame material, glass type, size, design, and remote control awnings. You'll work with a glazing expert to help with building regulations and planning permission and ensure you can achieve a glass extension or glass veranda that suits your requirements.
Long term, an energy-efficient glass room designed with solar control technology to ensure temperature comfort will reduce your carbon footprint and lower your energy costs. This makes it a cost-effective living space with excellent features and benefits.
Different Glass Room styles
Multiple ranges of fixed and open roof glazing systems and designs are available, from a single flat glass roof to roof lanterns; both allow natural light to flood into interior spaces, offering an illusion of space and luxurious aesthetics.
From the outside, a flat glass roof is sleek and unobtrusive, whereas a roof lantern is a stunning architectural feature adding height and space to a room."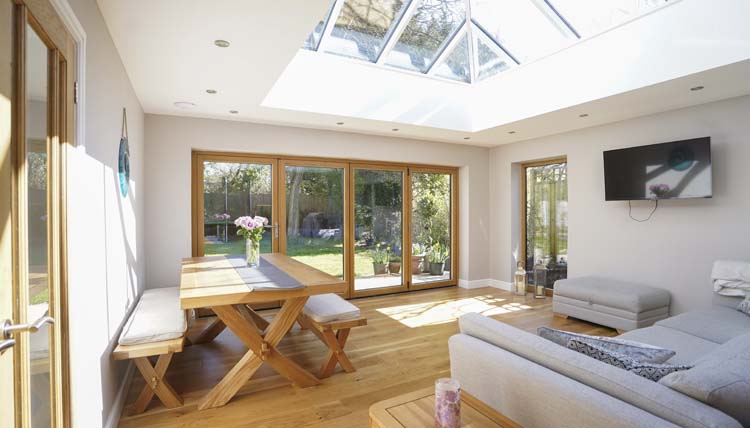 Benefits of adding a glass roof to an extension
Adding a glass roof to an extension will dramatically transform your living space. They're a great way of making rooms feel larger, as they're often pitched, which means your ceiling height will be higher.
They'll flood light into the home, helping to create a bright, airy, spacious feel to your extension. An element of the controlled solar gain can also add to the thermal efficiency of the whole property.
Glass Delivery times 2022/23
During the pandemic, the high demand for windows and glass doors created a challenging and unpredictable two years within the glazing industry.
The global supply chain issues of material shortages and longer window and door lead times generated by the pandemic are likely to continue into early 2023
After more than two years of fighting pandemic-induced inflation, all companies are still being affected by the continuing cost pressures that impact all of us, including energy costs and raw material availability.
Whilst some of those pressures have eased recently, others have increased significantly, including the costs of natural gas, which has more than quadrupled since 2021. 20% of the cost to manufacture glass is gas, so these increased prices are passed down through the whole supply chain, inflating costs at every stage.
Plus, the devaluation of the Sterling against the Dollar has resulted in many suppliers imposing currency surcharges. Add all that to the continuing war in Ukraine, from which region many of the world's raw materials come, and it equates to continuous inflation across all sectors.
Interest rates have risen at their quickest pace in 40 years, pushing mortgage rates to their highest level in more than a decade and pushing the cost-of-living prices up. All of these factors have slowed down consumers' spending power, which should mean lead time for glazing products could return to normal in 2023.
Prices as of 1/10/2022 – all are subject to change.
Bifold doors, which start from around £1,200 per panel, excluding VAT
Roof lanterns, starting from around £1,350 excluding VAT
Conservatory is a popular choice, starting from around £1,800 per square metre
Wintergardens and Orangeries starting from around £2,500 per square metre."