As a minimalist interior and exterior design trend evolve, many homeowners are replacing a solid wall with a luxurious frameless glass wall delivering maximum transparency, spacious interiors and allowing the beautiful outdoors to be the interior decor. Large expanses of glass with big window and door dimensions have been dominating the future of the glazing industry.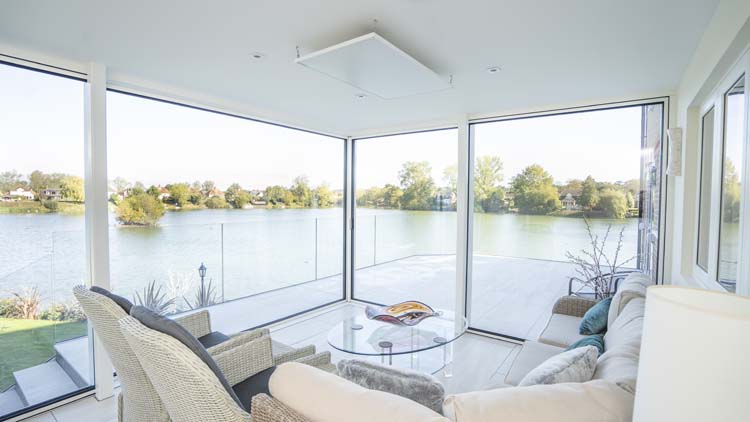 We already see this latest trend through more design-led homeowners moving towards frameless moveable glass wall systems.
They are designed with slimmer sliding glass doors or oversized doors with minimal frame for an emphasis on unobstructed views and daylight.
Sliding doors fell out of fashion when bi-folding doors came along in the late 1990s when homeowners wanted to embrace open-plan living by creating a seamless transition between the indoors and outdoors.
Sliding patio doors didn't have the same effect; they were seen as outdated as the glass design technologies and profiles had not moved on.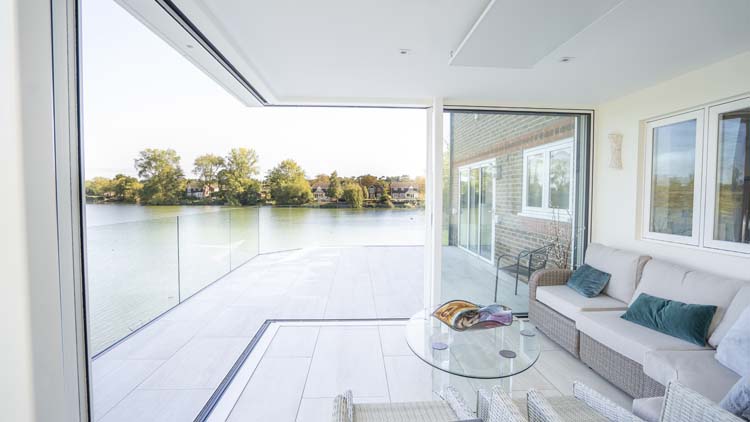 Fast forward to today, and less has become the new luxury in window and door designs. With many homeowners wanting this new luxury in their home, we see a resurgence in slimline aluminium sliding doors. Thanks to advance technology and engineering developments for minimal frame glazing they have become the latest architectural must-have-trend.
Slimline sliding doors are fast becoming some of the most popular visual home improvement projects for extensions, renovation or even in contemporary new builds in Berkshire, Surrey, Hampshire and South East.
Here at Thames Valley Windows, we work with property developers, architects and clients, we recognise the glazing requirements of each project are unique and provide an innovative solution to suit.
As such, we're proud to offer a wide variety of different sliding door solutions from Internorm, air, Sunflex and Solarlux to our customers for floor to ceiling glazing allowing maximum light to enter into a property.
There is one new state of the art sliding door system that's taken the property market by storm, and that is Cero from Solarlux.
A virtually frameless fully glazed glass – glass system is offering both fixed glass panel and moveable sliding windows or doors. Aesthetically pleasing these new generation sliding doors provides a large dynamic elevation of glazing that is hard to rival!
Designed for use in both residential homes and commercial sector including hotels, airport terminals and retail businesses
But what exactly are the benefits of Cero floor to ceiling sliding door system? Why might they be the best choice for your home extension? Let's discover the luxury sliding door – Cero.

Introducing Cero – The Slimline Sliding Doors?
The desire for design and exclusivity is more than met by Solarlux premium minimal sliding door system for infinity views without boundaries.
Cero ultra-slim aluminium profiles increase the glass surface and overwhelm the living spaces with light, and a feeling of wellness and continuity between internal and external spaces.
There are plenty of great reasons as to why Solarlux Cero sliding doors could make that real grand statement and enhancement to your property. Here are just a few to consider:
DESIGN
Slightness and transparency, Cero offers ultra-slim 34 mm profile sightlines, the individual sliding elements in double or triple glazing with toughened glass (ESG) can reach up to 6 metres in height and make up a total area of 15 square meters.
The slim frame profiles are pared back to the minimum. The window frame can be fully integrated into the walls, ceiling and ground, allowing the minimum profile visible for a seamless appearance between all facades with 98% glass and offers a massive 98% daylight transparency
Designed for oversize door system whether being height, width or both and engineered for smooth and easy operation, giving you design freedom with the performance and innovation you expect from Solarlux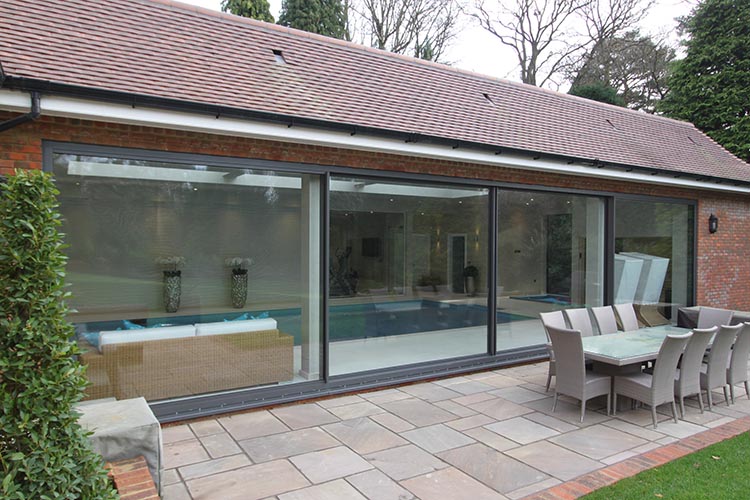 BARRIER -FREE
The variety of system configuration options ensures a degree of practical flexibility.
The generous multi sliding elements and combinable system components, such as sliding, fixed, and corner elements leaves nothing to be desired.
With vast opening options from the right or the left. Glass corner sliding doors for an impressive 90-degree opening corner with no post to tear down boundaries, allowing the indoors and outdoors to blend.
High-performance flush floor tracks and stainless-steel rollers that are integrated into the sash profile provide accessible openings with zero tripping hazards for safety and durability.
INSULATION
Energy plays a key role in modern architectural glazing with the double glazed Cero sliding window system showing excellent thermal insulation and incredible energy efficiency. The triple-glazed variant of the sliding window is highly heat-insulated and suitable for the low energy and passive house standards.
SECURE BY DESIGN
Despite its high level of transparency, Cero provides excellent burglar resistance, as demonstrated by its RC3 certification. Can also be fitted with a fingerprint sensor and electric locking mechanism that allows it to be locked securely from both the inside and the outside.

STYLE
A wealth of stunning colour variations, and a range of sizes and glazing options the choice is yours!
EASY ACTION OPERATION
Intelligent technology ensures that the large glass doors are effortless to move by hand with silent opening and closure of the thermally broken glass surface.
There is an optional electrical driven motorised control system for the sliding elements which can weigh up to 1000kg, allowing for maximum operating convenience. The system's laser scanner ensures maximum safety by stopping opening and closing immediately when a person or object is in the way.

Why Choose Cero?
For luxurious living, the ultra-slim design of the Cero sliding system creates large transparent surfaces, with a light, sleek and elegant appearance.
Thanks to a slim profile of 34mm Cero combines design and functionality through cutting edge technologies for both precision and use of top quality materials.
Award-winning Cero has won The German Design Award from the German Design Board, and Iconic Award for the prestigious iF Gold Award.
Family tradition, technological innovation and with over three decades in individual glazing solutions makes Solarlux, door systems perfect for even the most demanding requirements.
Solarlux is a highly reputable business and a brand name that has come trusted in the industry by millions of people all over the world which continues to lead the industry for advance glass technologies and engineering capabilities across the continent.
Cero slimline sliding doors are made exclusively in Melle, Germany. Solarlux is renowned for offering glazing systems to the highest standard to improve the quality of life by designing spectacular light-flooded spaces for entertaining or relaxing in style and comfort.
Cero provides a range of different system types, I, II and III, makes them perfect for different climate zones.
Looking for Minimalism?
We appreciate modern minimalist design here at Thames Valley Windows, and these Cero sliding doors embrace a minimalist, modern aesthetic to offer the best daylighting performance.
The Cero slimline sliding door system is the absolute expression of 'minimal frames' concept with the thinnest possible framed glass in the glazing industry.
Not only one of the only minimal sliding systems on the market but also cost-effective, high quality and custom made these are the key features of Cero that represents the ideal solution for visually stunning glass walls.
Aesthetics, combined with excellent technical performances, communicate the clean minimalism of Cero sliding doors.

Here at Thames Valley Windows, many of our most satisfying glass installations in properties are large scale glass walls!
Whether you're building an extension or planning a renovation or building a new build, nothing finishes off a visually stunning element to your home quite like the addition of architectural sliding doors.
We spend a lot of time living inside our home, so why not invite the outside into your home without boundaries and we can help you achieve this reality with our Cero sliding door range.
As well as an extensive range of double glazed windows and doors we have a range of glass structures available to view at our Bracknell showroom. Here you will be able to see the fully operational Cero III  at 4650mm x 2650mm allowing you to get a first-hand feeling for the profiles and movement of the panels. Our showroom spans over two floors, with the latest range of sliding glass doors, glass partitions, fire-rated doors, pivot doors, and bi-fold doors providing you with all of the inspiration you need for your home improvements
HOW MUCH DOES A GLASS WALL WITH CERO COST?
To discover our Cero prices now, call 0800 181 698 and request for a free no-obligation quote! Or contact us online and arrange for an appointment at our showroom or your home!
Now that you are an expert on glass walls, why not take the time to read more about What is the difference between an inline sliding door and lift & slide door?