Pirnar offers an award-winning range of luxury designer front doors. Each is a masterpiece in itself.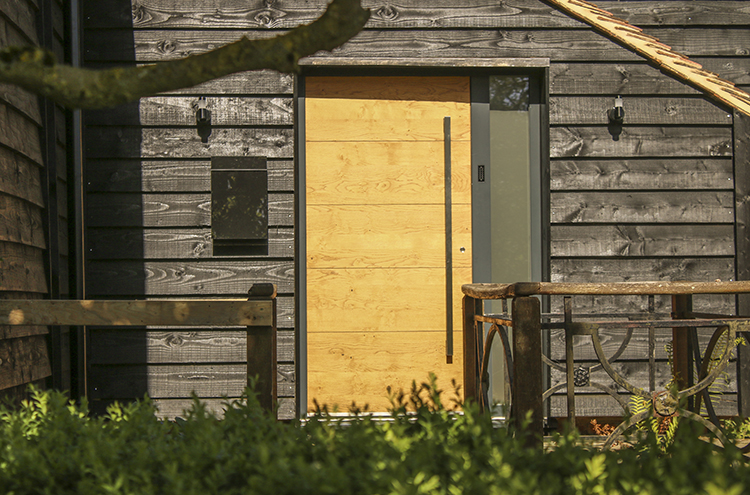 Founded in Slovenia in 1966 by Franc Pirnar, the company started as a family craft business and is now run by the third generation and is led by reliability and integrity that defines the unique culture of a family-owned business. Driven by its motto of "Extraordinary", the company set a course for excellence and revolutionised the market with only the best award-winning front doors through their precision manufacturing.
The superior craftsmanship of a quality entrance door offers no less than the best innovation, the highest security performance and un-rivalled sophistication design options to fit individual projects.
The long-term durability, exquisite craftmanship, thermal performance and reliability make Pirnar the premium entrance door system we offer for modern architectural projects. Every product has the following premium qualities and features:
Materials of the highest quality perfectly combined – aluminium & timber.
The option of concealed hardware gives a perfect appearance
True flush frame and door options for a superior aesthetic finish.
Advanced entrance options include a digital keypad and fingerprint scanning.
Three gaskets all around prevent wind, water and sound from entering.
Triple & Quadruple Glazing options for superior insulation
Energy Efficiency as low as 0.54 W/m2K – Super Passive Haus standard
Premium security – 3-point safety lock with two massive hooks
Winner of the prestigious German Innovation Award Winner 2022 for the advanced Carbon Core construction

Innovative Core Construction
Pirnar uses innovative techniques to manufacture prestigious modern and contemporary front doors that guarantee strength and structural rigidity with high-end performance.
No external door manufacturer engineers their front doors to withstand all weather exposures like Pirnar.
The state-of-the-art CarbonCore construction is exclusive to Pirnar and offers a combination of two innovations: robust carbon fibre construction and the exceptional Magnet WeatherSeal.
Every luxury designer front door has been accredited with the excellent 9A water tightness rating, making it one of the most weathertight and energy-efficient entrance doors we offer.
When tested at a pressure of 600 Pa, they remained completely watertight, corresponding to wind flow speeds of up to 114 km/h (71 mph).
The magnetic seal ensures no drafts and leakage, regardless of the strength of the wind or storm.
Carbon fibres are exceedingly light, inflexible and outstandingly stronger than steel.
These doors do not warp, be it the coldest of winter or the scorching heat of summer.
Pirnar CarbonCore is the only patented carbon construction in the world developed for luxurious entrance doors.
Exceptional high-end entrance doors with excellent quality at an affordable price.

Optimum – Exquisite Doors
Doors can go up to 2.4m high and 1.25m wide and have integrated side lights.
Homeowners who have a passion for modern, clean architecture will find this collection has many contemporary door styles and elegant design options, including grand entrance double doors and can be chosen with aluminium, Timber or Ali/Timber options.
There is something special about this entry door: superb thermal conductivity and soundproof insulation, a flawless finish and sturdy profiles.
These revolutionary designer front doors are strengthened by high quality and design to their very core.
Investing in a Pirnar luxury designer front door is an investment in your home.
Supreme quality, craftsmanship, engineering and design allow you to enhance the entrance of your property.
The collection offers two configurations:
LEVEL: for an Optimum front door that offers the option of a flat flush door panel and frame configuration with visible junctions.
SOFT: for a recessed frame-door panel configuration.

Premium – Prestigious Doors
The Premium entrance doors are a unique system not only for their innovative design but also has been engineered for outstanding performance.
Industry-leading and innovative from the start, combined with masterful craftsmanship, state-of-the-art processes, machinery, and utmost precision engineering.
They are the best-insulated entrance door in the world and can be made of aluminium, wood or a combination of both to combine modern minimalism with the warmth of nature.
The Premium are suitable for larger entrances and can be made 3 meters high and 1.3 meters wide to create an impression of breathtaking grandeur.
Choose the concealed hinge option for a seamless interior look.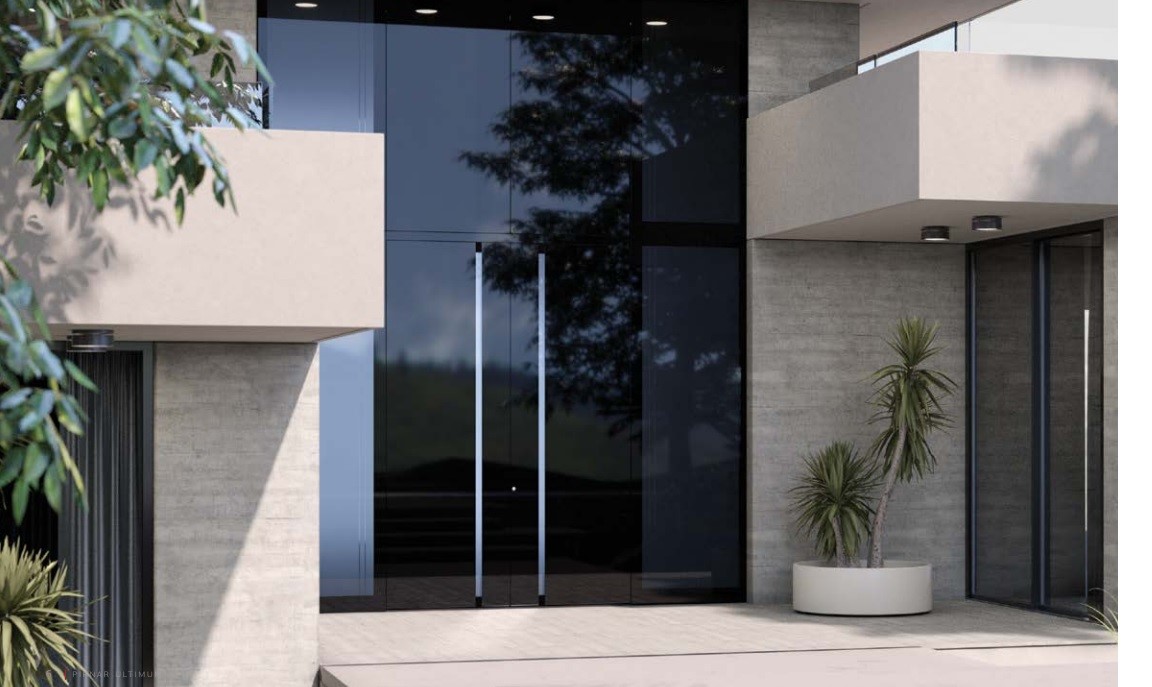 Ultimum – Deluxe Doors
Innovative Ultimum entrance doors are setting emerging trends with geometric and glass entrance door designs that blend beautifully with architectural minimalism.
They are designed for a stunning entrance and have received numerous design awards, including some of the most prestigious, such as the German Design Award Winner, International Red Dot Design Award, and German Innovation Award Winner.
When a standard height entrance door will not do, the Ultimum offers no limit and has been known to manufacture a select number of Ultimate entrance doors up to 3 meters in height and 2.80 meters in width, along with integrated side lights.
There is simply nothing left to be desired with an impressive Pirnar Ultimum entrance door. The detail reveals the brand's soul, such as the patented CarbonCore construction or the handcrafted finish from master artisans – when you see a Pirnar entrance door, you'll appreciate the difference.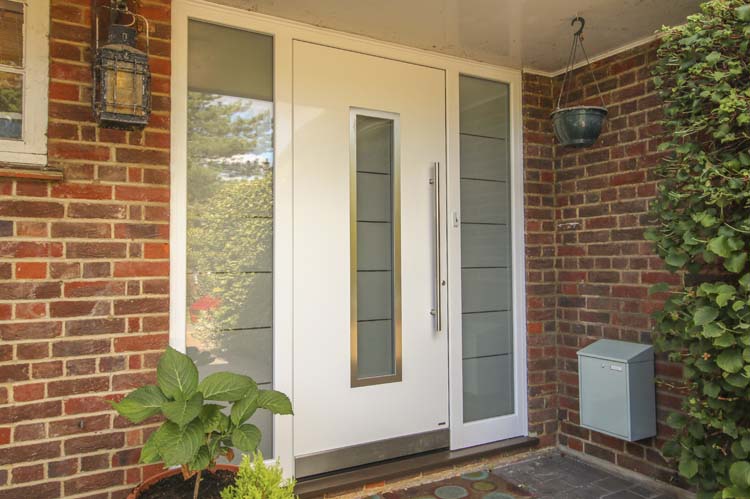 Design Options
Pirnar doors are fully bespoke and made to order to your requirements and offer you an incredible array of dimensions, styles, and door designs. As well as the usual customisation options of colours, surface treatment, handles, knockers and locking systems
Pirnar can upgrade the flexibility of the entrance doors with a range of finishing touch add-ons, such as gorgeous LED illuminated handles and kick-rails that offer a beautiful additional aesthetic to light up the front of your home at night.
No more keys or fobs with a keyless entry system of Keypad or fingerprint recognition embodies the pure DNA of Pirnar and offers an unrivalled level of security.
Excellent personalisation options, various motifs, house numbers, or names can be etched into smooth plates or glazing.
The possibilities are endless to accentuate your individuality and charisma in your home.

The Vision
British architecture is as varied as the ever-evolving property styles, with its breadth of historical characters and features.
Pirnar's excellence starts with their forward-thinking R&D and continues through their appreciation of what is timeless, and love of sophistication means one size or style does not fit all.
The Pirnar range and manufacturing philosophy accommodates everything from a much-loved thatched cottage to a minimalists 21st-century new-build home, demanding a made-to-measure entrance door of exquisite linear beauty.
Break through boundaries and realise extraordinary entrance door design ideas with Pirnar.
Our goal for every project is to create your vision and design, to create the home you want.
Over the years, Pirnar door systems have been widely specified across the South East by architects, developers, and homeowners.
We have designed and installed hundreds of Pirnar doors and helped to create the perfect entrances.
Our dedicated team of designers has many decades of experience, knowledge, and skill to design and create homes full of light and style.
These luxurious designer front doors are one of the defining features of your property, so be comfortable knowing that you are purchasing one of the best products on the market.
Due to the bespoke nature of these front doors, we strongly recommend viewing the range of aluminium front doors we have on display at our Bracknell showroom before you make any decisions.