Wooden front doors are making a comeback! With one of the biggest home trends for 2020 being natural wood, Here's what the year ahead holds for buying a new eco-friendly timber front door. Many homeowners are making greener choices for home improvements within their properties, energy-efficient exterior doors are a natural choice to help reduce their carbon footprint.
So whether you have just moved into your new period property, or you are renovating your existing house – your choice of a new wooden front door is an important decision. It will not only make your home more environmentally friendly but will also have an impact on the overall final aesthetics of the entrance of your home.
There's no denying throughout the eras there has been a lot of wooden front door styles in the UK, from panelling to stained glass just to name a few, the trend for eco-friendly front doors continues to grow by providing style and inspiration for the entrance to your home
No matter of the style of your property there is a vast array of choice and styles in external timber doors. Whether you desire a reproduction wooden door that emulates a classic style, or if you prefer something a little more contemporary.
Let's take a look at six trending wooden door styles.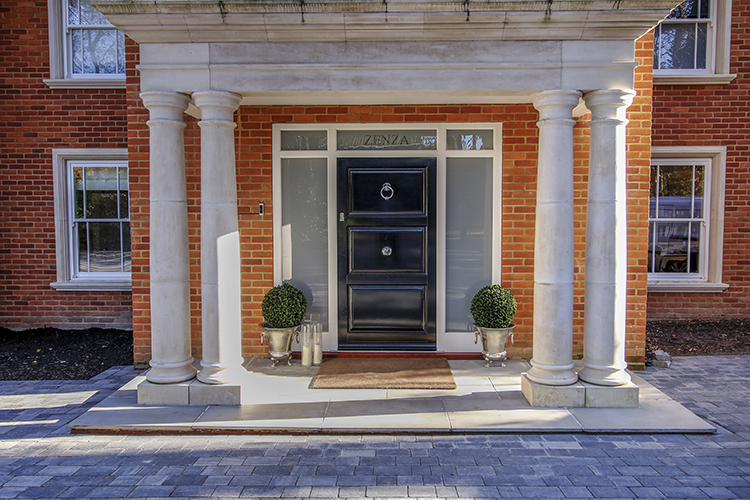 Georgian Front Doors
Homeowners love Georgian front doors as they hark back to the Georgian and Regency era and have a distinctive opulence style. Georgian architecture is characterised by its simple elegance, symmetry, and balanced proportions.
Traditionally a large solid wooden Georgian style front door will include six panels and painted in vibrant, bold colours hues of deep black, cherry red, royal blue and racing green and finished with shiny ornate door furniture for that formal style. Another option is for fanlight above the entrance door or glazed side panels to allow natural light into the hallway.
One of the hottest black wooden front door trends is inspired by the most famous Georgian front door which is number 10 Downing street. with Brexit on the horizon, this door style will be creating a buzz this year.
Even as we head into a new decade! a Georgian door has not gone out of style; it is a key feature of Georgian architecture. It is still hugely popular with homeowners in a classic Georgian townhouse.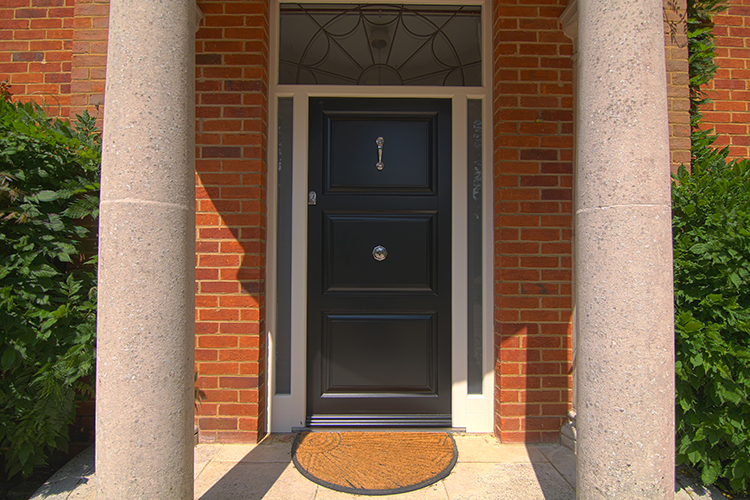 Victorian Front Doors
19th century was a grandeur period! If you are looking to maintain British architecture in your property, then a grand luxurious Victorian front door is just perfect. These range of external Victorian doors are a popular choice for their ornate features, intricate detailing and elegant proportions.
Victorian style doors often have a four-panel formation instead of the traditional Georgian six-panel front door and are in neutral colours such as greys and dark blues painted finish.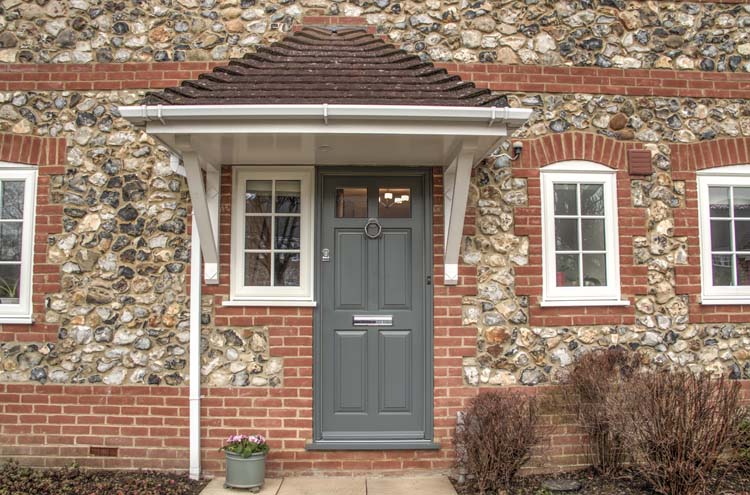 Edwardian Front Doors
Edwardian front doors are perhaps even more contemporary than the Georgian or Victorian. In the early 20th century porches started to emerge to complement an external entrance door. Stained glass was also another popular feature in the door and porch design.
An Edwardian door is timelessly elegant and is recognised by its traditional panel formation and typically have three raised panels towards the bottom, with a series of thin, glass panels in the upper half.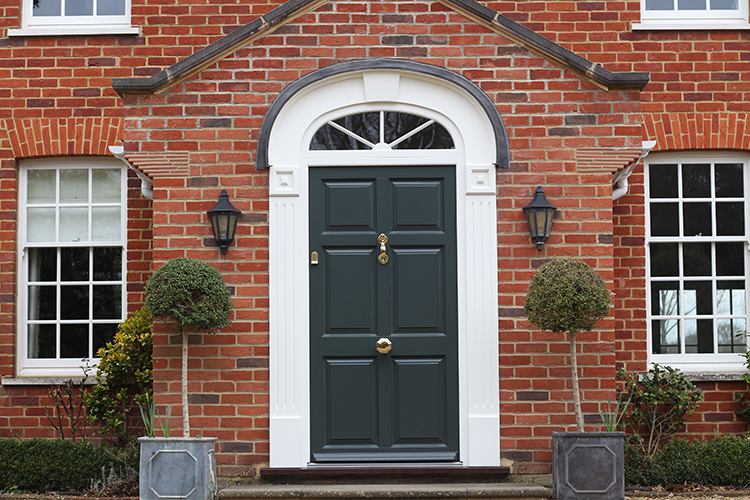 Traditional Front Doors
While many front door trends have a sell-by date, traditional style wooden front doors somehow never go out of style. Despite having been around for hundreds of years, these timeless front door styles still look on-trend today.
Traditional style timber front doors are those who bring together the old but new eco-friendly wood and the modern thermal efficient glazing together adding global sophistication with an eclectic classic edge.
While you can choose contemporary glazing as standard, you can opt for a high-quality timber front door with ornate panelling and unique flourishes for a modern or period house. A traditional wooden front door is one which benefits from a large pane of glass and robust manufacture.
The range of traditional doors is those you might generally see across neighbourhoods in cities and towns or the modern-day countryside villages or even the more timeless entrance door designs that grew popular with property developers, builders, and architects during the 1980s and 90s.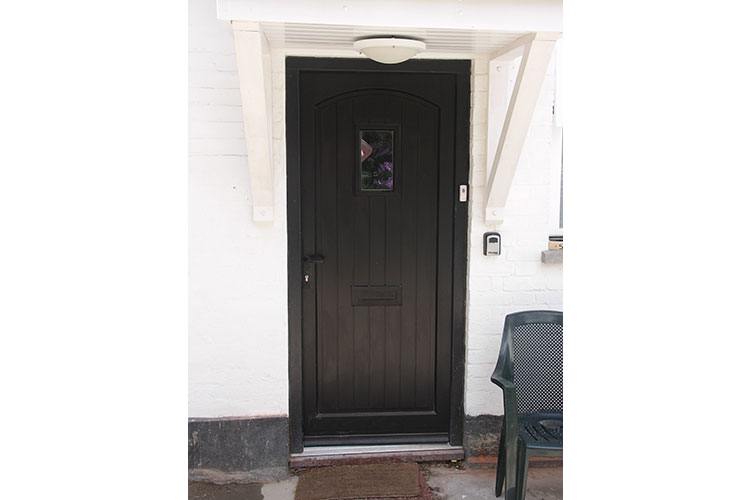 The 1920s – 1930s Front Doors
Who doesn't love a bit of retro style? As we enter into the new 20s, it's hard to believe that some of these wooden front door styles are nearly 100 years old! These front doors have a decorative and distinctive style and still look just a great now as they did all those years ago.
External doors from this period were influenced by the art deco movement and tended to have long, vertical panelling, leaded or stained glass and glazed panels. In the 1920s doors were painted in black and dark green colours, a change in colour emerged in 1930s with the trend for lighter pastel colours.
Whatever you choose to call them, the 1920s and 1930s wooden front doors will be creating a buzz this year.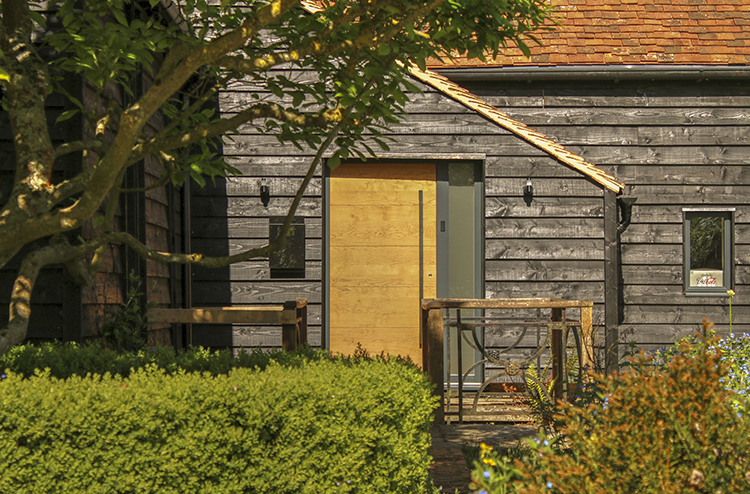 Contemporary Wooden Front Doors
From classic mid-century design to today's modern properties, contemporary wooden doors combines beauty and practicality to create stunning aesthetics at the entrance of your home.
One of the most defining characteristics of a contemporary flush or full panel wooden door is the simple and smooth cleans lines.
Embrace the modernism trend for bold architectural features with a timeless modern front door that looks sleek and stylish!
Contemporary oak doors are an excellent choice for both new builds and modern properties. However, many homeowners opt for more traditional designs to try and capture a style that's weathered the decades.
Why Choose Our Wooden Doors?
Thames Valley Windows are a double glazing window and door company that has been designing and installing the highest quality bespoke timber doors, with a wide range of styles for properties in Berkshire, Surrey, Oxfordshire and beyond for 35 years. Every wooden door from the front door to french doors is made to measure from sustainable, durable Redwood, Hardwood or European Oak, a high-performance timber. It is reliable, highly insulated, hardwearing, wart and twists resilient and longlasting weatherproof so to offers superior performance.
Every timber door can be created to your precise requirements; this includes raised and fielded panels with kickplate, mullion and transom options and is handcrafted to perfection. Every hardwood door is beautifully finished with high-quality door furniture and advance security features for added kerb appeal.
One of the hottest front door trends is inspired by the zero carbon footprint. There's no doubt about it, we experienced a figurative boom thanks to homeowners wanting a more environmentally friendly home with lower energy bills – and we love it.
To discover our wooden front door prices now, call 0800 181 698 and request for a free no-obligation quote! Or contact us online and arrange for an appointment at our showroom or your home!