Are looking to buy a new modern front door for your home? We've put together a few FAQ's from homeowners in Berkshire, Surrey, Hampshire, Oxfordshire and Southeast which may help you decide on the best entrance door.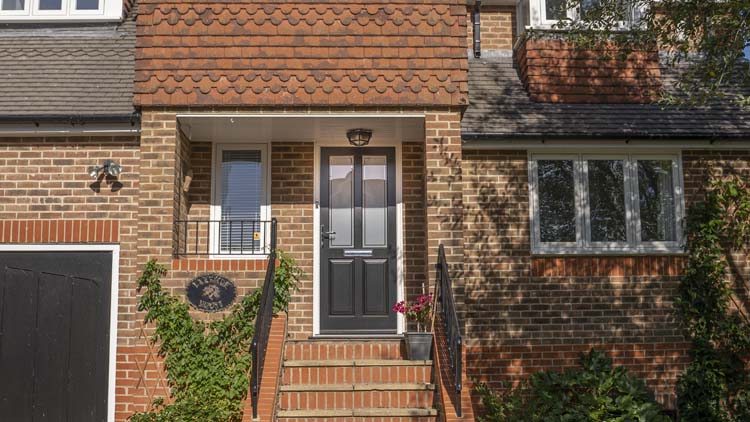 · What materials can I choose from? Include the pros and cons of each.
There are four materials you can choose for your new modern front door; composite, aluminium, uPVC and timber.
Composite front doors are a sought-after choice, not only do they look good, but they are also robust, highly secure, thermally efficient, weather-resistant and low maintenance. They're available in a range of contemporary and traditional designs and finished in a variety of colours and grained finishes, perfect for giving the appearance of a timber front door.
Aluminium front doors are a modern design the sleek, clean lines and add a touch of distinctive elegance to homes. Ideal contemporary front doors for modern properties, the solid core aluminium structure is robust and offers outstanding thermally efficient qualities with no maintenance needed.
uPVC is an excellent option for those looking for an affordable door that looks like wood but doesn't have the hassle of the maintenance needed. They're easy to look after and are perfect for the demands of modern living. Technical advances mean that most uPVC doors are high quality and available in an array of colours with a fantastic range of traditional and contemporary styles available.
Timber is a durable and robust material with outstanding insulating properties. Timber front doors benefit from traditional aesthetics combined with modern technology to create wood doors that are secure, energy-efficient and eco-friendly. However, they do require regular maintenance, including painting and the occasional fresh lick of paint.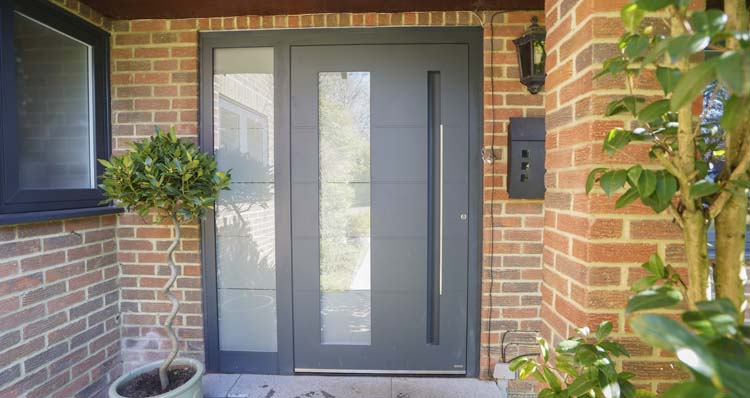 · What's the most affordable option? Why is this?
uPVC and composite exterior doors are the most affordable option as plastic is a cheaper material compared to timber.
· Could I restore rather than replace? How can I make this decision – any defining factors, i.e. cost to replace?
The choice between restoration and replacement for homeowners living in a conservation area or a listed building is not always an option. If your property has no restrictions but the entry door is draughty and losing heat, or the timber has warped, or perhaps you have an old uPVC door that is not energy efficient. Then a replacement door is often the more economically beneficial option in the long term.
· How might positioning affect my choice of a door? E.g. panels of glazing work well leading into a dark hallway.
There are various features to consider when selecting a new modern front door, including light, noise, insulation and durability and right or left-hand inswing. If your entrance space is dark, then choose a door with window panes to add natural light into the room. If you have large glazed sidelights on either side of your door, then you may want to choose a more substantial front door that offers a little more privacy. Noise is also a significant factor to consider, with many insulated doors able to block out the unwanted road or air traffic noise.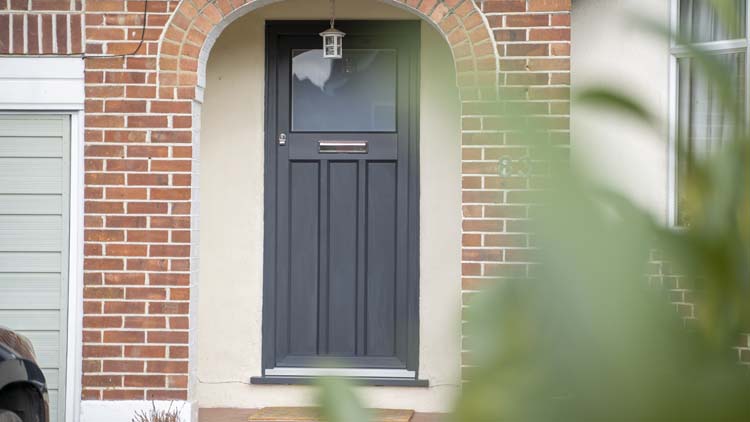 · I want to incorporate glazing – what do I need to consider here? E.g. pattern for aesthetics/ security glass/ faded glass that can't be looked through / light etc.
If you'd like to add a double glazing panel to your new modern front door, which will help add light into your home, then we suggest positioning a pane above eye level to provide some privacy. For panes at eye-level or below, frosted or painted panels work well, as they still allow light in but will keep what's behind the door private. To add more light, opt for large panes to the side of your door and combine with a solid door to block out any nosey neighbours! For front doors choose toughened or laminated glass for added security. Another trick to increase light is to have a lighter colour to the inside of the door. While dark colours look striking on the outside, they can absorb light from the hallway. White is more reflective and will make the inside feel lighter.
· Any regulations I need to know of before I make my decision? E.g. level threshold, planning permission etc.
A new or replacement entrance door needs to comply with Building regulations for security and thermal performance. In certain situations, a level threshold may be required (under building control) subject to other access doorways to the property. Typically, in a replacement situation, any consideration would be for the convenience of the homeowner only.
· What are my style options? (focus on what would best suit a country home)
For country properties, the most authentic and traditional type of door is the timber front door. In-keeping with the character of a property and designed to suit existing timber windows, timber doors are a seamless choice for homes in rural settings and work in harmony with their natural surroundings.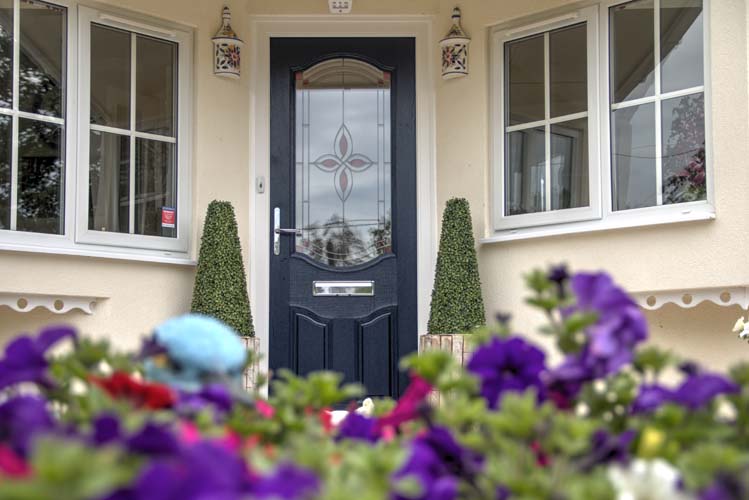 · Why is thermal efficiency so important? Overall what do I need to be aware of to ensure this?
Thermal performance is essential to meet Building regulations. All replacement or new modern front doors should have a low U value – the lower the number, the better the insulation. It's also important to have an efficient thermal door to help reduce your energy bills; doors are large areas, so it's important not to waste energy through the door. Excellent insulation and heat retention can make the difference between needing to turn the heating on during late October, and being comfortable until well into the winter. It can also help to reduce drafts and even make your home more secure and stop noise pollution too.
· Should the period/style of my door design match that of my house? Can you give some examples?
It's important not to overlook your entrance door, as it is an important feature of your façade. It is usually the first thing anyone sees when visiting; the first impression is always the last impression. We suggest choosing a door that is in keeping with your property. Timber door works well on rural homes; however, it is down to preference, and providing your property isn't listed, then it comes down to a personal choice. A lot of customers like to mix old and new, so in some cases, a modern aluminium door can look incredibly eye-catching, especially if renovating an older property with new contemporary extensions. However, it is important to consider resale value, as most people will want a door in keeping with a traditional house.
· What about sizing? Can I get extra-wide doors, for example? Door sets or double-doors? What would I need to consider here?
Oversized or double front doors are great for creating a grand entrance and are a popular choice in both older properties and new builds, from contemporary to traditional with or without sidelights.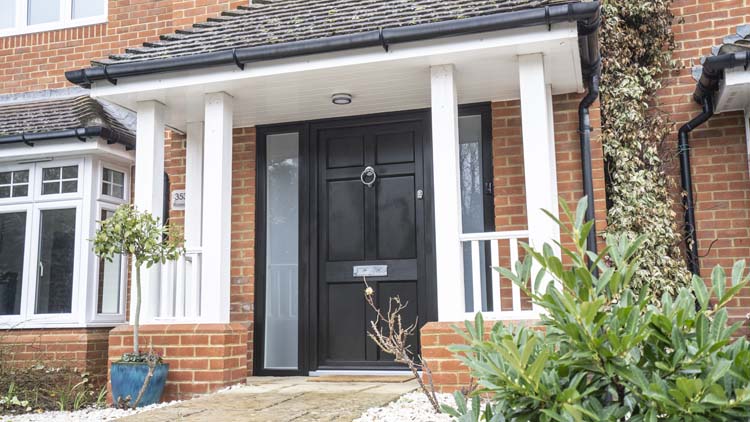 · Should I buy off the peg? How do I go about measuring up? Can I install myself, or is it best to get it professionally fitted?
There are standard size doors available to buy direct. To obtain measurements for your new front door, you need to measure the inside of the existing door frame, for the width measure at the top, middle and bottom, and for the height measure upwards from the floor to the top on the left and right. Use the widest and tallest measurements.
If you are looking for the wow-factor to the entrance of your home, then it is best to get a professional company to design and install a front door.
· Is a custom design better? In what way?
The bespoke modern front door design is a popular choice, with the option to choose the style of the door, the material, colour, glazing and door accessories that will blend the design and character of your home.
· What about security? Locks/bolts etc.
When looking to buy a new modern front door, make sure you're clear on the security features and benefits. Whichever windows and doors you decide on for your property, be sure that there are as many locking features as possible, without hindering either the convenience of opening and closing the door, or indeed spoiling the aesthetics. Having an Auto-Lock installed is a great security feature, with a ten-point locking system activated simply by closing the door. In addition to multi-point locking, choose robust hinges and toughened or laminated glass for peace of mind and to help keep you safe.
· Can you give an idea of new modern front door costs? 
To discover our modern front door prices now, call 0800 181 698 and request for a free no-obligation quote! Or contact us online and arrange for an appointment at our showroom or your home!