Glass is the new luxury material within properties the contemporary aesthetic of architectural glazing can enhance the two natural elements that inspire homeowners—the interaction of light within a building and the view looking out of it.
One of the most sought out trends to date are glass box extensions, it has taken over the traditional conservatory with its sleek modern finishes and contemporary outdoor/indoor living space.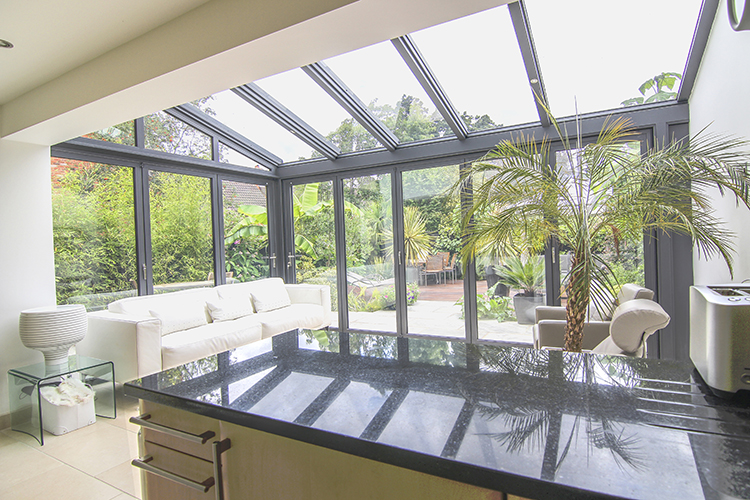 When starting to design glass box extensions, many homeowners will gather inspiration and ideas from Pinterest and Instagram feeds before approaching an architect or glazing company.
The last few months have seen many families spending more time at home, many Berkshire, Surrey and Hampshire homeowners have become more accustomed to the limitations in their properties. Here at Thames Valley Windows, we have seen an increase of enquiries for home extensions?
Who doesn't love a bit of sun? The sense of happiness one gets from the warm sun rays and the vitamin D benefits from the sunlight.
Natural light and wellbeing have been intricately linked for many years. It isn't just good for humans. Still, it's excellent for our properties as well as it makes them energy-efficient and environmentally friendly.
So, if you are searching for some glass box extension ideas, our buyer's guide will give you some inspiration to enhance your indoor/outdoor lifestyle.

WHAT ARE GLASS BOX EXTENSIONS?
Think glass in every direction! Walls, doors and roofing all constructed from structural glass and narrow aluminium frames to give a minimalist appearance that is both aesthetically pleasing and functional.
Glass box extensions work well for open or broken plan living spaces. The modern architectural feature is trendy amongst contemporary properties. Still, it can also provide a striking contrast to a more traditional home while adding a luxury feel to any type of property.
WHAT ARE THE BENEFITS OF A GLASS BOX EXTENSION?
One of the great things about glass box extensions is that they are bespoke and can be designed to your specification, they are a superb way of bringing maximum natural light into a property. As well as all that light that glass lets in is the panoramic view from the glass box extension.
Modern homeowners are looking to incorporate an on-trend glass room extension that aspires to a contemporary way of living while giving properties the wow factor inside and out. Unlike the traditional brick style conservatory, the virtually frameless design gives the feeling of bringing the outside in.
Seamless connections with floor to ceiling glass with sliding glass doors take advantage of your outside space. Sliding doors will give best views, and bi-fold doors are popular for open corners. A glass flat roof is another highly desired trend. The thought of stargazing at night with all the benefits of warmth and comfort of your own home!
The material used for the frames of a glass extension is typically aluminium as it can provide reduced sightlines, maximising the amount of glass (and therefore light) for your extension.
If you are looking for a more traditional style to your glass box extension, then you can choose aluminium/timber in dual colours with a warm wood finish for the interior.
With the wow-factor that comes with a glass box extension, it's also handy to note that this versatile investment can add value to your property.

PLANNING PERMISSION AND BUILDING REGULATIONS
Listed properties and those situated within conservation areas require planning permission always check with local authorities and obtain as much information you can before starting to design a glass box extension.
However, most small glass box extensions on all other properties tend to be covered by the government's Permitted Development Rights.
If you feel uncertain about planning permission and extension requirements for your home, please don't hesitate to contact your local planning authority.
LET'S TALK TEMPERATURE
If you use a reputable double glazing company or architect, they will design the glass box extension to harness the benefits of solar gain to ensure the extension is warm in the winter and cool in the summer.
Through innovative design and advancements in glass technology, there are plenty of considerations and options to make your minimalist ideas functional.
Solar control glass consists of a UV protective coating placed over windows and doors to reduce solar gain while maintaining light transmission and clarity.
The metal oxide coating reduces solar radiation penetrating through the glass panels and create a comfortable living space all year round.
There are various levels of solar control coating available, depending on the level of light transmission you want to allow through.
North, South, East, or West? Depending on the orientation of the property the sun can be used for free heating and lighting from the solar gain
During the summer months, a glass box extension on the rear of a south-facing property can be exposed to too much sunlight,
An east-facing glazed extension will be sunnier in the morning, and a west-facing property will get more sunshine in the afternoon and evening while a north-facing garden is usually shadier, but temperatures are more consistent.
Another option for solar shading is integrated blinds; these are a more cost-effective option than the solar glass. The disadvantage of blinds is it takes away the view and the aesthetic of the minimal glass box extension.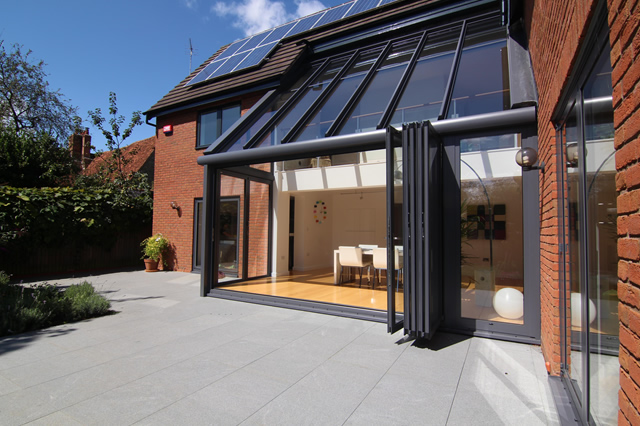 Imagination is The Limit
There are diverse options to consider when planning a glass box extension but don't let that unnerve you as the results are gratifying.
Here at Thames Valley Windows, we are here to design, manufacture and install your bespoke glass box extension. Our dedicated team welcome the opportunity to work closely with you to enable you to live your dream lifestyle in your home.
We are highly experienced in taking the lead on our glass box extension projects. Still, we also welcome the opportunity to work alongside your architect, contractor or builder and provide detailed glazing solutions.
To discover our glass box extensions prices now, call 0800 181 698 and request for a free no-obligation quote! Or contact us online and arrange for an appointment at our showroom or your home!