What is the best style of Juliette balcony doors? French doors or bifold doors that open internally or sliding doors?
We have put together some benefits worth knowing when weighing up your choices. Read on to find out about the history of Juliet balconies and different door options.

A Touch of European Charm
O Romeo, Romeo, wherefore art thou Romeo? The iconic balcony quote from Shakespeare's Romeo and Juliet in the setting of Verona in Italy. And this is where we got the term for Juliet balconies.
A Juliet balcony (sometimes referred to as a balconette) also known as Juliette balconies or a window guard they are incredibly stylish and add elegant features to the exterior of properties.
There are many different styles and aesthetics of Juliet balconies from decorative metal to minimalist glass, that offers the luxury of a balcony
A Juliet balcony is essentially a safety balustrade fitted to the exterior of full height windows or doors on the upper floors of the property. It gives the illusion of space when the doors are open, allowing fresh air into the room and enhancing the general feeling of openness.
They have also been referred to as false balconies, as there is no actual extension built on the exterior of the property.
Juliet balconies are a decorative architectural feature for the exterior of modern and traditional properties it allows upper floor living spaces and bedrooms to benefit from French doors, sliding doors, bifold doors or full-length tilt and turn windows while fulfilling the practical requirements of building regulations.

Choosing The Perfect Balcony Design
Juliet balcony doors shouldn't just look aesthetically pleasing but should be energy efficient, secure, and easy to use.
French doors are a go-to style of Juliet balcony doors. This classic style looks beautiful from the inside and out, being functional and practical with the ability to open inwards while maximising on light and ventilation
For period properties fully glazed French doors with decorative Georgian bar, square lead or diamond lead adds a charming quintessential aesthetics.
While French doors are a traditional look, if you prefer a contemporary or modern style, then sliding patio doors are a popular choice.
Tradition meets innovation with Sliding doors for your Juliet balcony doors. They not only provide unobstructed views, but they also allow the space to be that little bit more open, all effortlessly and efficiently.
Combine sliding doors with a frameless glass balustrade instead of metal railings for unobstructed views of your surroundings.
Bi-fold doors can fold inwards, they also allow you to open up the entire door opening. They create a visually appealing glass feature and are another popular choice for Juliet balcony doors
Full length tilt and turn windows offer optimal ventilation, they are also functional, as you can clean these windows easily from inside the property.
Depending on the diameters of your balcony, you might be able to exercise your gardening skills by putting a window box out there. As you can tell, Juliet balconies are a valuable addition to your home.
For more information on the different types of material for Juliet balcony doors, you might be interested to read this blog article on Patio Doors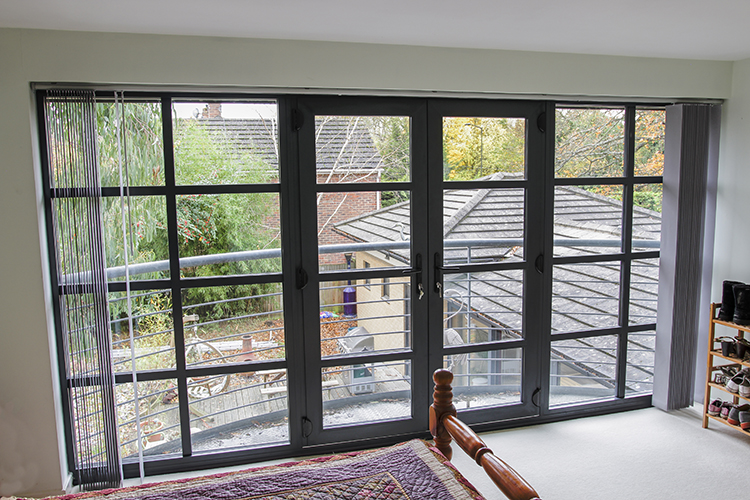 To discover our Juliet balcony door prices now, call 0800 181 698 and request for a free no-obligation quote! Or contact us online and arrange for an appointment at our showroom or your home!