Summer is here, what better time to buy some new patio doors to enhance the rear of your property and open up your home. Whether it's breakfast outside or drinks on the patio, we're all looking to make the most of the (often rare) sunshine.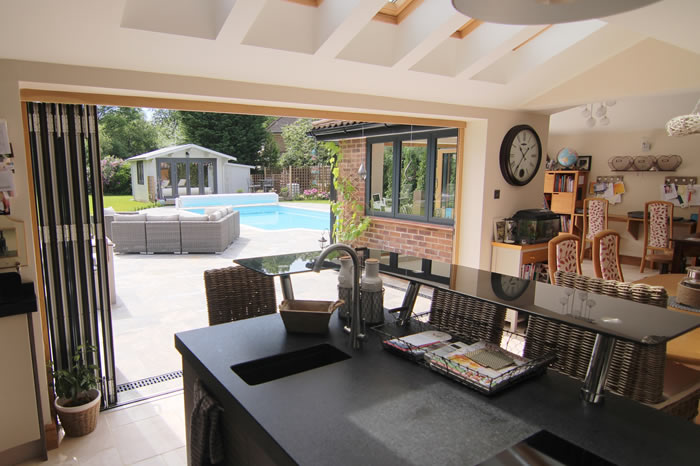 With more Berkshire, Surrey and Hampshire homeowners choosing a lifestyle to connect their homes to nature and bring the outside in. They are embracing the new modern trends of large expansive glass with patio doors that make a grand statement and create an open plan living space.
There is a vast array of patio door combinations in a multitude of materials and colours. Whether you are looking for French doors, sliding patio doors or bi-fold patio doors to enhance both your property and lifestyle, there is a lot of contemporary and traditional patio door styles.
With advancements in glass technology, many modern designs are incorporating the best in both thermal efficiency and quality materials, increasing security while reducing noise and heat loss.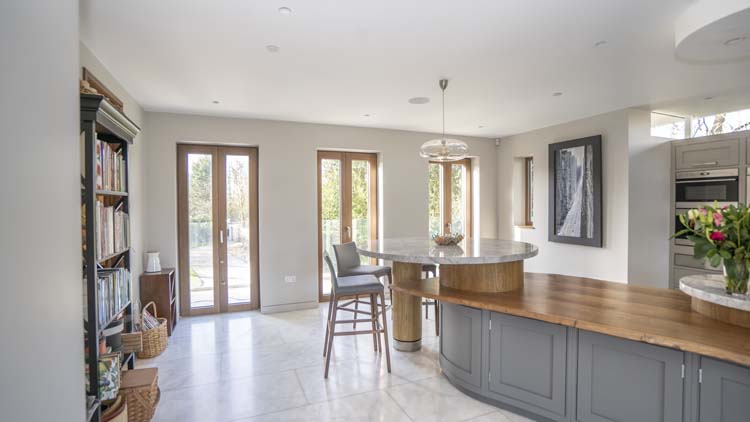 Patio doors shouldn't just look aesthetically pleasing but should be energy efficient, secure, easy to use and to maintain not only in the summer but all year round!
Whether you are looking to replace an existing opening or to expand/create an opening in a new extension. Double glazed aluminium patio doors are a growing trend in 2020, but if you are working to a budget, then a uPVC patio door may be your best choice.
Therefore, make sure to read through our full guide to find out what factors to consider when looking for a new patio door.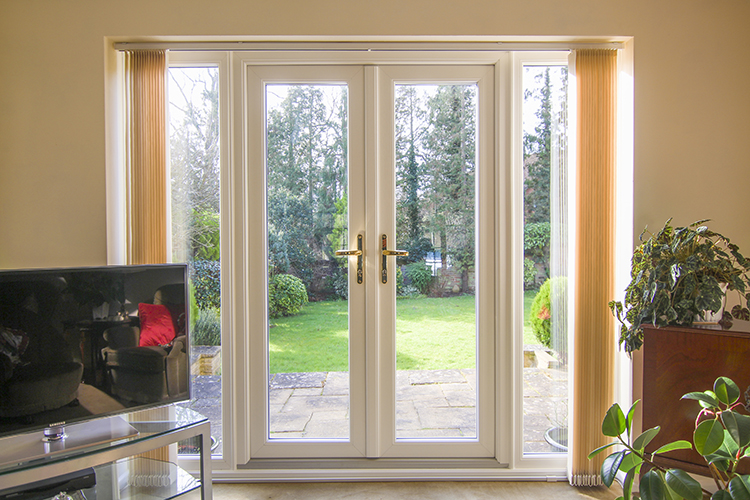 For Smaller Openings opt for French Doors.
Oh, la, la! We love French patio doors, do you? These doors are probably the oldest style of patio doors, originating in France in the 17th Century, they were first designed as large windows that reached the floor.
They are a timeless design for both traditional and modern properties. They can be opened outwards or inwards with the benefits of a high-security multi-point locking system to keep your property safe and secure. Both can be open together which provides excellent airflow in your home (although, usually, one has to open before the other one for them both to open).
French doors are a popular choice in British country homes and Georgian properties for symmetry and proportion aesthetic appeal that achieves timeless and elegant Renaissance architecture feature.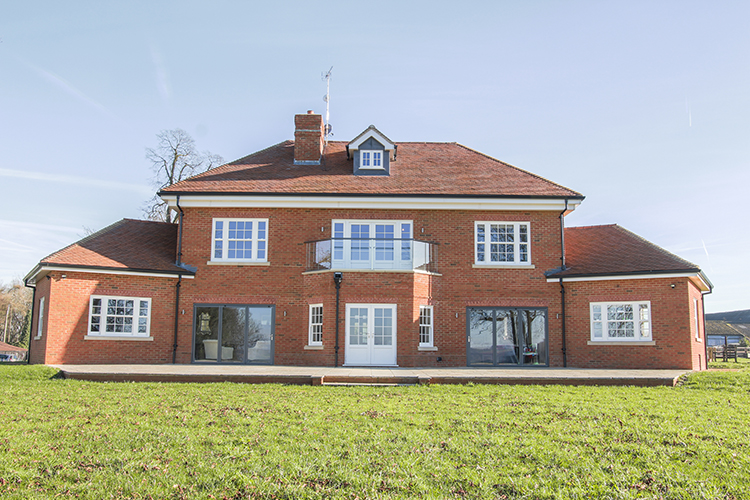 French doors are typically installed into small to medium-sized opening. They can also be designed with one or two big panes of glass on either side for larger openings. This means that, effectively, you're maximising the amount of natural light that will enter into the living space, but not to the same extent as if you had a large glass sliding door system.
You can ensure that these doors will add charm and elegance to your home and also play a vital role in connecting the outdoors with indoors.

Sliding Doors for Minimalism
Sliding patio doors have been growing in popularity in the last couple of years, with large aluminium sliding door systems with clean, minimalistic lines fast becoming the latest must-have trend for homeowners, architects and property developers.
Sliding doors offer floor to ceiling glazing and can be designed in a number of panels, in a range of different configurations and colours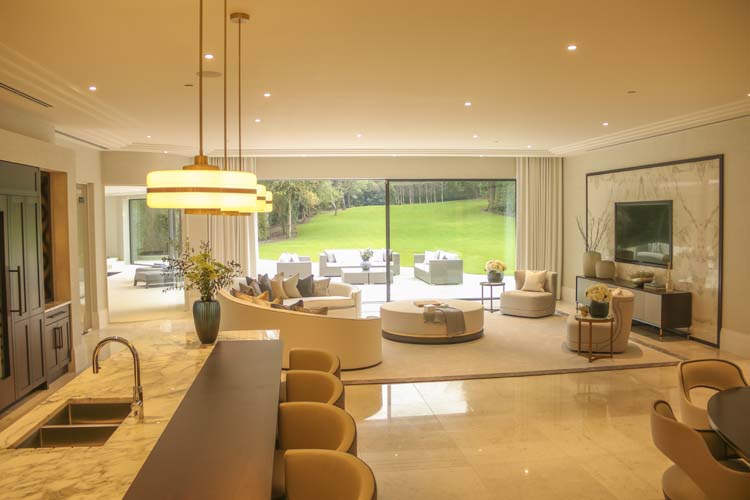 One of the huge benefits of these doors is that you won't need to open them in or out as they move along a fixed track, either to left or right, so while they work well for large openings, they are the perfect choice for smaller patio areas.
Sliding doors offer greater control as they can be opened to add just an inch of fresh air if desired, or a couple of feet to pop outside. However, it's worth noting that sliding doors won't open up quite as much as Bifold doors, as the sliding panel sits behind another, so they don't give you quite the same scale of opening.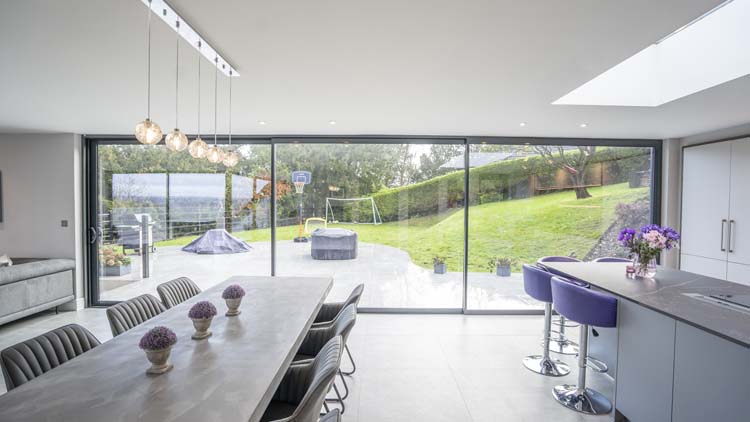 Consider sliding doors if you're looking for a room with a view filled with maximum light with minimalistic features.

Bi-Folding Doors for the WOW Factor
Open up your room to the outside with bi-fold doors! This type of patio door is perhaps the most innovative, and popular with UK homeowners for transforming their patio spaces into extended living rooms by unfolding a whole wall – concertina-style, giving the wow factor that you have removed a wall.
These bifold patio doors can be installed into small, medium and even large openings; they can create a spectacular feature in a new extension with a fully open corner. They can be designed in a range of configurations of 2 panels to 8 panels that slide and fold left or right.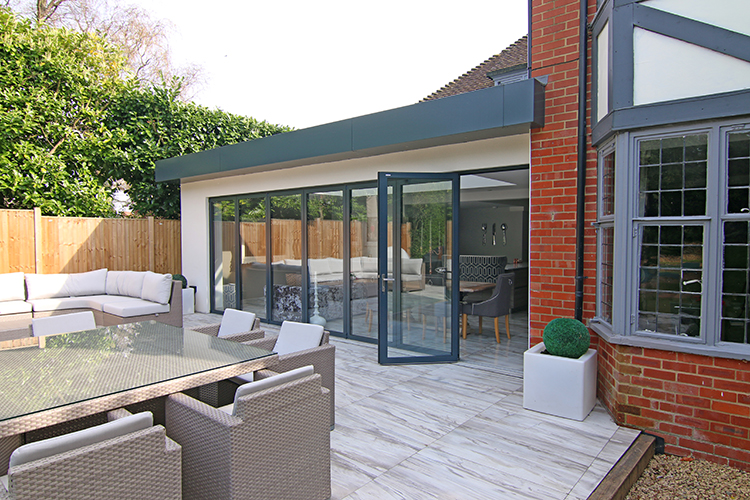 Bi-fold moving glass wall systems fill your home with natural light are great for those small rooms that could perhaps do with a bit more light and easy access to the garden. As well as providing unlimited light access, they also offer endless choice, and you can choose to have them open halfway if you wanted to or choose a traffic door.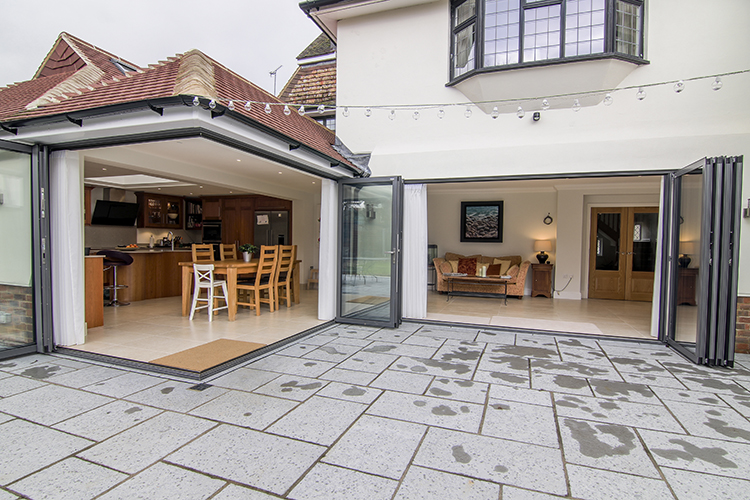 Consider bifold doors if you are looking to blend indoor and outdoor living.
Which Material To Choose?
Bifold and Sliding doors are most popular in aluminium but are also available in uPVC & timber, as well as a combination of timber/aluminium.
Timber frames will provide you with a more authentic look and work well for French doors for traditional period properties as they're in-keeping with the property's look and feel.
Environmentally sustainable and extremely strong and durable. The paint/stain finishes should also last a minimum of 5-10 years. Still, over time a new application of treatment and painting will be required to maintain a 'new' appearance. Strong hardwood is advisable for durability.
Aluminium frames are one of the most popular choices for homeowners seeking an on-trend industrial look. Lightweight and robust, aluminium frames are generally slimmer, which maximises the glass area, allowing more natural light into your home and are an excellent choice for energy-efficient contemporary homes.
uPVC frames are low maintenance and non-corrosive and an affordable option. They're available in a variety of colour choices to suit a wide range of property types. However, they usually have thicker frames and are less suitable for larger openings. If you're after glass panels with minimal frames, then this material probably isn't quite the right choice.
To discover our patio door prices now, call 0800 181 698 and request for a free no-obligation quote! Or contact us online and arrange for an appointment at our showroom or your home!