Flat rooflights are becoming popular again combined with eaves windows are one of the biggest home extension trends in the glazing industry to replace the traditional tiled roof  in a rear extension, garage conversions, or new builds and we do not see it slowing down in 2021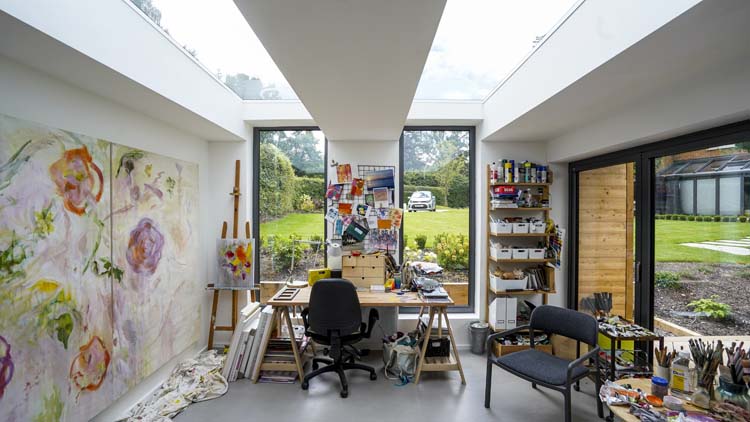 With an increased demand for transparency in modern interior décor, homeowners, architects, and contractors are looking at ways to install minimalist glazing solutions within properties to add a luxurious aesthetic to any property style.
Rooflights, also known as roof windows or skylights are a sought after contemporary glass structure in a pitched or flat roof and are the ideal solution to illuminate a property with natural light from the sky above whilst creating a stunning and aesthetically pleasing architectural feature.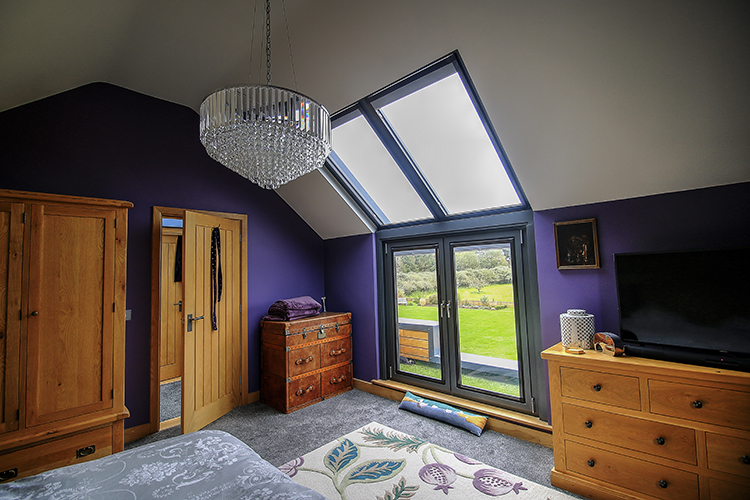 Flat rooflights are a popular choice for Berkshire, Hampshire, Surrey and Oxfordshire homeowners offering minimalist aesthetics compared to a beautiful roof lantern for an Orangery extension.
Skylights and flat rooflights can add 25% extra natural light to a room and are a desirable architectural feature that many homeowners choose to include in the design of their loft conversion or above stairwells and hallways to reap all the benefits of natural daylight.
London properties have seen a trend in basement boom the last couple of years for garden basements, basement conversions, and roof terraces using structural glass for exterior walls and walk on glass flat roof lights.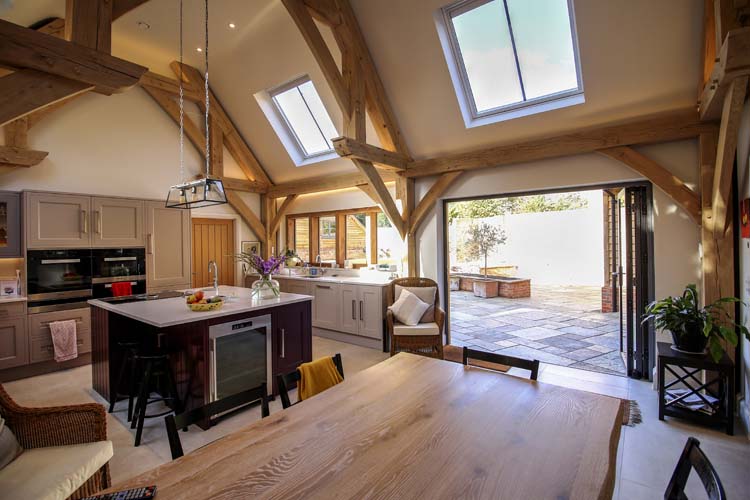 If you have been researching roof glazing options for your loft conversion, home extension, renovation, or new build you will know there is no such thing as one size fits all.
There are a wide range of different options and considerations to choose from the size and shape, opening or fixed, frame material, and colour to different glass types.
Our latest blog article will explore each option's benefits and help inspire your next renovation or new build project.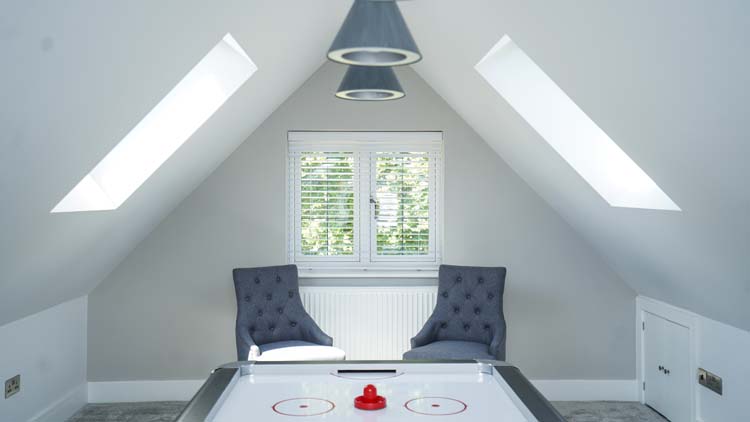 What is the difference between, Flat Rooflight, Skylight or Roof Window?
The glazing industry terminology used to describe glass roofs can be confusing, but in reality, there is no technical difference between the terms' rooflight' and 'skylight.'
Deciding if you require a roof window or rooflight (or skylight) is easy: if your project has a pitched roof, then you need a flat roof window; if it's for a flat roof, you need a rooflight.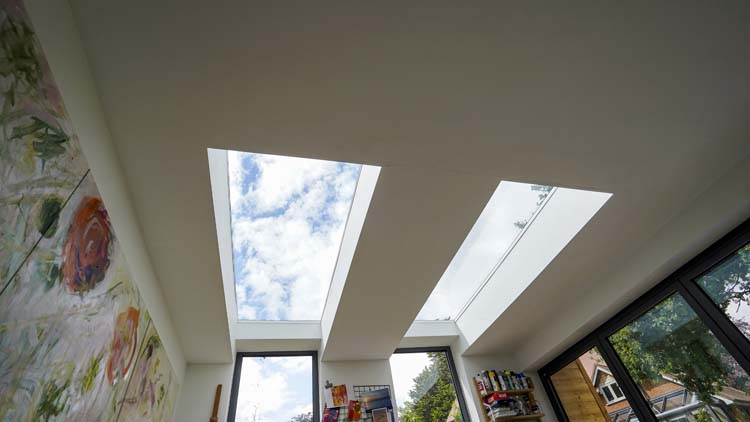 Why Choose Flat Rooflight?
If you are looking for minimalism, then the hidden nature of a frameless flat roof light is the perfect luxury addition, with a sleek, seamless design to allow natural light to flow uninterrupted into the property to create bright, spacious and airy living spaces.
The structural bonding on the glass of a minimalist flat rooflight allows it to sit flush within the internal plasterboard, so all you see when you look up is a clear expanse of glass creating a striking architectural feature.
The most popular room for a flat rooflight is a single storey open plan kitchen/living room. It becomes the focal point of your kitchen. Many homeowners choose to install above a kitchen island or dining table to add the room's wow factor.
Rooflights are manufactured from high-quality structural glass and come with many options, and some can include remote controlled incorporated blinds, LED lighting and heat and rain sensors. Anti-slip toughened laminated walk on glass is a popular choice for basement conversions.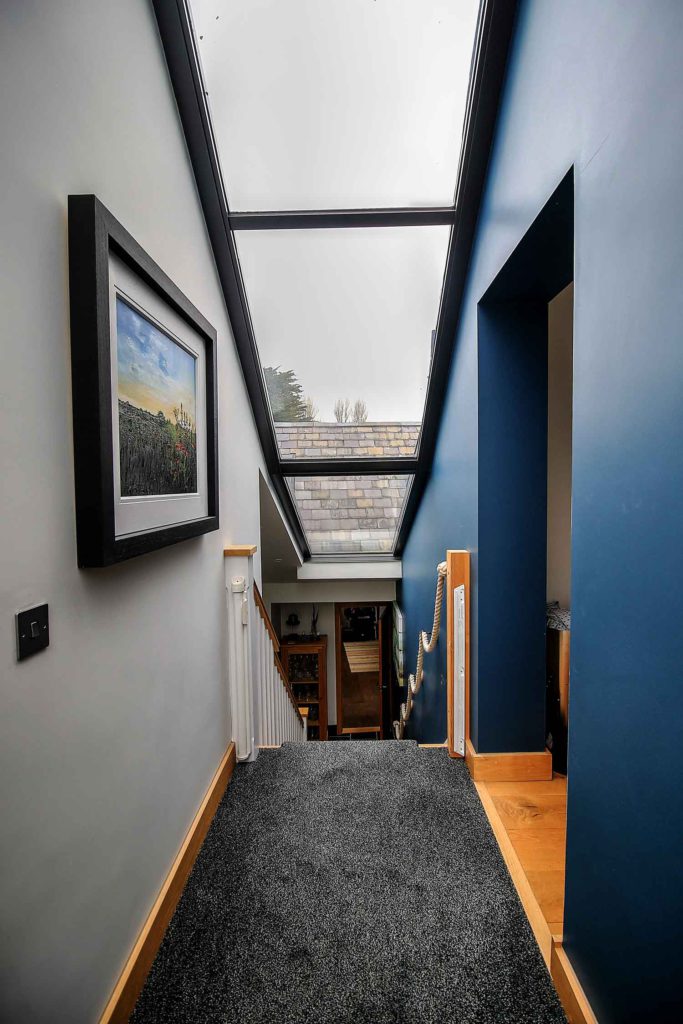 What Type of Frame Material
Flat rooflights can be made of, aluminium, composite, timber or uPVC. If you have a limited budget, then uPVC will provide the most cost-effective solution. However, this isn't an option if you require a minimalist appearance.
Aluminium frames are the most popular choice for their sleek minimalism design. They are highly energy-efficient and designed with a fully thermally-broken aluminium frame to reduce the risk of condensation and prevent cold bridging or heat loss.
Aluminium and steel are the preferred choices for traditional period properties, contemporary new builds and, barn conversions. If your property is in a conservation area, flush aluminium or steel roof light with an authentic glazing bar to divide the glass is the only option for planning approval.
Properties in an exposed or coastal location should choose aluminium frames with a marine coated finish over traditional steel or timber frames.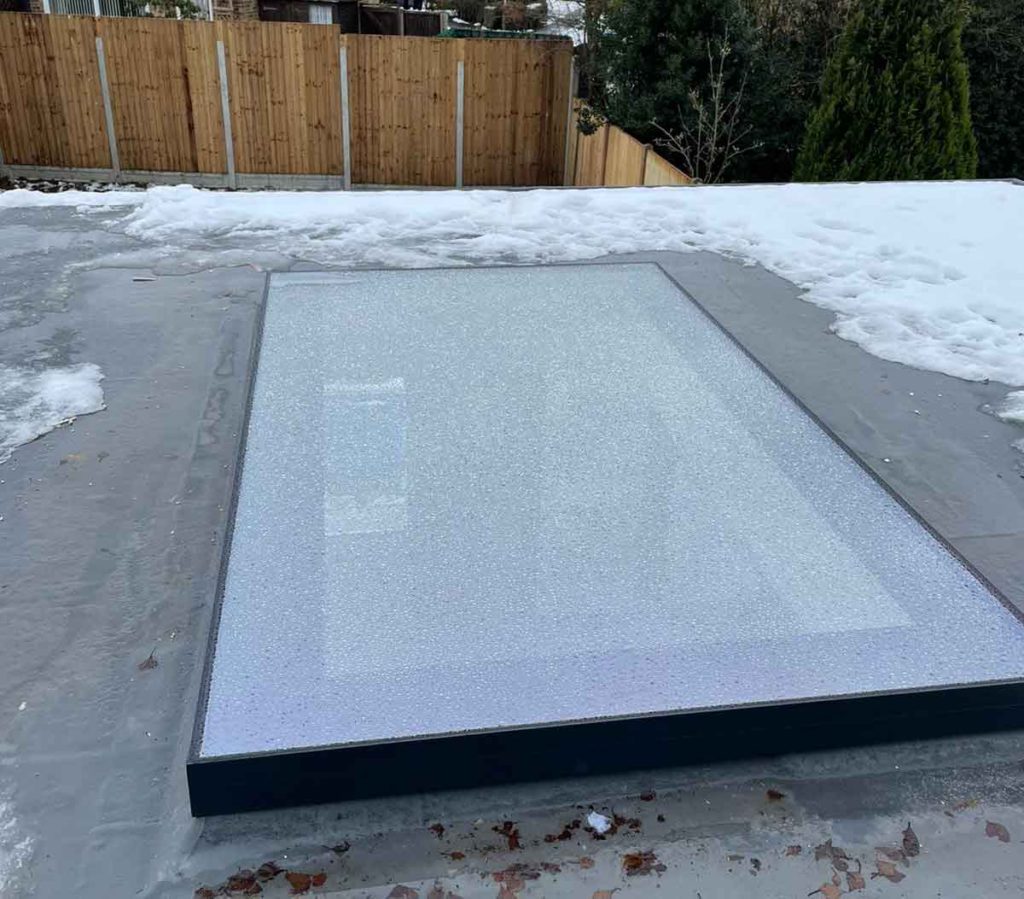 What Type of Glazing
Glass is the most extensive material in designing a flat rooflight, so it is an essential element in the performance of energy efficiency, overheating, safety and security, acoustic insulation and furniture fade protection.
The positioning of flat rooflights will also determine the type of glazing used and will need careful consideration.
When installing flat rooflight at a high height or over dining or cooking dining areas, safety is of utmost importance and needs to ensure that the glass unit's inner pane is laminated glass.
To control heat gain and reduce solar gain in summer months for south or west-facing rear extensions, opt for solar control glass.
With advancements in glazing technology and cutting-edge techniques, there is an array of glass options from toughened and laminated glass, coloured tint options, low iron and easy clean coatings.
Low U value coatings will reduce energy bills and lower your carbon footprint whilst controlling the temperature to space below. It regulates heat that passes either way through the glazing while still maintaining optimum clarity for maximum light transmission.
If your property is near an airport or on a busy road and is affected by plane or traffic noise, you should choose noise control glazing for protection the noise or any other disturbances such as rain or hail.
Flat rooflights come with double-glazed unit as standard or triple-glazed, enhancing energy efficiency and thermal insulation.
Fixed or Open?
You will need to consider the purpose of your flat rooflight? Is it a fixed feature to allow extra light into the property or do you need it to open to allow ventilation and fresh air flow into the living space?
A fixed flat rooflight is a beautiful addition to any living space to enjoy sky views all year round. It is a cheaper option than an opening rooflight. If you have alternative windows or doors n the room that can open to provide ventilation, then a fixed version is the perfect solution.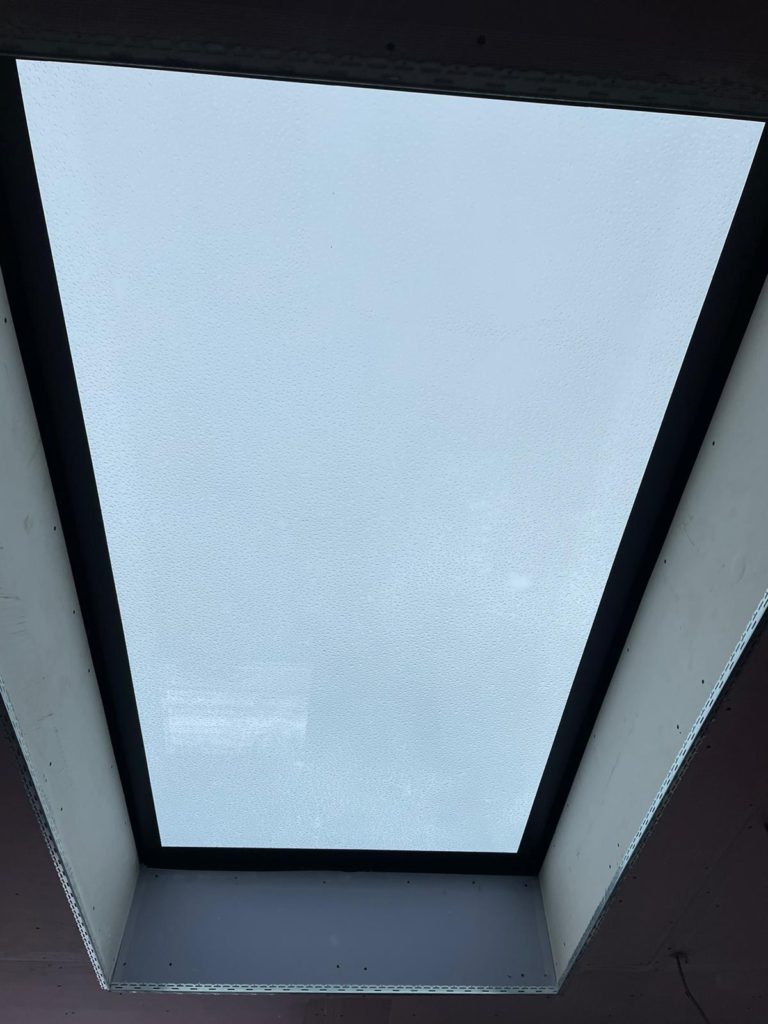 Planning Permission
Something important in any home renovation project is checking with your local authority whether you need planning permission.
In general approval under the Building Regulations will be required for the installation of a flat rooflight. Here at Thames Valley Windows, we always adhere to parts J and L of Building Regulations for every flat roof installation we carry out on residential and commercial properties.
Designing Bespoke Glass Roof Solutions
As specialists in bespoke architectural glazing, Thames Valley Windows have a vast array of innovative glass roof options, from a frameless flat rooflight to a stunning architectural addition of a roof lantern creating the optimum design statement.
We design, supply and install bespoke flat rooflights in all shapes, dimensions and specifications to your exact requirements. Manufactured to the highest standard with the utmost attention to detail to ensure your property enjoys the benefits of natural light for many years to come.
Whether you're looking for a fixed, manual or electrical opening bespoke flat rooflight, our dedicated team of designers can design one that fulfils your requirements.
We're seeing increased interest in our flat rooflights, so if you are planning a home renovation or extension, contact one of our designers today.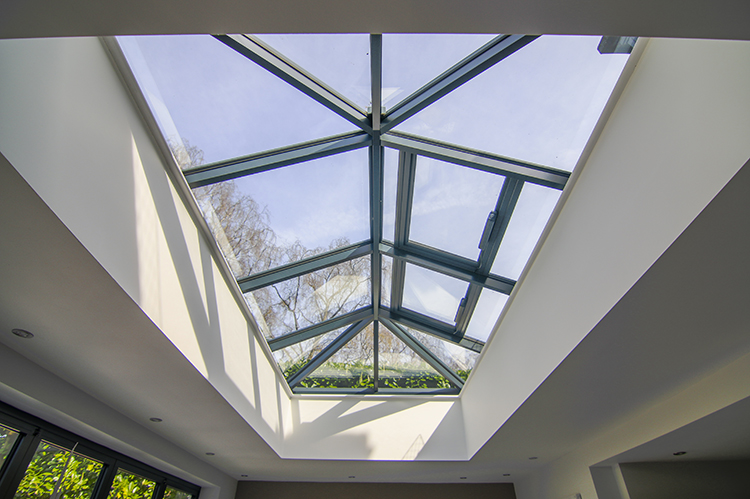 A room is not a room without natural light – Louis Kahn