Before COVID-19, a home office was not a must-have room for many homeowners in Berkshire, Hampshire, Surrey, and the South East.
Since the first lockdown in March 2020, researching garage conversions and garden office ideas on Instagram or Pinterest has become an obsession with professionals looking at ways to effectively work from home.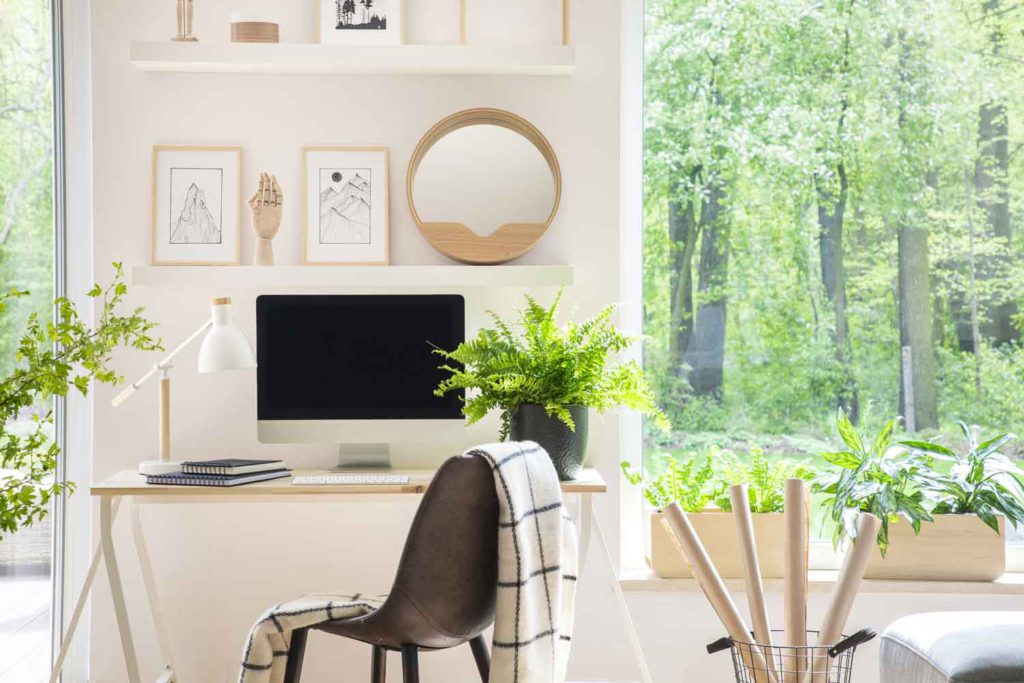 Finding that extra living space to create a peaceful working environment rather than working at the kitchen or dining table has become a necessity.
Working from home and homeschooling for the last twelve months seems to have become normal for many homeowners.
Thoughts of a garage conversion or garden office are more present than ever to accommodate our new way of working and living in our home.
Converting a single garage into an office can be one of the most cost-effective ways of adding value to your property whilst adding extra living space to your home, making it a fantastic investment.
With no sign of returning to the workplace in the near future, remote working will become a permanent reality for many.
Here at Thames Valley Windows, we have seen an increase in enquiries for double glazed windows and doors for single and double garage conversions.
In our latest blog article will explore the different options of double glazed windows and doors.
Rules and Regulations
If you've decided you want to convert your garage, there are a few things that you'll need to consider; floor and walls, thermal performance, ventilation, acoustics and fire safety.
We would recommend, checking whether there are any restrictive covenants in the property deeds.
Some property developers restrict any home renovation that will change the aesthetics of the exterior of the house. However, this clause can often be overcome for a fee.
If you do not intend to alter the garage' existing structure, planning permission is generally not required for an integrated garage conversion and can be completed under permitted development.
It is worth checking with the local authority if there are any planning conditions regarding parking restrictions or converting a detached garage if you need to apply for a change of use?
if you reside in a conservation area or listed building planning permission is required
Garage conversions will need to comply with building regulations, a structural engineer will ensure this is complied to.
A building inspector will regularly visit to check the progress throughout the renovation before it can be signed off and a certificate of completion is issued.

Choosing windows and doors
Two important considerations for any garage conversions or garden office are the windows and doors, not just for building regulation purposes, but also for aesthetic appeal and security.
If you are converting the garage into a home office, you will want to fill the living space with natural light and ventilation.
A significant contributor to energy efficiency within a garage conversion is double glazed windows and doors. Many Berkshire, Hampshire, Surrey homeowners choose to replace the existing garage door with the same style and colour windows already installed in the house.
To minimalistic sliding glass doors, and bifold doors for unrivalled thermal and acoustic performance, designed, supplied and installed to the highest standard.
Depending on where your garage is situated another popular choice is sliding glass doors, to create an open-plan space and blur the lines between inside and outside. The large glass areas create a feeling of openness and add a wonderful ambience for you to work in.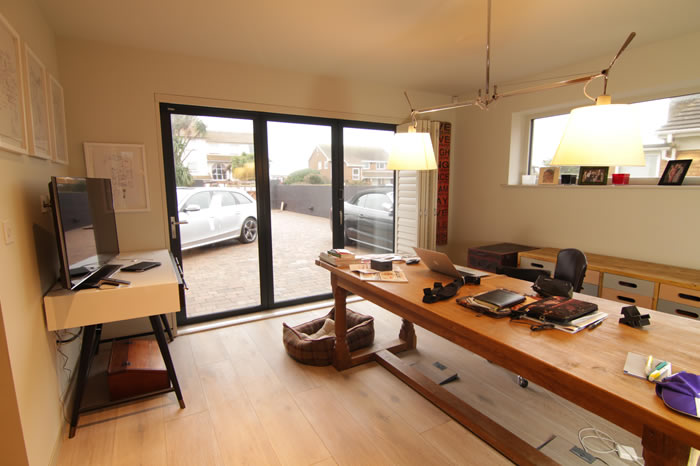 Bifold doors are an excellent option for a garden office, floor to ceiling windows will make the living space feel more spacious, creating a contemporary light and bright working environment. The doors can slide to the side, and stack up flush against the wall to create a seamless transition between office and garden. Can also be designed with a traffic door to enter or exit the living room.
If you are creating a couple of rooms in your garage conversion, then another design option to stud walling is internal steel look doors or room dividers.
We can even install flat rooflights into a pitched or flat roof of a detached garage to let additional sunlight during the day and at night beautiful views of the stars and moon.
Our designers have a passion for stylish contemporary architecture. They are available to help choose windows and doors for your garage conversion with a selection of architectural glazing products for you to choose from including UPVC, timber, and aluminium windows, and French doors.

Garage Conversion Costs
We provide free no-obligation quotes and on-site surveys for windows and doors so we can get a better understanding of your requirements. With over 37 years of experience in architectural glazing installations, our designers can provide expert advice as to which kind of windows and door is best for your project.