Are you considering slimline double glazing for your home? It is the latest innovation in double glazing and a preferred choice amongst planning authorities, architects and contractors nationwide, particularly when it comes to replacing windows in listed buildings, period property, heritage and homes in conservation areas.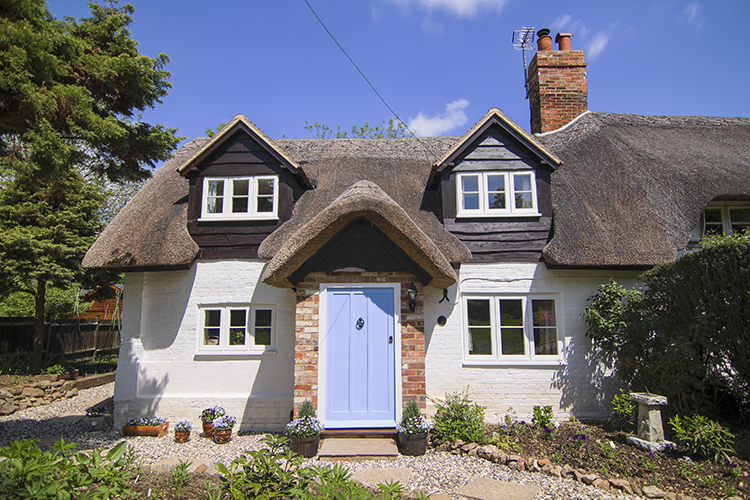 Whether you're choosing windows for new build project or home improvement renovation? You'll need to consider which window frame material is right for you and your home, be it wood, uPVC, aluminium, or composite windows.
Here at Thames Valley Windows, we strive to make a combined effort and better understand the ever-changing trends in the window industry so that we provide the best products and service for our clients. With this in mind, we have composed this blog article to help you decide if slimline double glazed windows are the right choice for your property.

Beautiful Aesthetics Blended With 21st Century Technology?
Slimline double glazing brings traditional aesthetics to the 21st century designed with slimmer frames and energy-efficient glass units; it is the most advanced double glazing.
Traditionally the only slimline double glazing available in the industry was aluminium and timber windows.
Over the last decade the advancements in uPVC profiles with the use of the very latest energy saving glass technology in modern basics such as warm edge spacer bars, argon gas filled units, timber look joints and wood effect finishes have improved the aesthetics, performance and durability.
There's no doubt that slimline double glazing has enjoyed a recent surge in popularity among homeowners in Berkshire, Surrey, Hampshire and Oxfordshire.
As the Government sets its target for carbon compliance standards for all UK properties by 2050. It comes as no surprise that slimline double glazed windows will reduce both your carbon footprint and your heating bills, saving you money and making your home more comfortable in both the summer and winter.

Minimalist Window Designs
If you're looking for a versatile and energy-efficient window system that brings the outdoors inside, then slimline double glazed, casement windows or sliding sash windows may be precisely what you need.
A significant advantage of slimline windows is the boost of natural lighting within the property. Natural sunlight illuminates the inside of a home which helps to reduces the need for artificial lights. It also makes rooms feel spacious and gives a more welcoming ambience.
Slimline double glazing will add elegance to your home whilst maximising the natural light in your property. This is because the technology uses much slimmer sight lines and thinner double glazed units than traditional uPVC windows, which allows for reduced sightlines that create a contemporary, minimalist feel to your property.
Because slimline windows have a smaller cavity between the panes of glass, the double reflection, which can sometimes occur with standard double glazing, is eliminated. This makes these windows more visually pleasing compared with traditional options.
Advantages Of Slimline Double Glazing
You want an energy-efficient home, without sacrificing function and aesthetics. Thankfully, advances in glass technology make slimline double glazing the right choice for both modern and traditional properties.
Slimline frames and thin double glazing units are closer in appearance to traditional timber-framed windows, which makes them the ideal choice for period listed properties.
The differential cost between slimline and standard double glazing has reduced substantially in recent years. This makes it a cost-effective option for your replacement windows, especially with the added benefits it offers.
Slimline double glazing offers the ideal solution for those properties which are required to maintain their traditional aesthetics, whilst also achieving the thermal performance and an A+ Window Energy Rating of a contemporary home.
One of our personal favourites here at Thames Valley Windows is our slimline timber alternative windows from Evolution we love how the design retains the elegant, slim proportions of traditional timber windows and how realistic the wood grain finish is.