If you have a window in your bathroom, then you should definitely make the most of it.
If you're replacing bathroom windows, or renovating the bathroom and wondering if you should have a bathroom window then the answer is definitely yes.
With that in mind, here are some ideas and tips on using unique bathroom window styles to create a new bathroom like no other from the experts at steamshowerstore.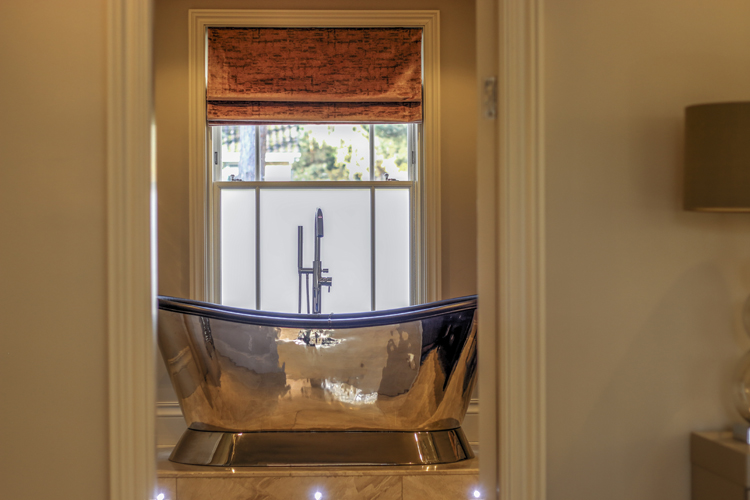 Why are bathroom windows important?
Bathroom windows are a great way to let in light and improve ventilation. Both of these functions are especially important in bathrooms. The more light and ventilation you can bring in naturally, the less electricity you need to use.
LED light bulbs are very energy-efficient but running HVAC systems and/or fans is harsh on both your pocket and the planet. Having insufficient ventilation, however, is also asking for trouble particularly in bathrooms. It can lead to mildew or, even worse, the dreaded mould.
More generally, proper ventilation protects against the growth of bacteria. Bacteria tend to like warm, moist environments. They also tend to like the dark so getting in plenty of natural light will help here too.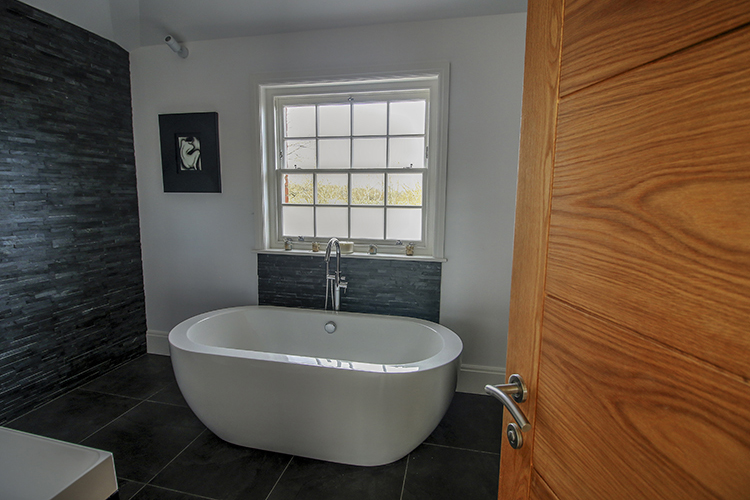 Choosing the right bathroom window for you
Before you get lost in thought and imagination about what bathroom windows you want, it's a good idea to take some time out to check what you can have. It is important to check your local building regulations requirements.
As a rule of thumb, bigger is better for both light and ventilation. With that said, the bigger a window is, the bigger the potential for heat loss even with the most energy-efficient glass.
It's also more expensive, particularly if you want privacy glass. Textured glass is generally the best option for bathrooms as it guarantees privacy without relying on window treatments.
In general, if you have to choose between size and energy efficiency, then prioritise energy efficiency. Firstly, this will save you money and be kinder to the planet. Secondly, it will help to reduce condensation and all the issues this brings.
There are five main types of bathroom windows. These are sliding sash windows, awning windows, hopper windows, casement windows, and transom windows.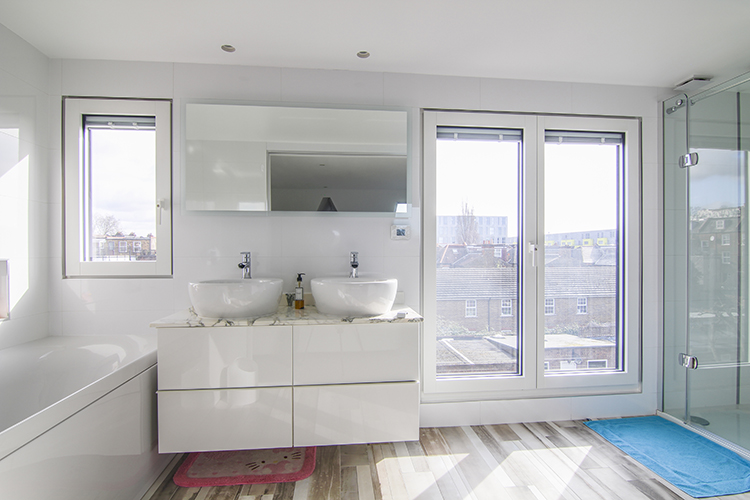 Sliding Sash windows
Sliding sash windows for bathrooms are typically vertical sliders. This is because few bathrooms have the space for horizontal sliders. Vertical sliding sash windows come in two halves with an overlap. To open them, you raise them from the bottom up.
Sliding sash windows for bathrooms are affordable and space-efficient. They do, however, have several drawbacks. Firstly, they can be a safety hazard unless the bathroom window is fitted with external bars.
Secondly, the more the window is opened, the more privacy is lost. This issue can, however, be addressed with window treatments.
Thirdly, sliding sash windows provide no protection against the elements when they are open. How much of an issue this might be largely depending on the climate where you live.
If you live in a very cold climate, you will need to ensure that there is plenty of insulation between the tracks. If a sliding sash window gets too cold it will freeze and stick.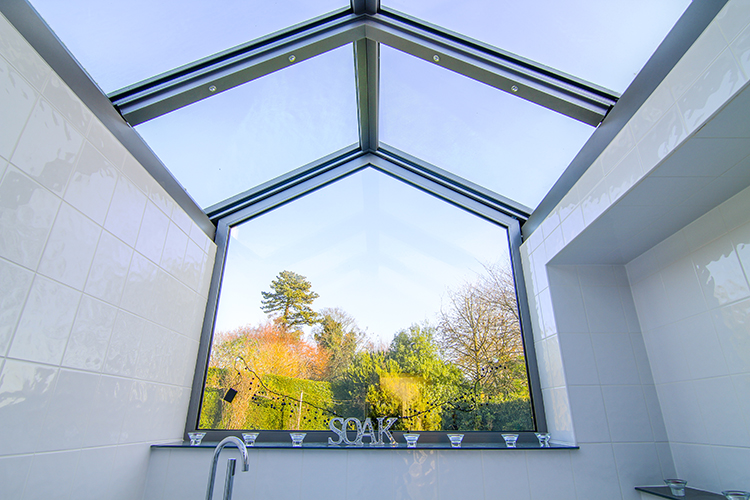 Awning windows
Like sliding sash windows, awning windows open from the bottom. Unlike sliding sash windows, however, they open outwards. Awning windows installed by a reputable double glazing window company will have hinges that stop them from opening wide enough to be a safety hazard.
When open, awning windows look a bit like a windshield on a car. Like windshields, their structure provides a protective barrier against the elements. It also makes it possible to maintain a high degree of privacy even with the window open.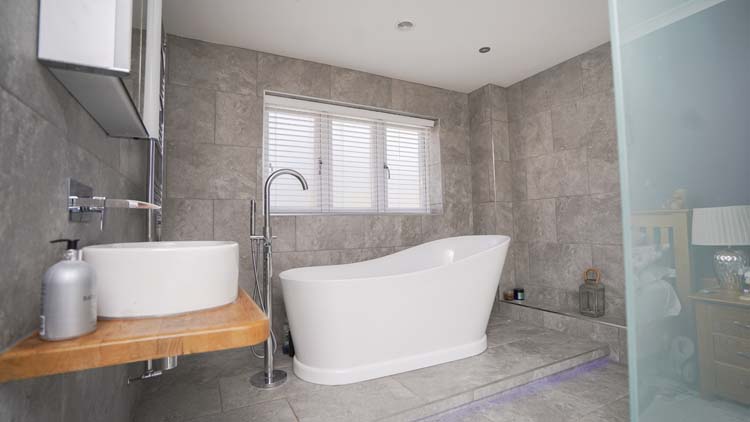 Hopper windows
Hopper windows are essentially awning windows flipped 180°. Awning windows open from the bottom outwards and hence upwards. Hopper windows open from the top inwards and hence downwards. This may seem like a minor change but it actually changes their functionality significantly.
Firstly, it means that can be challenging to put window films on hopper windows. Secondly, it means that it's relatively easy for the elements to get in through the gap at the top. How much of an issue this might depend partly on the climate where you live and partly on how wide the gap is.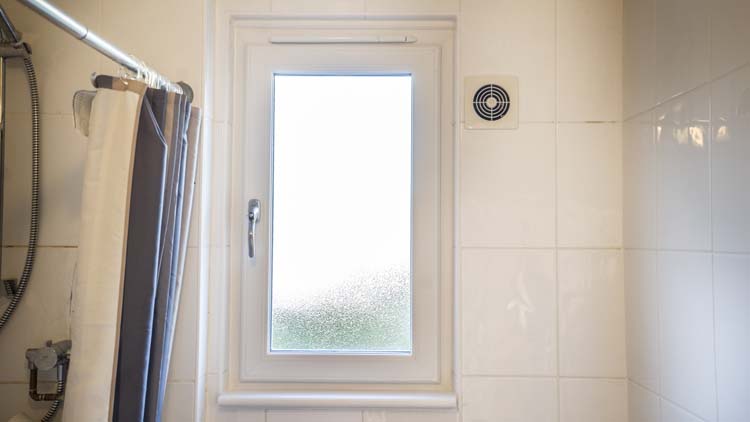 Casement windows
Casement windows open outwards and sideways, essentially in the same way as a regular door and are popular uPVC windows. Their big advantage is that they let in a lot of air. This makes them great for ventilation. Unfortunately, this is also their main disadvantage. When they are open they provide no protection against the elements and no privacy. They can also create security issues.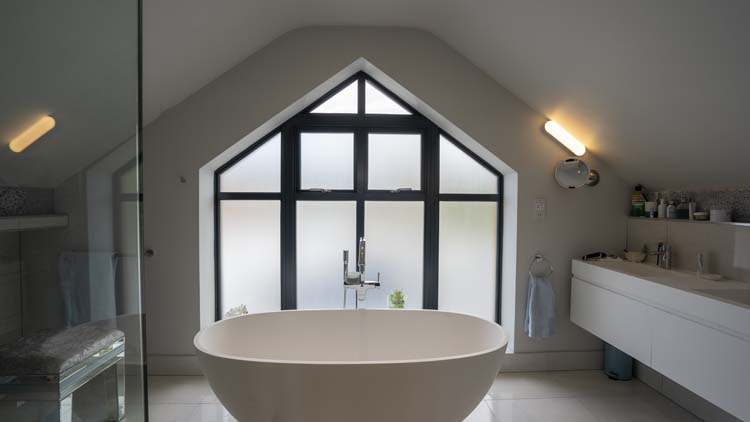 Transom windows
Transom windows are long thin glass partitions usually located at the very top of a wall. They are designed to remain closed and hence do not improve ventilation. They do, however, bring natural light into a bathroom.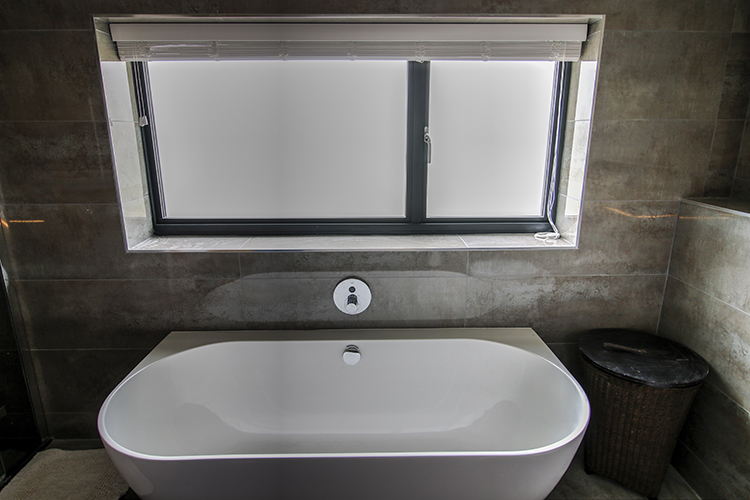 The comparable cost of bathroom windows
On a like-for-like basis, the price of a window tends to depend on the complexity of its opening mechanism. This means that transom windows tend to be the most affordable option. They are followed by sliding sash windows. Hopper and casement windows come next. Awning windows come last i.e. they tend to be the most expensive option.
With that said, the complexity of a window's opening mechanism helps to determine how efficiently it works. This means that the extra cost of the awning, casement, and hopper windows can often be counterbalanced by the long-term savings they can offer.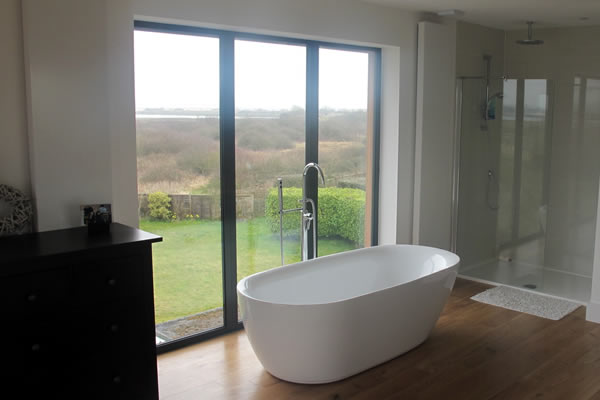 Making your bathroom windows unique
The way to make your bathroom windows unique and like no other is to get creative in how you decorate them. There are bathroom-friendly versions of the window treatments you use elsewhere in the home.
You don't, however, need to stop there. For example, you could get glass paints (temporary or permanent) and create a bespoke design for your bathroom windows. If you're not artistic, use stencils (or get someone else to help).
If you are interested in replacing your bathroom windows, contact us today for a free no-obligation quote.