Bifold Doors – How Much Do They Cost?
It's a new year and a new decade of another roaring '20s. Spring will soon arrive bringing blue skies and warm sunny days with lighter evenings which means summer will be just around the corner. January is a time of the year; many homeowners thoughts turn towards planning their home renovation project.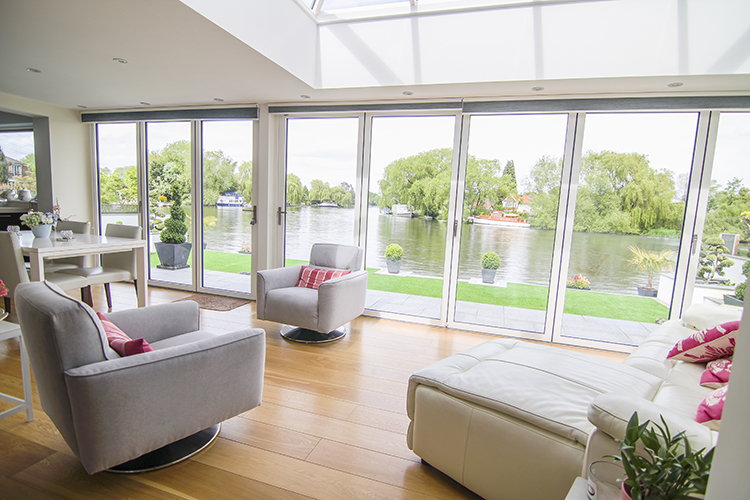 The trend to embrace modern architectural & structural glazing solutions within the home has become a popular feature to add. Adding a bifold door to the exterior design of the property allows homeowners to make the most of extra light and space at the same time and look forward to enjoying the sun rays as well as rain, lightning and snow.
With the 2020 Biophilic design trend of adding space, light and outdoor living into your home, bifold doors have become a must-have glazing solution for property owners. Bifold doors invite the outside in and allow the homeowners to open up the back of the property to create unobstructed views and let the fresh air into their home. They are creating a seamless transition between the indoor living space and outdoors. During the winter they can still enjoy the views of the garden and nature from inside.
It's not hard to see why bifold doors have gained great popularity among homeowners and are still one of the UK's most popular home improvement projects.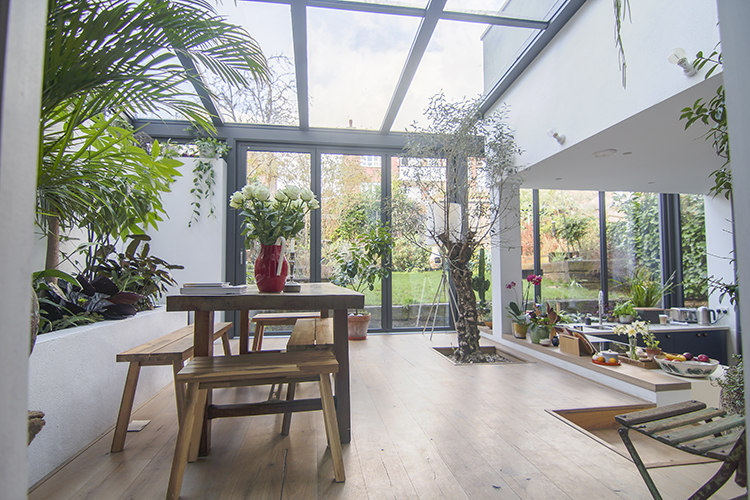 Why has popularity increased in bi-folding doors?
Bifold doors are more aesthetically pleasing than traditional wooden patio doors, a wall of glass will make a room look bigger since glass adds space visually making them a perfect feature for both small and large properties.
Over the years, glazing innovations, modern technology and manufacturing have evolved to include more energy-efficient processes like lamination, toughening, heat-soaking and strengthening. Ensuring durable glass doors are insulated and secure with weather tight seals that when closed will ensure they are entirely draught-free to make sure rooms are warm in winter and cool during summer.
The bi-folding door system is designed to be flexible and does not need to be opened wider than required. Many homeowners choose a system with a traffic door; this is a single door that is designed to be the end door and opens the same as a standard single door. This does not affect the bi-folding doors ability to fully open up the back of the house, as the traffic door folds to the side with the rest of the glass panels.
You can also install them internally, having visually appealing bifold doors in between rooms lets natural light flow around the rooms making them brighter without the use of electricity. When the doors are open, they offer a seamless flowing appearance to blend in with any interior design beautifully
Although there are various bi-fold systems, aluminium bifold doors are still the best selling with homeowners, due to the slim sightlines high quality and the overall aesthetic that add the wow factor to any style of property.
In recent years with the choice of uPVC, timber and aluminium, bifold doors costs have become more affordable for homeowners.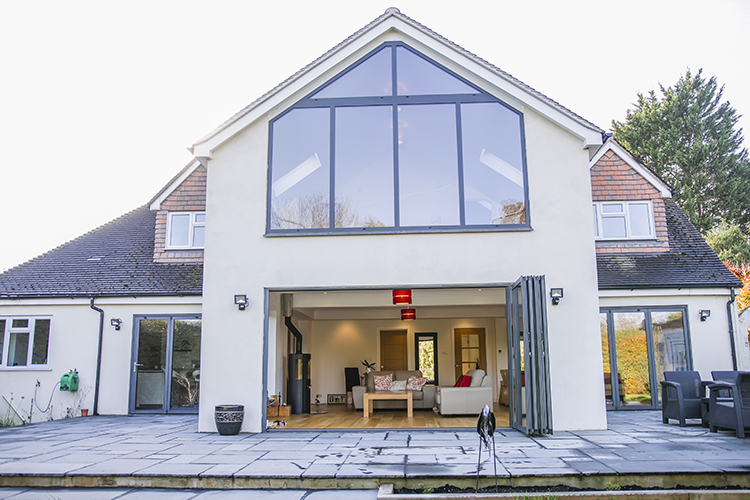 Bifold Doors -Do You Need Planning Permission?
If your property is not a listed building or in a conservation area and the bifold door is as a replacement for an existing patio door, this is usually considered a 'permitted development', so often don't require planning permission.
If you are building an orangery extension or widening the existing opening, it's worth speaking to your local authority for advice before undergoing any work as you are likely to need planning permission.
However, whether you need planning permission or not you must make sure the bifold doors fall in line with building regulations
For peace of mind, use a window and door company like Thames Valley Windows that is FENSA registered.
Questions to think about when considering bifold door costs
Firstly, to advise on bifold doors costs is not that easy and straightforward. Here are some general pointers on what consider the prices of bifold doors:
Are they for outdoors or indoors?
What materials do you have in mind?
The number of panels are you going to need? (The size of the opening in question will determine this)
Do you require triple glazing or double glazed?
How frequently are they going to be used?
5 Benefits of bifold doors
Colour and finish options when choosing your panels
External bifold doors will provide your home with exceptional thermal efficiency
Due to their nature of large glass panels, they are effortless to clean and maintain
Provide your home with more natural light
External bifold doors offer outside/inside living space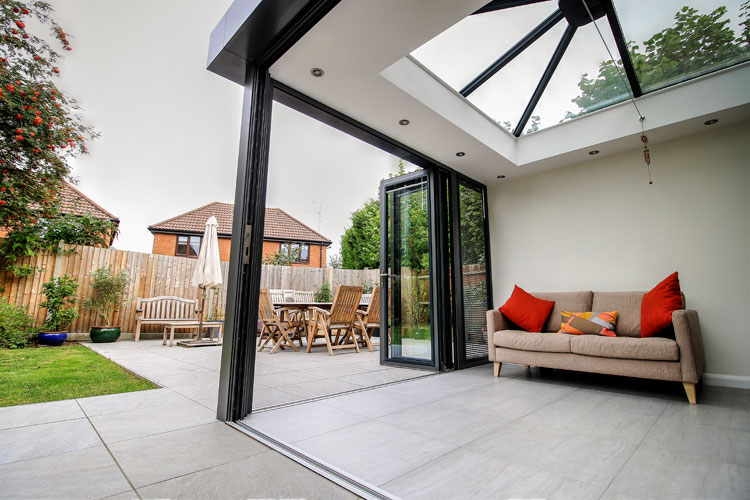 Thames Valley Windows are a double glazing window and door company that has been designing and installing the highest quality bespoke bi-fold doors, for properties in Berkshire, Surrey, Oxfordshire and beyond. Every bi-fold door system is made to measure from sustainable, durable aluminium, aluminium/timber, timber and uPVC.
To discover our bifold door prices now, call 0800 181 698 and request for a free no-obligation quote! Or contact us online and arrange for an appointment at our showroom or your home!