Corner bifold doors and sliding doors are one of the fastest evolving glazing trends for homeowners who want an open corner in their homes, for seamless indoor-outdoor, contemporary living.
An open corner in both modern and traditional properties creates the ultimate wow-factor and is a must-have feature in new kitchen extensions.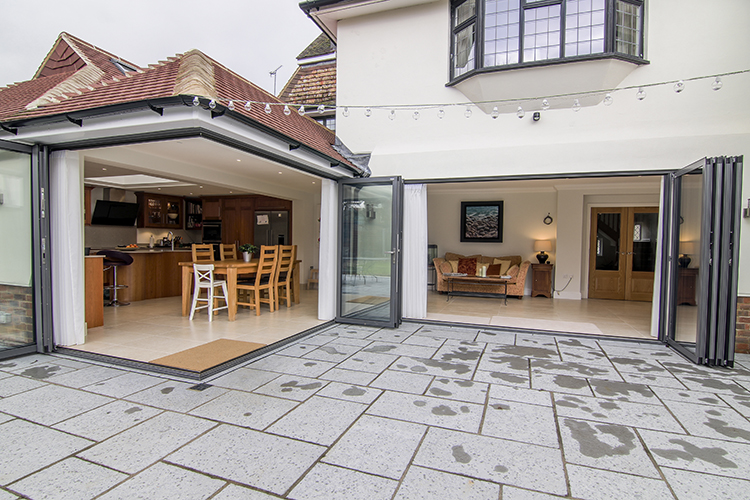 The trend that seems to have the most staying power with homeowners is a sense of getting back to nature and increasing the amount of natural light inside a home while connecting with the outside world. Bringing light and the outside in is a key benefit of corner bifold doors and sliding doors.
Homeowners in Berkshire, Surrey, Hampshire and beyond are embracing this spectacular architectural feature. Creating an eye-catching minimalist feature in modern and traditional properties and new builds
As the Summer nights are drawing in and we head towards autumn, many homeowners thoughts are turning to home improvement plans for the new year and decade ahead.
We've put together a few FAQ's which may help you decide if corner bifold doors or sliding doors are a feature you wish to replace your patio doors and include in your 2020 renovation plans and feature in your home.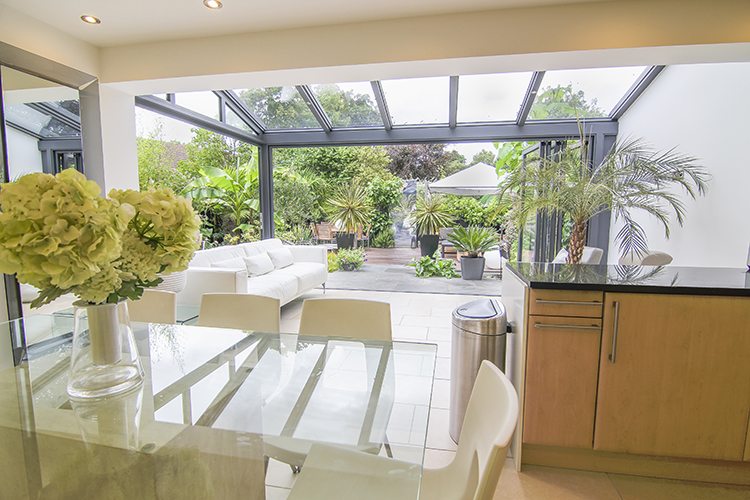 What Are  Corner Bifold Doors?
With an open corner, you can open up an entire corner of a room to the outside, by having two sets of bi-folding or sliding that are placed at right angles to meet at a, corner junction when closed and slide away from the corner to leave a fully open corner.
Depending on the structural design of property or extension, an open corner can be designed with either a fixed post or, and 90°, 110°, 135° or moving corner post.
The most popular choice is for a moveable/floating post  with a cantilevered roof or similar so that the whole aperture of a room or extension can open up leaving no obstruction between the room and the garden for the ultimate indoor-outdoor living space.
Open corners are perfect for homes with large patio areas for open plan living and al fresco dining with panoramic views 365 days of the year even when the doors are closed.
Smaller rooms with a dark unused corner of a room can be transformed with corner bifold doors to let in maximum light to create an illusion of expansive space.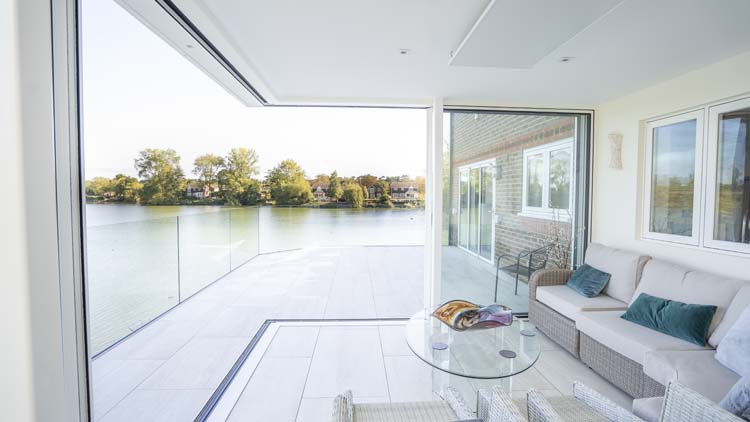 Which is Best – Sliding or Bifold Doors for your Open Corner?
Corner bifold doors differ from sliding doors as they fold back against themselves in a concertina-style to fully open one side of a property. Typically, they range from two to eight panels and run on a concealed track along the floor for a seamless, smooth appearance, making access easy and giving the feeling of the inside and outside being one space. It's worth noting that you'll need some outside or inside room for the panels to be stacked to when open.
Corner Sliding doors tend to be made of two to six large door panels of glass, which slide sideways, along a track. Sliding doors can be designed in a choice of configurations and sliding combinations, or even lift and slide variation for ease of operation with heavier panels.
If you have a wider opening to fill and you're looking for less vertical framing with larger areas of glazing for a less obstructed view of the outside then sliding doors are the perfect glazing solution for you. However, when open, you will have less clear opening than bifold doors due to the stacking of the moving panels behind the one that's fixed.
Aluminium bifold doors and sliding doors are most popular with homeowners, architects, and highly recommended by structural engineers and property developers for open corners but are also available in uPVC & timber, as well as a combination of timber/aluminium.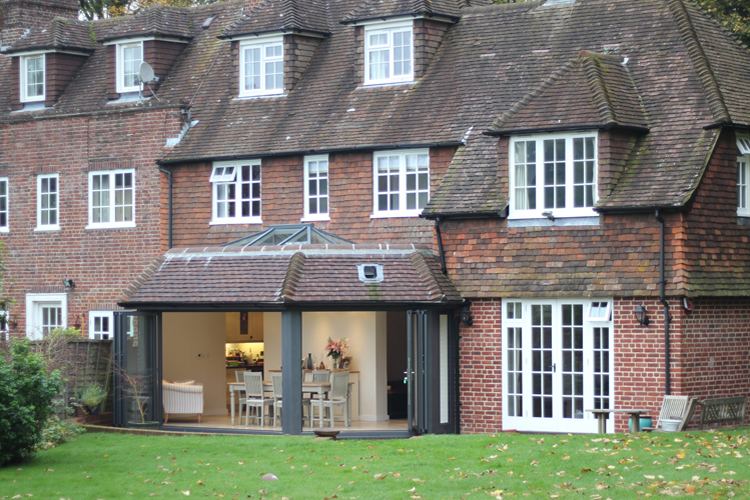 Do Open Corners work well with a Period Property Extension?
Corner bifold doors or sliding doors are also seemingly a must for any property renovation these days. When installing them in a period property, it's always advisable to check whether you'll need planning permission before beginning the work.
If you want the cornerless bifold or sliding doors to blend in with the period style and character features of the property, it is important that you chose the same material, colour and design for the overall look of your property.
For a more authentic look, opt for timber bifold doors, as these can be customised with glazing bars or astragal Georgian bars. Another feature is fixed top light or fan light windows can be added above the doors which can be designed to match the original window decorative features and aesthetics of the property.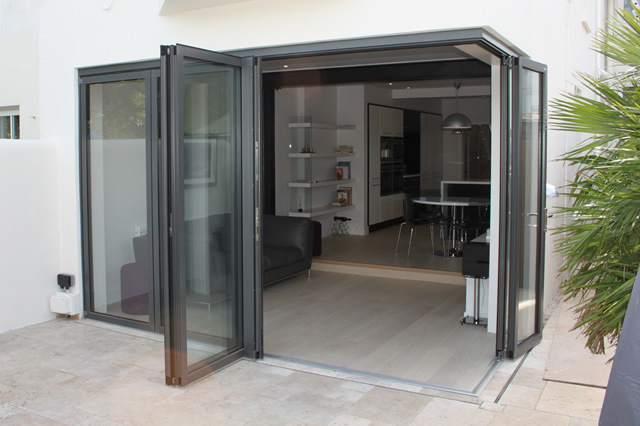 Are Open Corner Bifold doors and Sliding Doors Thermally Efficient?
The type of material chosen will affect the thermal performance of your doors. Timber is generally the best insulator but some modern Aluminium frames can offer superb thermal efficiency to help combat heat loss and condensation issues.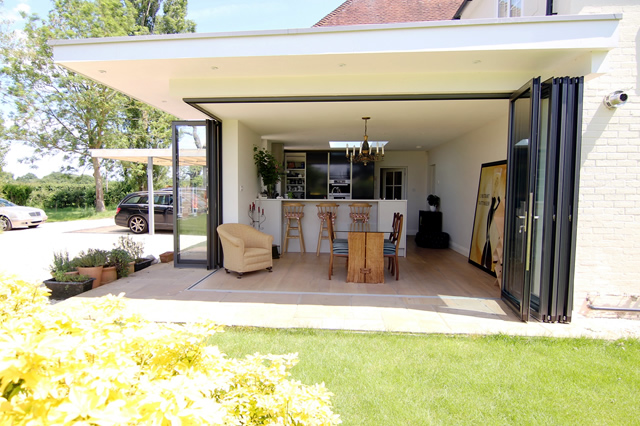 Is Planning Permission Required for Corner Bifold Doors?
Typically you wouldn't require planning permission to install bi-folding or sliding doors to an existing property. However, if you are adjusting an opening to make it wider, or putting a new opening into an existing wall, then you will need building regulations consent and this will require structural calculations so it's always advisable to seek the advice of a specialist glazing company, whatever the type of property.
If you're looking to add corner bifold doors or sliding doors to a listed property, you'll need to get planning permission. Even if your listed property already has existing sliding or bifold doors, you'll still need to get planning permission to approve the material, style and dimensions for any new frames.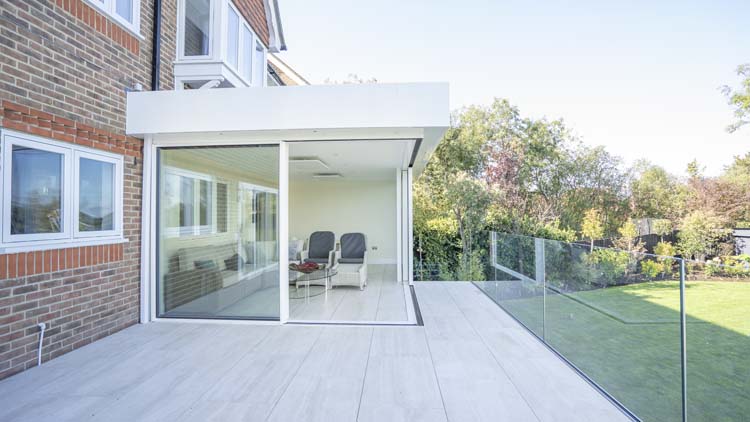 How Do You Install these Doors?
Replacing and installing corner bi fold doors or sliding doors should only ever be done by a reputable glazing installer. Make sure you choose a specialist glazing company that is FENSA registered; a government-authorised scheme that monitors building regulation compliance for the replacement of windows and doors. It is illegal to have double-glazing installed in a property without a building regulations certificate.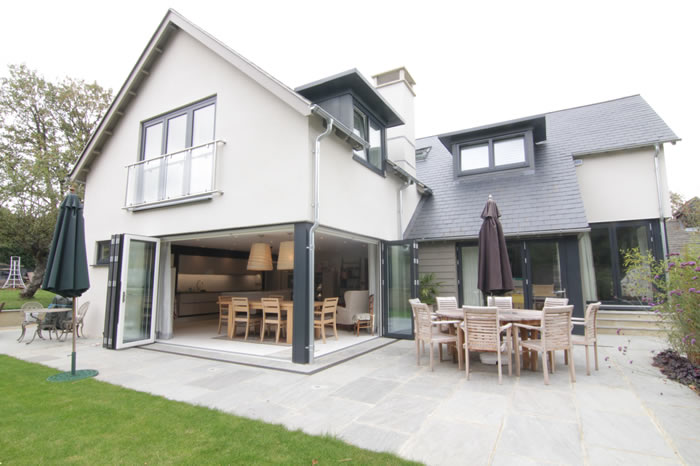 Will they add value to my Property?
Corner bifold doors or sliding doors have become increasingly popular over the years and often do add value to a home. However, make sure you don't cut any costs or corners and choose a quality and reliable frame. There is a big trend for large sliding doors with maximum glass but the cheaper sliding doors are not high quality so are heavy and if they are difficult to operate then they can be a big turnoff or be seen as a liability.
Ideally, you will only buy these corner bifold doors once for your property. Make the right choice based on a balance of cost but also quality. If the doors don't work well or are problematic then they will not be the feature that you hoped for.
Thames Valley Windows are a double glazing window and door company that has been designing and installing the highest quality bespoke corner bi-fold doors and sliding doors for properties in Berkshire, Surrey, Oxfordshire and beyond for over 35 years.
To discover our corner bifold doors and sliding door prices now, contact us online or call 0800 181 698 and arrange for an appointment at our Bracknell showroom or request for a free no-obligation quote!