Building the Dream Home!

Building your dream new build can be one of the most exciting and rewarding projects you can undertake. Whether you are first time buyers or not getting the opportunity to plan out each step of the process and make the decisions about your new builds property developments is a big responsibility. And it can be overwhelming for even the most experienced 'do-it-yourselfers'.
Taking the scope of the project into account before you get started can help make the process go a lot more smoothly. Learn the proper ways to find the right location, design your new build home, acquire the correct permits, and breaking ground.
Step 1 – Finding a location – buying land
There are many factors to consider when choosing a place to build your new build.
Begin with a suitable location, one that gives you peace of mind and where you would feel at home, has excellent amenities and the overall community infrastructure – if you're raising children, then schools would be worth considering. Is there a police station with the local vicinity; what are the crime levels like?
Once you are happy with the area, you'll need to either source:
Estate agents sometimes offer building plots. An auction is an excellent way to source land. Source a run-down property that could be demolished – check planning permission first if you are looking to change the style of the property
Step 2 – Arrange finance & Set a budget
This stage may be a hurdle, depending on cost and access to funds. Naturally, building your dream home is going to be expensive although it could save money long term as your new build home will not have upkeep and running costs as an older home. Some home builders can get a loan to purchase the land and secure funding for the building project.
Set a realistic budget – there are not many self-build projects that manage to keep under budget. Plan for expenses early enough so that you can make any necessary changes before the completion of your home.
Always include a contingency – this money should only be used for unexpected costs during the project, such as additional foundation requirements and unavoidable delays.
Step 3 – Find a designer/architect
Finding the right architect is essential. Building a clear pathway of communication is key to ensuring the architect produces thoughtful responses and relays the design and style you want for your new home. This will also help in getting planning permission.
The sooner you consult with companies who will provide the materials, the better. In our experience, this stage in the self-build process is crucial and talking to a window installer now can save you a lot of time and money later on.
Although it can appear daunting visualising your new home on paper, making these design decisions and specification choices are essential, as can prove costly if you ever think about changing them during the self-build journey.
For example, when choosing the windows and doors, ensure you connect with your selected installation specialists now. Most are experienced in architectural design as well as advising you on the practical and aesthetic options.
Another useful tip – doors and windows must be manufactured to a design that has been tested and shown to meet the security requirements of British Standards publication PAS 24.
Understanding lead times for materials is vital in planning realistically. This is the stage where obtaining quotes and getting samples of the products you want in your new home will save you time later. For example, you may wish to opt for a higher specification on windows and save money on kitchen floor tiles.
Perfect planning and preparation are critical for property developments!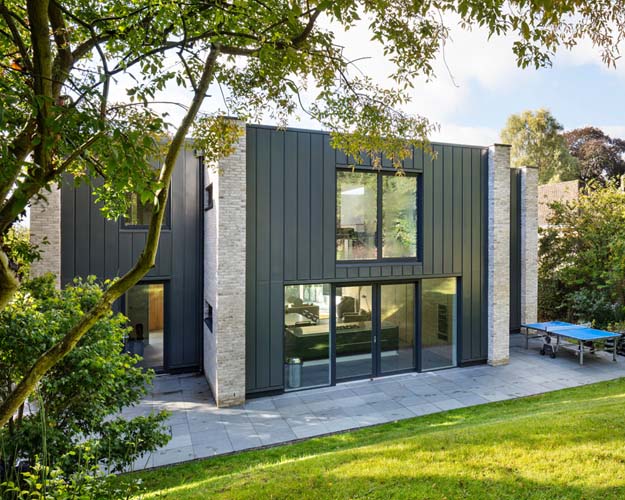 Step 4 – Apply for planning permission
Don't fall into the trap of building first and applying for planning permission once you've been threatened with demolition by officials. Apply for planning permission through your local planning department.
An application for building regulations approval can be made through your local council. It's there to make sure that new building work is safe and energy-efficient. It's a similar piece of legislation to planning permission – the only difference is it emphasises safety rather than visual appearance.
Early contact with the planners is the best way to figure out whether your project is viable, and some even offer pre-build advice. This can help you get a firm idea of what your planning officer will and won't accept in terms of overall style, size and any materials stipulations. It's a great way to make sure you stand the best chance of getting
Step 5 – Source a builder
There are several options for choosing the building route.
Most architects can recommend a reputable builder that build houses to your specifications. Or a leading package company that can guide you through the design and do a project. Instruct an architect and main contractor to oversee the building project. They will get quotes for your choice of specification and then manage the project with regular site visits to make sure work is carried out to correct standards. This can be one of the most expensive ways to choose, and could add 15% onto your overall costs may like to project manage the build themselves, to save money and keep an eye on the progress – do your research – talk to the experts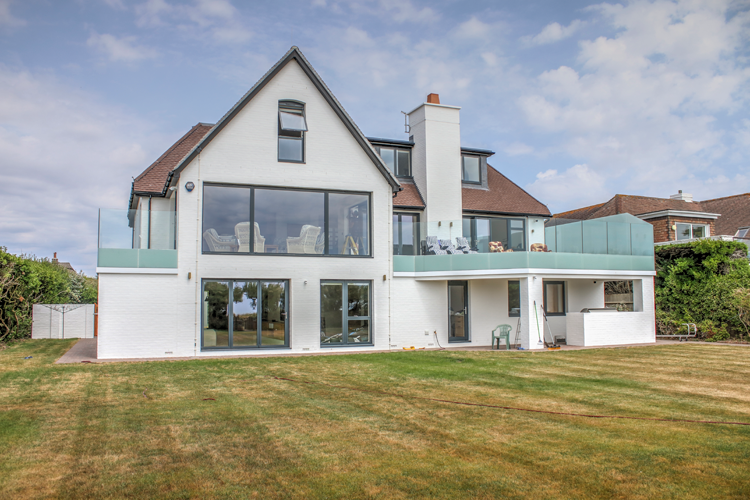 Step 6 – Prepare your plot
Breaking ground is when you may start to feel like the project is underway, but this is when all of that preparation will pay off.
If you have sourced land with a run-down property on it and wish to demolish it, there are a few things to consider.
For example, the local planning authority will need to see survey reports and mitigation plans, if protected species, like bats, are detected in the property. This is usually resolved at the planning stage.
See what can be salvaged from the property – If the quality of the bricks is in good condition, you can dismantle them, and either use them for a feature in your new home or sell them on.
Enjoying your new build home
All new build homes are built with a ten-year warranty, giving you peace of mind if anything should happen, you're covered and protected.
So the building work is complete, and all of the finishing touches are done, now is the time you will want to move in.
There are a few practicalities to consider – such as obtaining the Completion certificate from building control. Ensuring any small issues are dealt with as part of the 'snagging' process and making that all-important VAT reclaim.
Our showroom in Bracknell, Berkshire showcases our 'Essential' PVC range to our 'State of the Art' Passivhaus products, with Aluminium options and our new dedicated Timber Showroom, there's something for everyone!