There are many different types of windows to choose from! Whether you have a modern or traditional home in Berkshire, Hampshire, Surrey and beyond, the type of double glazed or triple glazed windows you choose is an essential component of the architectural design of the property.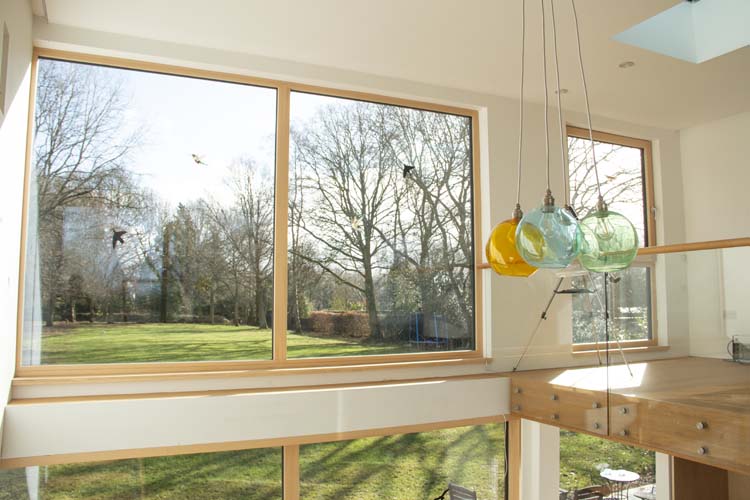 The right windows will not only allow natural light to enter into your living space but will also offer ventilation in your home.
From a new build to a renovation or to make a home more energy-efficient, windows are one of the most important decisions an architect, builder or homeowner will have to make.
In terms of aesthetics, many choose windows in a specific colour or material to complement their property exterior and add a visual element to the interior. Depending on where the windows are going to be positioned is an essential factor in the windows performance, in terms of opening mechanism, security and insulation.
It is important to remember all properties have a face value, particularly traditional houses. Don't underestimate the impact of replacement window choice on the overall look of the property. Keep the style of the house in mind, as the wrong windows can devalue the property value or reduce its appeal. In the long run, it is best to keep or restore the authenticity of the property and add value rather than cut corners.
With the many types of windows available on the market today here's a glossary of some of the industry terms.

Casement Windows
Casement windows are trendy and are seen as the British standard by homeowners due to their versatility and the benefit they offer that other window types cannot provide.
One of the key benefits is the way that casement windows function; they can easily be opened with a rotating crank outwards at a 90-degree angle via a hinge that is attached to the frame.
Side-opening casement windows are popular for bay windows as they are easy to open without obstructing either inside or outside of the home. A casement window can also be fitted with hinges which will let you swing them open from the top, from the bottom or from the sides. Depending on the options which appeal best to you and the way you live.
Casement windows can be used throughout the house, and are designed to maximise ventilation so are popular for bathrooms and kitchens where maximum ventilation is required.
These Casement windows have a tight seal on all four sides of the window due to the sideways-opening design and are among the most energy-efficient windows.

Flush Casement Windows
Flush sash windows are a beautiful blend of modern and traditional window styles. They are a type of casement window, distinguished by sashes that sit into the frame and finish flush when closed.
Whereas the lipped casement window as above offers a slightly different look where the sashes protrude out slightly. Both window styles open outwards via hinges attached to the frame.
Flush casements have been used for over 200 years and are a very traditional window design. They date back to the 19th century, all windows, which would have been constructed using timber, were designed with flush fitting sashes, and this is evident in many late Georgian, Victorian and Edwardian properties.
With today's window design trends for sleek lines, these flush sash windows are ideal for Bow Windows and look stunning in modern homes. Emulating the look of beautifully understated traditional timber windows down to the most exquisite detail of smooth corner joints, and deep bottom rails they also look perfect in period properties.

Fixed Windows
A fixed window does precisely what you think it does! It is a large window with a fixed frame that cannot be opened. Designed with a narrow window frame, and a large glass pane to let in natural light and enjoy uninterrupted expansive views from your home. Whether it is the garden, countryside, coastal or a cityscape, an inspiring view will transform your living space and bring the outside inside.
Ventilation is possible with a fixed window with the use of trickle vents.

Georgian Windows
Georgian windows are perhaps one of the most instantly recognisable styles of the window they date back to the Georgian period in English history. This is around the mid-18th to mid-19th centuries, where window architecture would traditionally be designed and installed to six by six standards.
Residential properties during the Georgian period would often follow this pattern of window architecture; it has now been adopted as a standard that's familiar up and down the country. Interestingly enough, while it may be a relatively archaic style, it has never seemed outdated. Georgian window is aesthetically pleasing and looks great as part of any modern home.
So, what's the appeal for modern homeowners? First of all, these windows are effortlessly luxurious and full of elegance, and often associated with farmhouses and grand period style properties.
With today's modern technology, these windows can be designed in a variety of window frame material with innovative manufacturing techniques makes them an affordable and stylish addition to any style of home.
They are also popularly installed to double or triple glazing standards, meaning that they are fantastic at retaining heat and keeping out noise. They also take pride of place in the outward appearance of a home, making them a brilliant focal point.
Modern Georgian windows can be fitted in uPVC, timber alternative and timber. Wood was the standard used in the actual period, though uPVC alternatives are designed and installed to emulate these traditional styles to perfection.
You only have to look at how popular the Georgian style is in the UK, even to this day!

Sash Windows
Sash windows are a characteristic part of British architectural history dating back to 17th century and seen as standard in period properties from Victorian, Edwardian and Georgian.
After the Great Fire of London in 1666, the building of houses out of timber and thatch was eradicated.
In 1667 to help prevent the spread of fire in the future Charles II introduced the Rebuilding of London Act that required all future buildings to be built in brick or stone.
According to the act, It required that timber window frames be recessed behind stone or brick, as a method for deflecting rising fire around the window frame, window sills were first introduced, and most homes within London complied with the act.
In 1709 further legislation were added to the act which required all windows to be set back into the wall and window sills to be a minimum of four inches.
Window legislation dictated the Georgian era, with another further act introduced in 1774 that all sash boxes be concealed within the wall, forming the archetypal window.
The window sill is still an important design element in timber sash windows to prevent rainwater build-up with the frame.
Sash windows are perhaps more commonly known as hinged windows, designed as two individual window frames (sash) that slide over one other within a larger framework.
The sash is the moving section of the glazed window that allows the window to open and close. Either on a vertical or a horizontal basis without taking up space in the interior or to the exterior of the property. All sash windows have two separate sashes. It's an innovative design that has proved popular for centuries.
Sash windows can be designed as either single or double-hung; both options carry their specific benefits.
Single-hung windows, have one moveable sash and one fixed sash, the moveable sash is usually the bottom one. Double-hung windows have two sashes which can slide over one another so that air can flow into the room through the bottom opening, and heat can escape through the top opening—making them a popular option within kitchens.
Traditionally, sash windows were made of timber and to open and close used a pulley system a sliding mechanism of weights and cords.
In modern uPVC sash window frames, a spring balance system is this is known as torsion balance the This sliding mechanism is concealed in a plastic tube and hidden within the window frame,

Tilt and Turn Windows
A Tilt and Turn window is an innovative window designed in Germany and a popular choice with the European homeowners. Tilt and turn windows are generally suited to more contemporary homes, high rise flats or apartments with balconies or traditional properties with limited space.
A tilt and turn window offers flexibility and practicality as they feature a dual-hinge mechanism system offering two inward opening functions and giving homeowners a choice on how they open their windows.
The versatile opening function is all in the handle! When the handle is pointing down, the window is shut and locked and offer uninterrupted views similar to a picture window.
If you rotate the handle by 90 degrees, so it is pointing sideways the window can be fully opened inwards similar to casement windows.
Rotate the handle by another 90 degrees (180) for a tilt opening so that the window will tilt inwards meaning the top of the window opens inwards at an angle similar to a hopper window.
Tilt and turn windows offers the homeowner more control over both security and secure ventilation when tilted in a lockable position. They can be fully opened inwards to make keeping them clean an easier task popular choice for bedrooms and bathrooms upstairs for both cleaning and emergency fire escape.
Finally, tilt and turn windows are perfect choices for homeowners looking for maximum light
Hopefully, this glossary has been useful with the different types of windows; however, there are many more types of windows, from transom window, awning window, jalousie windows to a pivot window that can all add to aesthetics of a property.
If you have any questions about the best type of windows and doors for your property in Berkshire, Hampshire, Surrey or South-East, then talk to Thames Valley Windows. We are design-led glazing company and offer an extensive range of windows and doors in an array of materials.
Contact us today, call 0800 181 698 and request for a free no-obligation quote! Or contact us online and arrange for an appointment at our showroom or your home!