Planning permission is a question many homeowners ask when making home improvements to their property. If you are thinking about installing a glass roof lantern to a new flat roof home extension, or replacement roof for orangery or conservatory, let's take a look if you need planning permission from local planning authority to install a roof lantern.
What is a Glass Roof Lantern?
Roof lanterns are innovative glazing solutions designed for flat roofs. Designed with slim frames to allow for maximum glass panes will provide a more significant amount of natural light into the room below. It works as a prism to naturally illuminate spaces by maximising light flow from all angles. A stunning architectural showpiece with beautiful aerial views of the sky above that offers energy-efficient benefits while adding the wow factor to a kitchen, living rooms, bedrooms, and bathrooms.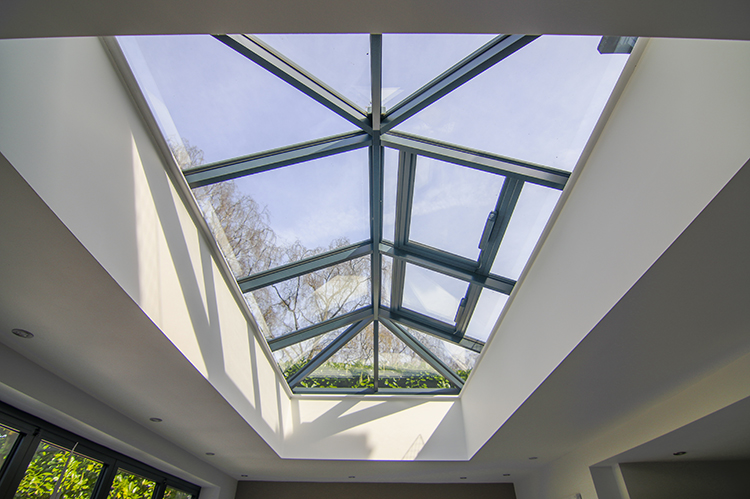 Planning Portal: Planning Permission Criteria of a Roof Lantern
Many homeowners sometimes get confused between a glass roof lantern and a skylight; a roof lantern sits on top of the flat-roofed area such as a single-storey extension or an orangery or conservatory whereas a skylight is more part of the roof structure. As a glass roof lantern will alter the exterior of the property, UK homeowners are concerned often confused about whether they will need to apply for planning permission. In most cases, you won't usually need planning permission to install a roof lantern. A roof lantern is generally considered as permitted development as long as they adhere to the following limits and conditions.
It does not extrude more than 150mm from the existing roof
It is not higher than the highest elevated point of the house
It has a side facing window that is obscurely glazed, and openings must be 1.7m above the floor
The above restrictions are for alterations to UK houses. The rules for flats, maisonettes and converted houses can be a little different, and it is worthwhile doing a little further research before progressing in these cases.
If unsure, contact your local planning authority before you start any home renovations, This is important if your property is in a conservation area or listed as these properties have stricter building regulations.
For more information on permitted development rules or planning permission to install a glass roof lantern why not take a look at the planning portal http://www.planningportal.gov.uk/permission/commonprojects/roof/
To give peace of mind before installing a roof lantern, roof lights or skylights, you can obtain a 'permitted development' confirmation from your local council. This isn't required for a glazed roof project to start, but it's written proof that your home improvement project falls within permitted guidelines.
When do you Need the Approval to Install a Glass Roof Lantern under the Building Regulations
Approval under the Building Regulations will generally be needed for the installation of a new glass roof lantern for the following reasons:
Generally, the roof will need structural alterations, to create the opening to install a roof lantern.
The roof will have the ability to carry the weight of the new roof lantern, and if not, you will need to strengthen the roof.
The roof lantern that is installed is energy efficient, you will need to prove that it is weatherproof and sufficient insulation against heat loss.
Fire performance will need to be considered If the roof lantern is close to a boundary.
Use a professional double glazing window specialist who will understand what's needed to ensure your designs and installation will meet approval under the building regulations.
Before you begin
it makes absolute sense to obtain expert advice from a professional and registered glazed roof specialist before starting any glazed roof project. You will be amazed at the range of different styles from rectangle, square, to a pyramid, the glass options and sizes of roof lantern available. A professional glazier will design and customise the roof lantern to complement the property both inside and out whether traditional or modern in style.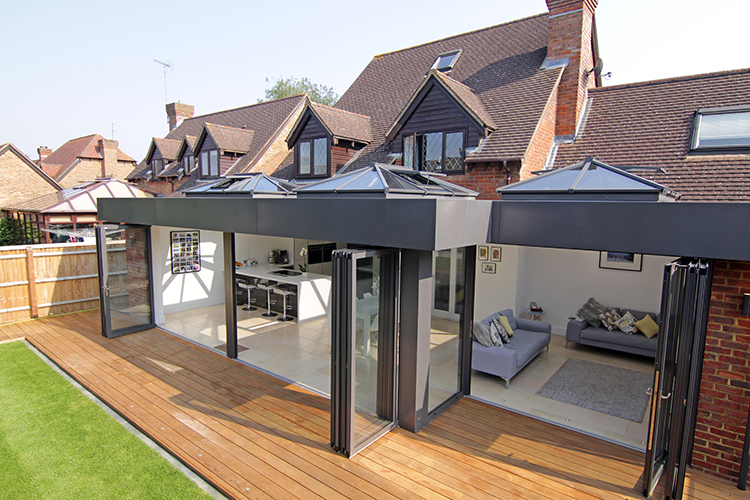 Here at Thames Valley Windows, we were the first roof lantern installer to take the re-engineered Atlas roof lantern to the domestic market after it was launched. Read more here.
We fit hundreds of aluminium roof lanterns each year in Berkshire, Surrey and Oxfordshire and the Atlas roof is the only system we use. We like to install this roof lantern because it's so slim elegant and contemporary roof lantern. Most importantly our customers love it because it looks impressive from both the inside and outside.
Embrace the popular glass roof lantern trend and contact us for prices now, call 0800 181 698 and request for a free no-obligation quote!, Or contact us online and arrange for an appointment at our showroom or your home!  for your glazed roof project.