Are all Windows Standard Size?
When replacing existing windows, or installing new double glazed windows, homeowners ask the question does my home have standard window sizes?
Technically there are no standard window sizes for every property in the UK. While some window manufactures and DIY retail stores stock ready-made standard window sizes, this can cause confusion to homeowners looking to replace their existing windows as they presume their window measurements must fit these standard window sizes. Contractors or builders mostly use these double glazed standard size windows for new builds and developments in the UK. These standard window sizes aren't necessarily the right choice for replacement windows in residential properties.
Windows are a huge part of a home's structure, depending on the era that the property was built will determine the size and style of windows. Usually, the kitchen and bathroom window will vary in size. Fixed or bay windows are also of varying sizes and styles. It is important to remember that the window dimensions for each property will be different.
Thames Valley Windows recommends having bespoke made to made measure windows to ensure every window will be a perfect fit and perform to perfection.
The most commonly bought and encountered type of double glazed windows for homes up and down the UK is represented by the uPVC and Aluminium windows. There are basically two main things to take into account for window measurements: width and height combination.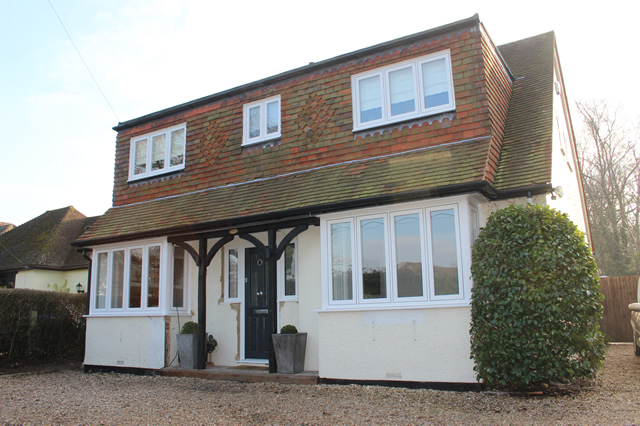 uPVC Window Sizes
uPVC windows height measurements start at 450 mm and go up with 1500 mm, for example, 600 mm, 1,050 mm, 1,200 mm, 1,350 mm, 1,500 mm.
But what about width? Bearing in mind the height standards as advised above, The width measurements for uPVC windows are the trickier part as they vary. Traditionally, uPVC window frames were designed to specific measurements to fit bricks of 215mm in length. However, with the home design has evolved in a big way over the past few decades, uPVC window frames are now designed by following a directive from the EU to fit 300 mm long bricks, Most width sizes are 488 mm, 630 mm, 1200 mm.
Your brickwork can play a significant role in the size of your windows, too!
Window thickness? uPVC windows are double glazed and designed with two panes of glass separated by a layer of argon gas or air to keep the property more energy-efficient and reduce sound. Space ranges between 6 and 20 mm. Therefore the overall thickness of the spacer and glass can get too thick and bulky for some homeowners.
A couple of reasons that some homeowners will opt to use ready-made standard window sizes rather than bespoke made to measure windows is they presume their windows are of a standard size so the lead/delivery times are faster and the price is lower to made to measure. Although this is not always the only cost-effective option if you need to make adjustments to the masonry and plaster to ensure that the window fits the rough opening perfectly, then additional costs will be incurred.
Fortunately, however, Thames Valley Windows exclusive Essentials uPVC windows are the perfect solution for anyone who wants to enjoy the benefits of faster lead times and lower prices, without compromising on the quality and the fit. We also offer a ten-year guarantee and a dedicated after-sales service team on all glazing installations.

Essentials Low-Cost uPVC windows
Thames Valley windows exclusive Essentials uPVC double glazed windows are bespoke and made to measure standard window styles at affordable prices with faster lead times.  They feature double glazed casement windows, tilt and turn and sliding sash windows, suitable for every room from the bedroom to the living room that is a low-cost double glazing solution for every style of property.
The standard range of Essentials uPVC windows includes slimmer window frames to maximise the area of glass that lets natural light flood into your home.

Aluminium Window Sizes
Aluminium window sizes are, of course, a little bit different. Due to the strength and durability of the material, these windows can be taller or wider than uPVC windows.
Aluminium window frame height measurements start at 350 mm and go up with 1500 mm. The window width is flexible, with a minimum of 300mm to a maximum of 1400 mm, which means that there is generally a right amount of choice available.
Aluminium windows are a popular choice with homeowners who are concerned about environmental issues. The advantages of aluminium framed windows are the strength, durability, and high thermal efficiency. It is one of the things which sets aluminium apart from uPVC when homeowners are choosing replacement windows.

Window Height
There aren't any rules saying how high a window should be, although, with the trend for large glass floor-to-ceiling windows in home renovations, extensions, you need to ensure that you adhere to any safety regulations.
It's essential to be aware of the fact that some stringent building regulations have been made to protect homeowners depending on how off the floor the windows should be.
They state that if the windows are below 800 mm from the floor level, as well as under 300 mmm from a door, this means you must include toughened safety glass or laminated glass instead of regular glass and include restrictor hooks.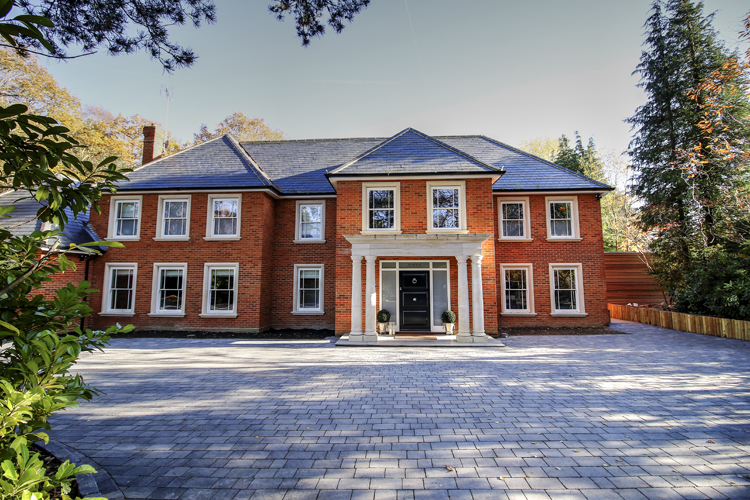 But What About Bespoke Windows?
Of course, standard window sizes don't take into account bespoke made to measure window specifications. Bespoke or custom window solutions can take into account some of the standard measurements provided above.
To discuss the benefits from bespoke made to measure double or triple glazing window solutions, homeowners will need to contact a recommended or specialist window company in their area.
Are you looking for bespoke double glazed windows for your home? Thames Valley Windows can help. We have over 30 years of experience in designing and installing double glazing solutions to homeowners and properties throughout Berkshire, Surrey, Oxfordshire and beyond. Take a look at the made-to-measure uPVC, aluminium  timber-alternative and wooden windows we have to offer and come and talk to our professional window design team in our Bracknell double glazing showroom or give us a call 0800 181 698