If you are looking for advice on the best way to maintain and clean uPVC windows and doors, look no further than our latest blog article.
One of the reasons uPVC windows are a preferred choice with homeowners in Berkshire, Hampshire, Surrey and Oxfordshire is they are energy-efficient, durable, low maintenance and easy to clean.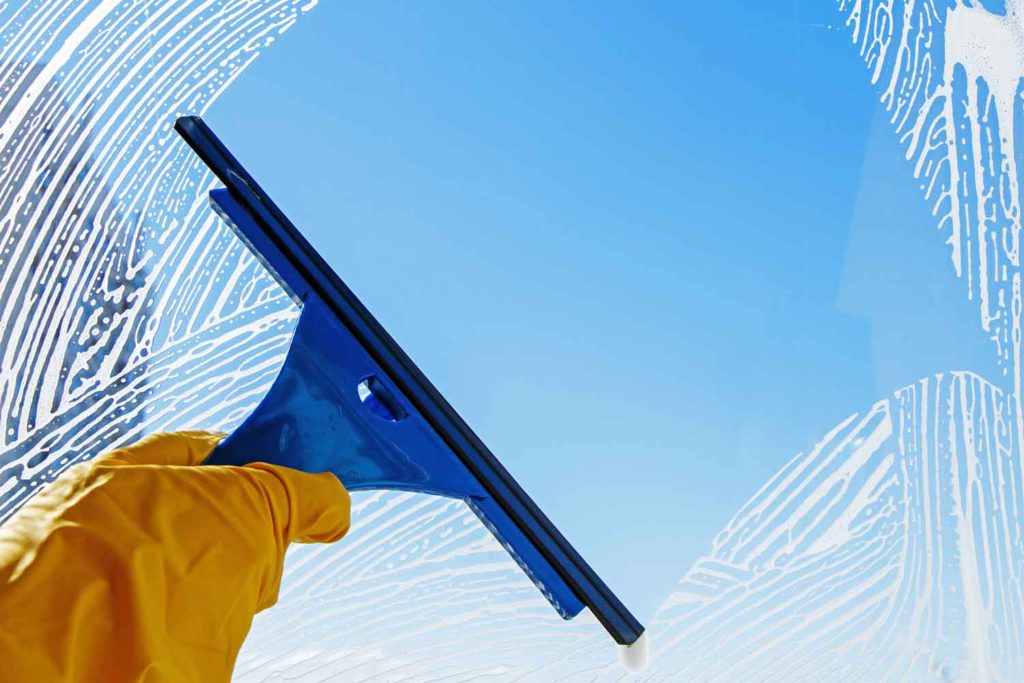 Regular maintenance and cleaning of your uPVC windows and door frames once or twice a year will ensure your casement or sash windows and entrance doors stay in perfect condition both aesthetically and practically.
Cleaning and maintenance can vary depending on where you reside. In general, a contemporary coastal townhouse is exposed to higher levels of natural chemicals such as salt than a quaint country cottage in the countryside. Conversely, properties in urban cities are exposed to busy roads, or industrial areas whilst the rural countryside can be subject to harsher weather conditions. Be aware of this when maintaining and cleaning your Upvc windows and doors.
The following are some top tips to ensure you get the very best out of your uPVC windows and doors.
Basic cleaning tips for your Glazing
Unsightly water marks, dust and dirt soon build up on windows which are not cleaned regularly.
To clean your window panes, fill a bucket with warm soapy water, only use a small amount of washing up liquid. Excessively soapy water should be avoided because it creates a build-up of soap suds on the glass which leaves a residue.
Use clean lint-free white microfibre cloths and make sure you change the water as soon as it looks too dirty. In the end, use a different, clean, soft cloth to wipe down the external uPVC window frames framework and joinery to remove any suds and drips.
Once dry, use a glass cleaner for gleaming windows. Or use the magic DIY home cleaning product of vinegar, mix one-part distilled vinegar with one part warm water and spray onto the glass, then use paper towels or newspaper to rub it off.
An industrial multipurpose wipe can be used to clean the outer silicone lines on glazing beads.
Never use a scouring sponge or abrasive cleaners to clean the glass because it can scratch easily.
Don't hose down your windows as the large volume of water can create a moisture imbalance. Avoid pressure washers as they can potentially cause movement in the joints.
A dry cloudy day is perfect weather for cleaning windows as a very sunny day may cause the soapy water to evaporate, leaving streaks on the window.
Maintaining uPVC Windows and Door Frames.
To clean uPVC windows and door frames, Start by opening your windows and doors as far as you can. Use an old soft paintbrush to loosen any cobwebs, dust, dirt and grime, in alcoves, hinges and opening mechanisms then use the soft brush nozzle on a vacuum cleaner to hoover around the frames.
Use a clean, soft cloth and mild detergent mixed with warm water, or a uPVC cleaner. It's essential not to use harsh chemicals as they may remove the glossy finish.
Wipe the window and uPVC door frames and use fresh water to rinse off any suds before wiping dry.
It is also essential to maintain the hardware, open and close windows a few times to check the hinges. Sash windows should open and close easily with a smooth sliding motion whilst casement windows should maintain a smooth opening function.
To keep your window and door hinges functioning smoothly, use light oil (WD40) to lubricate them, ensuring you avoid lubricating the friction hinges.
Check the locking system to see if the keys insert and turn correctly?
Use a soft cloth to clean the handles and plates but avoid abrasive cleaners as they can cause damage.
Have you downloaded our Windows and Door Care and Maintenance brochure?These tips will ensure your uPVC windows and doors stay in the best condition for many years to come