If you're embarking on a self-build homes project, you may wonder which type of windows and doors to choose. With such a wide range of window and door options, it can be hard to decide, but one question you need to answer from the outset is whether to opt for double or triple glazing.
For many years, double glazing has been the standard for windows and doors, but now, with the increase in energy costs, triple glazing is becoming increasingly popular for low-energy self-build homes.
With the UK Government's aim to be net zero by 2050 and the recent changes in the latest building Regulations, triple glazing for self-builds is the best choice.
Our Favourite Triple Glazed Self Build Homes Projects
Triple glazing offers a host of energy-saving benefits. Let's look closer at our favourite self-build homes and what triple glazing can offer.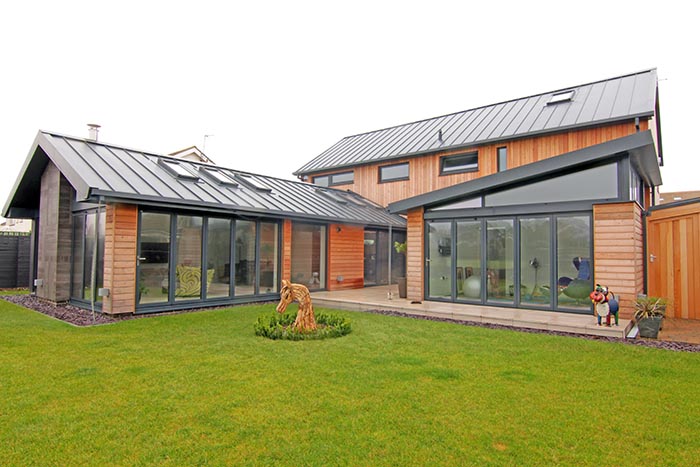 Extra Thermal Protection for Self-Build Home on Worthing Coastline
Double glazing helps keep a property's interior warm and comfortable thanks to its dual panes of glass. An air gap between the two panes makes it more difficult for warm air to escape from the house and cold air to enter it from the outside.
Triple glazing takes this further, with an extra third pane of glass and an additional air gap for an added layer of extra thermal protection. Therefore, with triple-glazed windows, your self-built home will be even warmer and more comfortable to live in all year round.
This was especially important for this self-build home project that we worked on in East Preston. The new build property was close to the sea, so it was highly exposed to harsh elements. Internorm and Solarlux range of triple-glazed aluminium-clad windows and aluminium doors with a pre-anodised finish were specified for the project to protect the frames from the coastal wind and rain. Triple-glazed units guarantee maximum acoustic and thermal performance for the homeowner's dream home.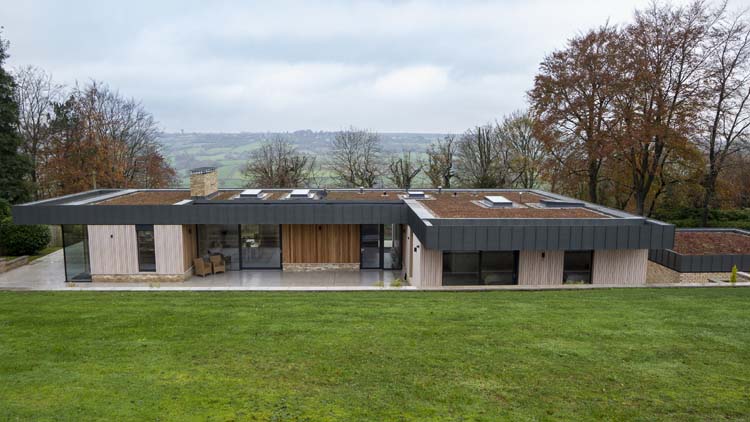 Energy Saving Solutions for Sustainable New Build, Wiltshire
More of us than ever before are seeking to become more energy efficient and to reduce our carbon footprints. This goal is often key for self-builders when designing and constructing their new properties. This is where triple glazing for self-builds can prove to be invaluable.
Triple-glazed windows can make an enormous contribution to your environmentally friendly goals. Thanks to their impressive insulation properties, they can reduce your energy usage significantly, with the bonus of lowering your heating bills at the same time.
The best triple-glazed windows can achieve U-values of just 0.6 W/m2K – a significant improvement on double-glazing units, which can only achieve U-values of about 1.1 W/m2K – 1.3W/m2K.
This energy efficiency was crucial to our Corsham customers working on a sustainable property. We installed interior triple-glazed aluminium-clad windows and doors at their sustainable new-build single-storey home, allowing them to maximise their energy efficiency.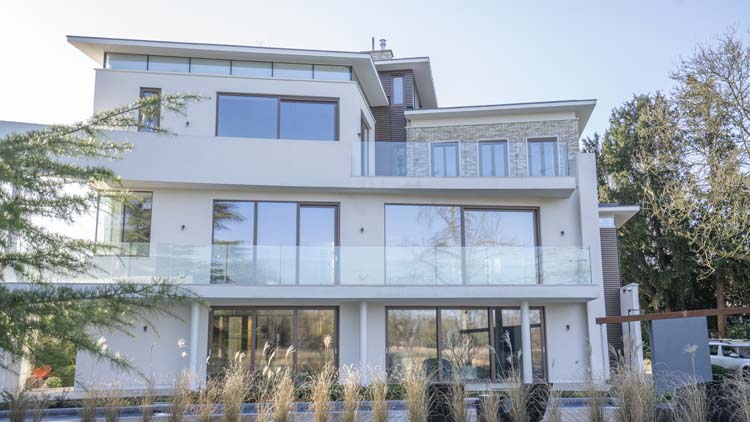 Improved Acoustic Insulation for stunning Self Build Berkshire Home
Another great benefit of triple glazing comes in the form of improved sound insulation. This couldn't be more important for properties in urban locations, on busy roads, or close to parks, schools, or industrial sites.
Thanks to the additional glass pane in triple-glazed windows, acoustic performance is already better than double-glazing. However, it's also possible to select acoustic glass and a range of glass thicknesses and cavity sizes to offer maximum protection from unwanted noise. This benefit was requested by our customers in Windsor who were constructing a self-build home overlooking the River Thames. Due to its exposed location, they were seeking maximum acoustic protection, and they found it in our Internorm and Solarlux triple-glazed windows and doors.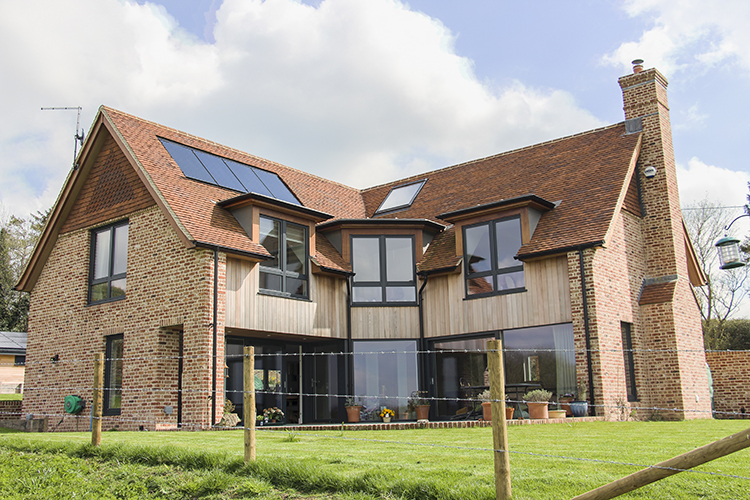 A Great Choice of Triple Glazed Windows and Door Styles
Triple glazing for self-builds comes in an enormous choice of styles and materials to suit any home. Homeowners can choose from aluminium, aluminium-clad timber or uPVC windows and doors to complement their project. There are also many options for window and door openings, such as these triple glazed tilt and turn windows and lift and slide doors that we fitted for our customers in Bishops Sutton.
Essentially, triple glazing for self-builds represents an energy-saving and stylish window and door solution that will ensure maximum comfort all year round, no matter where your new property is located.
Your Self-Build Home Architectural Glazing Solution
Choosing energy-efficient windows and doors for your self-build project can be exciting. But with so much to consider, it can also be a daunting challenge. At Thames Valley Windows, our dedicated designers are committed to designing the best glazing solution to help turn your self-build home dreams into reality.
Already have plans for your Self Build?
From modern contemporary to traditional timber frame homes, if you already have planning permission and plans, share them with us for a free no, obligation glazing quotation.
Our complete design and installation service has been thoughtfully created to deliver absolute peace of mind.  Nearly 40 years of expertise in the glazing industry enable us to advise self-builders and architects on the suitability and practicalities of cost-effective glazing solutions for energy efficiently self-build homes.