Floor-to-ceiling Aluminium Sliding Doors
Our latest blog article looks at our favourite aluminium sliding door projects in Surrey.
Floor-to-ceiling aluminium sliding doors are an excellent choice for new builds and home renovation projects in Surrey. Not only are they incredibly sleek, stylish and modern, but they are also highly secure.
With sliding glass doors, you can make easy access to your outdoor spaces effortless while bringing the outdoors indoors. With natural light flooding your home through the vast glass expanse, you can make any room appear more welcoming and brighter, not to mention the mental health and mood-boosting benefits of spending time in naturally lit living spaces.
With their slim frames and maximum glazing, aluminium sliding doors won't obstruct your view into your garden, allowing you to enjoy it all year round.
The Many Benefits of Aluminium Sliding Doors
Aluminium door systems are energy efficient, weather resistant when the temperature fluctuates, and incredibly strong and sturdy. While wood often distorts as it contracts and grows, letting water seep through, and uPVC can degrade due to sunshine exposure, aluminium is highly robust.
The difference between an external sliding aluminium door system and other patio doors, i.e., French doors or bifold doors, is the sliding mechanism.
All aluminium sliding doors can be designed with double or triple-glazed panels for even better energy efficiency and low u values. The available glass options include laminated or toughened safety glass to comply with Part L of the Building Regulations fully.
Another great advantage of high-quality aluminium sliding doors is that they require minimal maintenance. The aluminium frames are simple to clean and require a simple wipe down from time to time using a mild soap and water solution and a non-abrasive cloth. Any visible debris in the tracks can be removed with a brush and a quick once-over with a vacuum cleaner, ensuring your doors operate effortlessly.
Aluminium sliding patio doors have also been found to boost your home's value by as much as 10%, which makes them an excellent investment in the future of your property. As an added advantage, they are highly secure to protect your home from intruders.
These advantages have been appreciated by many of our customers who have opted for aluminium sliding doors in Surrey.
Our Favourite Aluminium Sliding Door Projects in Surrey
Here are just a few of our favourite aluminium sliding door projects in Surrey that we have carried out recently for our satisfied customers.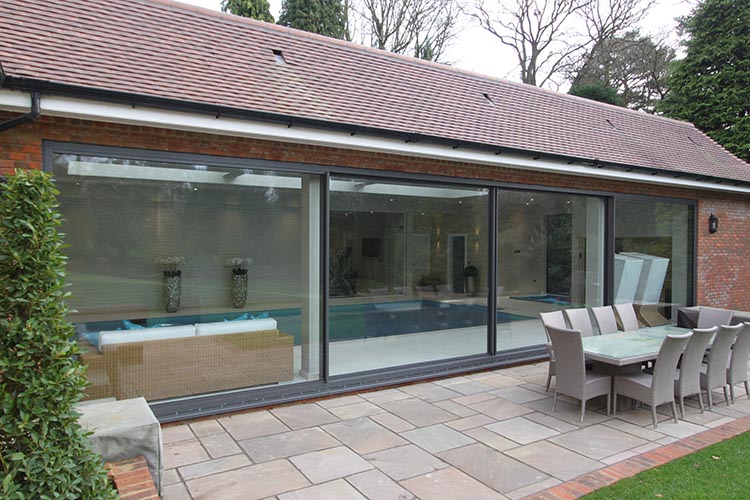 The First Solarlux Cero II Sliding Doors were installed in the UK!
We were delighted to be able to install the brand-new Solarlux Cero II Minimal Frame Sliding Door for our customers in Surrey, making them the first recipients of a Cero II installation anywhere in the UK! The Cero cutting-edge sliding door has a glass area of 96% without compromising the performance or strength of the product. Furthermore, it offers unrivalled U-values, making it exceptionally thermally efficient.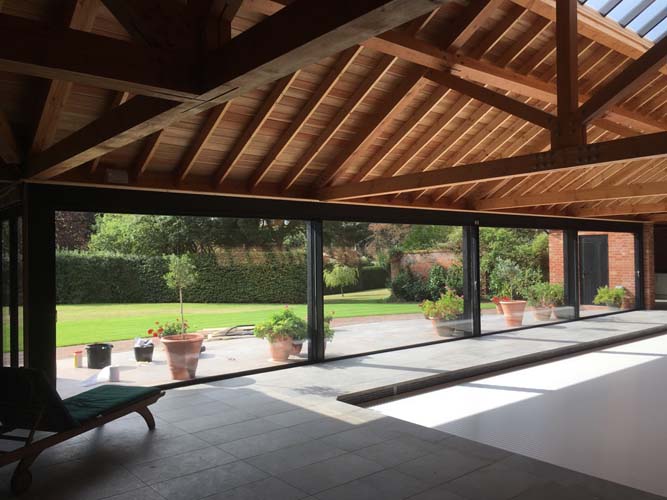 Cero Minimal Frame Sliding Doors
We were also proud to install Solarlux Cero Minimal Frame Sliding Doors for our customers, constructing a purpose-built, custom-designed pool house. They chose a marine-grade Jet Black paint finish, ideal for use around a swimming pool.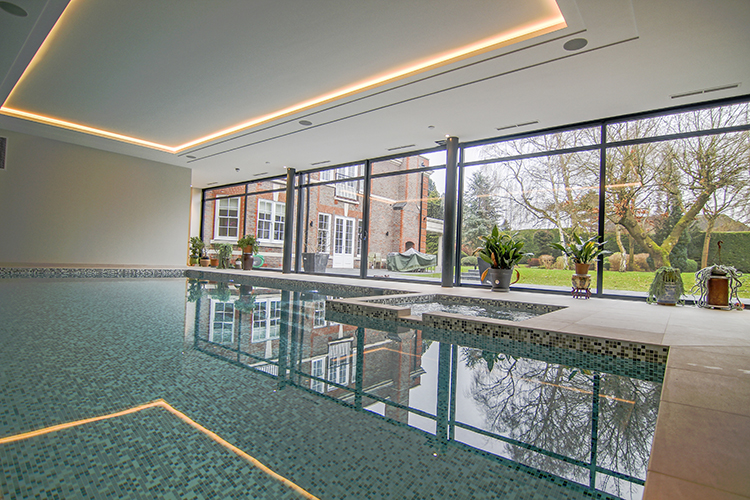 Large Aluminium Sliding Doors
We were delighted to be commissioned by our customers in Ashtead to supply and install sliding aluminium doors at their imposing Georgian-style new-build home. We worked closely with a residential high-end developer and installed large fixed frames and a large set of SVG In-Line sliding doors into an aluminium corner post to create a fully glazed gym with seamless sightlines.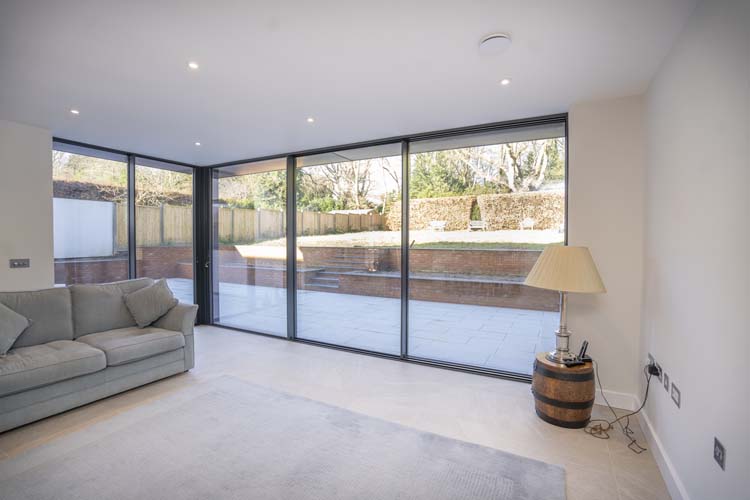 Frameless Sliding Doors
Our customers in Farnham were looking for the perfect sliding doors to complete their stunning contemporary new build. The homeowners were keen to flood their property with light while ensuring optimal insulation and low maintenance.
They opted for our Vision20 frameless aluminium sliding doors that offer glazing from floor to ceiling with a virtually frameless profile that allows the doors' outer frame to recess effortlessly into the wall cavity for a contemporary, minimalist look.
Our customers were delighted with the final result, which offers impressive thermal insulation to cut their energy bills while also providing maximum light and transparency, enabling them to achieve their goal of an eye-catching and stunning home that is comfortable all year round.
Why Choose Aluminium Sliding Doors
Our high-quality aluminium sliding glass doors are bespoke and made to measure your specifications. We can offer a range of aluminium sliding door systems. Depending on the required glass panels, they are available in twin and triple-track options.
While anthracite grey, black and white are popular for sliding doors, we also offer an array of RAL colours.
To give you an idea of our sliding door prices, you may be interested in reading our blog article: Slimline Sliding Doors Price Guide.
Why Choose Thames Valley Windows
First founded in 1984, Thames Valley Windows is a family business based in Bracknell, Berkshire. Over the years, we have become one of the largest and most respected double-glazing companies in Berkshire, Surrey and Hampshire.
We have a well-deserved trusted reputation for designing bespoke glazing solutions that combines design excellence with innovative functionality and flexibility.
For nearly 40 years, we have built a dedicated customer base through recommendations and our commitment to customer satisfaction, listening to feedback, and always striving to do more. Whilst also keeping at the forefront of technological advances and current market trends.
We consistently deliver cutting-edge, contemporary innovative designs with premium glazing products with unbeatable performance.
If our favourite aluminium sliding door projects in Surrey have inspired you, contact the Thames Valley Windows team for more advice about our aluminium sliding door range. We can advise on aluminium sliding door costs to suit your budget and product specifications.