Introduction to Floor to Ceiling Windows
Large floor-to-ceiling windows and doors have been a growing modern trend amongst homeowners, architects and developers within new builds and existing openings in renovation projects that require a maximum amount of natural light, and there is no sign of it slowing down anytime soon.
With the recent update to Approved Document L of the Building Regulations to double and triple glazing vastly improve the energy efficiency of both new and old buildings, In our latest blog, we look at the types of windows and the most popular rooms that benefit from large contemporary glazing solutions.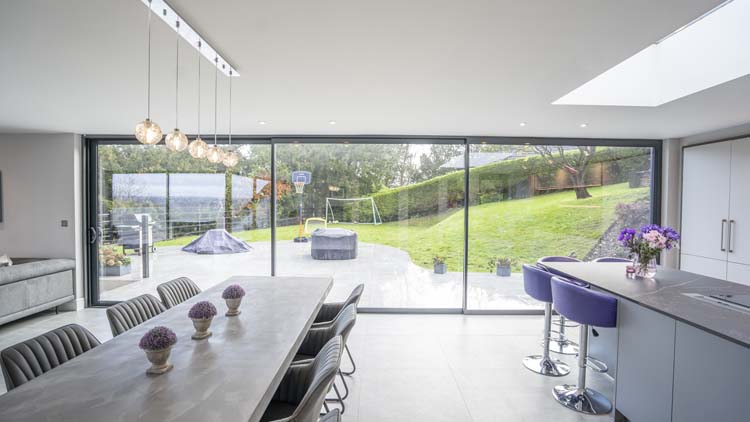 Create a Bright and Breezy Kitchen
Known as the heart of every home. Over the years the way we use the kitchen has changed with our lifestyle and preference for open-plan dining and entertaining. We now use our kitchen differently than before.
Most kitchens are in an almost constant state of use, especially when you have a large family or do a lot of home cooking. With this in mind, installing floor-to-ceiling windows in your kitchen can create the wow factor design feature of a glass wall that can add an enhanced ambience, make it feel bigger and brighter, and create a seamless connection between inside and outside.
Imagine preparing your family's meals, looking out at the spectacular view, soaking up what is happening outside, or creating a stunning dining space in the kitchen right by your large floor-to-ceiling glass windows. Whatever your interior design style, you can be sure that large windows will only enhance your kitchen space.
Maximise Your Well-being in Your Bedroom
There's no doubt that being in nature is great for your wellbeing and mental health, but many of us cannot spend as much time in nature as we'd like. Finding a compromise is easier than you may think with large floor-to-ceiling windows in your bedroom.
Wake up each day and watch the sunrise, listen to the birds tweeting and notice the seasonal changes that come throughout the year, providing you with a beautiful start to every day. Plus, if you are keen to follow nature's rhythm with your sleep, you can unwind and drift off each night watching the sunset.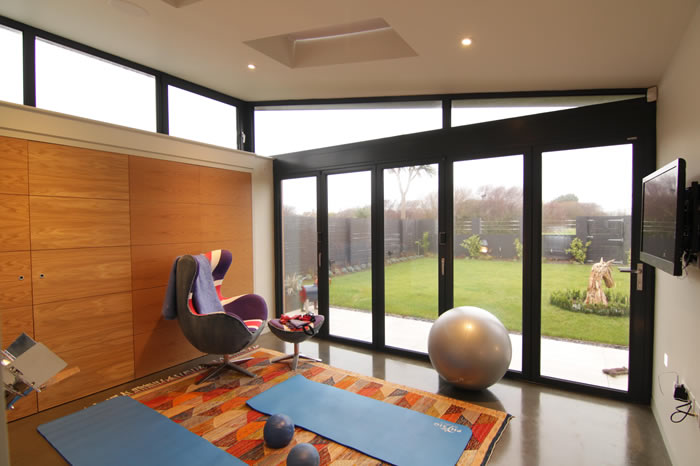 Workout with a Beautiful Nature Background
Do you have a gym space that feels oppressive to work out in and want to do something to make it more inviting? Adding large floor-to-ceiling windows is the perfect solution and will ensure that the natural light helps you to feel excited about your next gym session.
By installing large floor-to-ceiling windows, you can get the sense of working out outside while enjoying the comforts of the indoors and your specialist equipment. Plus, you will be able to exercise no matter what the weather brings, helping you to keep fit during the hot summer and colder months too.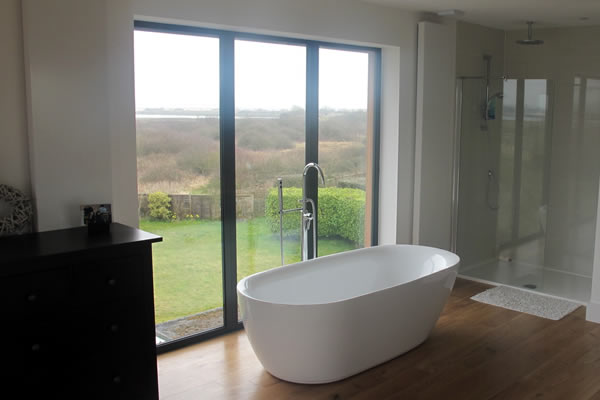 Open Plan Living Spaces That Invite the Sun
It's not just the well-being and incredible views that large floor-to-ceiling windows can provide – they also help to make your living spaces feel more open and larger than they are.
This is great for homeowners that likes to entertain family and friends or when you want to enjoy a large open living room after a long day at work.
Using large floor-to-ceiling windows, you can create a bespoke talking point in your living areas and use it to draw focus to the outside space around you. You can then work your interior magic and develop a biophilic design that enhances nature inside or work to contrast it to create a design talking point. Whatever your style, large floor-to-ceiling windows will only ever improve the quality of light and views of your home.
Plan and Install Yours Today
Thames Valley Windows has nearly 40 years of experience within the glazing industry. Our designers work closely with every customer to first "Listen" and "Understand" their glazing requirements. To view some of our latest work please remember to visit our recent projects section.
Our large glazing systems can be designed with fixed window panels or options or opening windows or doors with toughened or laminated safety glass. Request a quote for a large glass floor-to-ceiling window system and start your renovation journey today!