It may only be the beginning of March, but as the days start getting longer, we know that Spring is on its way. As the colder weather gives way to warmer weather and the flowers, begin to bloom it is an excellent time of year to consider home improvements ready for the summer months
Homeowners are starting to discover all the fantastic benefits of bifold patio doors can have, from adding value to your property to a lovely way to feel more connected to the outdoors.
Watch Our Latest Video: High Quality Bi-Fold Doors for ever Home
The last decade has put the spotlight on contemporary open plan living, so bifold patio doors have become very popular for all kinds of reasons with homeowners choosing to improve their property rather than move. There has been an increase for the bifold door in the renovation of properties, home extension or Orangery projects,
We've put together what we think are the five reasons which may help you decide if bifold patio doors are a feature you wish to use in your traditional or modern home.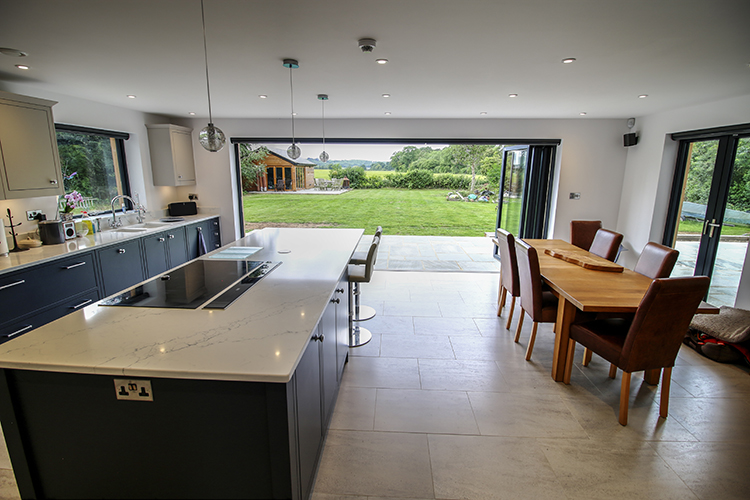 More Natural Light
One of the top reasons for installing a set of bifold patio doors is to allow more natural light into the house. When bifold patio doors are closed, one wall of the room is virtually replaced with floor to ceiling windows, letting in as much light as possible.
Natural light is free, and it makes a home feel lovely and has a positive effect on our mood.
Lots of natural light in a home has many benefits, including creating an illusion of space.
With natural light, life is simply better!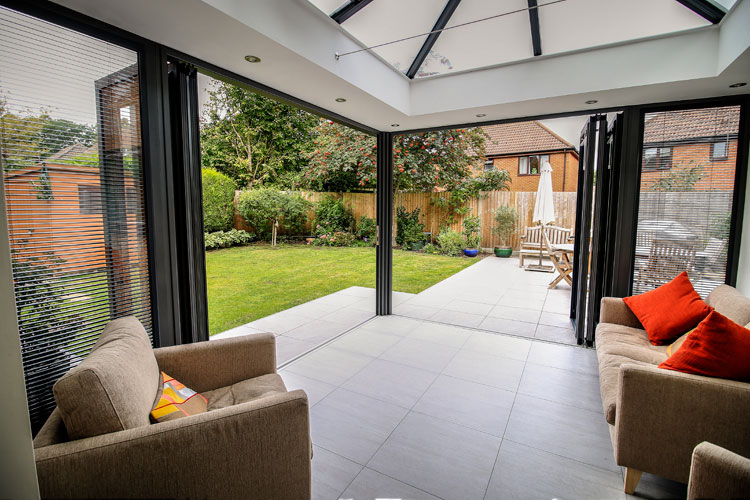 Bring the outdoors inside
Bifold patio doors are designed to allow to you maximise the outdoors and almost bring it inside.
When external bi-fold doors are fully opened they open up almost the entire wall of the living space without any interruption of sight lines, this creates an illusion of space and gives you easy access to your outdoor living space. Combining the internal and external areas will make your inside living space appear as if it has extended to the end of the garden.
Adding a folding sliding door system to your home truly opens up your living space. It allows natural light to flood into your living space while also providing the opportunity to bring the outside inside. Merging your garden with your inside living space a lovely way to feel more connected to the outdoors.
Another trend over the last few years for the millennial homeowner or families with young children is outdoor living; a formal dining area seems to be an outdated concept.
During the warm summer evenings, we love to entertain or host a party, bifold patio doors allow the ability to maintain a flow from kitchen to the outside dining area.
We love nothing more than to fire up the BBQ and enjoy eating alfresco on the patio with family and friends.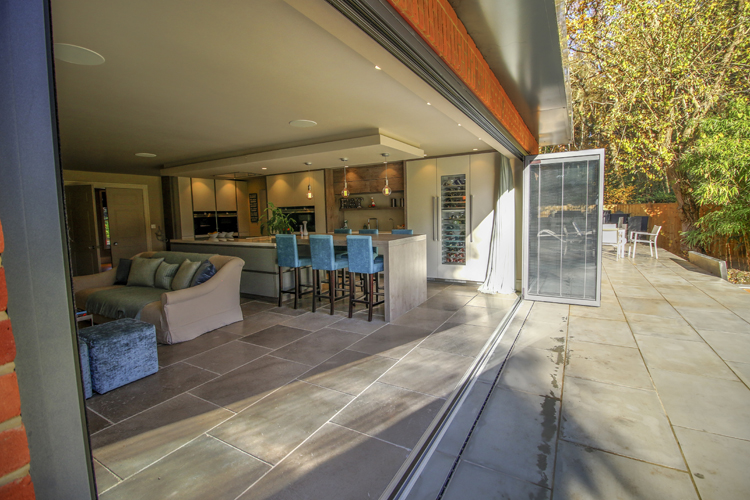 Save energy
With energy costs and interest in environmental issues on the rise, energy-efficient homeowners are looking for ways to save money while also looking to 'go green'. On a similar note to the above, more natural light means less electricity usage and is, therefore, more cost-efficient.
Without doubt, bifold patio doors let light in and thus there is less need to switch on the lights, but bi-fold patio doors are also super energy efficient.
Aluminium bifold patio doors appeal to a new generation of energy and eco-conscious homeowners. Easy to maintain and incredibly durable, but above all, aluminium doors with toughened double glazing that eliminates draughts, provides excellent thermal insulation, and all this saves energy and saves you money.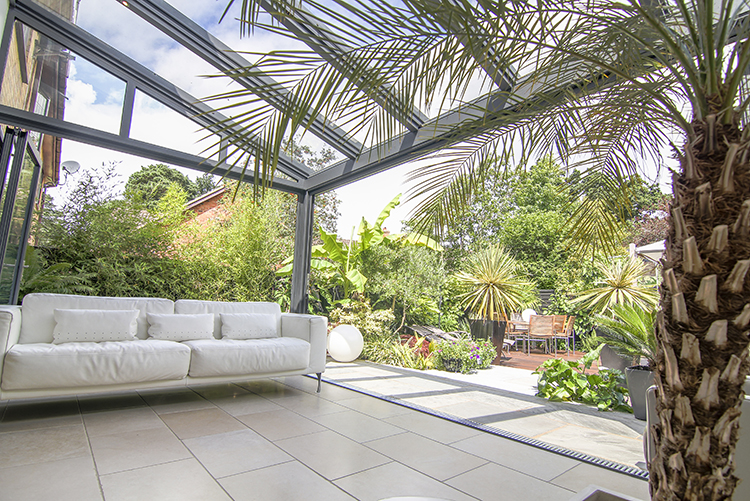 Freshen up your home
Whether your home is small or big, traditional or modern, town or country, If you love the look and feel of the contemporary property then bifold patio doors offer all the features of this house design. Slim, sleek and minimal framing, they add minimalist style that a modern space requires.
Bifold patio doors bring function and luxury to your home; well-installed doors can even increase the value of your property. But above all good quality, bifold patio doors are exceptionally stylish, and you will be the envy of all your neighbours.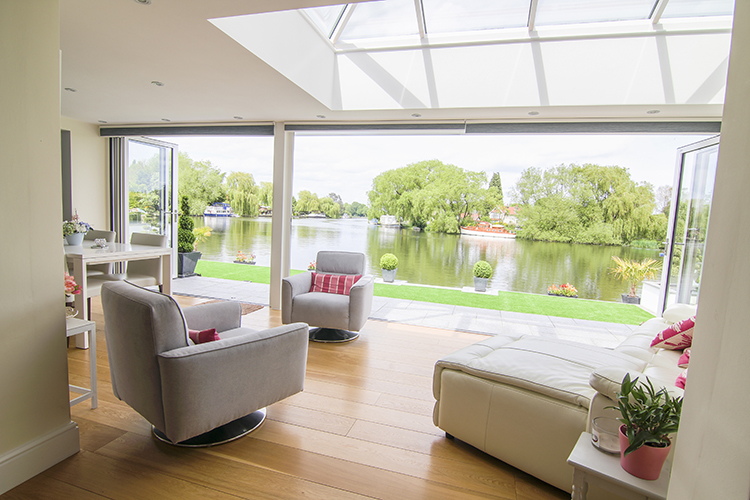 Use them all year round
Bifold patio doors allow you to enjoy your home all year round with fantastic views of the outdoors and wildlife, whatever the weather!
On those winter days when the sun shines, you can allow the sun to fill your home with natural warmth, and on those summer days, you can open up your entire home and let the fresh air in.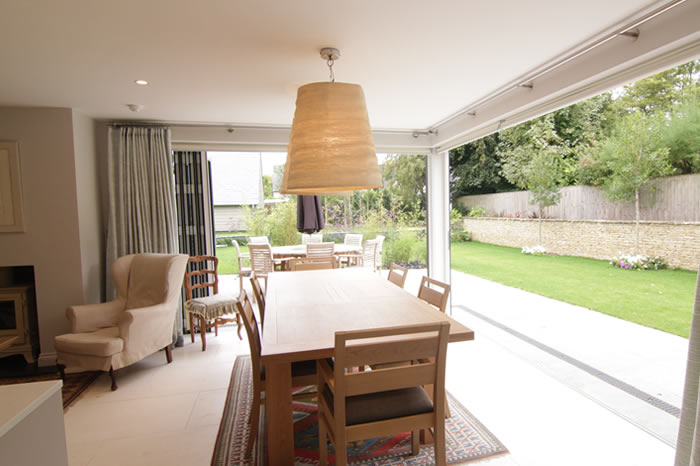 Summary
Overall installing bifold patio doors this Spring makes good sense. Far more aesthetically pleasing than French doors, they have the definite wow-factor and will transform the rear of your property.
In contrast to French doors or sliding patio doors, when fully open bifold doors have almost no visible framework on your back wall.
External bifold doors that open inwards or outwards concertina style, depending on the space either side and what works best with the layout of your home.
You can even choose to have a traffic door installed, ensuring the minimum amount of time takes to move in and out when you don't want to open the doors fully.
Bifold patio doors are available in a variety of materials and colour options to help match your exterior and interior design.
uPVC bifold doors are low maintenance and low-cost material
Aluminium bifold doors are lightweight, low maintenance, high performance, thermally broken for superb thermal efficiency to help combat heat loss and condensation issues.
Timber bifold doors – Traditional solid oak timber is an excellent choice for character properties.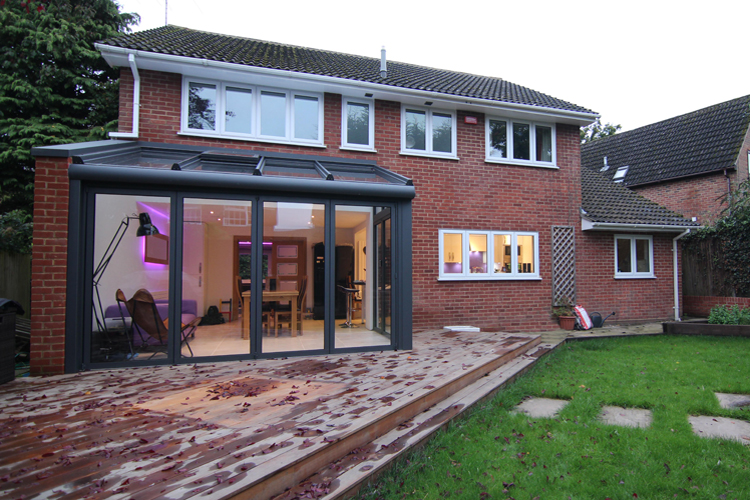 Thames Valley Windows are a double glazing window and door company that has been designing and installing the highest quality bespoke bi-fold patio doors, for properties in Berkshire, Surrey, Oxfordshire and beyond. Every bi-fold door system is made to measure from sustainable, durable aluminium, service/timber, timber and uPVC.
To discover our bifold door prices now, call 0800 181 698 and request for a free no-obligation quote! Or contact us online and arrange for an appointment at our showroom or your home!