Introducing our latest architectural glazing solution of 2020 – Aluco Steel Effect Door Collection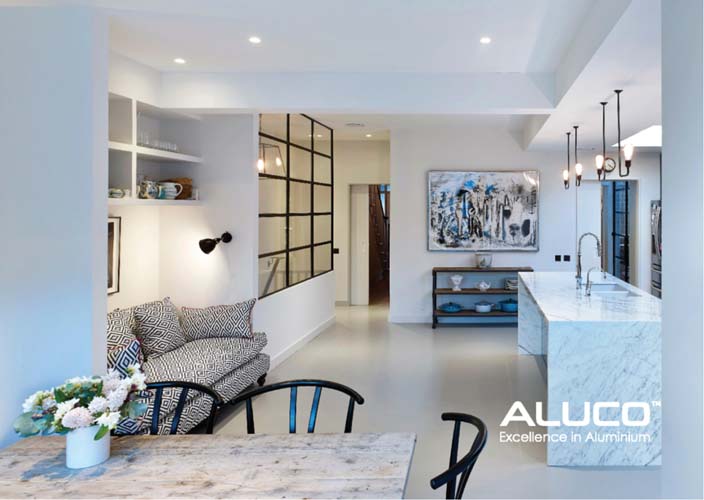 Steel effect doors and room dividers have been one of the most prominent interior design trends in recent years, for properties in Berkshire, Surrey and Hampshire and its popularity continues to grow amongst homeowners in London, Buckinghamshire and Oxfordshire.
Original steel-framed glass doors and windows first appeared in the glazing industry in the 1880s and were known as Crittall® doors and soon became a must-have feature in period properties and buildings due to the aesthetically pleasing symmetrical art deco look.
Modern architecture and advancement in glass technology have placed much emphasis on the importance of light within your home, making glass the material of choice for external doors, from classic French doors to creating glass walls with sliding and bi-folds doors.
Now more homeowners are discovering its potential to transform their interiors by integrating steel effect doors and room dividers to zone open-plan spaces without reducing the ambient light.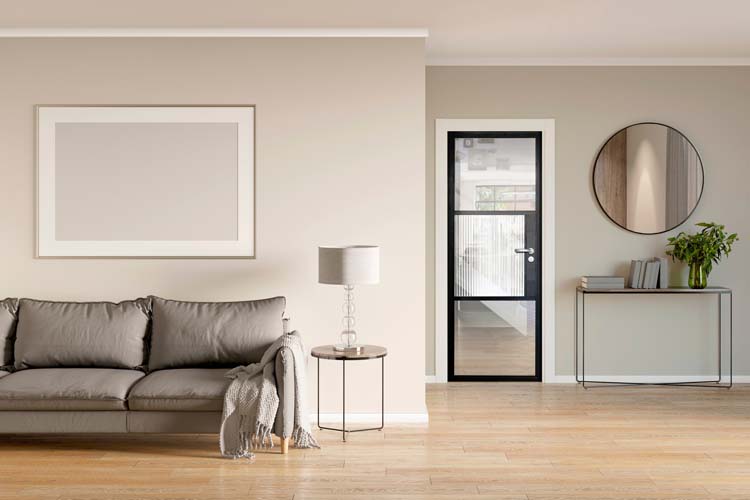 Zoning open-plan spaces are also known as broken-plan living, and it's the 21st-century innovation on open plan and enhances the sense of modern living. It has all the benefits of shared living, open spaces and the flow of natural light, but it's a unique way to partially segment interiors, so each area of your room has a distinct form and function.
Internal steel effect doors and room dividers add a new perspective to open plan living space and ensure that sense of openness is not lost with a flowing transition from room to room. With the combination of toughened glass and minimal aluminium frame lends a feeling of freedom, privacy and space to divide your rooms.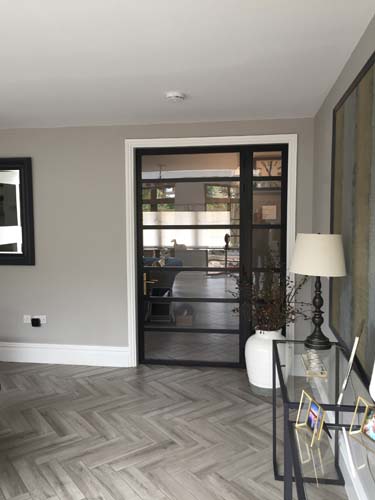 Edgy and versatile, these new internal metal-framed door systems are at home in almost any setting; whether it's a cottage in the country or a penthouse in the city these glass doors will integrate seamlessly.
So, if you love the re-emergence of these glass room dividers and doors and are looking for the most cost-effective solution to create an industrial look into your home, you should consider Alcuo doors as a starting point.
Why Alcuo steel effect doors and room dividers
Aluco Elegance collection is a unique door system and is renowned in the glazing industry for its excellence in design and quality craftsmanship and its innovative technology and heritage features.
Steel effect doors are both beautiful to look at – and to look through, and for Aluco, the function is every bit as important as aesthetics.
The durability of these steel effect doors and room dividers come from the fact they are manufactured from an aluminium profile that is an outstanding alternative to steel, so you get all the sophistication of a traditional steel door aesthetic but with all the benefits of aluminium.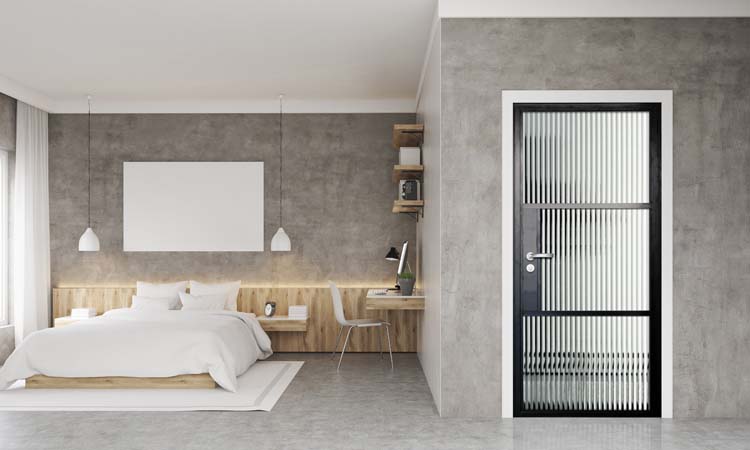 Why You'll Love Industrial Style Interior Doors?
Steel look grid styled room dividers and internal glass doors encapsulate interior design from across the spectrum – from chic vintage to ultra-modern.
Their ultra-slim steel effect frames offer a breath of beautiful quality design that blends sleek modernity and old-world charm.
They are perfect for a traditional home with its rustic aesthetic or add a retro twist to a modern property.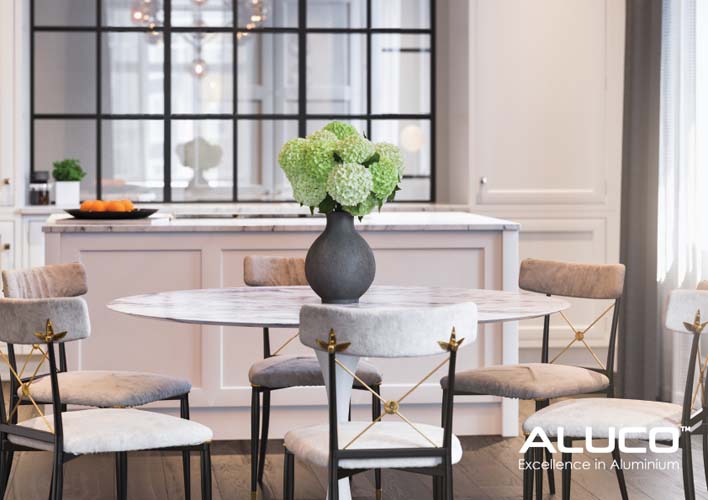 Mixing Vintage With Contemporary
While contemporary living remains a firm favourite amongst homeowners, mixing and matching vintage and modern features is becoming increasingly popular interior design trend. It brings a traditional and classic aesthetic to any home, but with all of the modern functionality and performance that you expect.
At the forefront of this burgeoning trend are industrial-style glass room dividers and vintage-style French doors which are an increasingly sought after look for modern kitchens and extensions.
Steel effect doors and room dividers are the ever-so-classic and timeless icons that can transform your home by adding a sense of warmth, character and personality, with a hint of Industrial elements similar to Scandi interior décor.
Industrial Style Glass Partitions
Whether it's for your kitchen, dining room, bedroom or bathroom our new glass room dividers and door system refresh any room in your home with a sense of traditional charm and glamour.
Slimline aluminium profiles capture the current trend for minimalist styling and all thing industrial.
Internal steel look doors in a graphite black finish make a great design statement and is a popular option to add a modern edge to interior space and offer a highly luxurious and ornate appearance.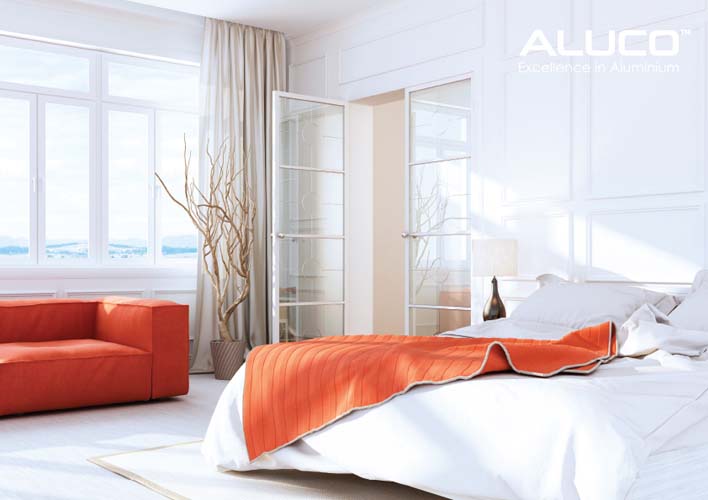 Bespoke Internal Doors, Designed To Your Requirements
The Internal glass door systems from Aluco are custom made to your requirements and bespoke in both powder coated colour and finish options and a choice of glazing solutions.
Luxury Doors – Handmade Craftmanship
These industrial steel effect glass room dividers are handmade in Cambridgeshire using traditional joinery methods, resulting in bespoke doors of outstanding quality designed to last with everyday use.
To discover our steel look Internal door system prices now, call 0800 181 698 and request for a free no-obligation quote! Or request one online.